Beyond hummus and taramasalata pots in the supermarket, I have not visited Greece so I could be on shaky ground passing any judgement how real The Real Greek is.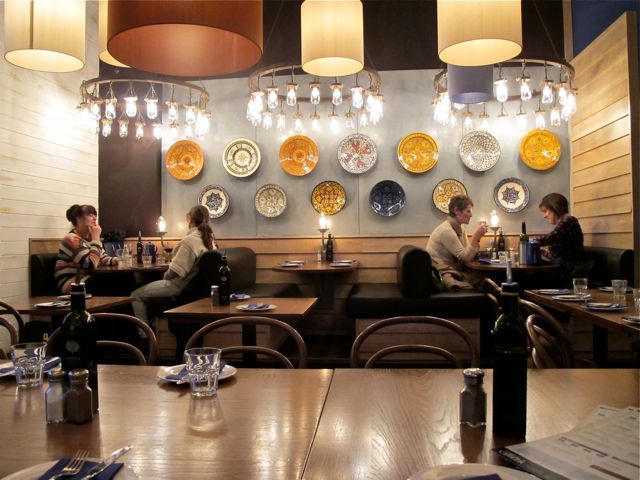 The Real Greek has been on my must-visit list for a while. Like Cabana and Wahaca, it's a chain based on the cuisine of a single country although with only 6 branches it was not on my radar until one opened at my local mall hang-out of choice: Westfield Stratford.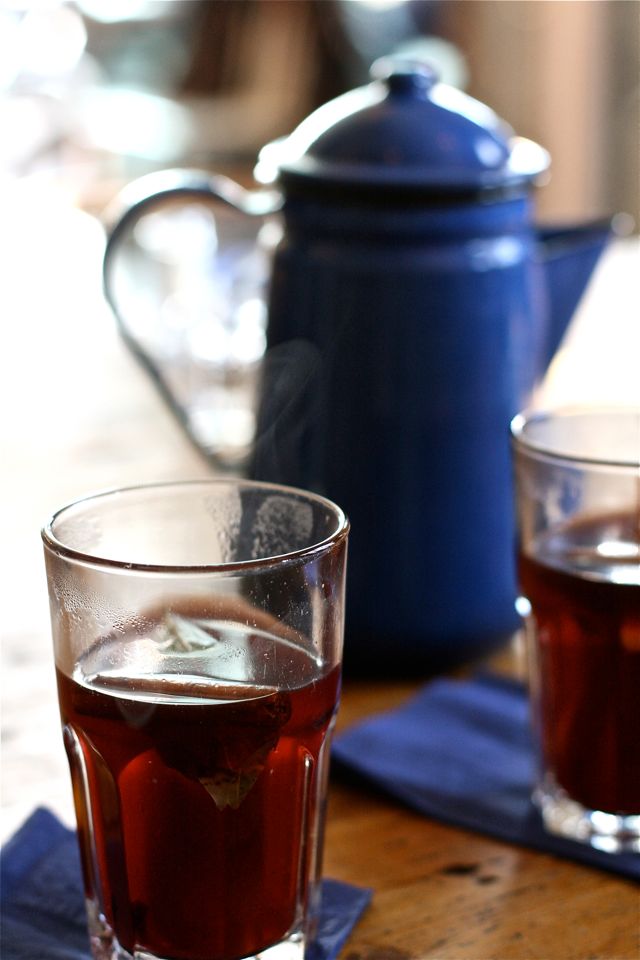 On a chilly December day, I joined Michelle, Solange and Jeanne for a taste of summer. Mulled wine was served on arrival, Christmassy displays twinkled outside. However with a friendly welcome from our real Greek host, the chain's head of operations Christos, I soon felt I like was in a whitewashed taverna on an Aegean island.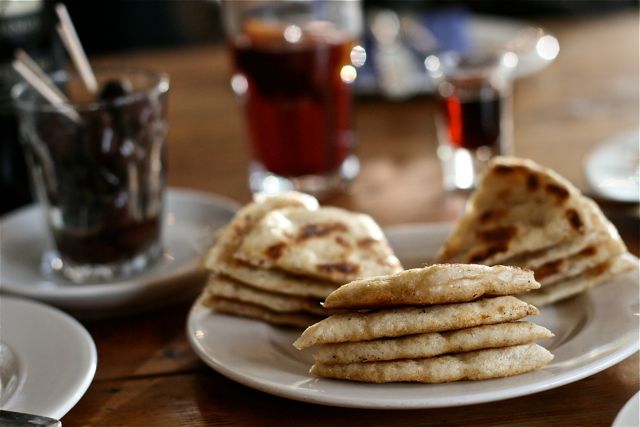 In Greece we were told, an empty table is a sin. So even before all of our party had arrived, the food and drinks began to appear on little mezze size plates. Calamata olives (£2.50), Greek flat bread (£2.50) and shots of Mavrodaphne of Patras, a  sweet red Greek wine similar to French Pineau, opened this Olympic feast.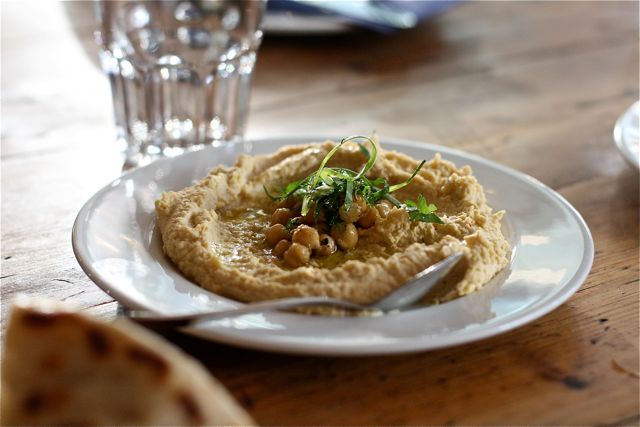 Hummus (£4.25) started a debate amongst us – some felt it was too grainy although I thought it was just right with the chickpeas not being outshone by tahini. All appetisers were dressed with a pool of olive oil – perfect for dipping and scooping with those soft triangles of freshly baked flat bread.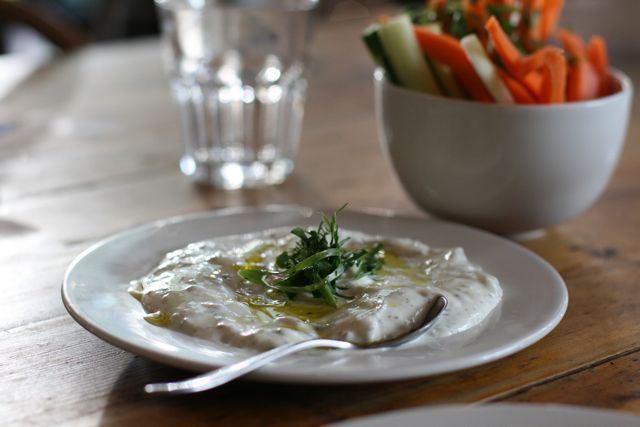 Tzatziki (£4.25) is something I can never remember how to spell although probably by the end of this review I'll have it sorted. A familiar blend of yoghurt and shredded cucumber, I do question the mark up on what is essentially a plate of yoghurt. Taste wise I have no complaints.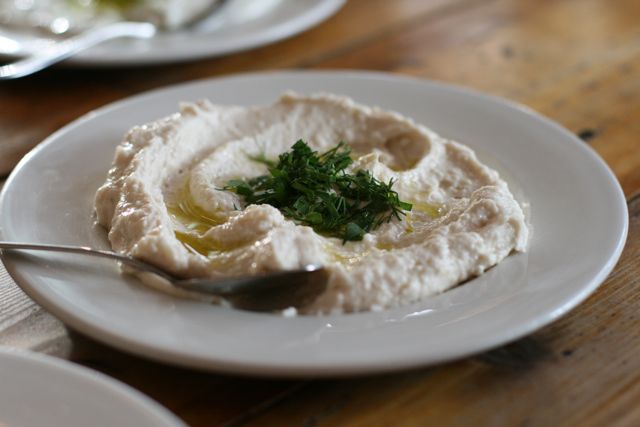 Taramasalata (£4.25) was much better than the pinky stinky goo they sell in the supermarket. I thought I didn't like taramasalata but I if it was always like this I would.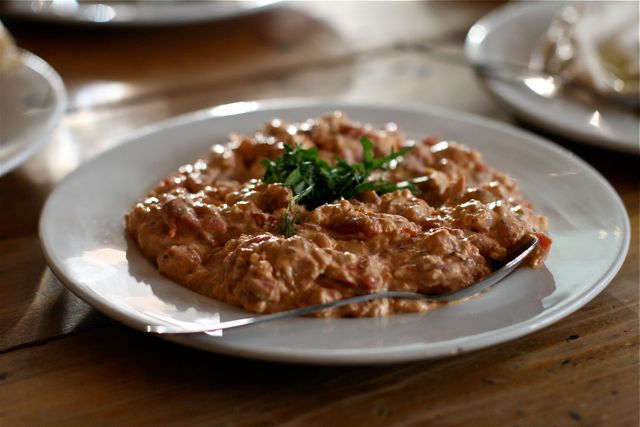 Htipiti [hit-ee-pit-ee] (£4.50) was a completely new word to me even if the combinations of red peppers and feta cheese were not. Everyone in Greece apparently has their own htipiti recipe, some areas prefer it spicy and I think I would too rather than the milder version served here. Everyone else seemed to love it.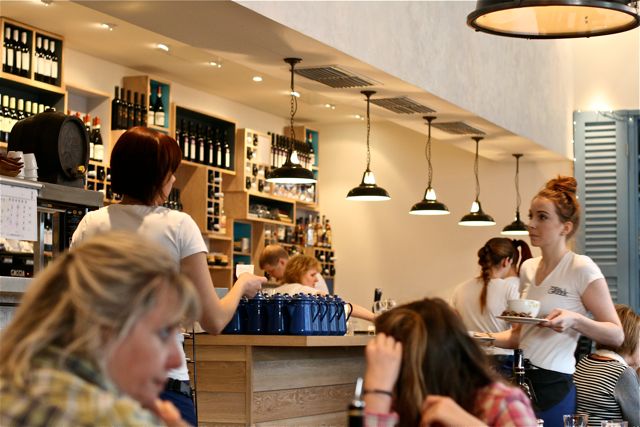 At this point I should point out that with a host keen we try as much of the menu as possible, we were not emptying all of the plates. You definitely would not need to order as many items as we sampled during our visit. I think around 6-7 savoury dishes between 2 people would be plenty.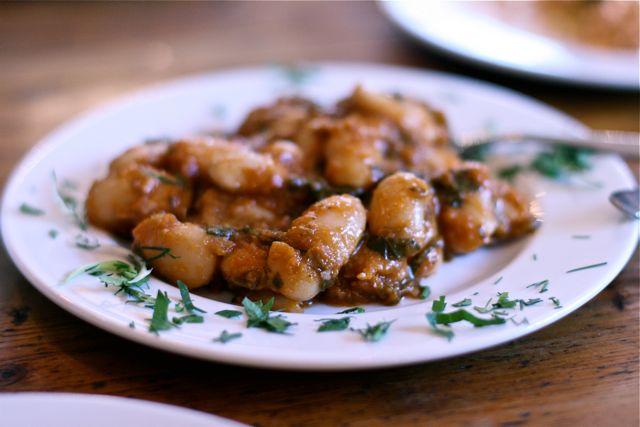 Gigandas-plaki (£4.25) or 'gigantic beans' slow cooked in a tomato and herb sauce would please vegetarians. The skins that can sometimes be tough on big pulses were very soft.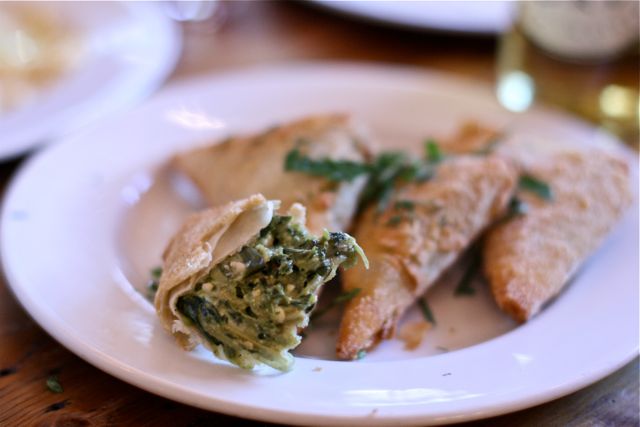 Tiropitakia (£4.75) were definitely one of my favourites. Filo pastry parcels stuffed with leek, feta and spinach. They were fried but not greasy with soft pastry. I would definitely order them again.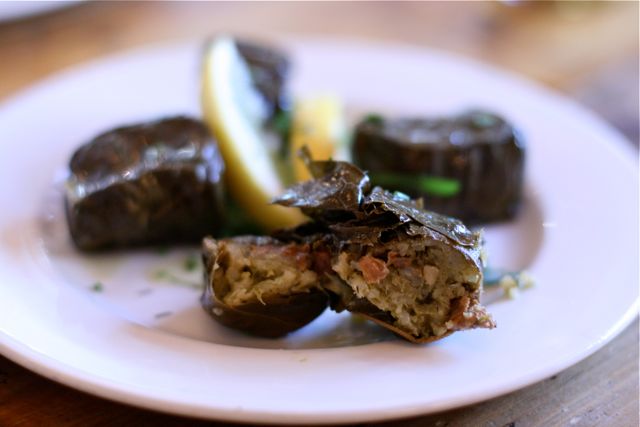 No trip to a Greek restaurant would be complete without a serving of Dolmades (£4.25). Personally I find vine leaves a bit cabbagey and they're not something I'd choose myself.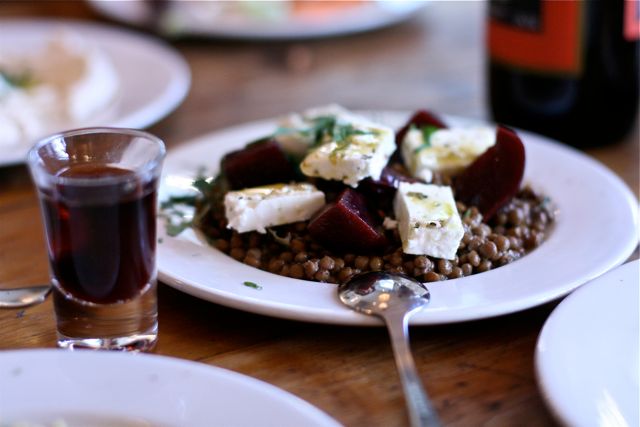 Beetroot, feta and lentil salad (£4.50) features home made cheese. Another good dish for vegetarians.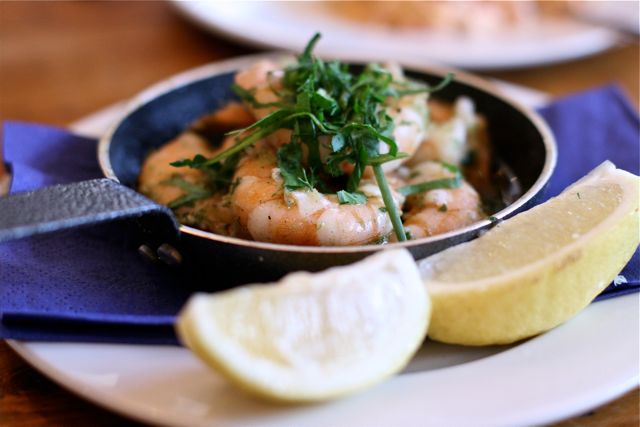 Moving onto seafood, tiger prawns with garlic and chilli (£6.50) were served in a blini pan and were infused with flavour. Tails intact, their skins had mostly been removed for us. Alongside the salt cod below they were my favourite of the sea food dishes.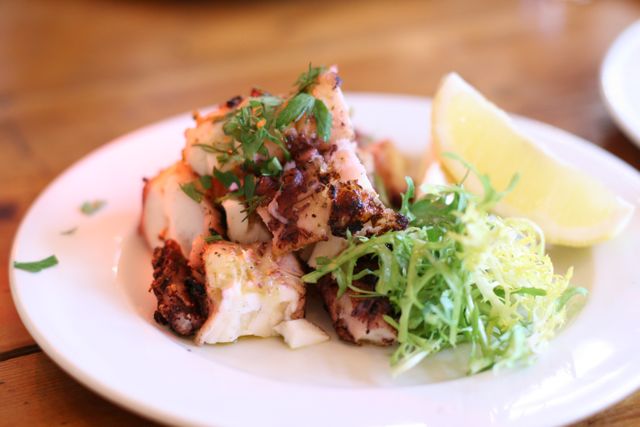 Grilled octopus (£7.25) is until now, something I've only eaten canned and soaked in oil. This version was much lighter and less greasy. The octopus had a meaty texture but wasn't tough.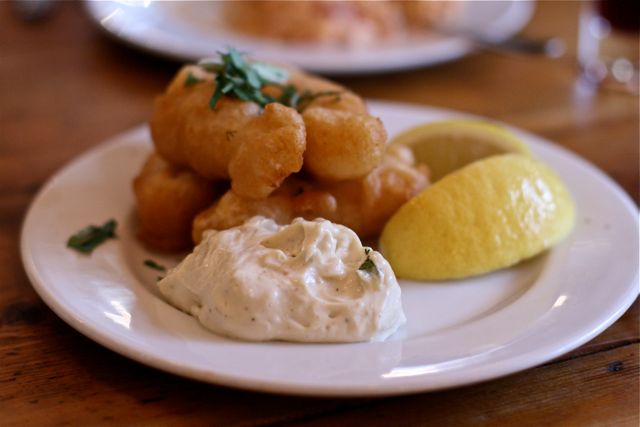 My favourite fish dish was the salt cod (£6.25), light battered chunks of fish with lemon mayonnaise. The fish wasn't salty – they soak it for 3 days to remove saltiness. It's like glamorous fish and chips really!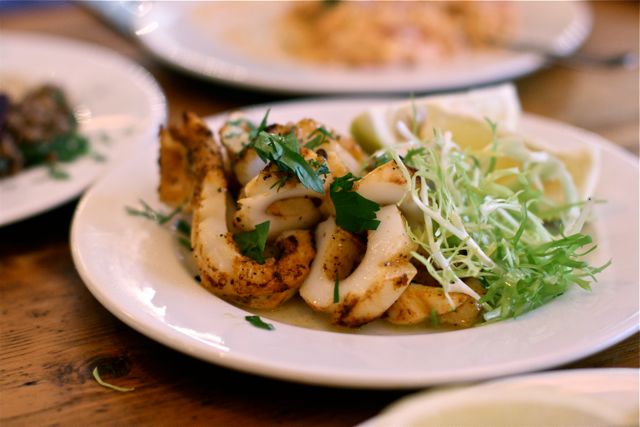 By now the dishes were starting to feel like the parade of countries in the Olympic Games opening ceremony. It feels mean spirited not to keep up the enthusiasm but apprehension grows about how far you still have to go. Another traditional Greek dish, grilled kalamari (£6.50) was similar in texture to the grilled octopus but juicier and even more tender.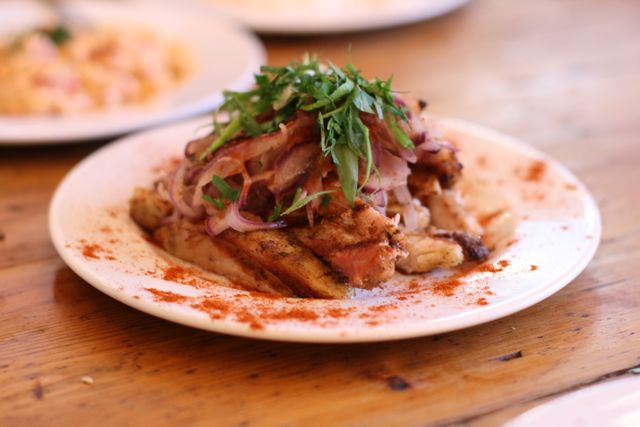 Pork belly (£6.25) is increasingly popular on gasto pub menus and in my experience too much belly and not enough pork. This dish was completely different. To die for. Long tender strips of meat with slivers of red onion and oregano. If I returned, this dish would be top of my list.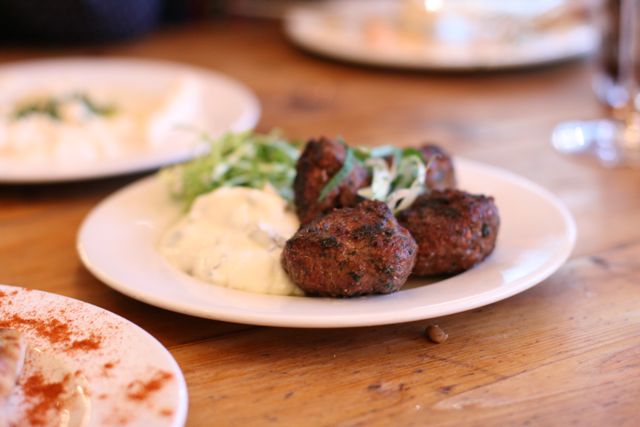 By now we were reaching the letter T in our metaphorical parade of Olympic countries. If I'm honest, the remaining meat dishes were mostly a blur of minced patties, balls and kofte for which my descriptions would be meaningless. I deduce that these ones were bifteki Greek burger patties (£5.75).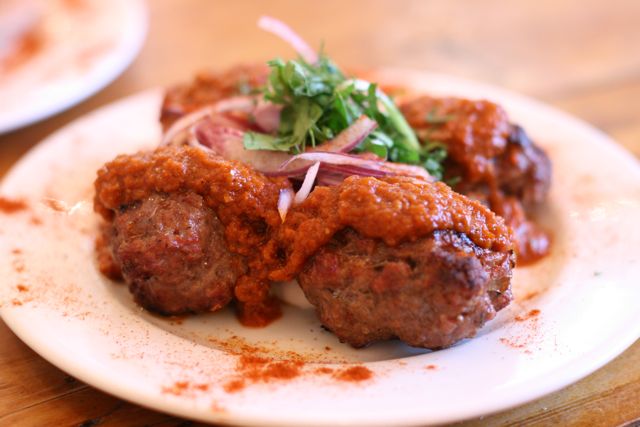 Greek meatballs (£6.00) topped with yoghurt, tomato sauce and red onion.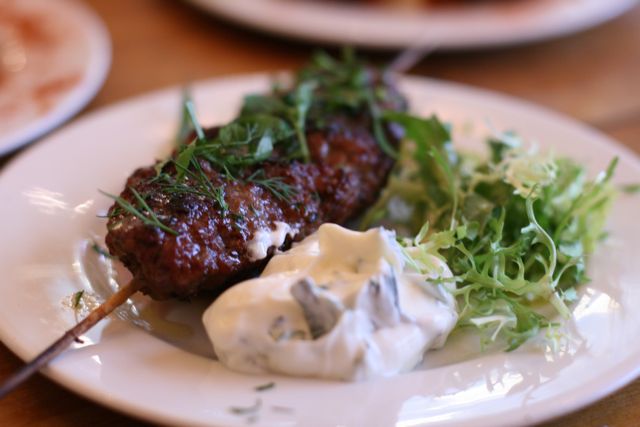 Lamb kefte (£5.50) with mint yoghurt.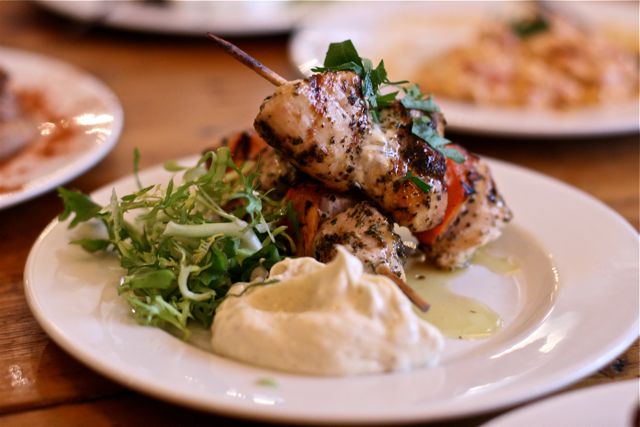 Chicken skewers (£5.25) with lemon mayonnaise were another dish I'd order again. Chain restaurants often make chicken too dry but this had plenty of chargrilled flavour without sapping moisture from the meat.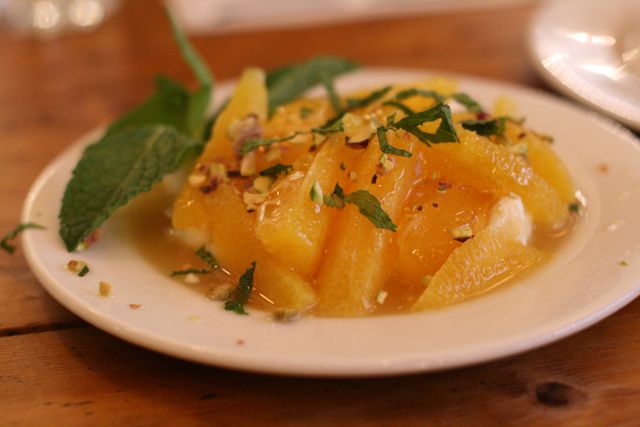 Fresh orange with pistachios (£4.00) were served on Greek yoghurt with honey (75p extra). I didn't really notice the pistachio flavour although evidently they were there.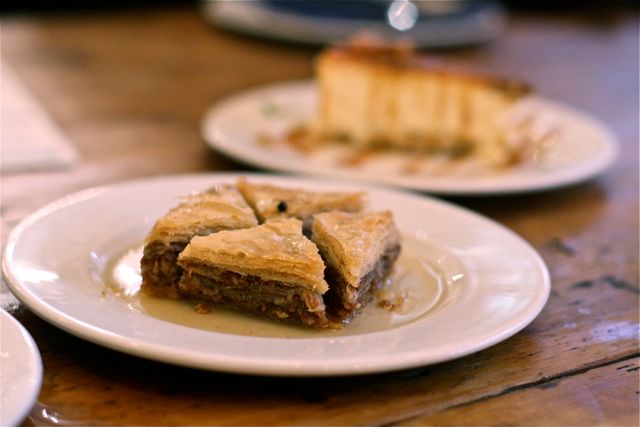 I prefer a selection of different types of baklava (£4.25) however given how full we were now, to receive four sticky triangles was just right. The prices and portion sizes of the desserts were ideal – too often restaurants serve a huge slice of something for £6 or more when you'd rather have half the amount for half the price.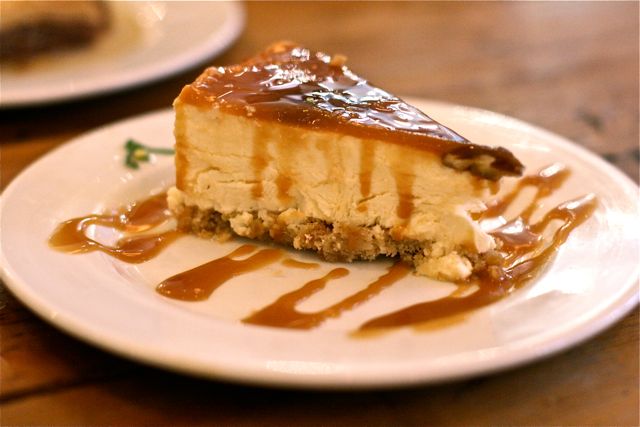 Caramel and pecan cheesecake (£5.00) was the bumper choice on the dessert menu. We were undecided whether this was made in-house or a standard one from outside. Most likely the latter but it was still good.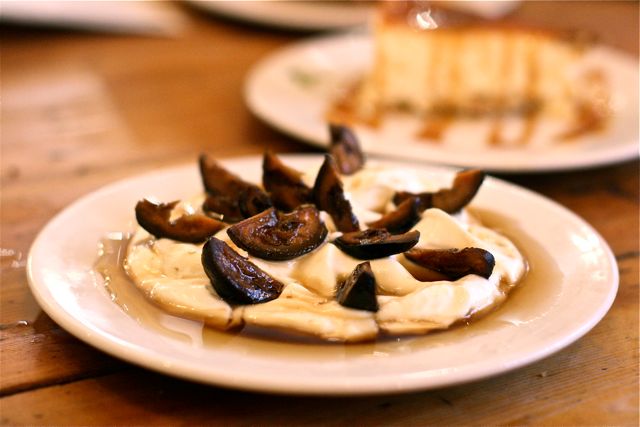 Best dessert for me, and more classically Greek – real Greek yoghurt and walnuts (£4.25) with honey. These walnuts were a surprise – most of us assumed beforehand they were fig or black grape. At the table they seemed soft enough to be chestnuts although checking the online menu I now learn they're walnuts. Order this as your dessert. You won't be disappointed.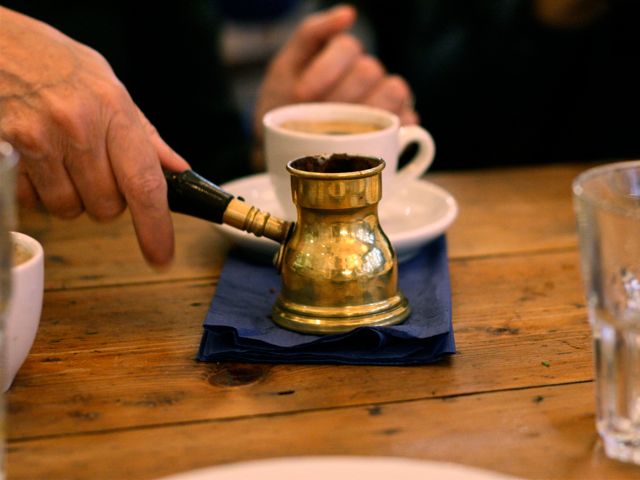 As a hosted party, we enjoyed excellent service. Mostly we were served by The Real Greek's head of operations Christos whose passion and enthusiasm for the company and its menu were the top standard you'd expect.
A couple of minor downsides: the tables are very close together and the ladies' loos (although well maintained) were untidy and probably due an hourly check.
Those two things aside, I would definitely come here again. Compared to similar small dish menus at chains such as Spanish themed La Tasca or Venetian themed Zizzi, this was my favourite. The Real Greek was busy all afternoon without ever seeming chaotic or being too noisy.
Compare other reviews by: (links will be added as they publish)
With thanks to The Real Greek