It was a toss up between a range cooker and a built-in oven. Guess what won?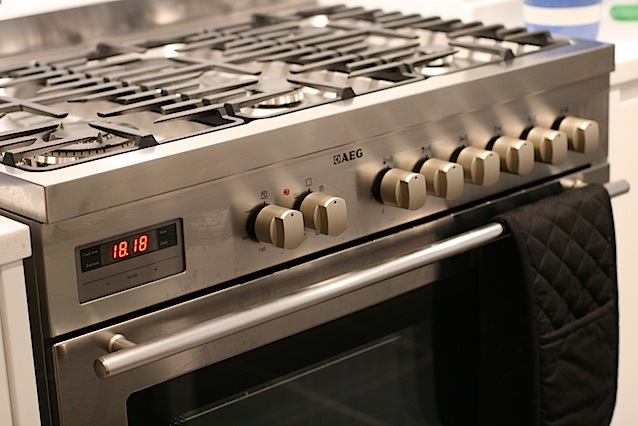 If my husband blames me for the cost of our new kitchen, I smugly point out that two of his last minute decisions were what bumped up the price.
The first design adjustment was to upgrade the worktops; the second to get a range cooker sunk into the chimney breast.
Now I'd been holding out for an eye level oven; it's me who does all the baking and I like to see what my cakes are doing without bending down. Looks won over. I decided to gain oven space (and free up worktop space) with a range cooker instead.
I suppose a six burner range cooker is like driving a 4 wheel drive car. I was worried at first it would be too big but it's amazing how quickly it seems normal.
The new cooker is nearly twice the width of the old one. I'm find it very handy to put things down on as the hob guards are flat rather than ridged. There is a wok attachment but I've hidden it away as I'll never use it. The hobs are gas and the oven is electric. It has a light that works – a novelty after six years of baking in the dark. (However did we cope before ovens had glass doors?!)
One of my husband's foibles is obsessively checking houses for sale on Rightmove. It has quickly dawned on me that if we ever move from this house, not only will I be looking for a similar sized kitchen but that coping with a normal size cooker would feel very strange – even if we later replaced it with another range cooker.
The old cooker found a happy new home in Ilford. A nice young man renovating a flat there bought it from me on Ebay – the hood, the hob, the oven, the whole shabbang. To think we nearly bunged them outside in the skip! We also sold our old washer dryer the same way.
Our choice of range cooker was actually dictated by the hood. On testing the extraction vents in the store, we noticed that AEG cooker hoods had the quietest extraction fans by a long shot. Therefore we settled on an AEG range cooker.
Getting used to a range cooker
It's taken me a while to get used to it; the grill pan weighed a ton and I don't think I can lift it at all with food on it. The grill pan has stupid removable wire handles that are awkward to fit each time you want to pick the thing up. I have started instead to grill things on baking trays lined with foil; this seems to work just as well. In time I might buy a new grill pan from Lakeland.
The beeper is fiddly to operate so I'm using my cute Alessi kitchen timer that previously only served as an ornament. My old kitchen timer was easy to operate with one hand and could be turned off by reaching down without looking at it. The new one is a bit of a pain in comparison.
Surprisingly I've not baked a massive range of items in the new oven yet although I have noticed that trays of cakes and biscuits are more evenly covered. I also love how I can cook three trays of things on the same shelf because it's double width. My husband is teasing me that he wants two turkeys at Christmas roasted at once.
One of the things making the biggest impact in my new kitchen is having a range cookery built into the chimney breast. We have a flush front to the worktops and the range cooker. My husband feels equally smug that this was his idea.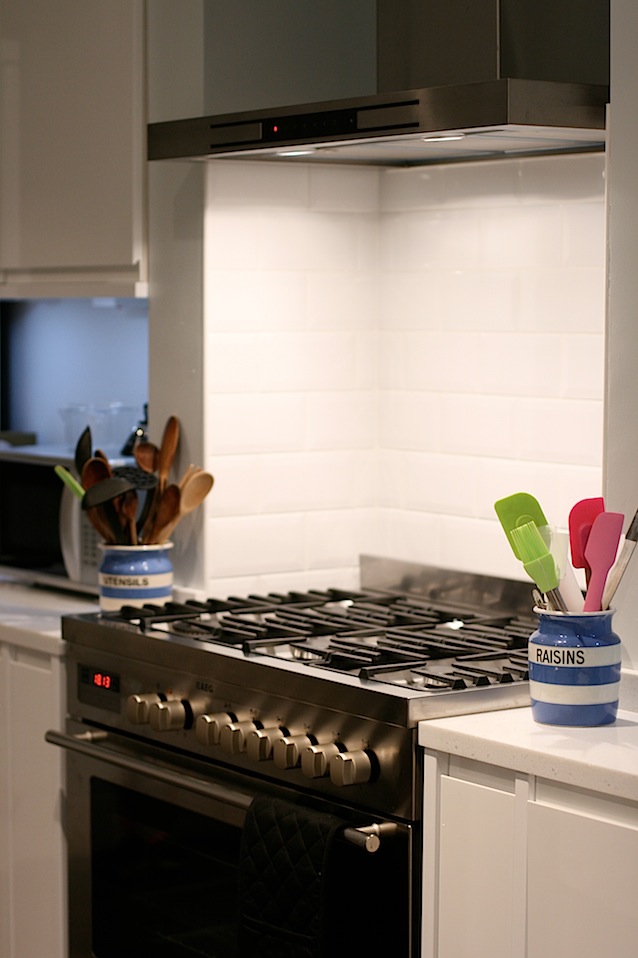 Post sponsored by Comet.