If you can get hold of some fresh figs this Christmas, this gluten free fig cake with red currants is an ideal seasonal cake for coeliacs.
You may recall the stonking great gluten free plum cake I made from Hannah Miles' book earlier this year.
As I explained at the time I had remade the cake in a smaller size since Hannah's version required 400g ground almonds at a time and fed around 15 people.
It's quite rare for me to need cakes this size and it's a lot of money to spend on ingredients in one go. So I have experimented with other versions using an 7 or 8 inch tins instead of 10 inch which yield a more manageable size cake! Unless I had guests, we would get very fed up of such a big cake.
Probably the best period for buying fresh figs has passed although I have still seen them in Waitrose and my local Turkish store. They always seem very festive me. I have red currants in the freezer but if you don't have any you could use cranberries.
For a non gluten free fig recipe try my mini fig galettes.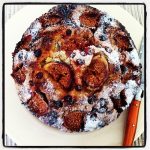 Print Recipe
Gluten free fig and red currant cake
You will also need an 8inch round cake tin greased and lined with parchment paper. This moist cake will keep for nearly a week if stored in an airtight tin. You can use ordinary caster sugar if you don't have golden.
Ingredients
100

g

butter

softened

150

g

golden caster sugar plus a little extra for sprinkling

3

eggs

75

g

gluten free self-raising flour

1

teaspoons

ground cardamom

200

g

/ 4.5 cups ground almonds

4

ripe figs cut into quarters

50

g

red currants

1

tbsp

icing sugar for dusting
Instructions
Preheat the oven to 160c / Gas 3.

Using an electric hand or stand mixer, beat the butter and sugar in a mixing bowl until fluffy.

Add the eggs one by one, beating the batter in between. Sift over the flour and ground cardamom, add the ground almonds and beat until just smooth. Pour the batter into the lined tin and smooth the surface.

Stud the figs and red currants over the top of the cake and sprinkle with a little extra golden caster sugar.

Bake in the preheated oven for 1.5 to 2 hours, until the cake is firm to the touch and a knife inserted into the middle of the cake comes out clean.

Remove from the oven and let cool for 10 minutes before removing from the tin before turning onto a wire rack to cool completely. Dust with icing sugar.
Notes
Adapted from Hannah Miles' gluten free plum and cinnamon cake from The Gluten Free Baker.