Christmas fruitcake is on a lot of people's 'don't like' list but these mini red velvet cakes are just as Christmassy.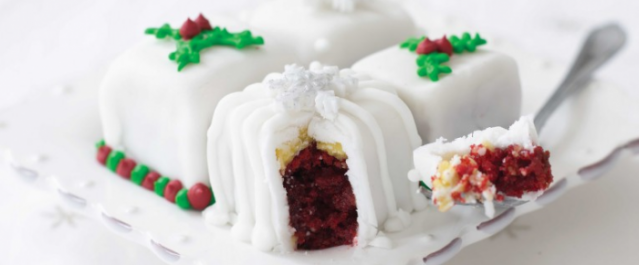 I made a lot of red velvet cakes when writing my book, a lot. I never used to think much of red velvet cake and then I discovered that I'd only tasted meh! red velvet cake (I'm pointing at you Hummingbird Bakery).
When it's good, red velvet cake is sublime. I had previously thought that red velvet cake was just a chocolate cake with red food colouring in it but in fact it's completely different.
Tips on how to make red velvet cake
Rather than all in one sponge, this red velvet cake recipe is one with separated egg whites and yolks, you whisk up the whites and fold them into the batter gently.
The red velvet cake gets its' colour from red gel food colouring that has been mixed with buttermilk. You can tell the buttermilk is red enough to go before you add it to the cake meaning your red velvet cake will not be over mixed.
The last stage is adding a solution of bicarbonate of soda in white wine vinegar. You need to work swiftly but make sure the solution is mixed in thoroughly whilst taking care not to over mix the red velvet cake batter.
If you don't mix the vinegar solution into the batter properly, you'll get black swirls in the baked cake. Not a good look and certainly one you don't want the night before a photo shoot.
Apparently 'Dutch processed' cocoa achieves a better colour. Personally I'd say buy Sugarflair food colouring paste and don't leave it to chance.
Never use liquid food colourings from the supermarket. Even if you add half the bottle it will still look pink – never mind tasting disgusting.
Don't worry if the red velvet cake looks a bit brown on the outside, it's when you cut inside that you see the best of the red colour. The outside is traditionally covered in white icing anyway – maybe this is why?!
Don't limit yourself to big slicing red velvet cake. As well as the more obvious cupcakes I made red velvet fondant fancies by covering cubes of red velvet cake with marzipan and sugarpaste. You could also try a red velvet cake loaf style with icing on top or a tray bake. Let the red velvet cake free!
My red velvet cake recipe
My red velvet cake recipe, as seen in my book has been reproduced on Stitch Craft Create also alongside the sugarcraft project to make these mini Christmas red velvet cakes.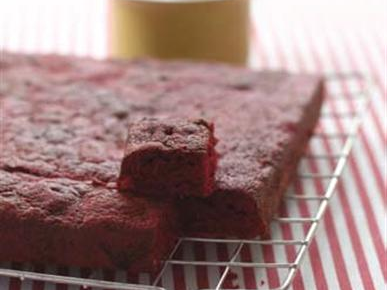 Photos: Sian Irvine, as featured in my book Bake Me I'm Yours… Sweet Bitesize Bakes