Perfect fondant fancies that look professionally made are easier than you think.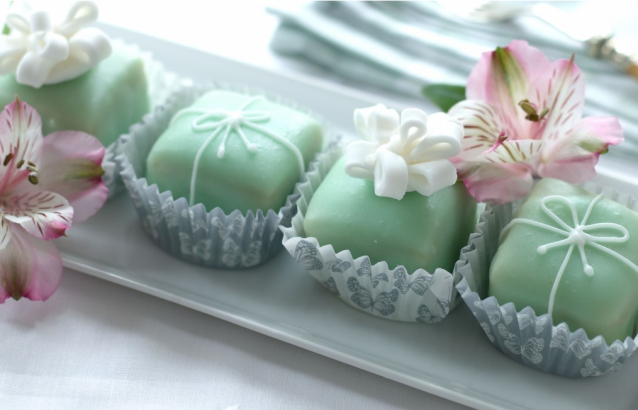 Since fondant fancies were featured in this year's Great British Bake Off final, everyone seems to want to know how to make them.
Easily adaptable, perfect for decorating, fondant fancies are a realistic contender to be 'the new cupcake'. Less obvious than cupcakes, fondant fancies are a definite crowd pleaser.
When writing fondant fancy recipes for my book last year, there was very little information on the web about them.
Fondant fancies have a reputation of being a faff to make yourself. But they're not hard to make, just a less familiar process.
After much experimentation, here are my top 10 tips on how to make fondant fancies:
1. Forget Mr Kipling French Fancies.
His exceedingly good cakes look identically perfect because they're manufactured.
You're unlikely to achieve domed buttercream tops at home since the warm icing melts when you dip the sponges. (Although do try it with the Squires icing – see below).
2. Forget so-called fondant icing sugar
For that smooth shell-like finish, supermarket 'fondant icing sugars' fail to set properly.
Squires Kitchen instant fondant icing mix comes in ready flavoured and coloured sachets; it works very well and since it's cold you won't need a sugar thermometer and it won't melt buttercream. However it's pricey and the bags do not yield enough icing to dip whole batches easily.
3. Make home made fondant icing…
Making your own fondant icing is easy in a saucepan; you need a sugar thermometer (preferably digital). Take care not to over heat; when ready it quickly sets hard on the probe. As the fondant icing cools it becomes too thick to dip the cakes but you can gently warm it again. Cooling and reheating it too much make the sugar structure change; it goes grainy. So pay attention to that thermometer!
4. …and make plenty of it
Dipping fondant fancies in a scant quantity of icing is fiddly. With a generous amount it's easier to dip in a saucepan. You can use forks to turn fondant fancies on each surface although over handling them can make them crumble (or fall in!). For more satisfying finish, dip them into the icing whole.
5. Use marzipan instead of buttercream
Buttercream melts when dipping in warm icing so top fondant fancies with marzipan. White marzipan is best for pastel fondant fancies other than yellow. For other colours tint the marzipan with gel food colouring to get a deeper colour on top.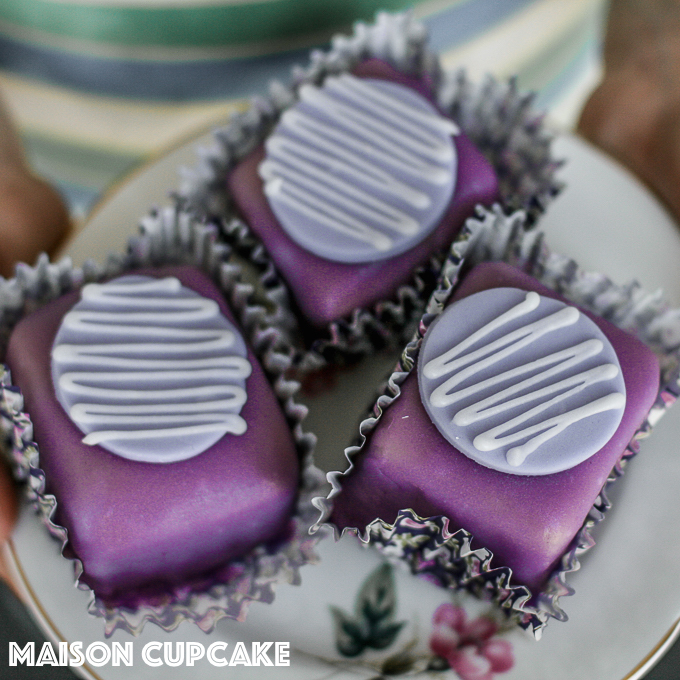 6. Freeze your sponge cake squares
You can get individual silicon fondant fancy moulds – however it's easier to make one large square cake cut into squares.
Get a neater finish when cutting the cake by freezing it for 30 minutes first. Cut the edges of the square so you have a level surface and then cut into 25 smaller squares (5 x 5). For the book I used a ruler and cocktail sticks to mark holes before cutting perfectly sized squares.
If perfect sizes are less important, just cut them so they're roughly even. This is way quicker and who's going to get the ruler out anyway?
Pop the individual squares back into the freezer for another 20 minutes. Slightly frozen, they're less likely to crumble and leave crumbs in the pan of icing. The cold surface helps the icing set almost immediately on contact.
If adding a jam layer to the sponge, chill for 2-3 hours and do it before cutting into smaller squares. Beware the jam layer can fall off when you dip and makes getting crumbs in the icing more likely – ugh.
I find fondant fancies interesting enough without a jam layer – you get the flavour under the marzipan anyway.
7. For a flawless finish
For a smooth surface reaching the base, try my dipping fondant fancies technique with a wire rack laid on four tin cans.
If you're presenting fondant fancies in paper cases, no one sees the bases inside. So unless you want perfection, it's ok to smudge the edges a bit as you put them down.
For an all-over immaculate coating, give the bases a second dip with a contrasting colour.
8. Square cakes – round cases!
Fondant fancies may be square but you can use round cases pinched into shape. Arrange the cakes in a grid and pack in snug rows to encourage the cases to stay square.
9. Make mini fondant fancies with the off cuts
Don't throw away off cut strips of sponge and marzipan. Cut into little cubes for cute dinky mini fondant fancies. Truly a sweet bitesize treat!
10. Decorating fondant fancies
Fondant fancies are as versatile to decorate as cupcakes.
Use any shop bought sprinkles or decorations. Or make home made sugarpaste flowers or simple design piped– these ones from my book are shown with a sugarpaste gift bow or a piped string bow.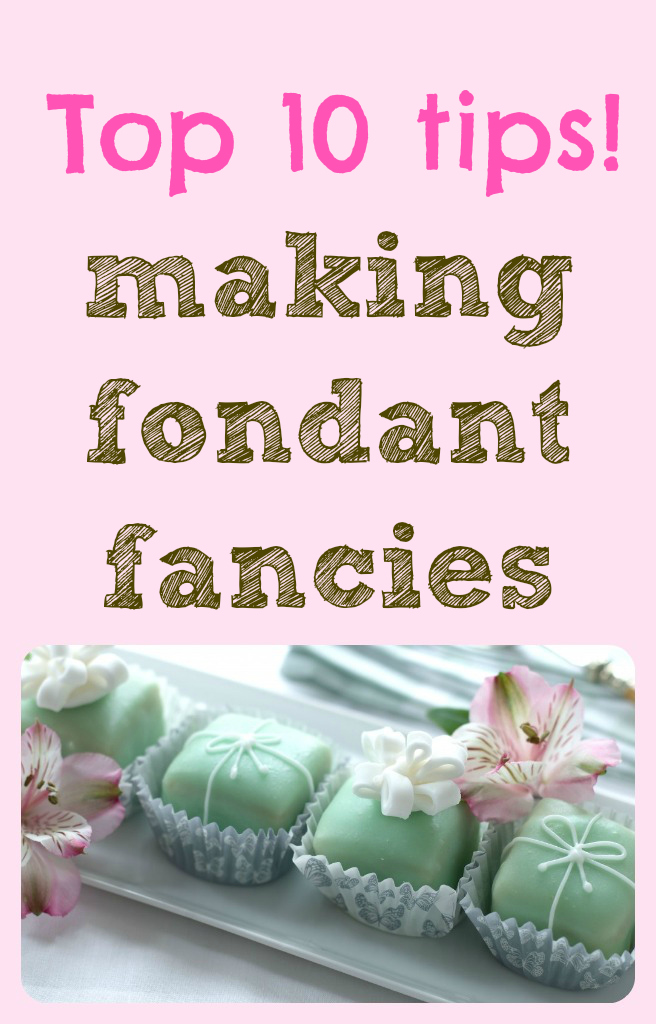 Have you ever made fondant fancies? Are you tempted to give them a go now?
There are five fondant fancies recipes in my book Bake Me I'm Yours… Sweet Bitesize Bakes including two dipped fondant icing versions.
If you found these tips useful and think others would too, please do take a moment share it on Pinterest etc.
Photos: Sian Irvine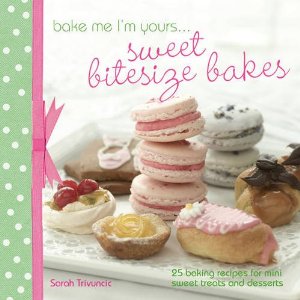 If you love fondant fancies get more inspiration from my fondant fancies board on Pinterest!
Follow Sarah | Maison Cupcake's board Baking | Fondant Fancies on Pinterest.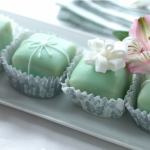 Print Recipe
Perfect fondant fancies: top 10 tips for a professional finish
And if you feel the need to cheat, try my French Fancies for Cheats with instant fondant icing.