You won't believe the secret to perfect fondant fancies. A fondant icing recipe is included here.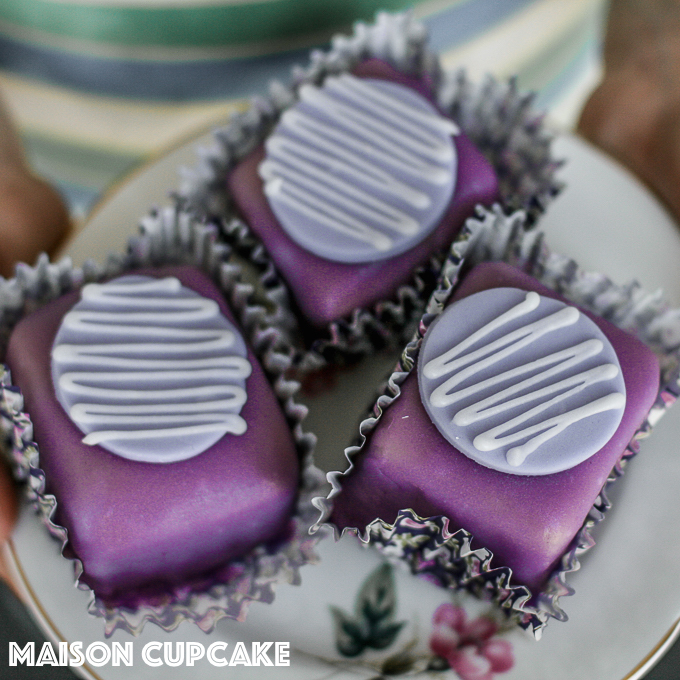 I'm not a fan of perfect anything. Perfect is boring. Perfect is trying too hard. Perfect is overrated.
Good enough is better than perfect. And something that everyone assumes is perfect when it isn't is best of all.
These perfect fondant fancies look immaculate. I bet you're wondering how I got that fondant icing looking so smooth.
Perfect fondant fancies with square edges, smooth sides, rounded corners and no smudgy bits.
Well let me tell you a secret. It's all an optical illusion. Actually you can only see 50% of the surface area of these fondant fancies. You need only to get the top halves perfect and the rest will be hidden by paper case and the decoration on the top.
Think of these perfect fondant fancies as the cake equivalent of swans flapping their feet madly under water, looking graceful on top whilst all the messy stuff is hidden below. So the secret is to let people think something is perfect when it isn't.
When I featured fondant fancies in my book Bake Me I'm Yours Sweet Bitesize Bakes, I had employed a slightly crazy method using cocktail sticks to avoid touching the cakes and some wire racks elevated on baked bean tins.
Whilst this works, what I realised was that so much of the sides of the cakes was covered up with the paper wrappers that this technique was something you might use for weddings which genuinely do require perfect fondant fancies but could be jettisoned for sane people the rest of the time. So these days I just use fingers to pick up my fancies and live with the fact I might get warm icing on my fingers and a bumpy surface might lurk under the paper.
Although this icing is sometimes called poured fondant, it gives a better finish and is less wasteful when cakes are dipped in it. Popping the cut sponge cakes into the freezer makes them easier to handle and help the warm icing to set faster.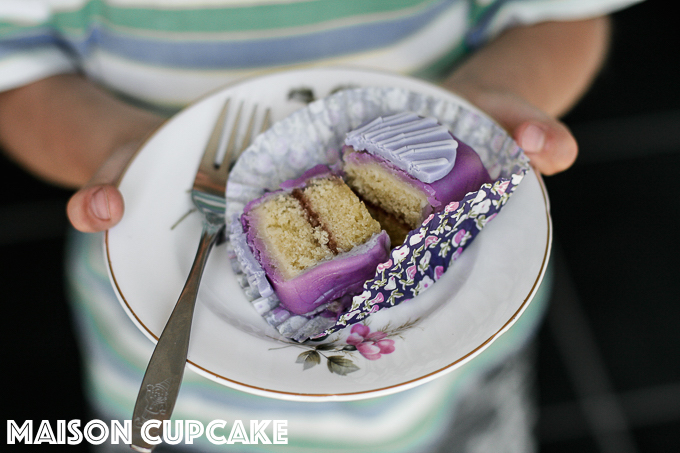 Perfect fondant fancies with fondant icing recipe
Ingredients
For the sponge fancies:
180g butter
180g caster sugar
3 large eggs
180g self raising flour, sifted
300g marzipan
200g apricot glaze, warmed
For the poured fondant icing:
750g icing sugar, sifted
125ml water
30ml golden syrup
gel or paste food colouring
5ml vanilla extract or flavouring as desired (I used lavender here)
For the decoration:
100g white sugar paste tinted with gel food colouring
small quantity of white royal icing (see recipe in this post)
You will also need a 20cm (8in) square baking tin lined with baking parchment, a sugar thermometer, silicone brush, a ruler and a bread knife.
Directions
1. The decorations for these fondant fancies can be made well in advance. I actually made batches of these stripey circles and kept them in a tupperware tub. Simply stamp out small circles of sugarpaste and drizzle white royal icing back and forth over the top in zig zags. Allow at least 30 minutes to dry.
2. To make the cakes preheat the oven to 180c/gas 4.
3. Using an electric mixer with a large bowl, cream the butter and sugar until pale and fluffy. Then beat in the eggs.
4. Fold in the flour one third at a time until just combined. Fold in the zest and lemon juice – do do not over mix.
5. Pour the batter into the lined square baking tin and coax it towards the edges.
6. Bake in the oven for around 18 minutes. When done the sponge should be golden and a cocktail stick come out cleanly.
7. Leave in the tin for a few minutes to cool before transferring the cake to a wire cooling rack to cool completely.
8. When the cake has cooled, brush the top surface with warmed apricot glaze and cover with a 3mm layer of marzipan. Place the cake in the freezer for 10 minutes.
9. Next, trim the four outer edges off with a sharp knife. Then cut the remaining square into 25 little squares in a 5×5 grid. Return the cakes to the freezer whilst you make the fondant icing.
10. To make the poured fondant icing, combine the sugar, water and syrup over a low heat in a saucepan stirring continuously. Add colour and flavouring as required.
11. Place a sugar thermometer into the mixture. At 33c the icing should be a pouring consistency but not too thin. Carefully raise the temperature to 45-50c – no higher or the icing will lose its shine or seize.
12. Remove the thermometer probe, if the poured fondant icing sets hard on the tip of the probe within seconds it is ready.
13. Remove the cakes from the freezer and the fondant icing from the heat. Carefully hold the cakes between two fingers and swirl around upside down in the icing then turn right side up allowing excess icing to drip off.
14. Place the dipped cake on the raised wire rack and allow the icing to set.
15. Affix the sugarpaste decoration using a dab of royal icing. Present your perfect fondant fancies in ordinary cupcake wrappers that have been pinched into a square shape.
If you love fondant fancies follow me on Pinterest!
Follow Sarah | Maison Cupcake's board Baking | Fondant Fancies on Pinterest.
If you like this post read here for more: fondant fancies tips and cheats fondant fancies.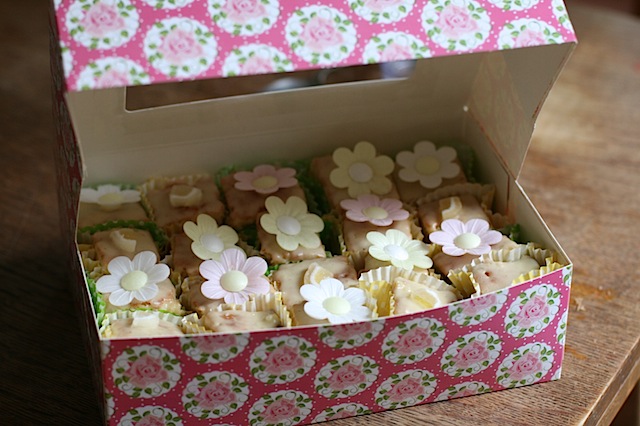 Do you think you might make perfect fondant fancies now?