Making smoked salmon frittata with the Regis Stone frying pan avoids using extra oil when cooking. Watch my video to see for yourself.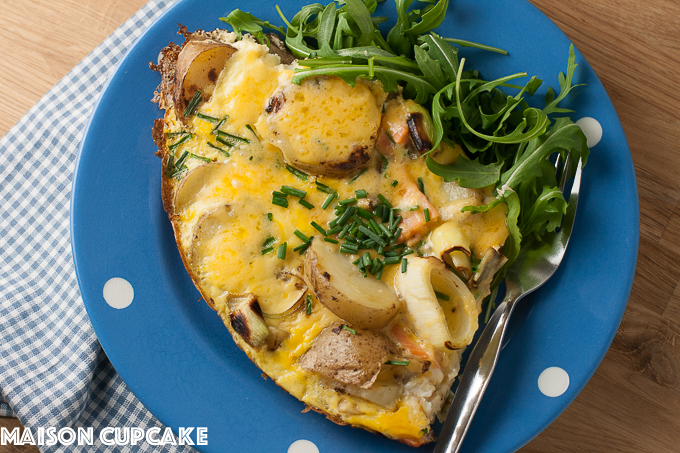 I always keep some small packs of smoked salmon in the freezer. They defrost in barely an hour and are very handy to chuck the chopped pieces into risottos, pasta dishes or as shown here, to make a tasty smoked salmon frittata big enough to feed the family. I love how frittata can be breakfast, brunch, lunch or supper. They're are truly versatile dish and brilliant for hoovering up leftovers.
Whenever I boil small potatoes it makes sense to do more than you need as the rest can be used in cold potato salad, curries and of course frittata. I'm not entirely sure what the difference is between tortilla and frittata so if you can illuminate me on this, feel free to say in the comments below.
This particular frittata was made in a Regis Stone frying pan by JML. It has super non-stick properties so you can fry in it without adding any extra oil or fat. The surface is anti-scratch and easy to clean. We found the Regis Stone pan heated evenly and our frittata cooked quickly with an even crust. The pan has an attractive speckled surface and can be used on all types of hobs whether gas, electric, ceramic or induction.
If you'd like to see how I made this smoked salmon frittata using a Regis Stone frying pan, here is a video of me making it in my kitchen below.
Do you have a favourite non-stick pan?
Smoked Salmon Frittata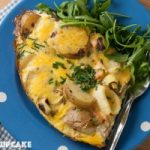 Print Recipe
Smoked salmon frittata
Ingredients
2

leeks

trimmed and sliced

300

g

cooked new potatoes cut into chunks

120

g

small pack smoked salmon, cut into 1 inch pieces

100

g

defrosted frozen peas

6

large eggs

lightly beaten

1

small handful chives

finely chopped

80

g

grated hard cheese such as cheddar or emmental

To finish:

A little sour cream

A sprig of fresh dill

A grind of black pepper

A squeeze of fresh lemon juice
Instructions
Preheat the grill and also pre-heat the pan on a medium heat for around 30-60 seconds.

First add the leeks to the pan. When the leeks are soft add the potato.

Next add the chopped smoked salmon and the defrosted peas.

Give it a stir so ingredients are well distributed.

Beat the chives into the egg and pour over the pan. Coax the egg all around the pan before it starts to cook and then allow to set around the hot ingredients.

When the egg is nearly cooked, pop the pan under the grill making sure the handle is still sticking out. Grill for one minute.

After one minute sprinkle over the cheese. Grill for a further minute.

Serve immediately with a green salad.
More frittata ideas:
Chorizo and spinach by Kavey Eats
Feta, red pepper and avocado by Healthy Hungry Happy
Turkey frittata by Fuss Free Flavours
10 frittata fillings (by me)
Frittata in a sandwich toaster (also by me)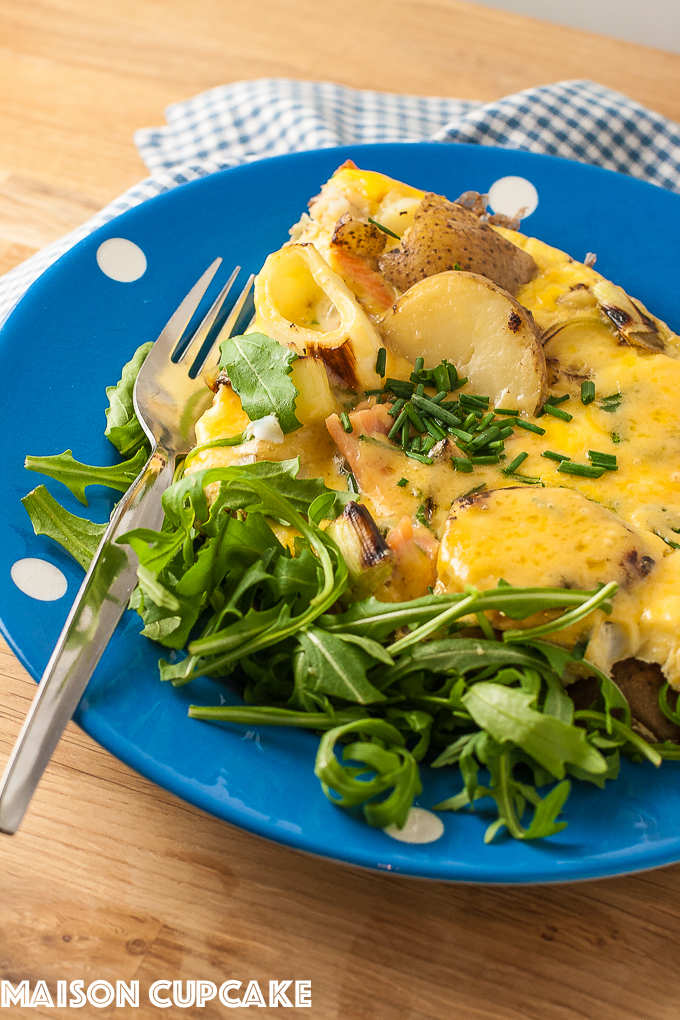 Video commissioned by JML. Find more details about JML's Regis Stone frying pan at bit.ly/RegisStonePans