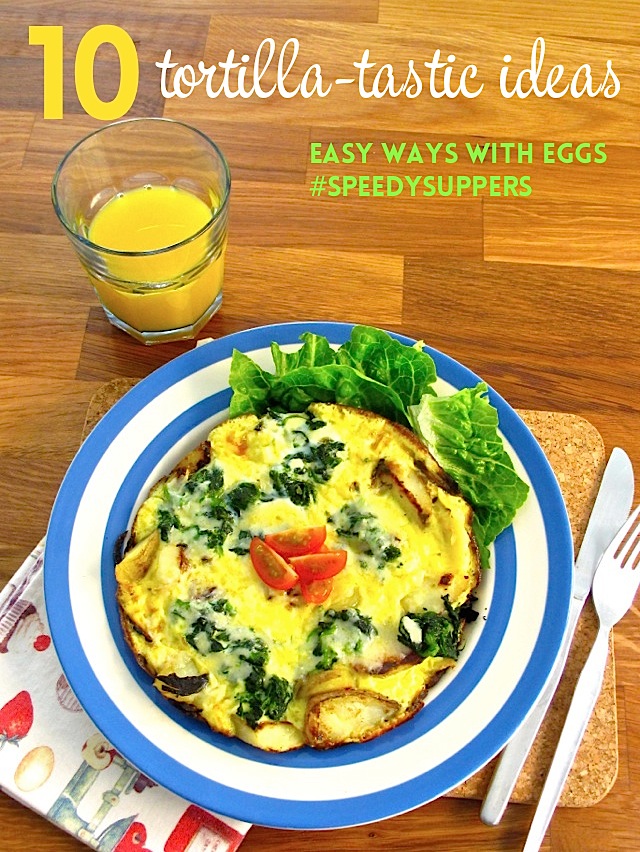 Something other than sandwiches that's ready in a flash? Something you can make mostly from storecupboard ingredients? Something you can feed the family or make individual portions of with equal ease? What is this amazing dish? Tortilla! Or Frittata! (What is the difference exactly, answers in the comments below please!)
BabyCentre, whom I write for weekly, asked me to write them some easy recipes with pregnancy nutrition in mind and that was the inspiration behind this dish.
So you don't have to pregnant to eat this (and no I'm not) but it's good for you if you are. Equally adaptable for fridge foraging sessions, late night suppers hoovering up left overs or mid morning weekend brunch.
Assuming you're adding pre-cooked potato, tortilla can be on the table inside 15 minutes so this doubles up as my entry for Speedy Suppers!
10 tortilla-tastic variations to try
(please note these are not necessarily pregnancy friendly like the one in the picture)

1. French-ish frittata: button mushrooms and vampire repelling quantities of garlic

2. Oriental option – Shittake mushroom and pak choi – you could ditch the cheese and replace with cubes of smoked tofu?

3. Go Greek with black olive, parsley and feta

4. Bacon and tomato – spiced up with some Eat 17 Bacon Jam (from my fabulous Walthamstow Spar)

5. Pesto version with whole leaves and extra toasted pine nuts on top

6. Maybe even using my signature rocket, blue cheese and walnut pesto from Dinner With Crayons

7. Smoked salmon and leek with a squeeze of lemon and pepper on top.

8. Prawn, dill and watercress… with a spoonful of my favourite IKEA sweet dill mustard in with the egg (and go on then… on the side too)

9. Goats cheese version made in the sandwich toaster (check out my video!)

10. Kedgeree style with leftover rice rather than potato, spices, peas and smoked haddock.
Do you have a favourite frittata or tortilla recipe? Feel free to share it below!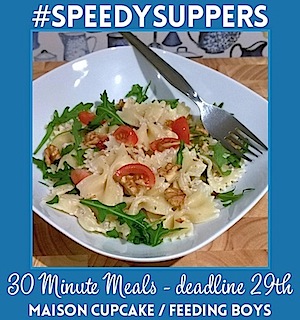 Don't forget I am hosting Speedy Suppers this month – you still have six days to enter your dishes ready on the table in 30 minutes or less. This event is one I host in alternate months alongside Katie at Feeding Boys.