Make weekend breakfasts special with a waffle! Here's a gluten free waffle recipe using a Belgian waffle maker that works just as well as the non gluten free kind.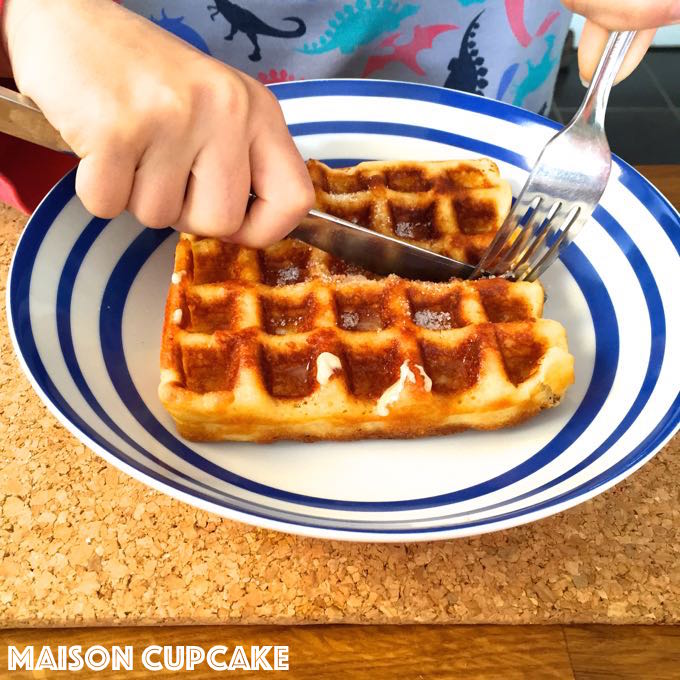 If you've visited Belgium you'll know the air is thick with scent of waffles cooking. The warm fluffy golden waffle is the traditional street food of Belgium. These square grids of batter are cooked on a moulded hot iron in cafes and on street corners. Imagine a crepe in 3D form and you're not far away from waffles. And the good news is that this treat is easily adapted for gluten free diets.
The square holes in Belgian waffles are perfect for soaking up sauces and syrups. Often Belgian waffles are sold with large crystals of sugar embedded into their crust. The ones on the street tend to have rounded edges rather than be perfect squares. Served hot or cold you can enjoy sweet Belgian waffles with ice cream, maple syrup, Nutella, yogurt, fruit purées and chopped fruit, nuts or sweets as garnish.
Ted however preferred his Belgian waffles unadulterated simply served with melted butter and sugar. You can see what I put with mine below.
Whilst we're not on strict gluten free diets, I was keen to experiment whether gluten free waffles would work as well as non gluten free ones. I'm pleased to report there was no difference at all and our Belgian waffles made in the Sage waffle maker we'd been sent to review were a big success.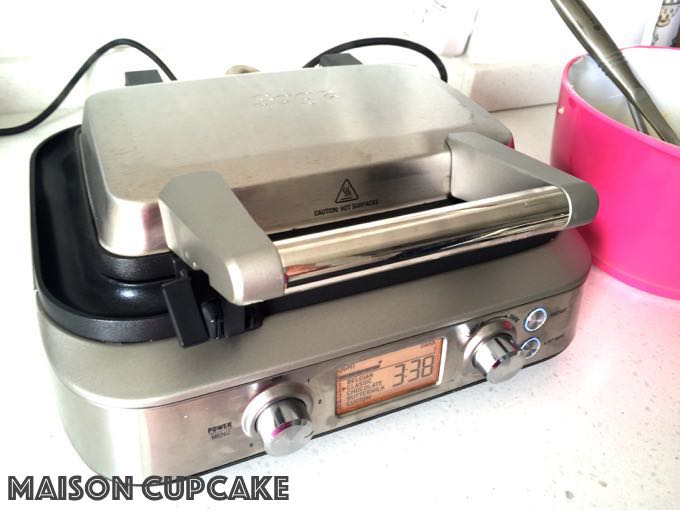 Belgian Waffle Maker Review
What it does: Cooks two square waffles in around four minutes. Has settings for classic, Belgian, chocolate and buttermilk waffles.
Model: Sage by Heston Blumenthal waffle maker
Price: £169 ish.
Practicality: This Belgian waffle maker is around the same size as a large sandwich toaster. It's easy to pick up and put away in a cupboard and get out when you need it whilst its brushed metal good looks are great left out on display.
Best thing: Unfaffy. Waffles on the table in less than ten minutes. How the waffle maker sets the timer according to which type of waffle and how brown you want them.
Worst thing: Rather like pancakes, there's a lot of sitting around waiting for them to be done. You can only do two at once. Typically around 4 minutes per pair of waffles. The good news is the machine requires no babysitting so you can use the interval to make tea (or get dressed).
Would we buy it? This is a fun gadget to use rather than an essential one. It depends on how often you imagine eating waffles. There's very little prep time so there's no excuse to leave this Belgian waffle maker languishing in the cupboard. As well as waffles you could make mashed potato fritters or brownies in it. There are far cheaper waffle makers available but the clever feature of the Sage model is the overflow trough for batter meaning less mess (and a cook's treat to eat as you go along!).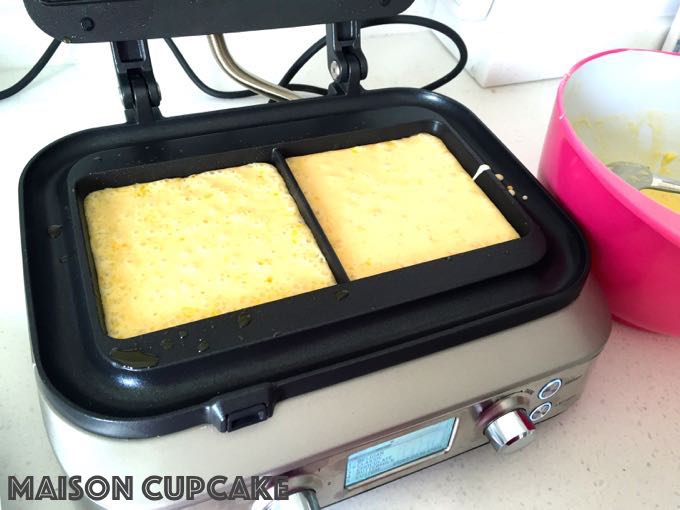 How to Make Gluten Free Waffles using a Belgian waffle maker
If you do not wish to make gluten free waffles then you can use ordinary self raising flour in this recipe.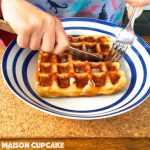 Print Recipe
Gluten free waffles using Belgian Waffle Maker
How to make gluten free waffles in a Belgian waffle maker.
Ingredients
2

eggs

300

ml

semi skimmed milk

80

g

unsalted butter

melted

1

tsp

vanilla extract

200

g

gluten free self raising flour

35

g

caster sugar
Instructions
Preheat the Belgian waffle maker. If using the Sage waffle maker, use the Classic setting and choose your preferred browning setting.

In a medium sized bowl, mix the wet ingredients; eggs, milk, melted butter, vanilla extract.

In another bowl, sift the gluten free flour and combine with the caster sugar.

Make a well in the dry ingredients and pouring in the wet ingredients, mix into a batter making sure the largest lumps are mixed in. A few small lumps are okay.

Using a ladle, pour the batter into each compartment of the waffle maker. Beware not to overfill. Close the lid and cook for around 4 minutes - or however long the built in timer suggests.

Serve waffles immediately with the topping of your choice.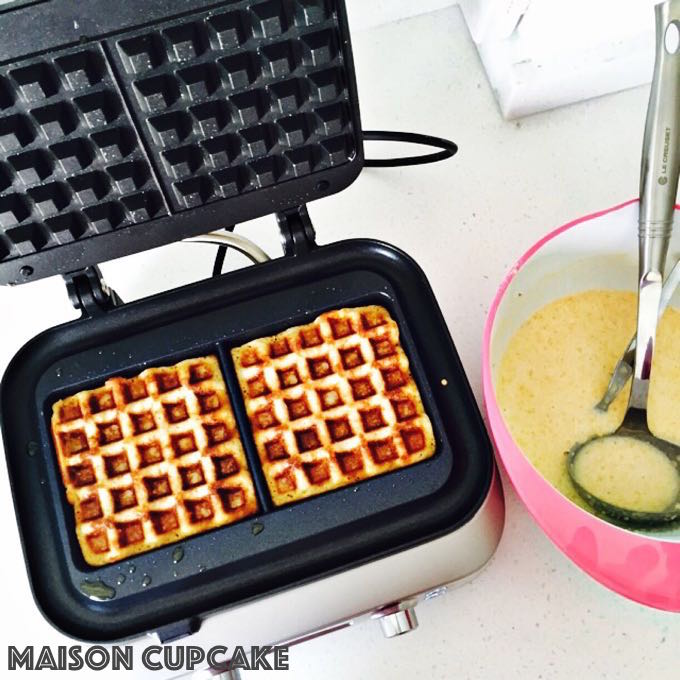 These gluten free waffles are my entry to the relaunched Breakfast Club event. Breakfast Club was originally started by Helen at Fuss Free Flavours and has been dormant for a while but will be revived and hosted by myself and Andrea from Made With Pink who is hosting the first new month.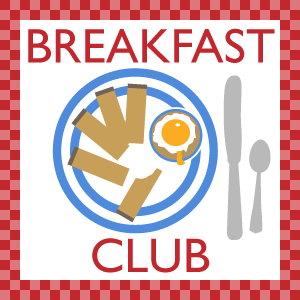 We're accepting any breakfast dishes each month without a particular theme to them but please make sure it's a fresh breakfast post from the current month. (We'll accept those from April for this first event since you'd not had warning!).
If you'd like to take part, Andrea's recent post Introducing Breakfast Club contains the linky to add your post.
Some more waffle ideas can be found at:
Gluten free lemon poppyseed waffles Made with Pink
Cinnamon waffles with caramelised apple A Mummy Too
Black forest waffles Elizabeth's Kitchen Diary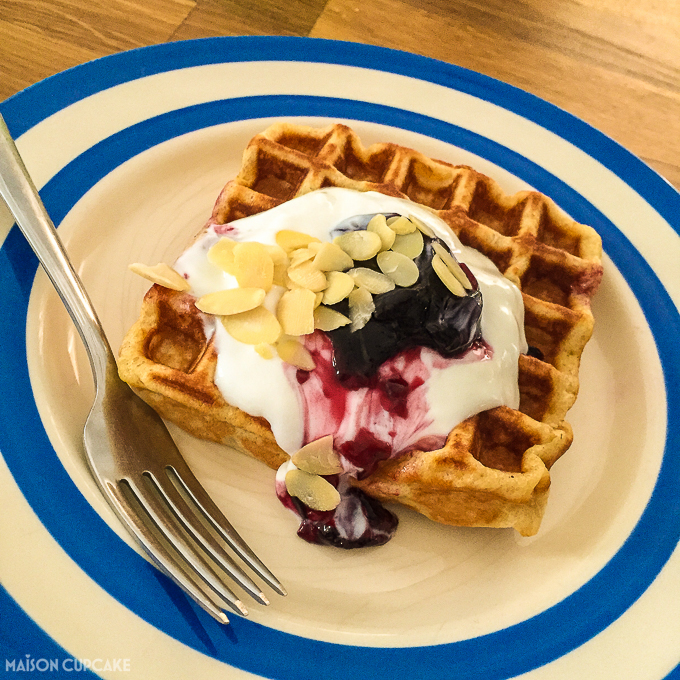 Ted had his gluten waffles served simply with butter and sugar. I had mine with yogurt, blackcurrant gelee by Bonne Maman (bought on holiday) and some flaked almonds.
What did you have for breakfast today?
With thanks to Sage for providing the waffle maker for review.