Make these Belgian speculoos waffles with banana and chocolate for a fun weekend breakfast or dessert – ready in under ten minutes and depending what you top them with, a gluten free recipe too. You'll find a printable recipe sheet below as well as this week's #BAKEoftheWEEK round up.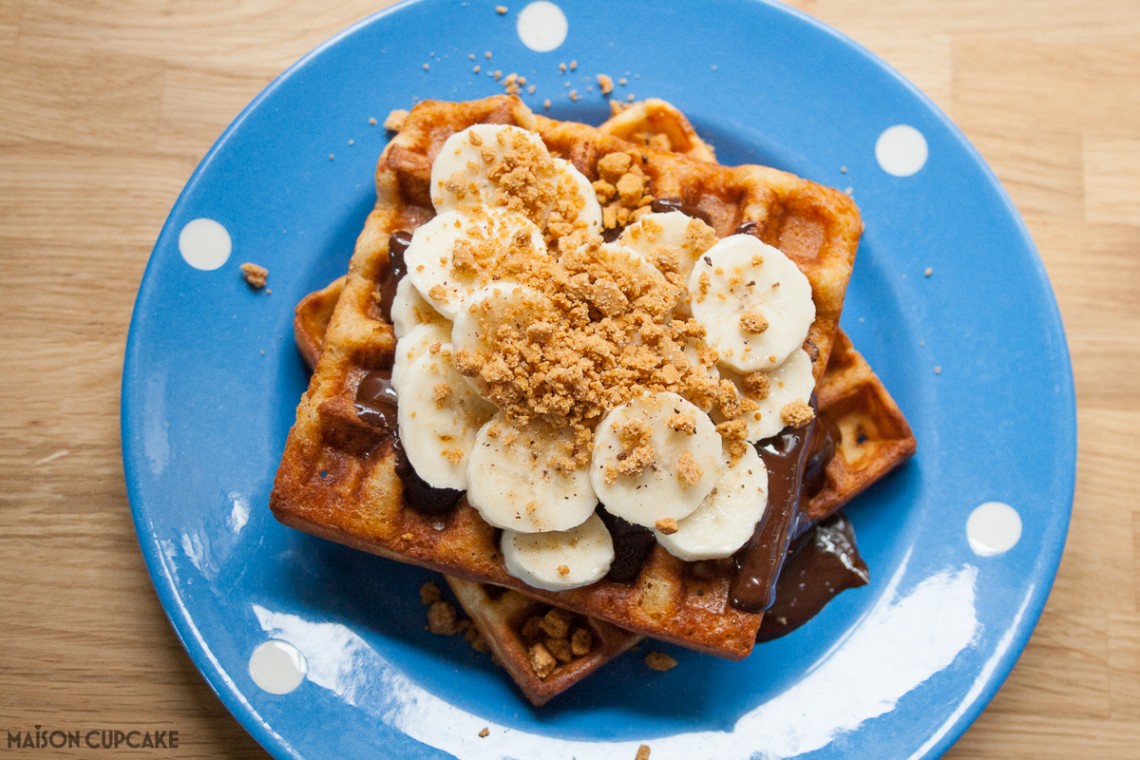 I found a supply of Dove's Flour gluten free self raising flour in my baking drawer recently. I won't embarrass myself admitting the best before date but suffice to say I immediately labelled all my flours with stickers on the tops so I could look down in the drawer and see them stood in rows according to dates on the packs.
So I can predict with some accuracy that our meals will soon heavily feature gram flour and it also explains why I've blogged several recipes in a row using gluten free flour. I don't consider myself to be gluten intolerant but happy to use a range of flours and grains. Gluten free flour in waffles seems to behave exactly as standard wheat flour so it's an easy switch to make.
This week also marks Coeliac Awareness Week – for further information visit Coeliac UK. I also have around twenty gluten free friendly recipes in my archives. Pretty much all of my crumbles, blondies and brownies are made with gluten free flour.
The Speculoos crumbs in the photo topping these Belgian waffles would not be Coeliac friendly but can be easily subbed with some other crushed gluten free biscuits – preferably a spicy gingery one.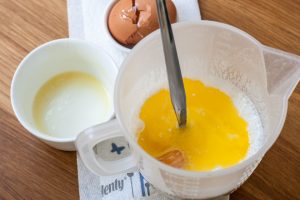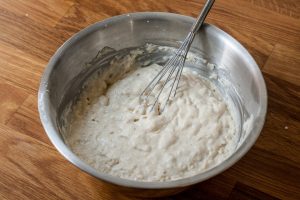 Making Belgian speculoos waffles
Waffles are a very easy recipe that you could make with kids. The batter is very similar to muffins where you mix dry ingredients with each other, mix wet ingredients with each other and then stir.
The waffle maker*  gets as hot as a sandwich maker but you don't need to touch it. A grown up can pour the batter into the waffle maker if children are younger.
The only tricky bit is gauging the amount to pour so you don't overflow.
It's trial and error but the handy feature of the Sage waffle maker* is this "moat" around the edge for overflow. I have previously published a Sage waffle maker review here. If you put all the ingredients ready the night before, you could have waffles for breakfast ready in under twenty minutes – the first pair would be ready in a few minutes so you can serve whoever shouts loudest!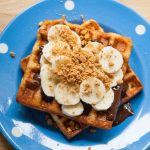 Print Recipe
Speculoos Waffles with Banana and Chocolate (gluten free option) #BAKEoftheWEEK
Ingredients
2

eggs

300

ml

semi skimmed milk

80

g

unsalted butter

melted

1

tsp

vanilla extract

200

g

gluten free self raising flour

35

g

caster sugar

1

tsp

Koekridden speculoos spice

use a 50/50 mix of ginger and cinnamon if you cannot find this

3

bananas

100

g

dark chocolate

melted

Speculoos biscuit crumbs

these are not gluten free so replace with an alternative sweet spicy biscuit if you need to or cannot find them
Instructions
Preheat the Belgian waffle maker. If using the Sage waffle maker, use the Classic setting and choose your preferred browning setting.

In a medium sized bowl, mix the wet ingredients; eggs, milk, melted butter, vanilla extract.

In another bowl, sift the gluten free flour, spice and combine with the caster sugar.

Make a well in the dry ingredients and pouring in the wet ingredients, mix into a batter making sure the largest lumps are mixed in. A few small lumps are okay.

Using a ladle, pour the batter into each compartment of the waffle maker. Beware not to overfill. Close the lid and cook for around 4 minutes - or however long the built in timer suggests.

Serve waffles immediately with a topping of melted chocolate, banana slices and speculoos biscuit crumbs.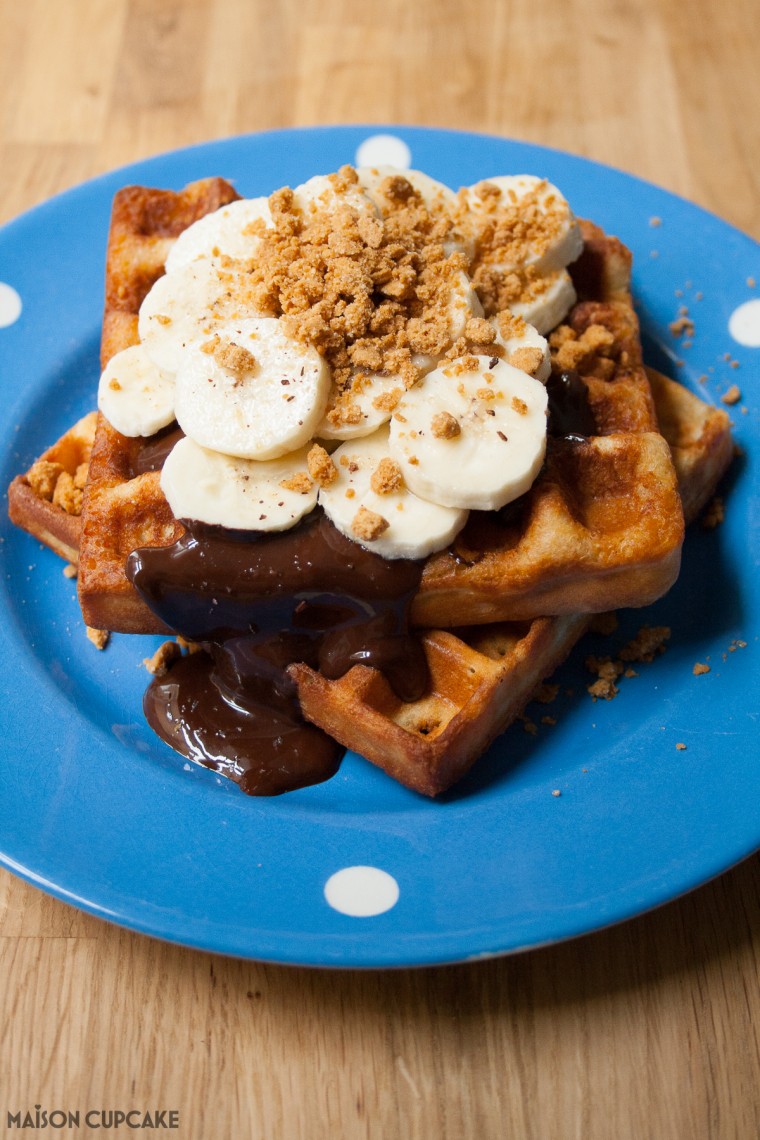 Bake of the week – May 10th
Here are this week's entries for Bake of the Week which was kindly hosted by Helen at Casa Costello. Today I am rounding up and you will find this week's new linky below. Helen will round up my entries next week. We always publish a full round up of entries as well as lots of social sharing. If you've like to participate we close the linky widget on Monday nights and publish round ups on Tuesdays. Thank you to everyone who took part this week. Here are the entries…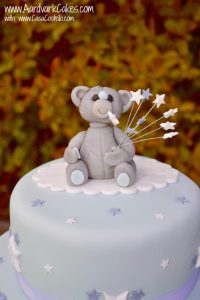 Tatty Teddys Boys Christening Cake by Casa Costello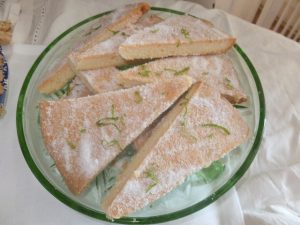 Lime Shortbread by Attachment Mummy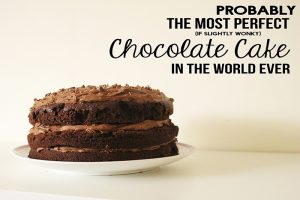 Probably the best, if slightly wonky chocolate cake by Nelly's Cupcakes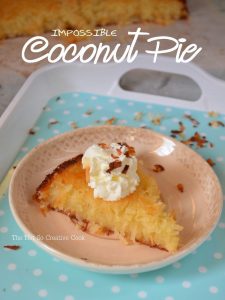 Impossible Coconut Pie by The Not So Creative Cook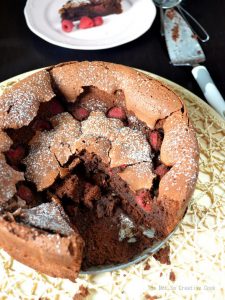 Flourless chocolate and raspberry torte by The Not So Creative Cook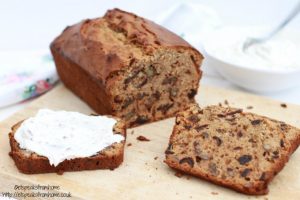 Date and walnut loaf with honey cream cheese by ET Speaks From Home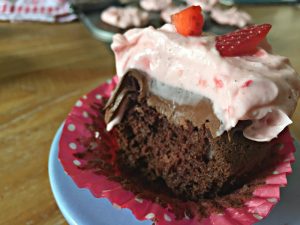 Nutella and Strawberry Cupcakes by Kerry Cooks
Paw Patrol Birthday Cake by Mummy Mishaps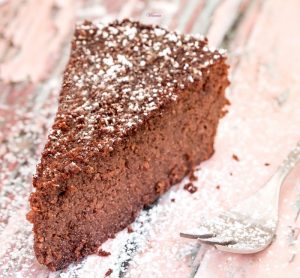 Flourless gluten free beetroot cake by Something Sweet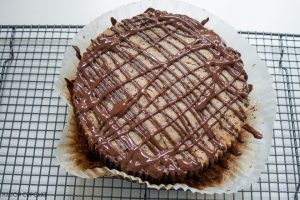 Slow Cooker Banana Bread by myself Maison Cupcake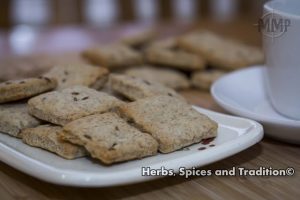 Cumin Biscuits by Herbs, Spices and Tradition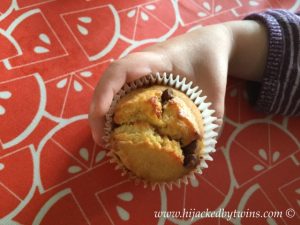 Chocolate Chip Cupcakes by Hijacked by Twins
20th Birthday Chocolate Cake by Baked to Imperfection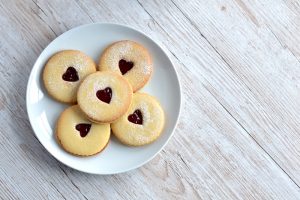 Jammy Dodgers by Baking With Gran
How to take part in #BAKEoftheWEEK
Loading InLinkz ...
*Affiliate links used.