Here's a preview of new cookbooks due out in May 2016 – naturally with the emphasis on baking – and there are a few stragglers from April worth mentioning too.
We have a big variety this month from flouncy fun stuff to vegan ice cream, from TV favourite tie ins to new rising stars.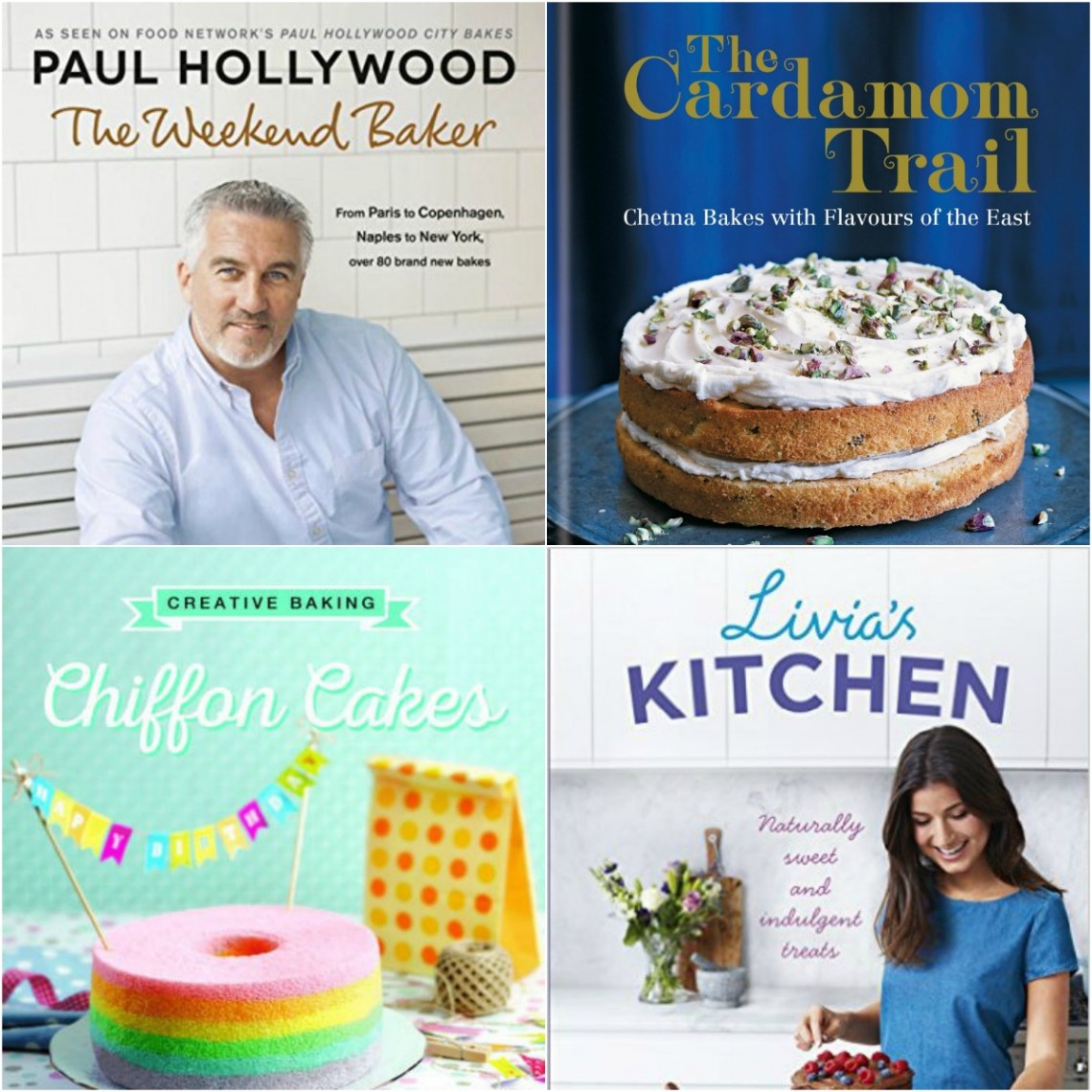 New cookbooks May 2016: Livia's Kitchen

Indulgent treats using naturally sweet ingredients, Livia's Kitchen features alternative ingredients to standard flours and sweeteners. Typical recipes include raw chocolate and maca molten lava cakes, pistachio and matcha balls, raw lemon "cheesecake" and honey loaf cake. There's are chapters on ice creams, breakfasts and pies and tarts. If you're following a low FODMAP diet, as the writer has done, this could be the book for you. Livias Kitchen by Olivia Wollenberg, 5 May 2016.
American Girl Baking

Super girly baking book aimed at 8-12 years market for kids who want to start learning to bake by themselves. Produced by Mattel owned American Girl magazine and US homeware brand Williams Sonama, this book uses American cup measuring system rather than metric and its overt pinkness is likely to alienate boys. But if you have a set of baking cups and a "girly girl" to please, this is a charming little book filled with American favourites such as whoopie pies, Snickerdoodles, black bottom cupcakes, rocky road and all American strawberry shortcake. American Girl Baking by Williams Sonama, 5 May 2016
Perfecting Sourdough

The founder of "Virtuous Bread" will guide you through making your own sourdough starters and mastering the art of home made artisan bread making. Perfecting Sourdough by Jane Mason, Murdoch Books, May 5 2016
Afternoon Tea

Master patissier Eric Lanlard presents a French spin on the English tradition of afternoon tea packed with choux, macarons and patisserie. There's a strong emphasis on the TEA part as well as the cake with themed menus each comprising savouries, scones, sweet bakes and an appropriate cupcake of tea to match. Recipe highlights include lemon and pepper macarons filled with smoked salmon, Aperol sultana scones and Persian syllabub. A book to help you put on the Ritz with a DIY afternoon tea. Afternoon Tea by Eric Lanlard, Mitchell Beazley, 12 May 2016
Chiffon Cakes

The chiffon cake is not well known in the UK but its fat free low sugar sponge is also a versatile medium for creative baking. From the Japanese flavoured baking blog Loving Creations 4 U. Creative Baking: Chiffon Cakes by Susanne Ng and Tan Phay Shing, Marshall Cavendish, 17 May 2016
Paul Hollywood The Weekend Baker

When Paul Hollywood isn't judging cakes in a Bake Off tent, he's been travelling the world on city breaks including Miami, Paris and Naples. Here he presents his own spin on international baking favourites from his travels. A tie-in with his Food Network TV series. The Weekend Baker by Paul Hollywood, Michael Joseph, 19 May 2016
N'ice Cream

Finnish food blogging duo present vegan ice cream recipes. Recipes include a mix of popsicles, sundaes, cookies and wafers to help you enjoy iced treats on plant based diet. N'ice Cream by Virpi Mikkonen and Tuulia Talvio, Avery, 19 May 2016
Pride and Pudding

Belgian born Anglophile Regula Ysewijn has meticulously researched the history of the British pudding over several years. Pride and Pudding presents a collection of both savoury and sweet, classics, re-discoveries and the writer's own re-inventions. There's a full range from haggis to Yorkshire pudding and retro trifle to apple charlotte. Dramatic food photography is inspired by the Flemish Renaissance paintings of Regula's homeland. Jamie Oliver calls this unique book "A Very Tasty Masterpiece". Pride and Pudding: The History of British Puddings, Savoury and Sweet by Regula Ysweijn, Murdoch Books, April 2016
The Cardamom Trail

The former Bake Off contestant works the styles and flavours of her Indian homeland into an accessible book of baking recipes. Typical cakes include pear and cardamom caramel upside down cake and clove and cinnamon chocolate cookies with a chapter of small bites including naans and samosas. The recipe index suggests a heavy presence of the title's cardamom (a "Marmite" ingredient for many) although saffron, tamarind and fenugreek also star. The Cardamom Trail by Chetna Makan, Mitchell Beazley, April 2016
Amazon affiliate links used.