Cheating need not mean buying a pack of Mr Kipling French Fancies – you can quickly get a similar effect with instant fondant fancy icing.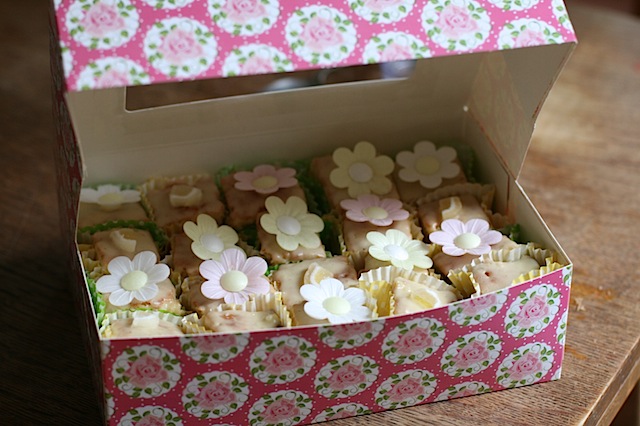 You know I like a Nigella Express style solution to stuff. Sometimes a request from the school to send in cakes for bake sales comes at very short notice and just when you need it the least.
Back in July I was preparing for a party to celebrate the launch of Sweet Bitesize Bakes when Ted came home with a message that school wanted cakes for the summer fete the next day.
Now a lot of mums send in shop bought cake and I can understand this. But I felt it would be a tad embarrassing for the mum with the baking book to buy her own cake. So despite being on a 3 day schedule to produce a dozen different bitesite treats (around 200 pieces in total – some of them shown below) I managed to squeeze in these cheats' fondant fancies.
And boy are they cheating – I don't pretend they have any layers of buttercream or marzipan, there's no jam either. But for soft sponge coated in a sweet shell of flavoured fondant icing they tick enough boxes to get away with it. Plus they're a welcome change to cupcakes – anyone can show up with cupcakes. Arrive with fondant or French fancies on the other hand and you have an instant conversation piece.  I have also long realised that there is no point in spending a long time decorating cakes for school fetes and church bazaars when "good enough" is deemed brilliant there.
So in barely more than the time it took to bake a square sponge cake and let it cool down I sent Ted to school with a box of French fancies.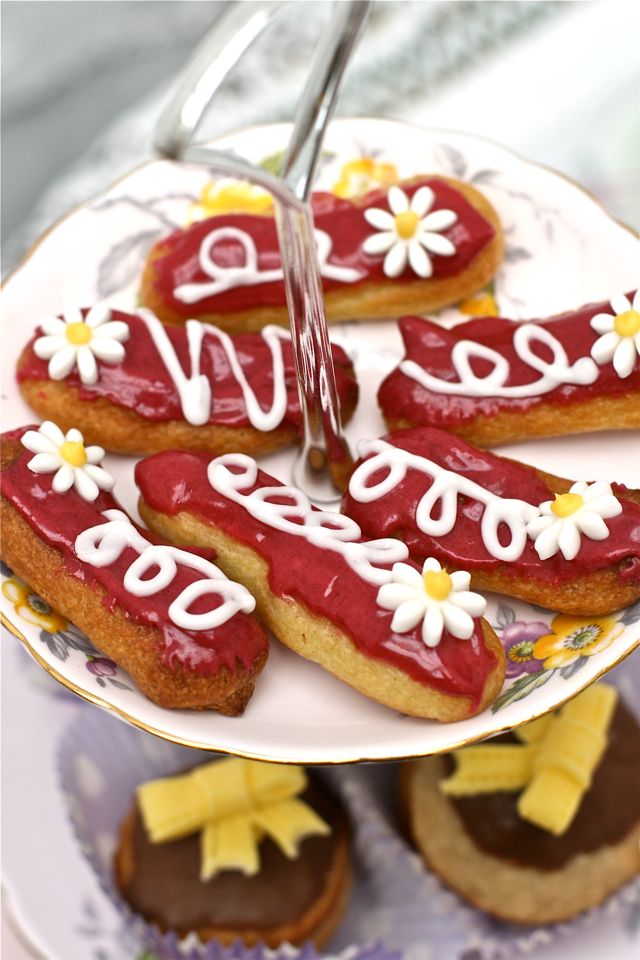 I saved heaps of time by using Squires instant lemon fondant icing which comes in various other flavours and colours. Above you can see the blackcurrant version on these eclairs. The Squires instant icing has the advantage of being quick and easy to make and a good flavour. The downside being it's much more expensive and you have no control over the colour. The raspberry and blackcurrant versions are very intensely coloured.
I featured five versions of fondant or French fancies in my book Sweet Bitesize Bakes. If you fancy (no pun intended!) doing the more hands on version read my detailed fondant fancy tips (that wouldn't fit into the book!) in my earlier post How to make fondant fancies: top ten tips.
If you love fondant fancies follow me on Pinterest!
Follow Sarah | Maison Cupcake's board Baking | Fondant Fancies on Pinterest.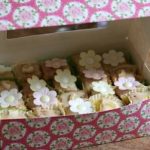 Print Recipe
French fancies for cheats with instant fondant fancy icing
These cheats' fondant fancies look the part and taste divine - without faffing with buttercream layers or marzipan.
Ingredients
180

g

butter

180

g

caster sugar

3

large eggs

180

g

self raising flour

sifted

finely grated zest of one lemon

30

ml

lemon juice

1

pack of lemon flavour instant fondant icing

such as Squires

24

edible flower decorations such as Dr Oetker <em>or</em>sugary jelly lemon slices

<em>You will also need a 20cm

8in square baking tin lined with baking parchment.</em>
Instructions
Preheat the oven to 180c/Gas 4.

Using an electric mixer with a large bowl, cream the butter and sugar until pale and fluffy. Then beat in the eggs.

Fold in the flour one third at a time until just combined. Fold in the zest and lemon juice - do do not over mix.

Pour the batter into the lined square baking tin and coax it towards the edges.

Bake in the oven for around 18 minutes. When done the sponge should be golden and a cocktail stick come out cleanly.

Leave in the tin for a few minutes to cool before transferring the cake to a wire cooling rack to cool completely.

Meanwhile, empty the instant fondant fancy icing into a small bowl and add water according to the pack instructions. Be cautious adding water, you can always add more but cannot take it away.

When the cake has cooled completely, trim the four outer edges off with a sharp knife. Then cut the remaining square into 25 little squares in a 5x5 grid.

Dip each of the squares into the wet fondant icing so that each side is covered. Do not worry too much about perfection as the icing will even itself out on each surface as it sets.

Whilst the icing is still wet, top the fancy with an edible flower decoration or lemon jelly slice. Allow the icing time to set - it should only take a few minutes to be touch dry but goes harder when left longer. Like nail varnish!

Pop each fancy into a paper cupcake case and pinch the paper into a square shape. It is fine to use ordinary round cases.

Pack the fancies into a rectangle or square shape container, as you push them gently together it encourages the paper cases to say in their new shape.
Notes
These fancies are best enjoyed as fresh as possible but can be stored in an airtight container for 3-4 days.
And when you are ready to do full blown perfect fondant fancies with homemade fondant icing recipe this post has everything you need!