How better to take your mind for impending snow and bad weather by planning a summer holiday? Take some inspiration from Siblu holiday taken last summer.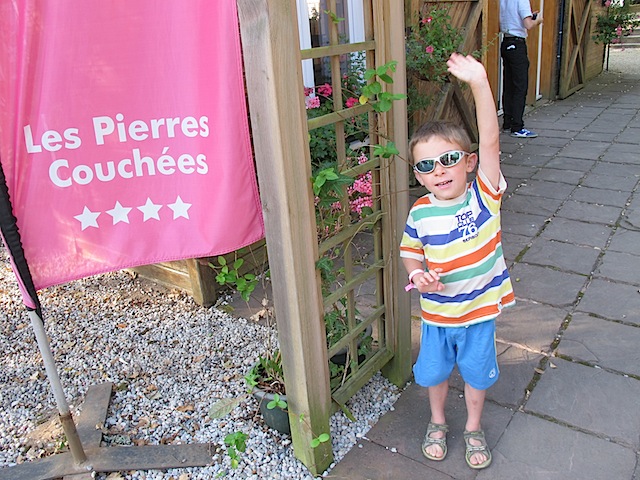 It is – in case you haven't noticed – cold. We're due to get snow storms this weekend in the UK and I just want to hunker down and keep warm under the temperate rises again.
Now that Christmas is out of the way, it's time to start planning for holidays again. As you may previously have gathered, we are France addicts. We can't get enough of the place – I have a French travel blog in the pipeline where I can chatter about holidays in France without boring all the people who come here for cake.
Last year we took a trip with Siblu, a mobile home holiday park chain for the first time. Having done a trip with most of the big holiday chains in France now, I am happy to report that Siblu was one of our favourites. Some sites have very few facilities onsite meaning you have to go outside for nearly everything but Les Pierres Couchees near St Brevin-les-Pins was one of the largest holiday parks we had ever stayed on.
It was the most efficiently run and best maintained site I've stayed on – probably due to the fact that the whole park is run by Siblu in contrast to Eurocamp and Key Camp who each own mobile homes on sites with third party companies running the site facilities and maintenance.
[youtube http://www.youtube.com/watch?v=4wQkvFWZBoI]
Ted was very impressed with Siblu as you can see in my short video here.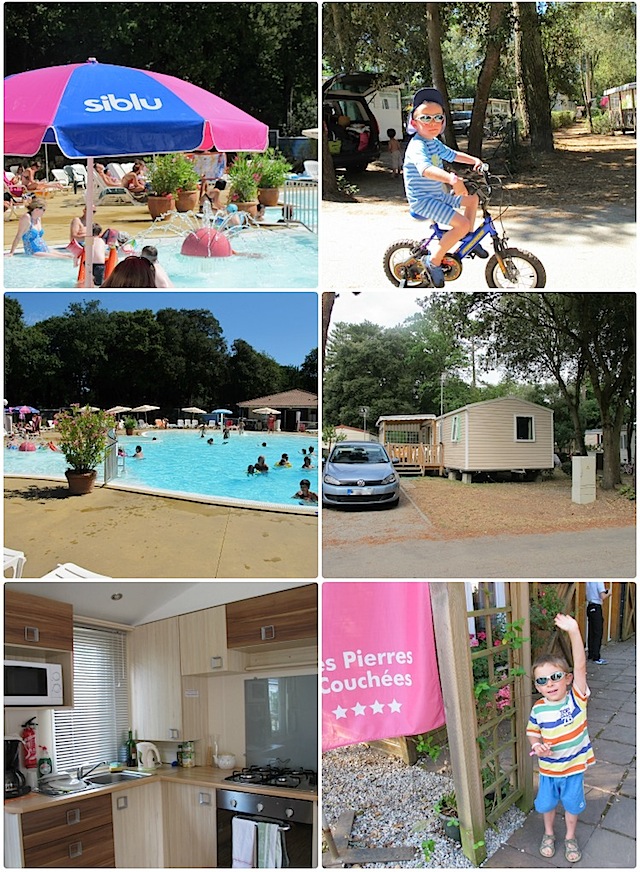 It's fair to say that when it was just husband and I we liked to stop in boutique hotels from the Hip Hotels book and wouldn't have thought to spend a week self catering.
With Ted in tow, our holidays have changed a great deal. We always travel self catering, usually by car on the ferry and frequently take Grandaddy with us too.
What we're looking for in a family holiday is a safe, well maintained park with a decent pool and chutes, a child friendly bar / restaurant to pass some time in, some nearby shops and being within 7 hours drive of the ferry port. Oh and when you have the complexion of Nicole Kidman / a bottle of milk, you need a serious number of umbrellas around the pool to hide under.
Siblu Les Pierre Couchees ticked all these boxes with accommodation that exceeded my expectations. Having a deck outside is beneficial since it makes getting in and out of the mobile home easier for kids. And it gives you an extra room outside to serve dinner. Being fairly far north in France (we were just south of Nantes) a deck with a canopy was hugely appreciated, both to keep us in the shade and shelter from the occasional rain shower.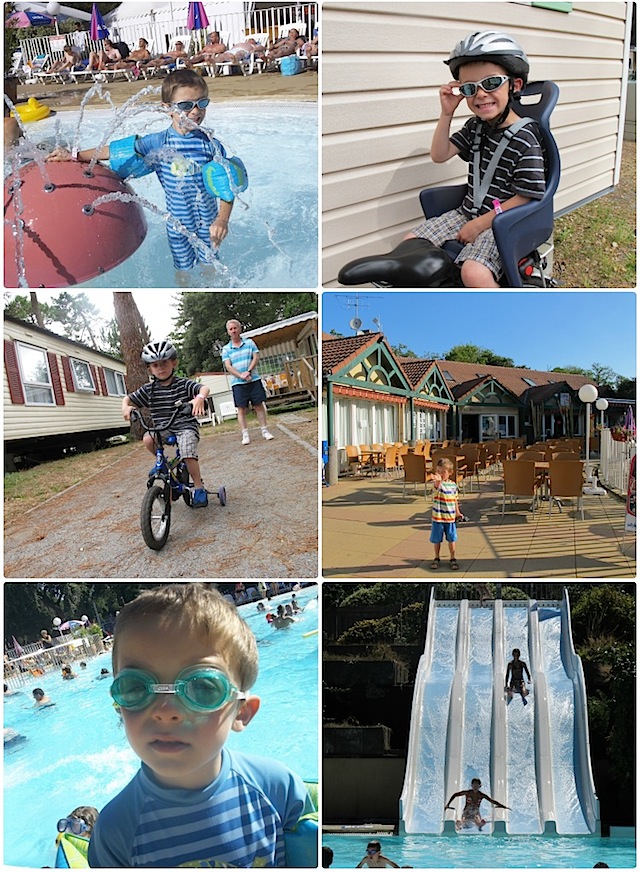 One thing we missed being in a forest was having personal barbecue facilities. There are communal barbecue facilities dotted around the site but we didn't stray that far to use them. Barbecues have to be controlled due to the risk of forest fires.
Last June on Ile de Re we lamented that our holiday park was too peaceful. Siblu had plenty of atmosphere without ever being noisy or unruly. There were daily kids' clubs and evening entertainment. Ted took part in an Olympics themed play session and we also watched an 80s themed night in the amphitheatre.
There is a small shop on site as well as a pizza/pasta restaurant, a bar and a take away selling frites and burgers. We were a bit frustrated that the immediate locality lacked alternative shops without going somewhere by car although there was a decent market nearby twice a week.
Knowing how awkward it can be to find a supermarket open in France on Sundays, it doesn't make a lot of sense that the introduction session for new visitors takes place on Sunday morning and by the time you've attended this and been told where the nearest supermarket is, it will be closed. Getting our bearings in the area took a few days but then this is normal going anywhere new. The road layout in the vicinity had been changed and the maps hadn't been updated yet.  There was a fast dual carriage way between the park and St Brevin les Pins and the route round the back way was not straightforward but reasonably well signposted. Fortunately I am the human equivalent of a sat nav so we didn't get lost although others might.
That said, I had had the foresight to ask the reception which supermarkets were open so I sent my husband to the meet and greet session with Ted whilst my dad and I went out foraging. Most of the Siblu staff speak English and a fair few are actually British anyway. Knowing this does take the stress out of any hiccups you have to deal with on holiday, if you need a problem sorting out it's nice that language isn't going to be a hurdle.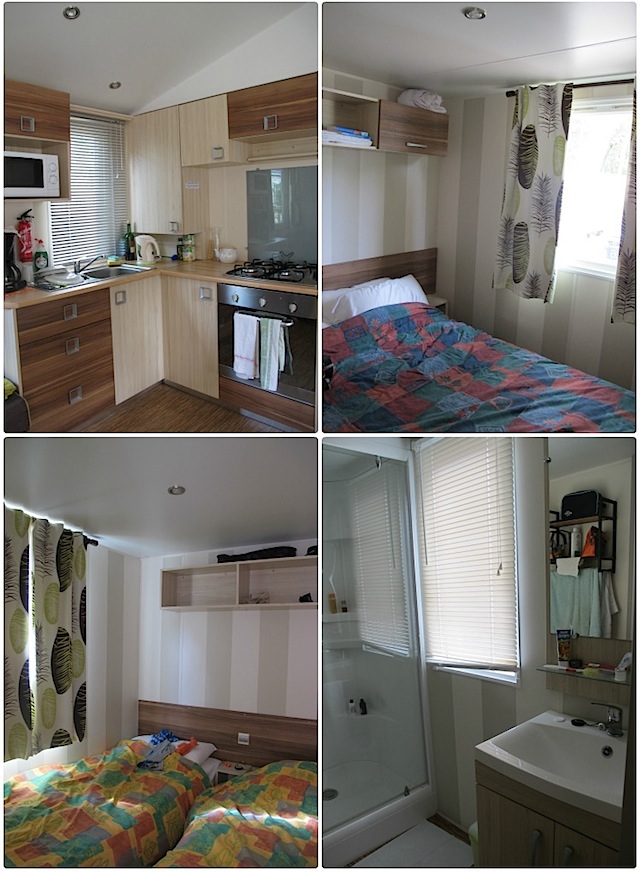 With our own car to get around we visited Guerande, Pornic and La Baule which are all within 45 minutes' drive. Given that the weather was mostly hot and sunny I bowed to pressure from my husband and Ted to sit still and stay near the pool. Otherwise I have a tendency to rush around all day every day on holiday.
We hired bikes from a shop in the nearby town (I am very fussy about bikes) which left us with a chicken/fox/corn quandary to get all four bikes back since we couldn't transport Ted's bike whilst riding the other 3 (with child seat). The site hadn't had a child's bike suitable for Ted.
Les Pierres Couchees is a short walk from a nearby beach although there's not a lot going on there even in high season. Stretches of beach further towards St Brevin are better serviced.
Being a window shopper, I found the browsing opportunities in the area limited. The shops in Pornic and Guerande are much more interesting although there is a huge branch of Leclerc a short drive away. This isn't an area with chic boutiques and patisseries. Dining options were not that broad in St Brevin either although we did have a surprisingly satisfying trip to Buffalo Grill (to be blogged) in a retail park.
Despite misgivings about St Brevin, we were very pleased with the Siblu park itself and would definitely stay in another park in future.
Best thing: Clean, modern accommodation with good quality bedding. Plenty of helpful staff who speak English.
Recommend: Safe, self contained park with plenty of entertainment options on site for all ages.
Could be better: The nearest town is not especially  interesting, even in high season. Having a car is essential.
Get 10% off Siblu holiday in France – early booking offer

Siblu have 15 holiday parks across France – mostly on the Atlantic coast with 4 in the south. Accommodation in self catering luxury mobile homes has 2-3 bedrooms. There are also options to buy your own mobile home.

Siblu currently have an early booking offer available with 10% off holidays to France for anyone booking a Siblu holiday before 31st January.

Simply use the offer code LANC13 and book online at www.siblu.co.uk or by calling 0871 911 7777.

With thanks to Siblu and Brittany Ferries for accommodation and crossing. I shall be covering some of our adventures on our journey and during our stay in the next few days.