A quick easy vegetable biryani recipe packed with vegetables including cauliflower and chickpeas – ready in under 20 minutes, suitable for vegans too. Recipe commissioned by Veetee rice.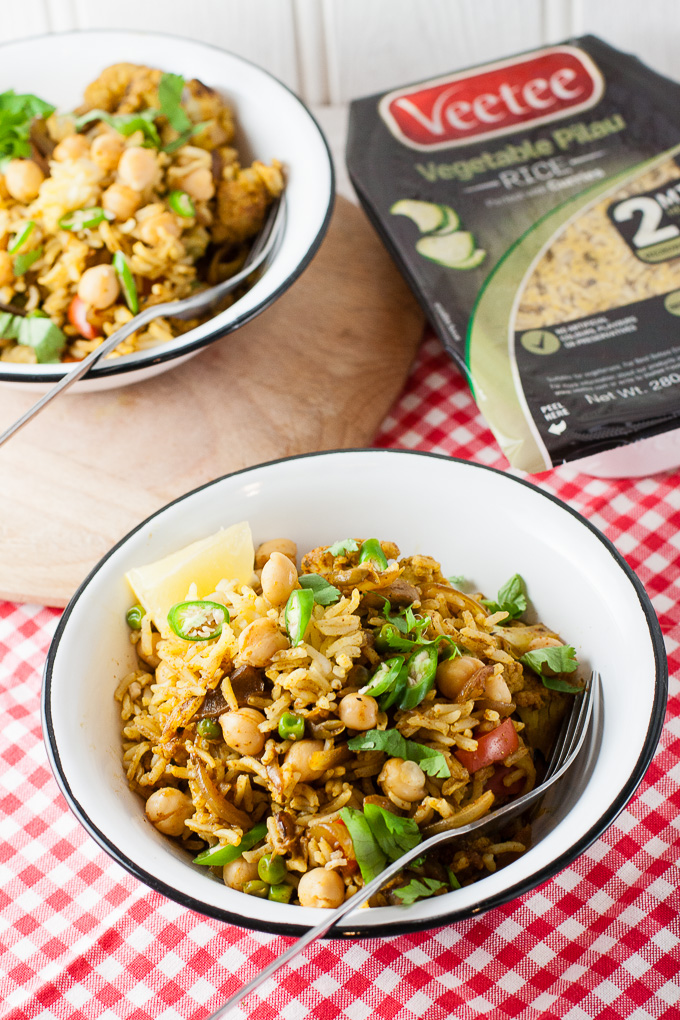 I don't know if it was an authentic recipe but my mother first introduced me to biryani rice shortly after we acquired a microwave in the mid 1980s. You don't absolutely need a microwave here but it is the easiest way to heat the packs of Veetee rice that go into this dish.
Technically, a long list of spices go to make up a biryani blend; coriander, cinnamon, ginger, ground black pepper, fennel seed, cumin seed, chilli, cardamom, nutmeg, cloves. The over riding memory I have of my mother's version is lots of cumin. My mother's biryani was how I first differentiated cumin from other spices. Warm, flavourful and savoury but with no heat. It has been a favourite spice of mine ever since.
In researching what biryani is commonly perceived to be, I reached the conclusion that everyone uses their own spice mix with their choice of extra ingredients added to the fried rice.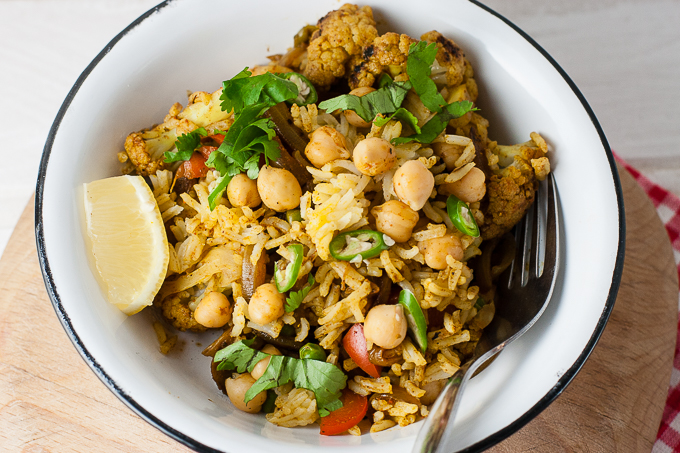 Whereas I might have suggested a mix of the spices above in my own version, this would not have been in the spirit of this speedy storecupboard dish.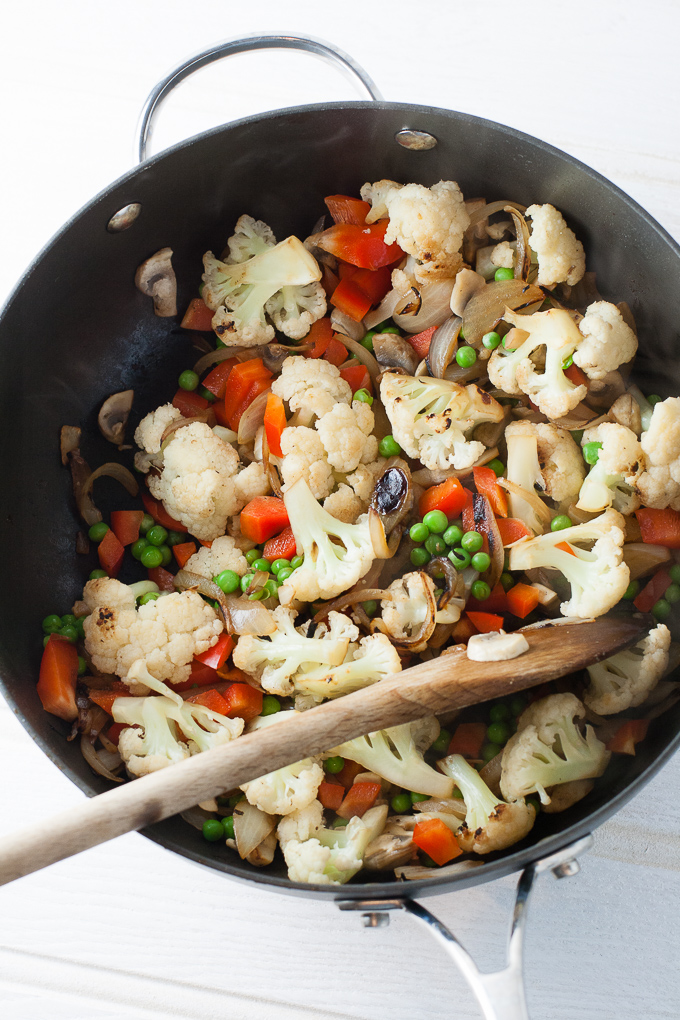 So I'm using my latest cheat – mild curry powder with extra cumin. I know I'm probably doing this all wrong adding the spices at the end instead of with the onions but I prefer to see the cauliflower turn brown from frying alone and have not felt adding the spices later to be at the detriment of this easy dish.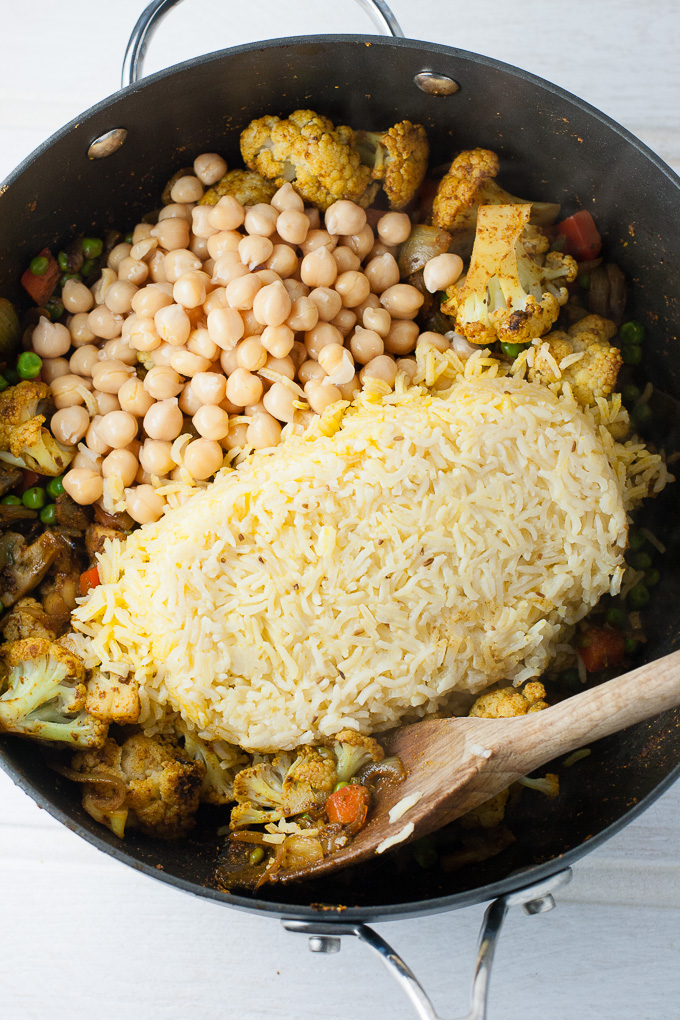 It also means you can serve a version to kids without the spices if you wish. I often do that and then ply the remainder with a stack of hot stuff.
The Veetee rice is already cooked so you wouldn't necessarily need to preheat the rice in the microwave before adding here. Only I have done so out of habit since I find the rice grains separate more easily if you do. There's nothing more irksome than breaking up a chunk of cold rice with a wooden spoon and sending grains flying every direction. Or is that just me?
And it was also my mother who first eulogised to me on the glories of pre-cooked rice. But rice is easy to cook I said. Why would you buy it already cooked? For convenience she said. I was quickly swayed – now I can enjoy a refried rice dish in minutes, whether Chinese or Indian style without the need to have left over cooked rice.
Which means this is now a firm favourite in our house. You can adapt this dish to incorporate whatever is in your fridge with a can of pulses. And have it on the table inside 15 minutes.
And I've not even yet mentioned how healthy and veg packed it is. I've got a recipe for when you crave an Indian takeaway but the children need feeding too and you would want them in bed before the delivery would arrive. And really you would rather save the money and the calories.
This is the first time when testing a recipe I've purposely eaten the same dish three evenings on the trot. Not because it was tricky or there was a problem with the recipe but because it was so darned good.
What's your favourite rice dish?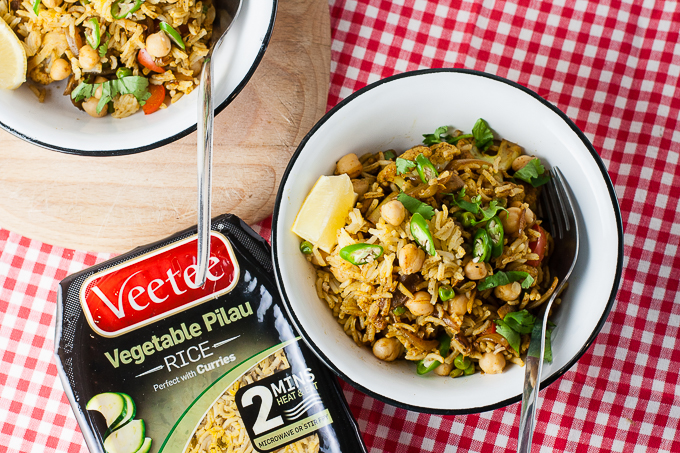 Vegetable Biryani with Cauliflower and Chickpeas
Serves 2-3
Ingredients
1 tbsp groundnut or rapeseed oil
2 medium onions peeled and sliced into half moons
1/2 head of cauliflower (around 300g), separated into florets
75g mushrooms, chopped
100g frozen petit pois (or other peas)
1/2 red pepper, diced
2 tbsp mild curry powder
1/2 tbsp ground cumin
1 pack Veetee pilau vegetable rice
400g can chickpeas (not drained yet)
1/2 lemon cut into wedges
handful of coriander leaves, chopped
2-3 birds eye chillis, finely sliced (optional)
Directions
1. In a large pan, heat the oil and fry the onions until they begin to brown. Then add the cauliflower florets, stir and replace the lid to keep any steam in.
2. When the cauliflower is starting to brown, add the mushrooms. Stir intermittently whilst leaving the lid on for the rest of the time.
3. Meanwhile heat the Veetee pilau vegetable rice in the microwave for 2 minutes according to pack instructions.
4. When the cauliflower is browned nicely and the mushrooms softened, add the frozen petit pois and diced red pepper. When the peas are defrosted, stir in the curry powder making sure all ingredients are covered.
5. As the pan might be starting stick, now pour a few tablespoons of the chickpea water into the pan to loosen things up.
6. Drain the remaining chickpea water then pour the chickpeas and heated Veettee rice into the pan. Stir to incorporate.
7. Serve topped with chopped coriander leaves, some finely spiced bird's eye chilli and a wedge of lemon.
Any leftovers kept chilled in the fridge overnight maybe be reheated or served cold the next day. In a sealed container this dish would travel well as a packed lunch.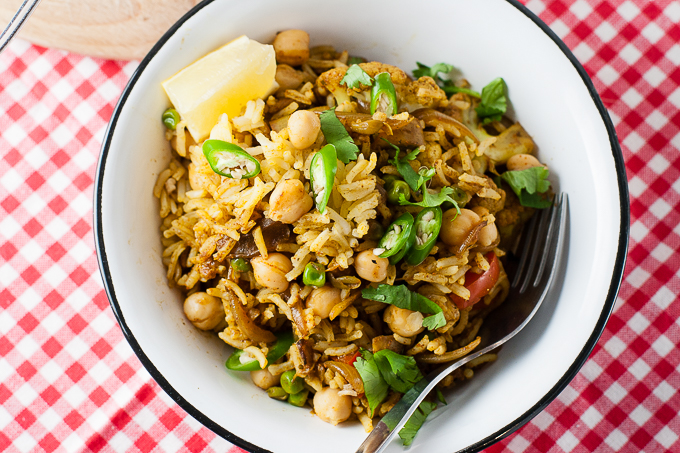 If you like this quick easy rice dish, try these other dishes using Veetee rice: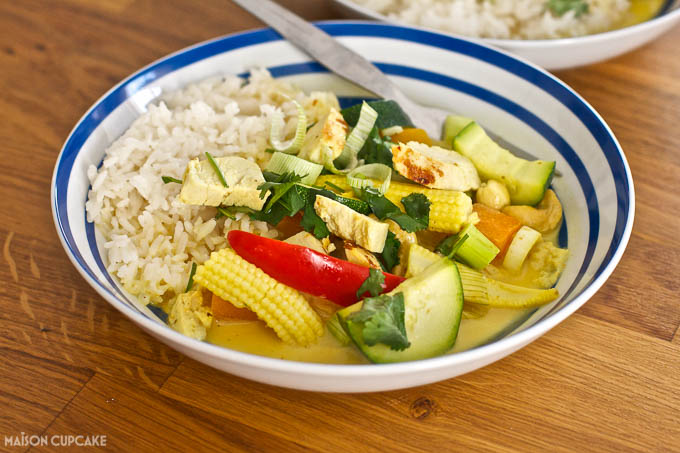 Fancy more speedy curry and rice? Try my ten minute Thai turkey curry with rice.
This vegetable biryani recipe post was commissioned by Veetee as part of their new Veetee Blogger Community.