Easy brunch recipe version of classic Bloody Mary cocktail on rye toast. Recipe commissioned by Ketel One Premium Distilled Vodka.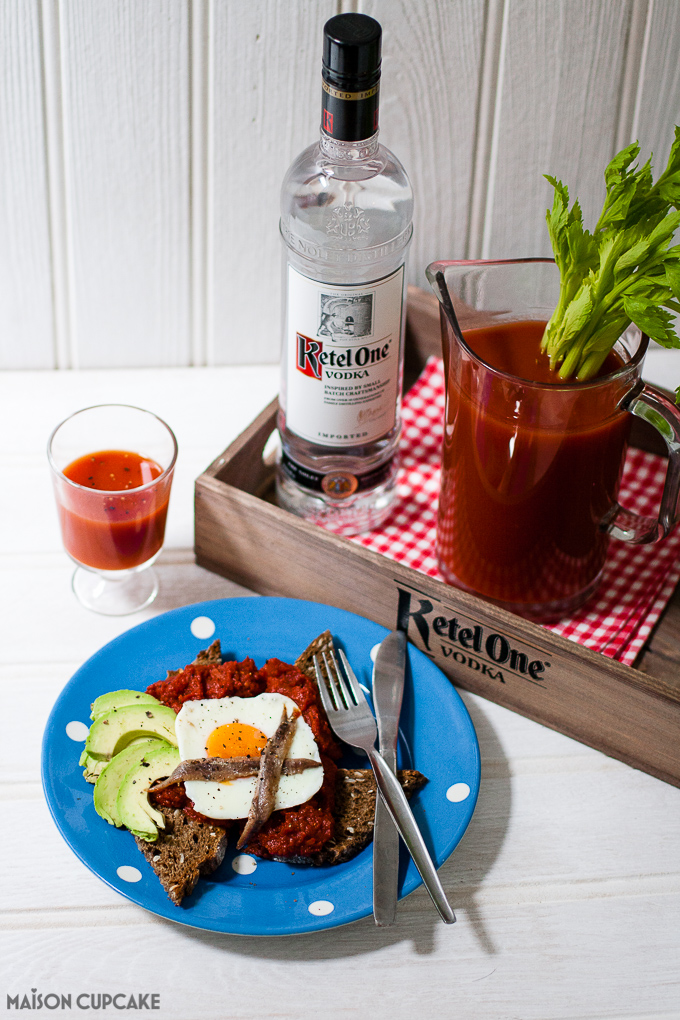 This is quite an admission. I had never, can you believe drunk a Bloody Mary before this week. Neither had I drunk tomato juice.
I'm immediately converted. Since avoiding sugar whilst I'm doing Weightwatchers, I am totally tuned into savoury flavours and can see myself enjoying tomato juice with or without vodka on a regular basis. Furthermore, a vodka and slimline tonic is one of the drinks served in a pub with the fewest calories in it so that's two new favourites in one.
More imaginatively, vodka is of course the spirit behind the traditional Bloody Mary cocktail and to celebrate new twists on this old favourite, Ketel One Vodka have launched a Bloody Mary brunch campaign including their customisable infographic World Class Brunch helping you choose a brunch favourite from around the world with a version of Bloody Mary to match.
I got the idea to add the vodka and other Bloody Mary ingredients to the tomatoes since penne alla vodka tomato sauce dishes are frequently seen in Italian cooking. What works there works here very well indeed and in order to conform with every stereotypical brunch cliche that there is, we must add compulsory poached egg and avocado.
Bread is also something I'm largely avoiding right now. I can't bear that fresh air excuse for calorie reduced bread so instead I favour small amounts of dense, interesting bread. This rye toast was made from a fresh loaf of rye bread rather than being a typical shrink wrapped skinny sliced German import (although I enjoy those sometimes too).
Anchovies – incase you're wondering how they ended up here – are a core component of Worcestershire sauce, itself an essential ingredient in the classic Bloody Mary cocktail.
The original of my square poached eggs has been questioned previously on Instagram – below I share my tips for the perfect microwaved poached egg.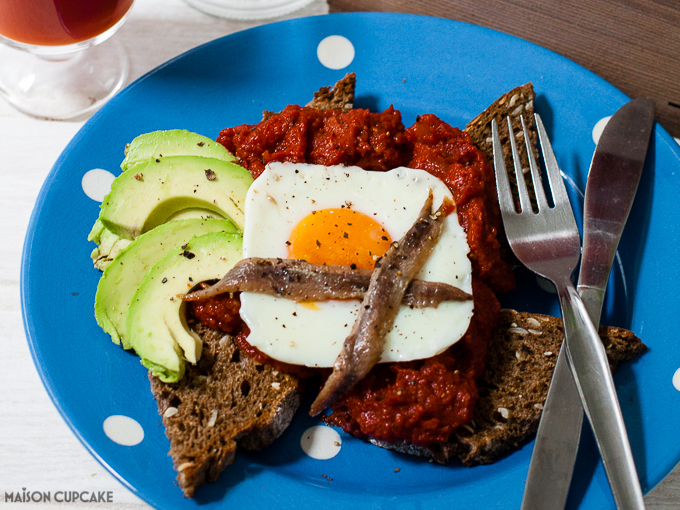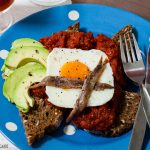 Print Recipe
Rye Toast with Bloody Mary Topping
Ingredients
4

slices

rye bread

400

g

can chopped plum peeled tomatoes

not drained

30

ml

Ketel One vodka

8

anchovies in oil

2

large free range eggs

a few drops of groundnut or rapeseed oil for cooking the eggs

1/2

soft avocado

generous splash of Worcestershire sauce

ground black pepper

smoked sea salt

Tabasco chilli sauce
Instructions
In a small frying pan over a medium heat, heat the chopped plum tomatoes with the vodka and four of the anchovies (chop them to make them break down in the tomato), a sousing of Worcestershire sauce, generous grind of black pepper, scattering of smoked sea salt and as much Tabasco chilli sauce as you like. Heat fairly vigorously until the liquid cooks off and you are left with thickened tomatoes.

Meanwhile toast the rye bread and poach the eggs. My preferred method for poaching eggs - which yields this curious square shape - is to microwave them one at a time in a small plastic container on a medium heat for one minute ten seconds then a further ten seconds on high. Your own microwave strength may vary so tweak these timings/temperatures if your eggs are prone to spitting or not cooking within this time. Prior to cooking, smear oil over the surface of a small microwave proof plastic container, pierce the yolk gently in two places and cover lightly with a pierced piece of cling film.

To serve, top the rye toast with cooked down tomatoes and the poached egg. Criss cross with two more whole anchovies each and a fan of ripe avocado slices.

Serve immediately - with a Bloody Mary cocktail to hand.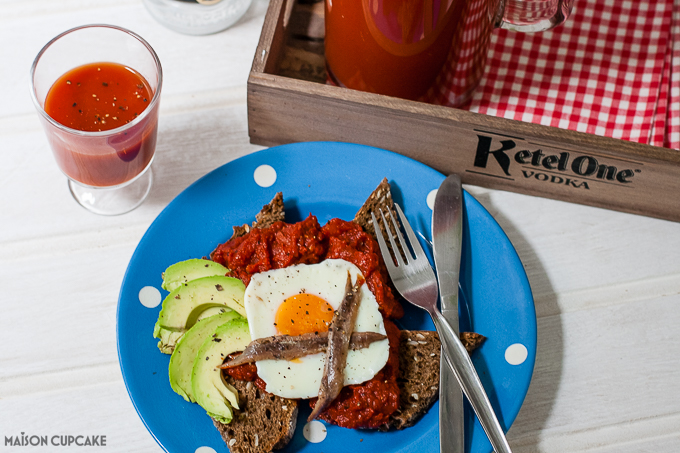 I am submitting this recipe to Dom at Belleau Kitchen's Simply Egg-cellent with this month's theme "anything goes".
If you like this brunch dish why not also try:
Pesto and Feta pastries by Fuss Free Flavours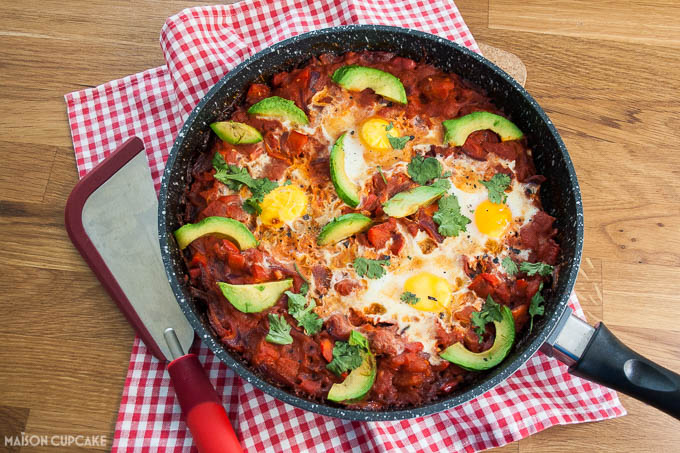 Enjoy alcohol responsibly. DrinkAware. Rye toast topped with Bloody Mary recipe commissioned by Ketel One Vodka.