These Bramley apple hand pies are part sweet, part savoury. Their lack of sugar dispels the notion that cooking apples are sour. Part of an ongoing series of recipes commissioned by Bramley Apples.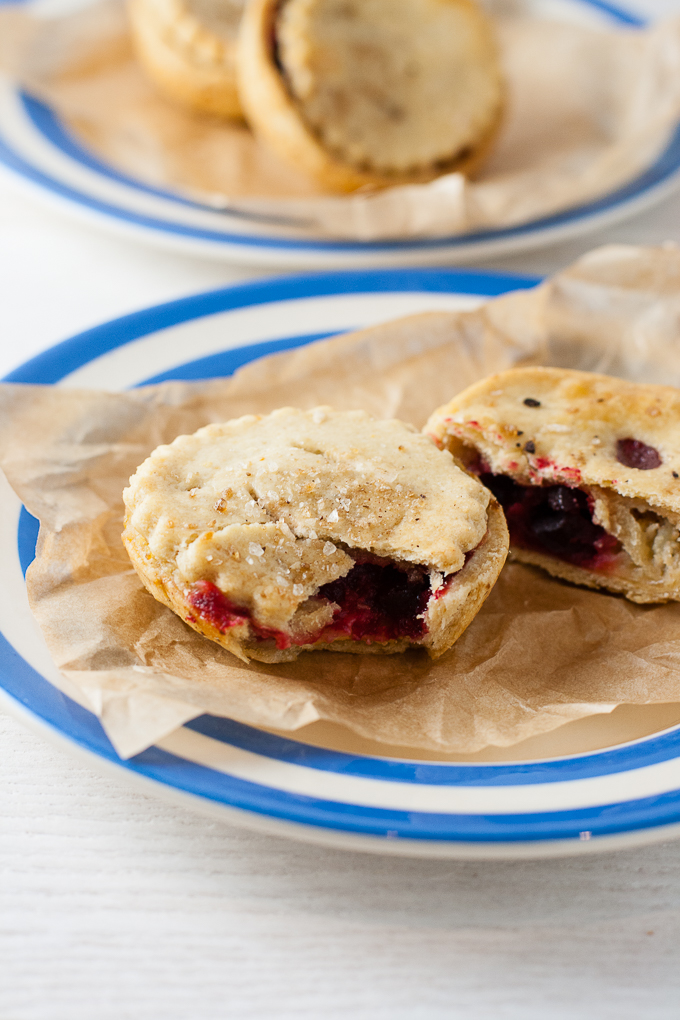 It's a very long time since I ate a home made apple pie. In fact I'm wondering whether I often did. In my head I am recalling cloying manufactured efforts with wet filling. This week has been Bramley Apple Pie Week and I have been thinking after my beetroot salsa post how well Bramley and beetroot go together and that a Bramley Apple Pie need not be a sweet affair.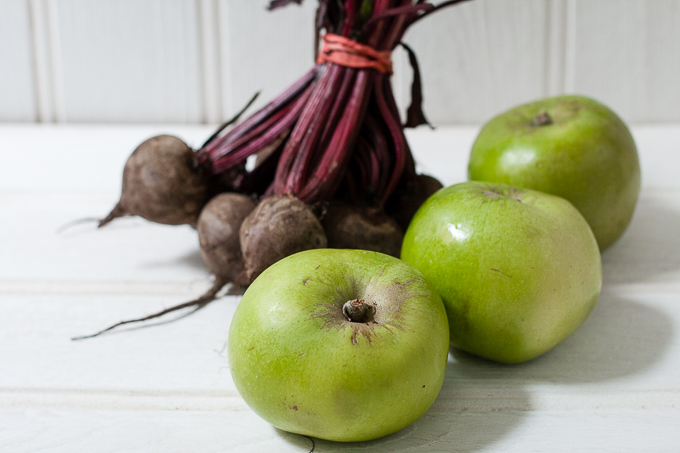 So this version has no added sugar. I wouldn't say it was savoury either, it's a bit of both.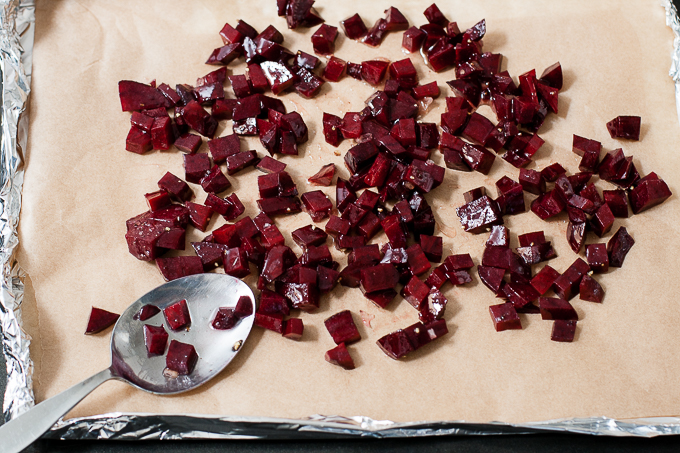 The beetroot has been finely diced and pre-roasted in some oil with salt and pepper for a few minutes.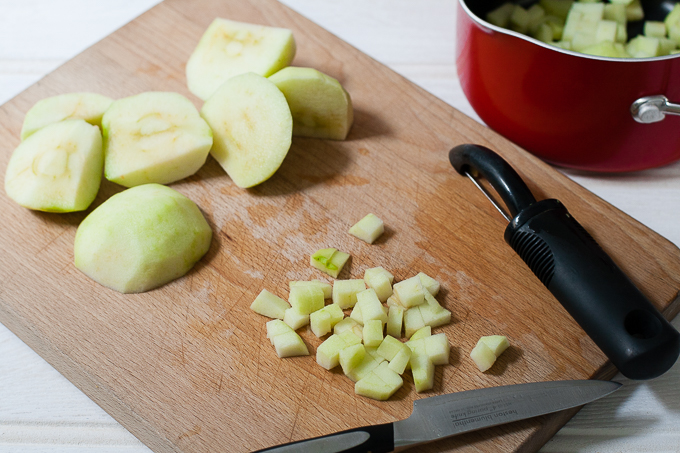 The Bramley apple filling is made purely from chopped apple with only a scant addition of water and the spices. No sugar is added at all. We are so used to putting sugar in apple sauce but it really isn't necessary. In order to harmonise the texture between the slightly harder beetroot and soft apple I added a little ground hazelnut (which was also used when rolling the pastry).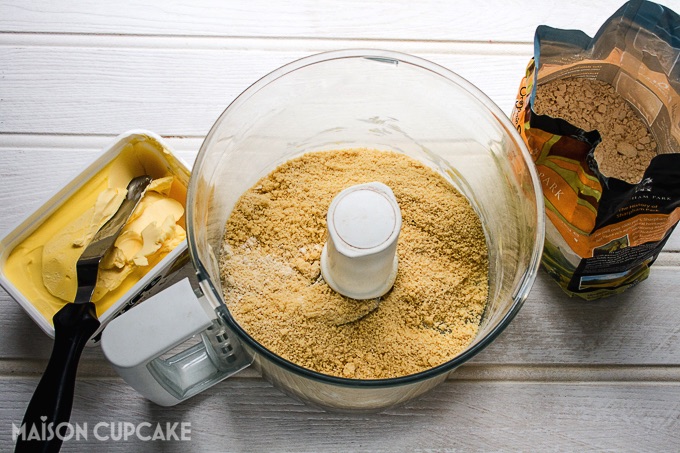 For the pastry I am still enamoured with the success of my crumble topped jam tarts so I decided to repeat the dairy free pastry with spelt flour.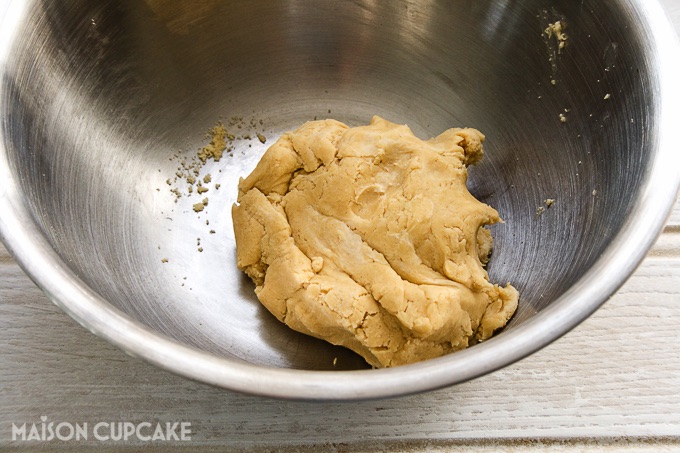 This dairy free pastry has totally taken me a back how easy it is to make and work with. I've found that the soft dairy free spread blends with the flour straight from the fridge – much more easily than butter and you can effortlessly form a ball of dough that's neither sticky nor dry.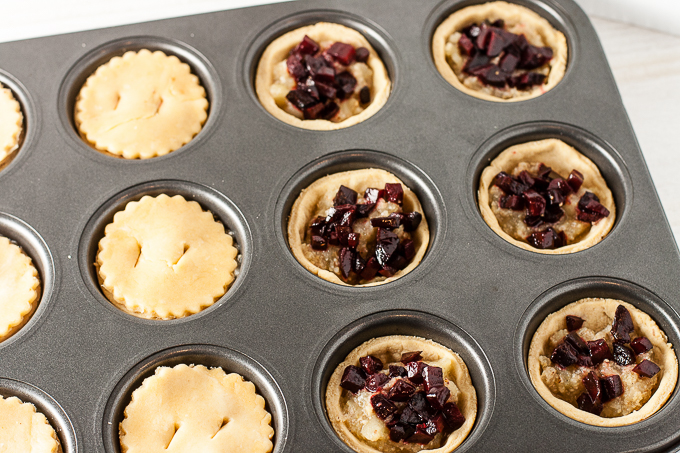 The dairy free pastry rolls out very easily, in this case I used more ground hazelnut to dust the work top and add a little extra hazelnut flavour to the pastry cases.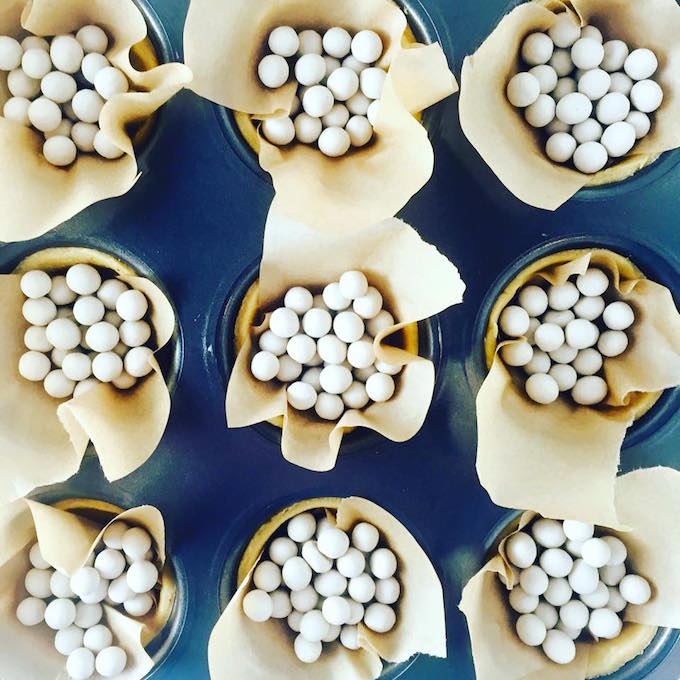 The individual pastry cases had been baked blind for around 10 minutes before adding the filling and topping.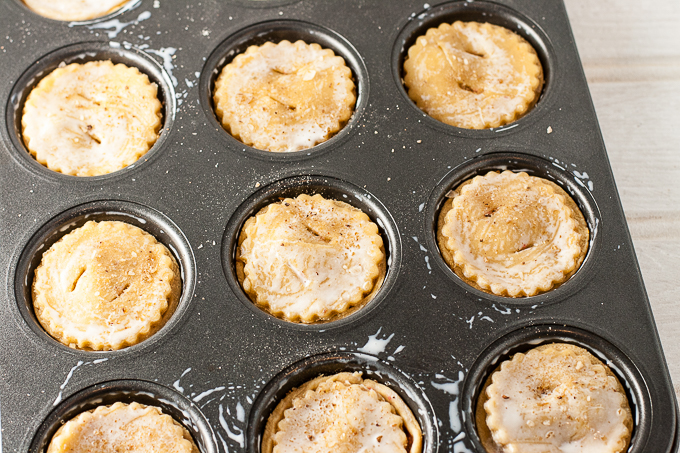 The usual options to glaze pastry (egg, milk) are obviously not vegan so instead of brushed the pastry tops with some thinned down soya cream (you could use soya milk although I had none to hand) and a grinding of cinnamon sugar.
The pies are then returned to the oven to cook their tops – around a further 15-16 minutes.
So I realise these aren't exactly orthodox. My husband is confused whether they're pudding or not. Personally I'm rather pleased with them. They're a reasonably substantial snack that's lower in sugar than your average apple pie and gives you a break from wheat gluten at the same time.
What I really like about working with Bramley apples is that you can cook them without sugar and concentrate on that lovely apple flavour. Even if you don't have time to make pies, do grab yourself a pair of Bramleys from the supermarket if only to make your own apple sauce. It takes 3-4 minutes and you'll never buy bottled apple sauce again. That's a promise.
What did you last do with a Bramley?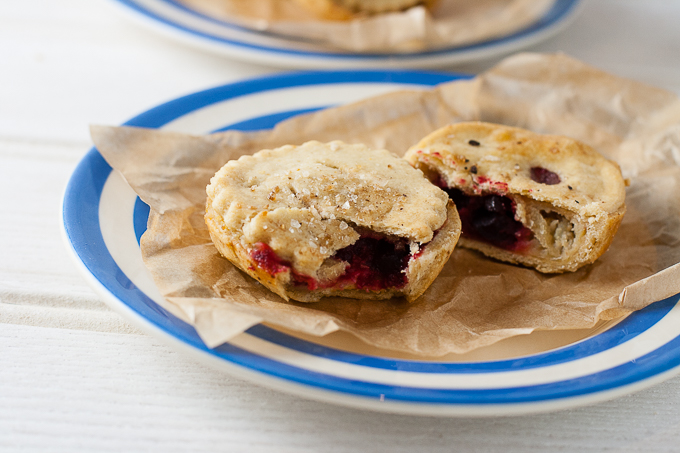 Bramley Apple Hand Pies with Beetroot with Vegan Pastry
Makes 12
Ingredients
150g dairy free spread
300g plain spelt flour
pinch of salt
1 tbsp of water
2 large or 3 medium Bramley apples, peeled and chopped into dice sized chunks
4 small beetroot, peeled and chopped into smaller dice (i.e. 5mm)
1 tbsp ground hazelnuts with extra for rolling pastry
1 tbsp groundnut or pale rapeseed oil
ground black pepper
smoked sea salt
1/2 tsp ground cinnamon
1/2 tsp ground cardamom
1 tbsp soya cream thinned with 1 tbsp water
ground cinnamon sugar (optional – I use a grinder from Lakeland but you can sub with ordinary demerara)
You will need a 12 hole muffin tin, baking parchment paper and ceramic baking beans.
Directions
1. Preheat the oven to 190c, gas mark 5. When up to temperature, toss the beetroot dice in oil, season with a little smoked sea salt and ground black pepper. Roast for 6-7 minutes then set aside.
2. Meanwhile blitz the dairy free spread, salt and spelt flour in the food processor until it resembles breadcrumbs.
3. Decant the mix into a medium size mixing bowl and add a tablespoon of water. Draw the ingredients together into a ball.
4. Grease the muffin tin. Roll out the pastry to 7mm thickness. Cut out pastry circles to fill the 12 holes. Press the pastry against the sides of the tin so it fills the sides of each hole, prick the bases with a knife. Line each mini pastry case with parchment paper and a tablespoon of ceramic baking beans. Bake the pastry bases for ten minutes.
5. Meanwhile, simmer the cubed apple with a scant tablespoon of water over a medium heat for 3-4 minutes. Leave the lid on so the apple starts to cook down. As it begins to catch, give it a quick stir and add the cinnamon and cardamom. Set aside.
6. Take the pre-baked pastry cases from the oven and carefully remove the hot ceramic beans and lining papers. Fill each case with a heaped teaspoon of cooked apple and a scattering of beetroot cubes. Brush the pastry with the thinned soya cream and top with pastry circles (I use a crinkle cutter for the top bits), press down the lids.
7. Sprinkle with a little more smoked sea salt and if you wish, a grind of cinnamon sugar. Bake for a further 12-15 minutes until the tops are cooked and starting to brown. Serve hot or cold.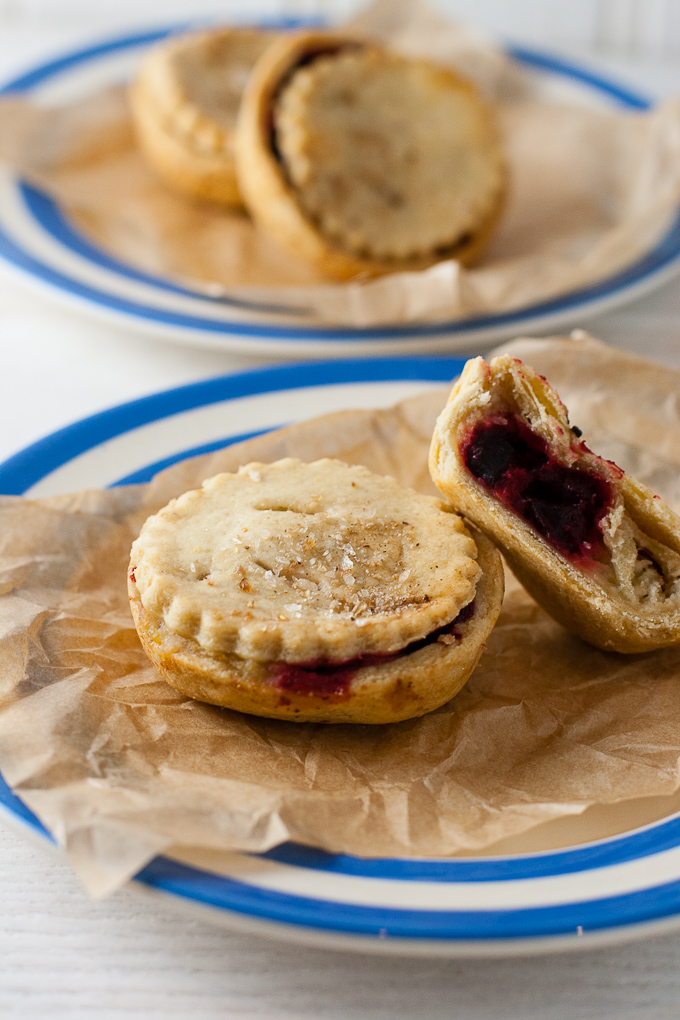 If you're looking for a savoury apple pie then investigate this sausage and Bramley apple pie by Dom at Belleau Kitchen. He and I will be partnering every third month to bring you more Bramley apple recipes over the coming year.
Post commissioned by Bramley Apples as part of a series.