You'll find making dairy free pastry easy with these crumble topped jam tarts. Recipe sponsored by Pure Dairy Free.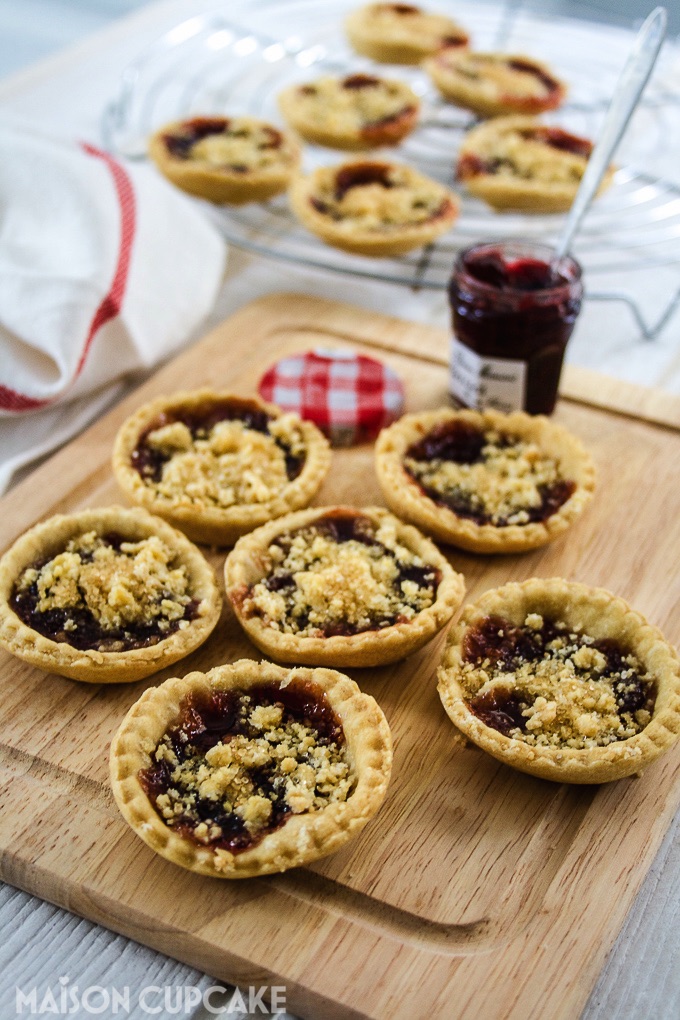 I have until now been wary of dairy free baking and even more so of dairy free pastry making.
Although I learned to make pastry thirty years ago, it's something that still sticks in my head as "tricky". Will it roll out? Will it stick to the worktop? Can I pick it up in one piece? Will it taste light or tragically stodgy?
So my heart did sink slightly that my week contributing to Pure Dairy Free's #BakeDairyFree campaign fell during The Great British Bake Off's pastry week and they were keen for me to make dairy free pastry.
Could I even remember eating dairy free pastry that was any good? My mind skipped back to worthy looking hard pies in the chiller cabinet of the health food store when I was a teen. These dusty chewy lumps were more penance than treat and their memory explains why I've largely overlooked the concept of vegan or dairy free pastry.
Happily things have moved on.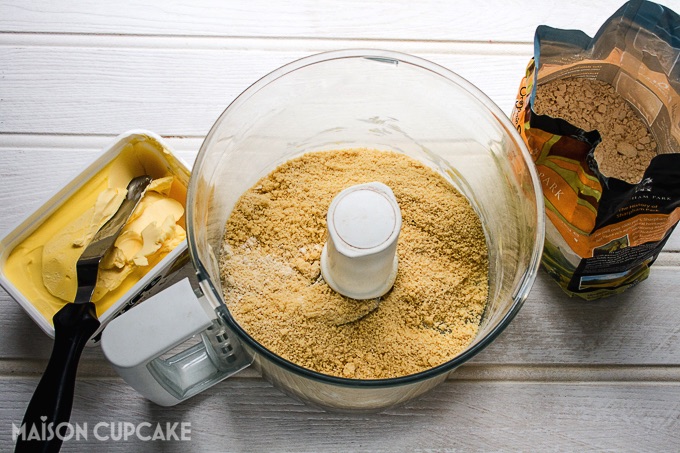 With the Pure Dairy Free sunflower spread it was as easy to make dairy free pastry as with butter.
The spread is very soft straight from the fridge. Whereas butter would be solid, the dairy free sunflower spread is immediately malleable. I suspected rubbing it in manually was not a good idea so pulsed the ingredients using the food processor – just a few seconds and I had the crumb texture shown above.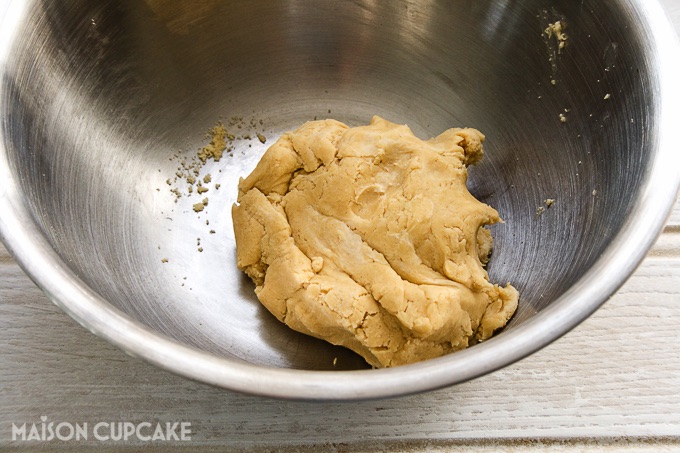 The dairy free pastry mix made with spelt flour felt damper than butter pastry.
Just one tablespoon of water was necessary to draw the rubbed in mix together into a ball of dough as shown above.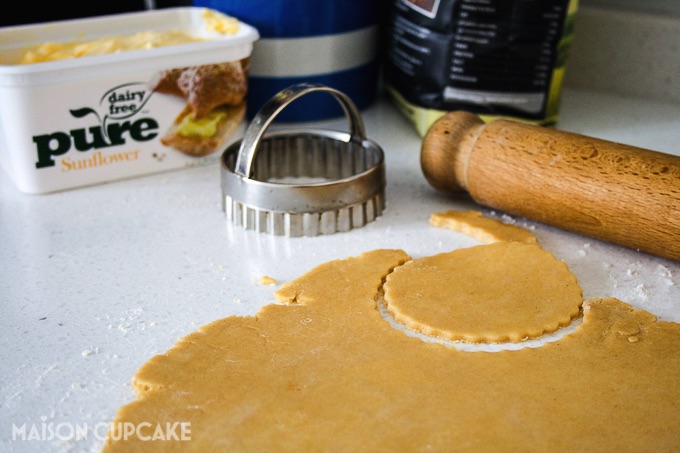 It was surprisingly easy to roll out and handle even without the usual resting time you'd give wheat flour pastry. This dairy free pastry dough wasn't sticky and didn't tear. You just sprinkle the worktop with a little spelt flour as you go.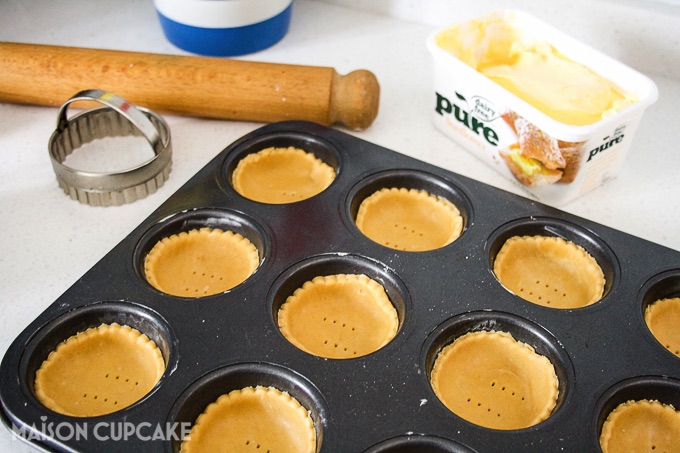 Cut out pastry circles and prick them with a fork.
All in all, I was impressed with the sheer ease of making dairy free pastry with this product. And not needing a rest time was a huge plus.
Next time I will try it totally gluten free to see how that rolls – today's spelt flour is often better tolerated by people sensitive to gluten even though it isn't actually gluten free product.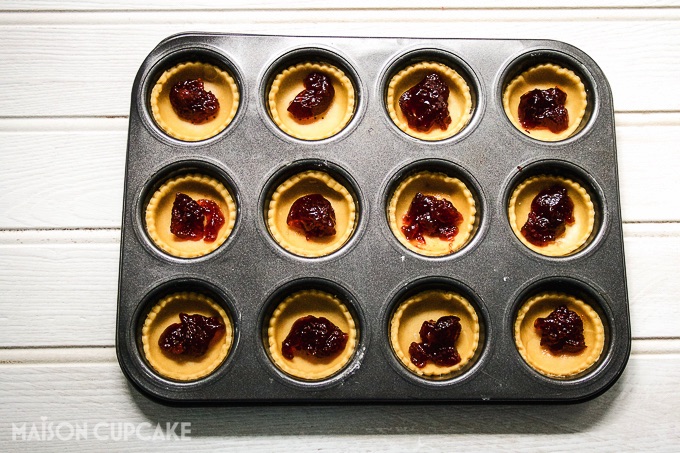 Spoon a generous teaspoon of jam into each pastry case before baking. I added the crumble topping halfway through cooking to reduce likelihood of it burning – crumble only needs ten minutes whereas the dairy free pastry needs nearer to twenty minutes.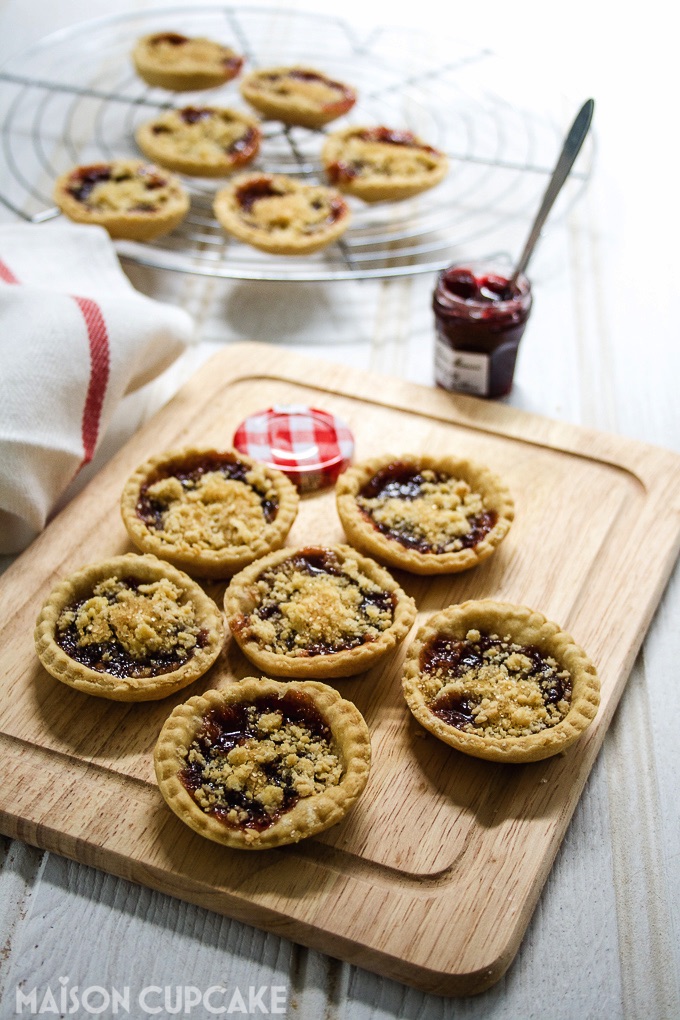 Crumble Topped Jam Tarts with Dairy Free Pastry
Makes 12
Ingredients
For the dairy free spelt pastry
75g Pure Dairy Free sunflower spread plus extra for greasing
150g spelt flour plus extra for rolling
pinch of salt
1 tbsp water
For the topping*
150g strawberry jam
75g spelt flour
25g caster sugar
35g Pure Dairy Free Sunflower Spread
Demerara sugar for sprinkling
You will need a standard size 12 hole baking tin.
Directions
1. Preheat the oven to 190c or fan 170c and grease your baking tin.
2. Using a food processor quickly pulse the Pure Dairy Free sunflower spread into the spelt flour and salt until it resembles bread crumbs.
3. Tip the crumb mixture into a small bowl and add one tablespoon of water. Use a metal knife to draw the dough into a ball. Set aside.
4. Also using the food processor, make the crumble topping by quickly pulsing the Pure Dairy Free, spelt flour and caster sugar.
5. Using a little spelt flour to dust your work surface, roll the pastry dough out to 7mm thickness. Using a circle cutter stamp out pastry circles and gently press these into the baking tin. Prick the surfaces with a fork.
6. Spoon a heaped teaspoon of jam into each pastry case.
7. Bake the tarts in the middle of the oven for around 8 minutes. After this time, take them out and scatter over the crumble and a sprinkling of demerara sugar. Bake for a further 12 minutes.
8. When baked the tarts should be lightly golden. Allow the tarts to cool slightly in the tin before using a flat knife to gently prise them from the baking tin. Remove the tarts before they cool otherwise any overflowed jam is likely to weld them to the tin!
9. Serve warm or cold. These dairy free jam tarts will keep in an airtight container for several days although I warn you I managed to eat three as soon as I'd photographed them so them lasting that long is not likely.
*You will have far more crumble topping than you need but it's not really practical to make it in the food processor with smaller quantities than this. Whatever is left over will freeze for topping a standard crumble on another occasion!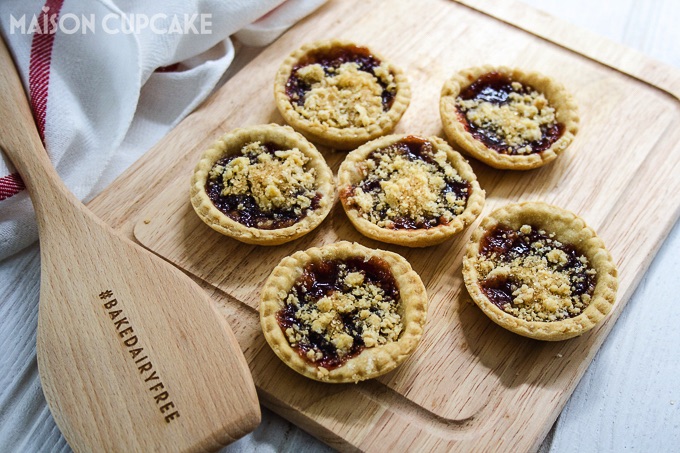 #BakeDairyFree and Win £1000 Baking Kit
Have I tempted you to Bake Dairy Free?
As a further incentive Pure Dairy Free are holding a competition offering £1000 baking goodies from Le Creuset, KitchenAid and top recipe books.
To enter:
1. Choose your favourite dairy free recipe.
2. Bake it, taste it, rate it.
3. Upload using #BakeDairyFree to Twitter and Instagram.
Each week Pure Dairy Free's Queen Baker will pick a spot prize winner and the grand prize winner will be chosen in the week of the Great British Bake Off final on October 22nd. Find all the details at the Pure Dairy Free website.
This jam tarts with vegan pastry recipe post was commissioned by Pure Dairy Free.