A quick and easy Japanese style vegetarian noodle dish requiring barely more preparation than boiling a kettle. Post commissioned by Russell Hobbs.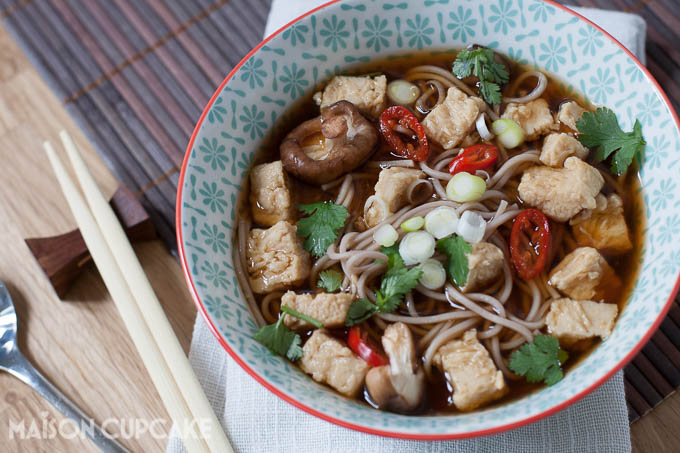 A tea drinker I am not but a good kettle is still the workhorse of my kitchen.
I might not be brewing but putting the kettle on is frequently the first stage in preparing my evening meals. I often fill the kettle for speed to decant into saucepans for pasta or in this case noodles. I've never scientifically tested whether this saves on gas or time but it's a habit I'm happy to keep.
I feel similarly about kettles as I do purses. Kettles are something at the heart of your home that you pick up every day. So it makes sense to have one made from design and materials that is made to last and will please you.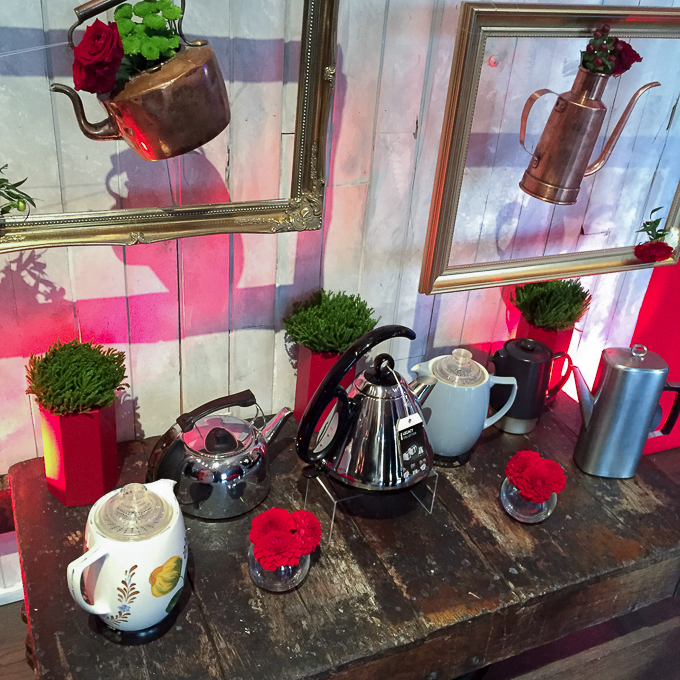 As with purses, most of us will go through a variety of kettles in life. Chosen well, the family kettle will be an item in permanent use lasting for years.
In order to celebrate sixty years of their electric kettles, Russell Hobbs recently invited me to swing the night away 50s style with canapes and an array of cocktails based on tea and coffee and named after various models of Russell Hobbs' kettles.
European vice president Tim Wright explained how back in 1955, Bill Russell and Peter Hobbs had invented the world's first full automatic electric kettle, the K1 followed by its successor the K2 in 1960. Mr Russell and Mr Hobbs were both electric and mechanical engineers serving both as majors in the army during the second world war. Both being former employees of a rival small appliance manufacturer, they partnered in 1952 to form their own British company, Russell Hobbs. They first sold coffee percolators and later launched the K1 electric kettle and many other small domestic appliances.
I was astonished to instantly recognise from the display above that their subsequent K2 Classic (silver kettle on left) was indeed the kettle that both my parents and grandparents had when I was a child. (They obviously lasted a long time as I was born way after 1960!).  All these years and I never knew these familiar kettles were a British design classic.
So the first cocktail of the night was named the "K1 Classic" (above left) made from gin, lime juice, cucumber and tea infused dill syrup.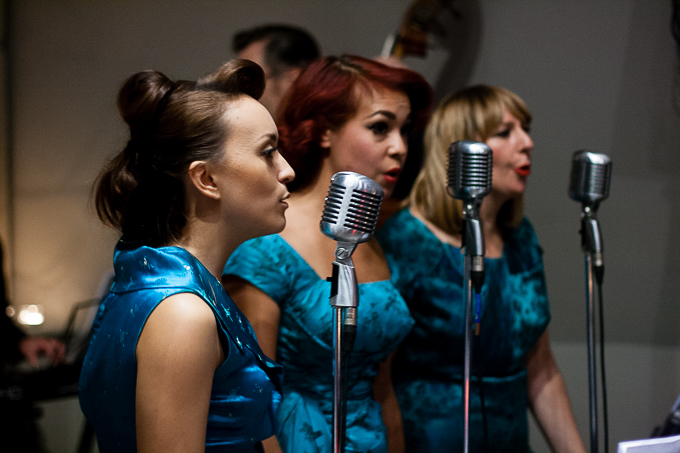 Keeping in with the retro vibe we were entertained by this harmonious girl trio accompanied by their band singing late 50s and early 60s songs.
Shown above left is Russell Hobbs' limited edition "6" handled version of their more recent pyramid shaped Legacy kettle.
Cocktail number two was The Russell Hobbs' Diamond made from vodka, green tea, peach and basil.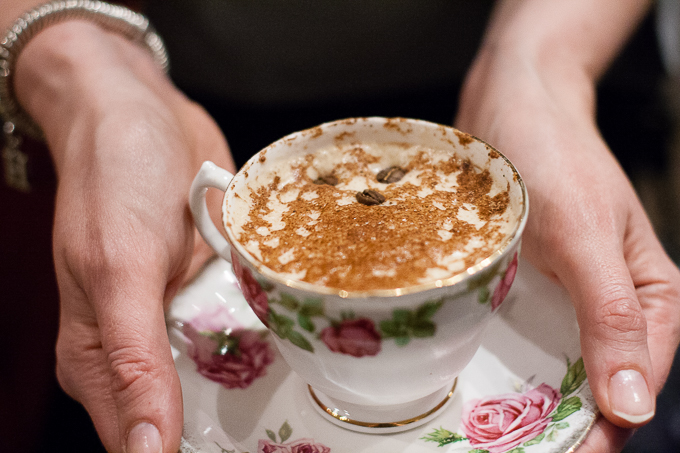 Last up was The Legacy cocktail, a vintage tea cup filled with vodka, Kahlua, coffee and Aztec chocolate bitters.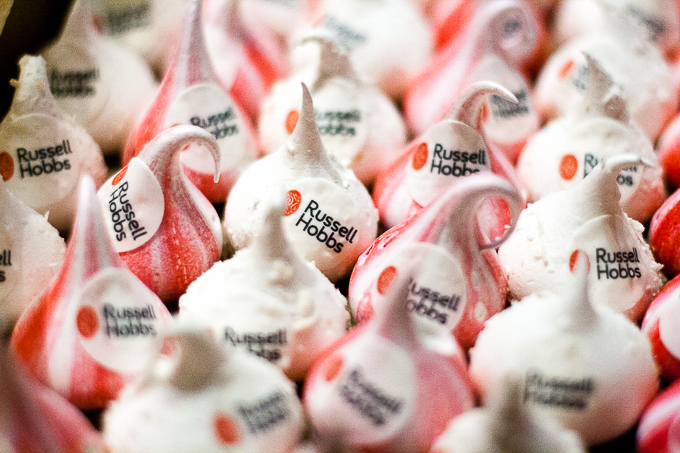 And of course no evening is complete without a sweet treat!
Coming home I reflected that even if people don't drink tea or coffee, a good kettle is a gadget few homes can live without.
In fact it's not entirely true to say I don't drink tea. I'm just not a frequent drinker of every day brown cups with milk varieties. Occasionally I drink green tea (known for its health benefits including high antioxidant levels) or peppermint infusions. So it's green tea which has inspired my kettle focussed recipe today.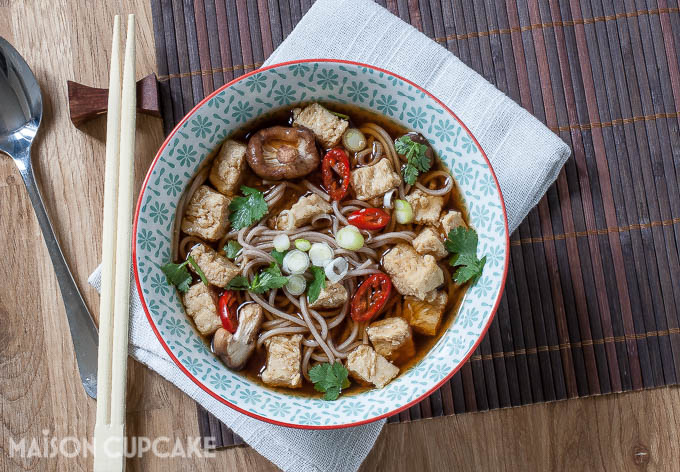 Japanese style vegetarian noodles with green tea and miso
Serves 4

Ingredients
Boiling water straight from the kettle
200g soba noodles
2 tbsp dark miso paste
1 green tea bag
300g fresh shiitake mushrooms, washed
350g vegetarian protein chunks, defrosted (I like Tesco's own frozen version of the branded ones)
handful of coriander, torn into individual leaves
half a red chilli, finely sliced into rings
2 spring onions, finely sliced into rings
Directions
1. Fill the kettle with around 2 litres of water and boil. In a measuring jug pour one litre of water and add the miso and green teabag. Leave to infuse for 3-4 minutes.
2. Meanwhile, pour the remaining water over the soba noodles in a large pan and leave to soak with the lid on.
3. Remove the teabag from the infusion and stir the miso so it dissolves in the hot water.
4. Drain the noodles and return to the pan. Pour the miso and green tea infusion over the noodles. Submerge the shiitake mushrooms and vegetarian protein chunks in the noodle broth and switch on the heat to bring back to a simmer.
5. When hot, ladle portions into wide bowls and scatter over the spring onion, red chilli and coriander leaves. Serve immediately.
Notes on the recipe:
For a smokier flavour try Lapsang Souchong tea instead. This dish is low in fat and suitable for vegetarian diets. Dieters will be happy to note a portion contains only approximately 7-8 WeightWatchers Propoints (based on their website calculator; 5 points for 50g soba noodles, 2 points for 85g quorn pieces, 1 point for shiitake mushrooms, all other ingredients propointed at zero).
If you use soba noodles made from 100% buckwheat, this dish is wheat free because buckwheat is different to wheat. But watch out for soba noodles that have had standard wheat added.
If your office has adequate kitchen facilities in your office, you could make single portions of this there with just a kettle and a microwave – soak the soba noodles in advance at home, rinse and drain before storing in a sealed container for transportation with the other ingredients. After infusing the liquid, pour over the cold noodles and vegetarian protein chunks and blast for a minute in the microwave as the cold noodles may otherwise cool the liquid down. Once made, this dish is not suitable for reheating or freezing. But with it being so simple why would you need to?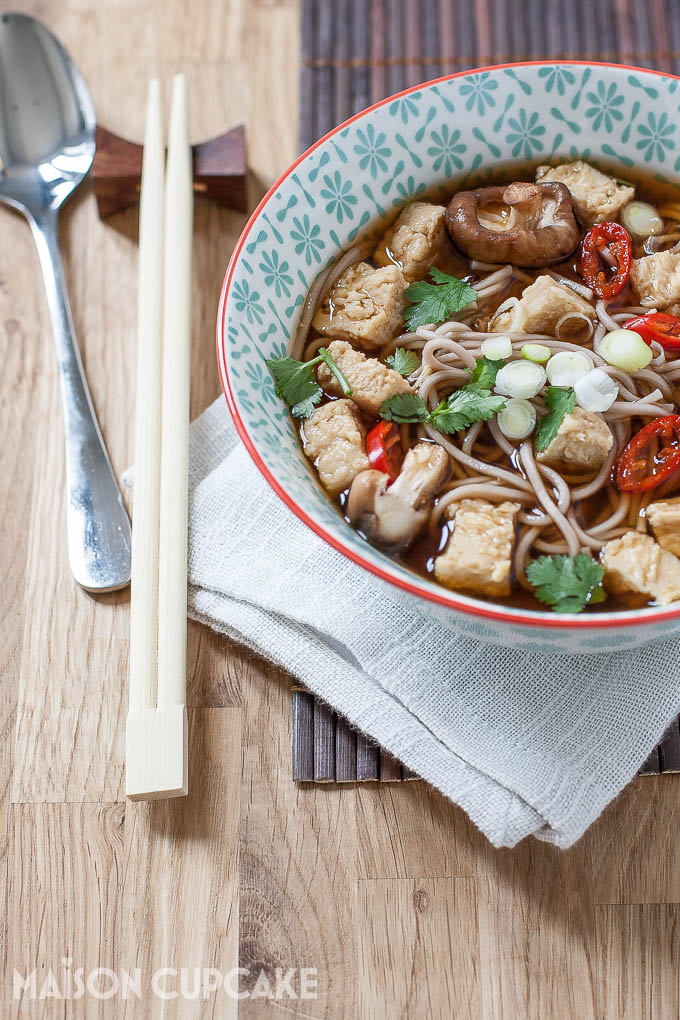 If you like this soupy noodle dish try these other recipes by:
Fuss Free Flavours – shiitake mushrooms and seaweed noodles
Ren Behan – gluten free brown rice noodles with spinach and tomato
Feeding Boys – spicy prawn and noodle soup
I am also sending these vegetarian noodles to Meat Friday Mondays at Tinned Tomatoes.
Post with event coverage commissioned by Russell Hobbs.