Continuing my sweep of products tried out recently  – today it's a homeware themed December Kitchen Additions. See also yesterday's December book reviews and come back tomorrow's food product round up.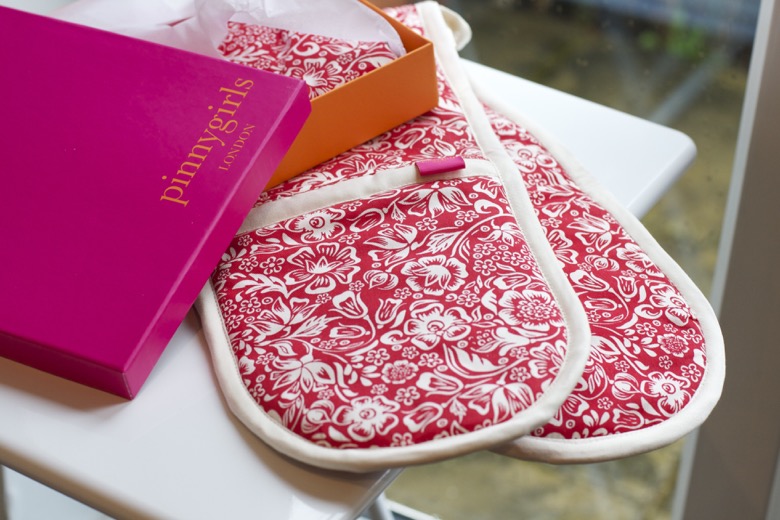 Pinny Girls is a new brand selling aprons and oven gloves that are beautiful enough to make you consider keeping them in a wardrobe. Never has the humble oven glove been so glamorously packaged. The red print on this one reminded me of William Morris and he's something of a local hero in Walthamstow. These are possibly the thickest oven gloves I've ever had so no danger of burning your hands in these and you'll look gorgeous too. Expect to see me modelling these in a cookery video soon. "Get What You Dessert" oven gloves £17.99, matching apron £24.99. A variety of styles and colours available. Follow Pinny Girls on Twitter @pinnygirls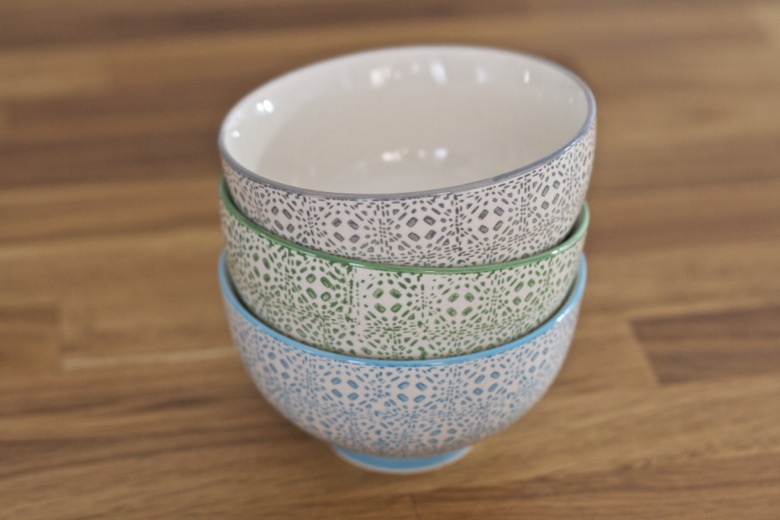 Bloomingville bowls came my way after a project with Alpro. They're chunky and solid yet decorated with a delicate pattern. Expect to see them cropping up in more pictures here during 2015! Similar sets of three retail for around £30. Stocked by Amazon, John Lewis and others. Follow Bloomingville on Twitter @bloomingvilleSt
KitchenCraft crusty baking trays. KitchenCraft are a long established company from my home town Birmingham. I wasn't sure what to expect with these crusty baking trays but they apparently let hot air in through tiny holes during the baking process so that the surface of the dough can crisp up even in places covered by the tin. The holes are really small so there's no danger of dough escaping. I'm still experimenting with them so watch out for a pizza in the new year. Follow KitchenCraft on Twitter @kitchencraft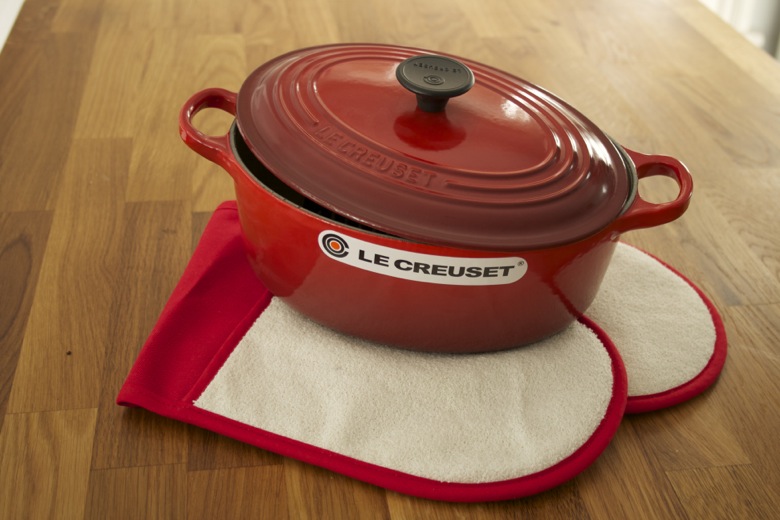 Le Creuset commissioned me to do two recipes earlier this year and this red oval casserole still brings a smile to my face every time I see it. Definitely a piece that will be on my Christmas dinner table. Follow Le Creuset on Twitter @lecreusetUK
Homesense had not been on my radar until this summer when I visited their Romford branch. It's like TK Maxx for homeware and needless to say I am now crazy about the place. They stocked an incredible range of homewares including many top brands such as Le Creuset, Joseph Joseph, Kuhn Rikon. I picked up this lovely blue apron with birds on it and a Sabatier pizza wheel for less than a fiver each and the Kuhn Rikon silicone tools were £2.99 each. I especially like them because they have metal handles instead of wood so I can put them in the dishwasher. You can see me wearing the apron in this interview I recently did with The Telegraph but don't believe all you read in the papers! Follow Homesense on Twitter @homesenseUK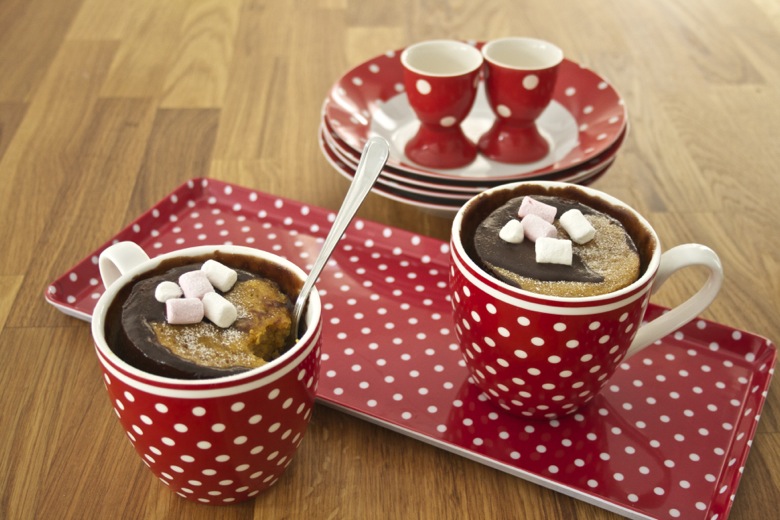 Finally my suitably festive polka dot tableware – the mugs and tray were reduced in Sainsburys (a bargain at £1.50 each) and the spotty bowls and egg cups in the background are from Carrefour in France. The bowls were a crazy 0.80€ each which is like sixty pence or something. The mugs were recently featured in my Pumpkin Mug Cakes recipe.
With thanks to Le Creuset, Kitchen Craft and Pinny Girls for product samples.