A colourful winter salad suitable to serve with leftover Christmas turkey.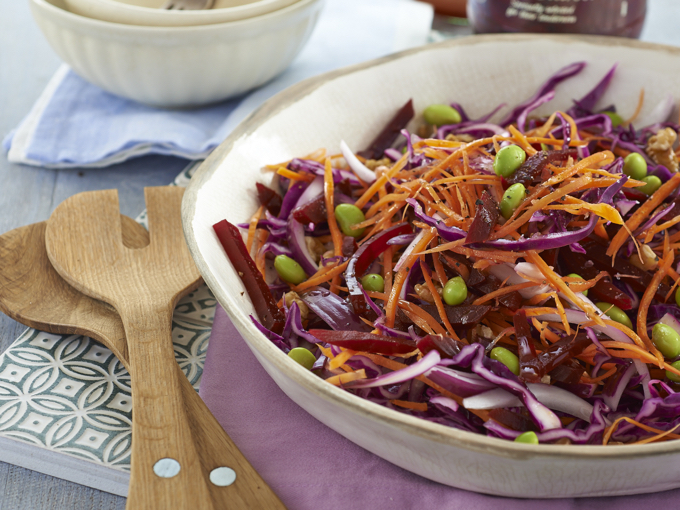 The coal fire is blazing and opening bars of Howard's Way are playing when we're called to fetch our Sunday evening supper from the room next door. The old wooden table is laid with a pale blue cloth bedecked with a platter of salad,  stainless steel bowl of ready salted crisps (or occasionally corn snack onion rings), triangles of cold meat sandwiches and if you're lucky a tomato quiche. Stood at the back like soldiers in a row, a line of pickle jars. Sparky onions, yellow piccalilli and the precarious beetroot. Precarious because I was always terrified of dropping a piece on my grandmother's tablecloth by mistake.
You can't beat a good pickle to serve with cold cuts at Christmas. They're damp and sharp to perk up otherwise dry offerings of cold turkey sandwiches.
It was a standing joke in our house that salad was made from "wet lettuce". Leaves of round lettuce were indeed soaked in my grandmother's sink until osmosis must surely have plumped them up. The contents of my grandmother's salads were rigidly fixed to the wet leaves of round lettuce, half moons of cucumber, quarters of tomato. Occasionally some quartered hard boiled egg was scattered on top. I was fascinated by the ever present stainless steel tongs – also known as "the grabs" to mechanically retrieve items individually onto my plate. They were mechanically sprung with a metal pivot, scooped clasps and a graceful curved handle.
Over thirty years later when my grandparents' house was cleared I made a beeline for "the grabs". I was sentimental about the tinny clacking noise they made as the two parts sprang back together. My young son now keeps them in his "gadget box" along with his ever growing hoard of alarm clocks, kitchen timers and USB keys. And every time he picks them up and starts snapping the handles intermittently, the sound transports me back to that supper table. Teatime on a Sunday evening. Teacups and mugs in a row on Welsh dresser filled with blue willow crockery. The heat from the coal fires. The last hour before my father took me home to my mother until Friday.
For almost all of my first twenty years I thought salad only comprised the trinity of lettuce, cucumber and (watery in winter) tomato. Not yet had I encountered the tuna Nicoise, the chicken Caesar nor been let loose to create my own. Even the salads at school were the same apart from the addition of cress.
Not so now. My salads often have ten different ingredients and rarely do I create the same salad twice. There's always an ingredient tweaked here and there.
I was vaguely aware of the existence of red cabbage when growing up but probably red onion hadn't made it into Safeway by the mid eighties and certainly soy beans had not. I first encountered soy beans served warm in salty pods at Wagamama and was delighted when supermarkets started stocking them in the freezer section.
This purple salad was inspired in part by seeing a Waitrose salad pot comprising soy beans alongside purple aduki beans. The colours contrasted beautifully so when Haywards asked me to create a recipe using their pickled beetroot I knew I wanted to play off the purpleness against the bright green soy beans. The textures are most satisfying too.
Winter beetroot salad with edamame soy beans

Serves 4-6

200g red cabbage, thinly sliced
200g drained Hayward's beetroot slices, cut into batons
50g walnut pieces
2-3 small carrots, cut into matchsticks
1 medium red onion, thinly sliced into half moons
1 tbsp groundnut oil
1 tbsp wine vinegar (red or white are both fine)
1 tbsp clear honey
100g frozen soya beans
salt and pepper to taste

1. In a large bowl, place the red cabbage, Hayward's beetroot, walnut, carrot and red onion.

2. In a small jug, make the dressing by mixing the groundnut oil, wine vinegar and clear honey. Mix with a fork or small whisk.

3. Pour the dressing over the salad ingredients and combine throughout. Refrigerate and cover if not serving right away.

4. When ready to serve, cook the soya beans either by boiling or microwaving for a few minutes according to pack instructions. Once cooked, cool the beans down in cold water and drain. Scatter the cold beans on top of the salad vegetables and serve.
For other lively uses of pickles take a look at:
Spiced mango quince chutney at Franglais Kitchen
Posh pickled onions at How To Cook Good Food
Smutty sweet chilli jam at Tinned Tomatoes
Purple Pickled Eggs (Diana Henry recipe) at My Custard Pie
Beetroot boquerones Maison Cupcake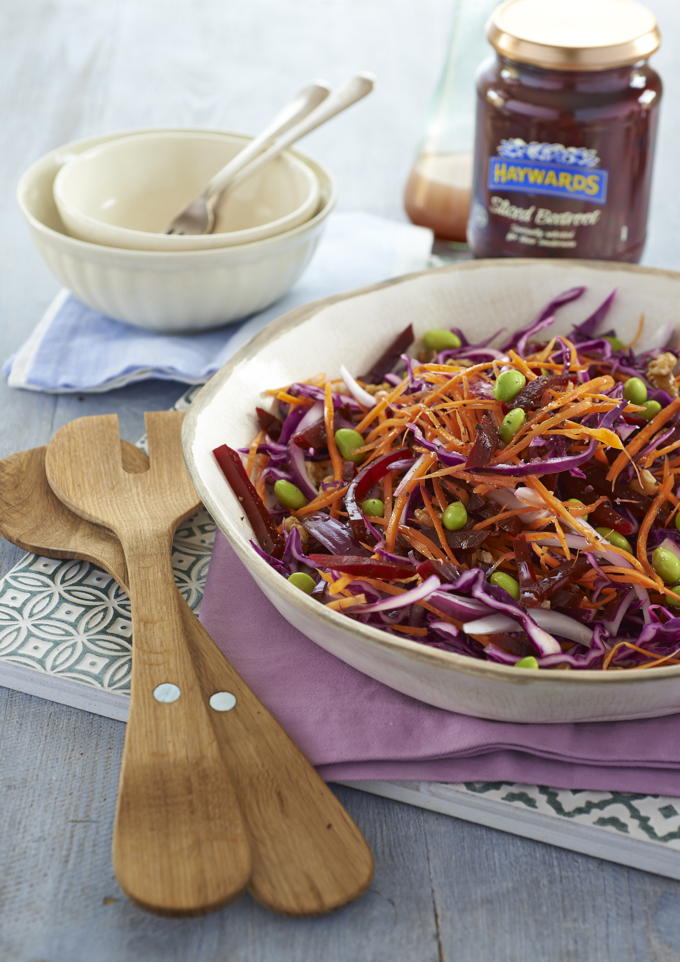 Recipe commissioned by Haywards, photography courtesy of Haywards. For more beetroot recipes visit their website Liven Up Your Food.