Two quick and easy beetroot recipes to make tapas for summer parties.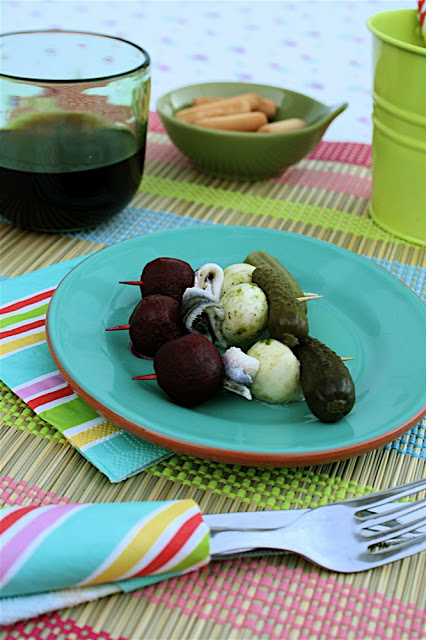 Today, as promised, here are two further dishes with beetroot.  The salsa is less aggressive than most,  fruity with apple rather than chillied. Scooped up with tortilla chips it's a more-ish appetiser you could serve before a main meal. The salsa can be made with any kind of beetroot although the bocquerones, hardly a recipe but my own creation, look more aesthetically pleasing using rosebud variety. You could use any kind of pearl mozzarella, my choice was a basil flavour one from the pre-packed deli section at Morrison's.




It might not be authentically Spanish but I have wanted to assemble something on sticks including anchovy ever since seeing them a Sainsbury's magazine feature on tapas several summers ago. Bocquerone, so far as I can establish, is the Spanish word for anchovy rather than a recipe itself but these appetisers were called bocquerones in the magazine and the name has stuck in my head. It's now my word to denote an appetiser featuring rolled anchovy and whatever other items you have to hand on a stick.


What would you like to thread on a stick?
Recipe: Beetroot Salsa

From a recipe by Tom Kitchin for Baxter's
Serves 4-6

Ingredients

1 large cooking apple, peeled, cored and finely chopped

Juice of ½ lemon

1/2 340g jar sliced beetroot in vinegar, drained and cut into small cubes

4 red tomatoes, finely chopped

½ red onion, roughly chopped

1 clove fresh garlic, finely minced

2tbsp caster sugar

2tbsp extra virgin olive oil

Black pepper

Method

1. Toss the apple in the lemon juice to prevent it browning.

2. Place the beetroot, apple, tomatoes, red onion, garlic, caster sugar and olive oil in a large mixing bowl. Use salad forks or wooden spoons to combine the ingredients together.