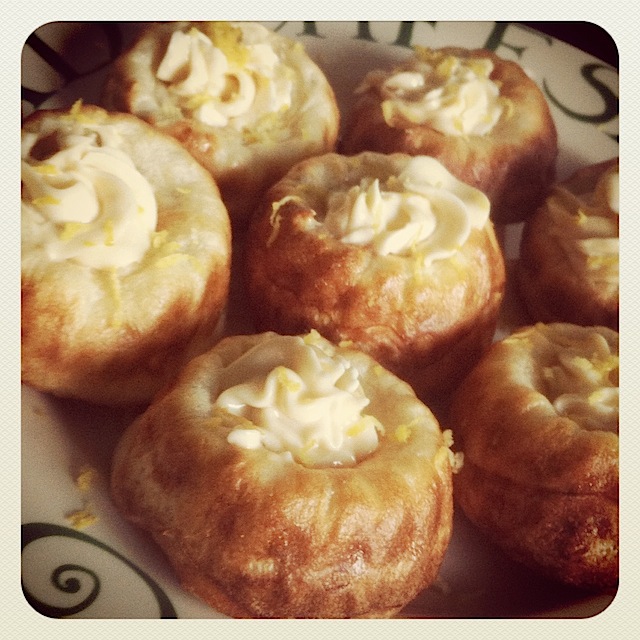 Today's post was an experiment in more ways than one, if you follow me on Instagram, you've virtually already read it.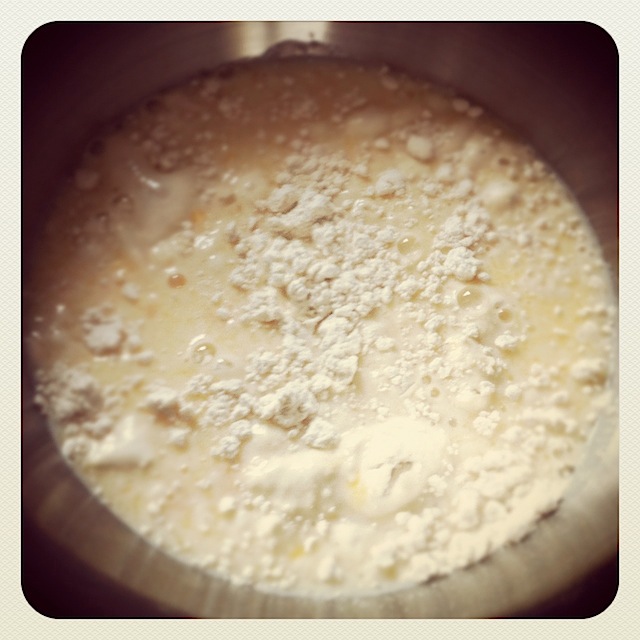 I was making them yesterday evening and I never intended to create a new type of blog event but that's what I ended up doing.
It's nothing official but I'm definitely doing it again.
It's simple, all you do is Instagram what you cook as you go along with the hashtag #IgCookAlong
Being a geek, I have my Instagram account set up to stream into Tumblr and/or Twitter and/or my Facebook page and/or the footer of my blog. Not to all places all the time but the Instagram app is flexible enough for you to decide which pics go where.
And it started with a snap of my new cheapo mini Bundt tin bought for £2 in Walthamstow Market, I've never seen one anywhere else so don't ask me where else to get them.
It was raining the day I bought it and it had rust on it by the time I got it home, that's how cheap it was.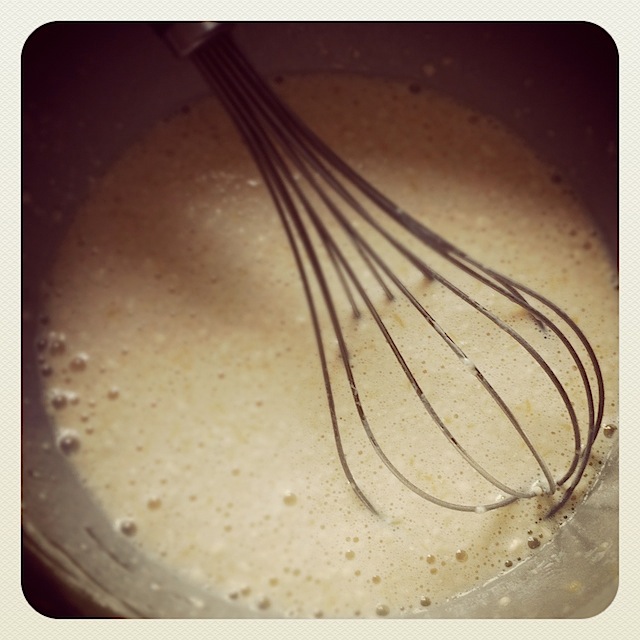 And after I'd instagrammed the mini Bundt tin, I thought why not instagram what I'm doing as I go along.
And I'll call it #IgCookAlong
Maybe #IgCookAlong will become this really popular hashtag on Instagram, and I'll know it was me who started it. (Incidentally I forget to check whether anyone else was doing it but I don't think they were).
You see Instagram confuses me. Some people on have to fart on there and 4,875 people say they like it within 3 minutes. I find that pretty weird – I reckon repeated social media fawning like this could seriously inflate someone's ego.
So I just go along my own sweet way, I invent #IgCookAlong and if anyone does it as well, whenever they like, however they like, I don't care. And if they don't I don't care either but I'm going to do it again sometime soon.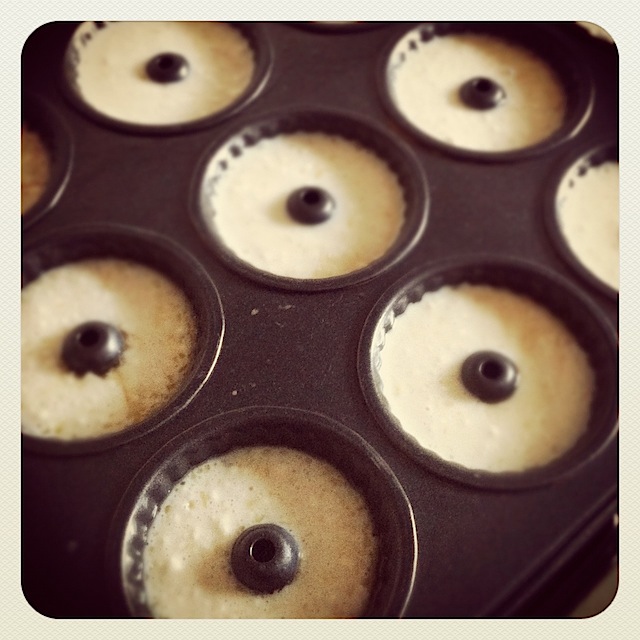 The only rule I'll apply to #IgCookAlong is that it's way more fun if you do it when you're cooking something you've never done before.
You see I didn't have a clue whether these popovers in mini Bundt tins were going to go belly up or what.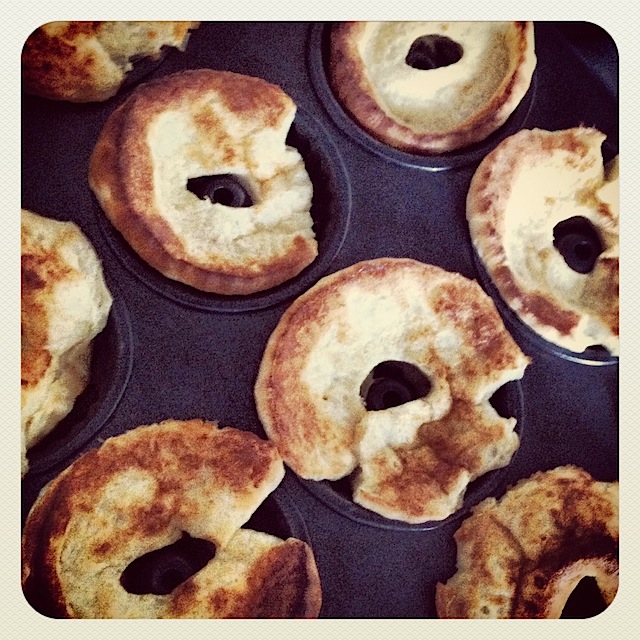 And the first tin pretty much did. I got them out the oven too early, I'd over filled the mini Bundt rings.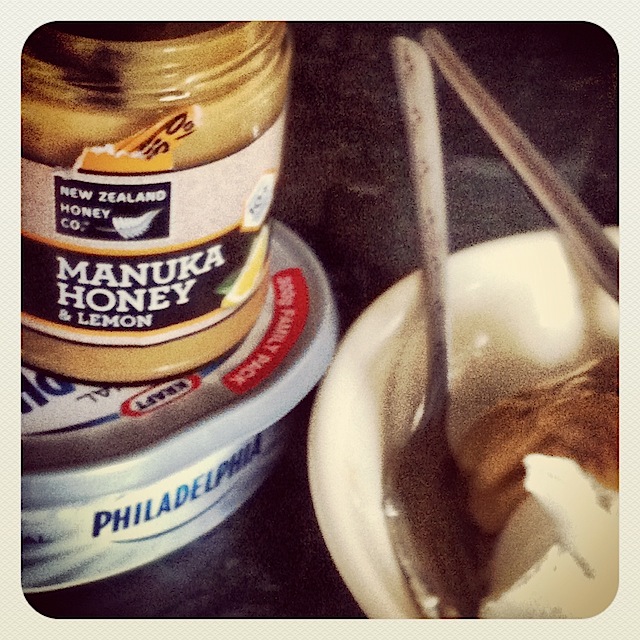 But that's ok because I could spread my filling on them anyway – a blend of manuka honey with Philly.
Not just any old manuka honey, I'd got my sticky paws on a jar of this New Zealand Honey Co manuka honey perked up lemon. Apparently there's a root ginger version too.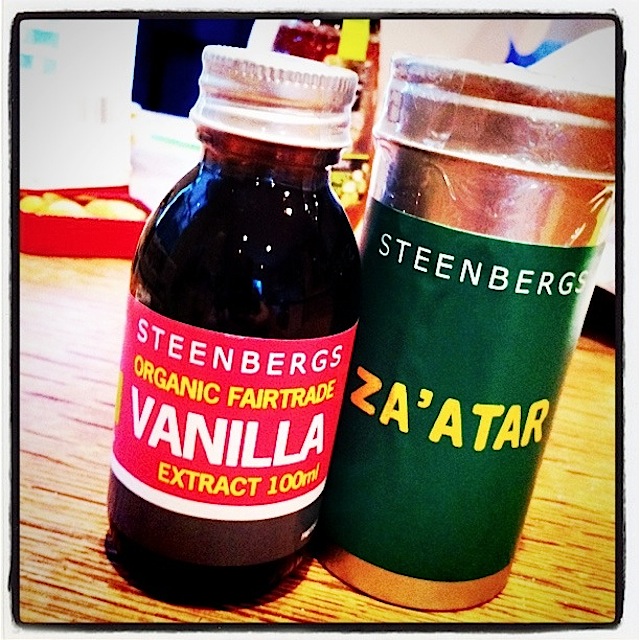 I also used this Steenberg's Organic Fairtrade Vanilla Extract which came in the goodie bags at last year's Food Blogger Connect. Ignore the za'atar, I assure you there is no za'atar in these popovers.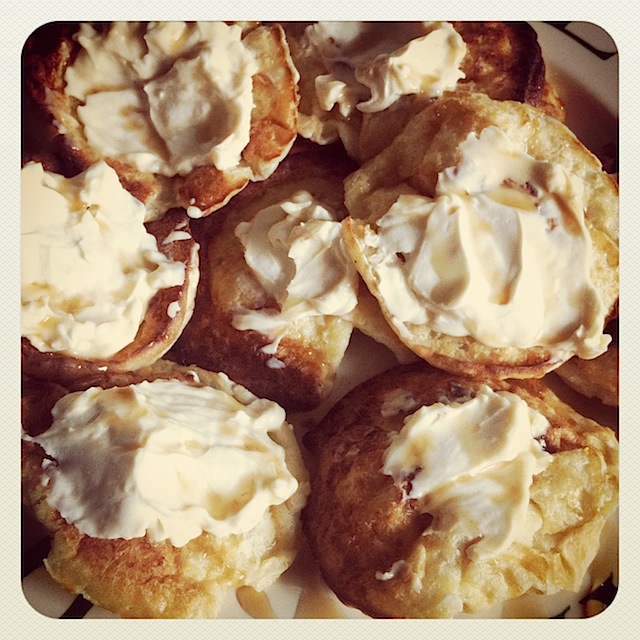 Ok so they're yorkies with honey and cream cheese on them. Not quite what I had mind but still pretty good, especially drizzled with maple syrup.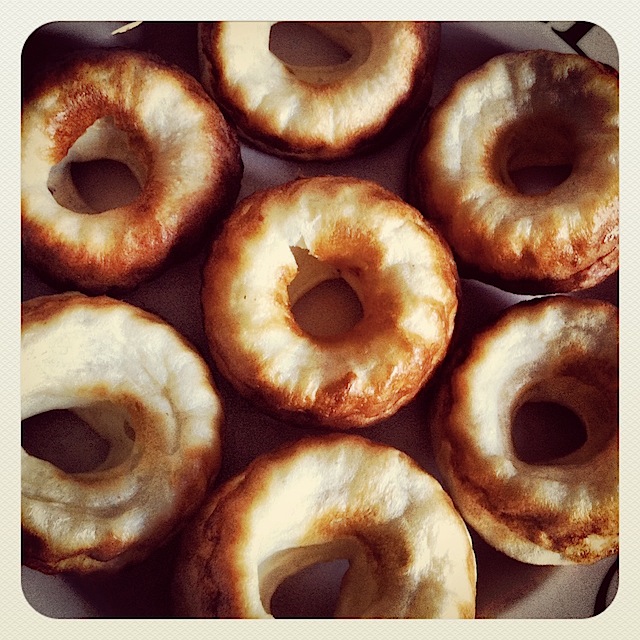 But the beauty of #IgCookAlong was that I could immediately share that actually it hadn't been a disaster, my second batch with trays filled more carefully and oven at a lower temperature came out perfectly.
I love how they look like doughnuts.
Today I heard the after school club play leader telling some children they never serve doughnuts in the after school club because "they're not very healthy" – which is true.
These ringed batter puffs were too all intents and purposes Yorkshire puddings as we know them here – to emphasise their dessert quality I added the vanilla extract otherwise I might just as easily have poured gravy on them.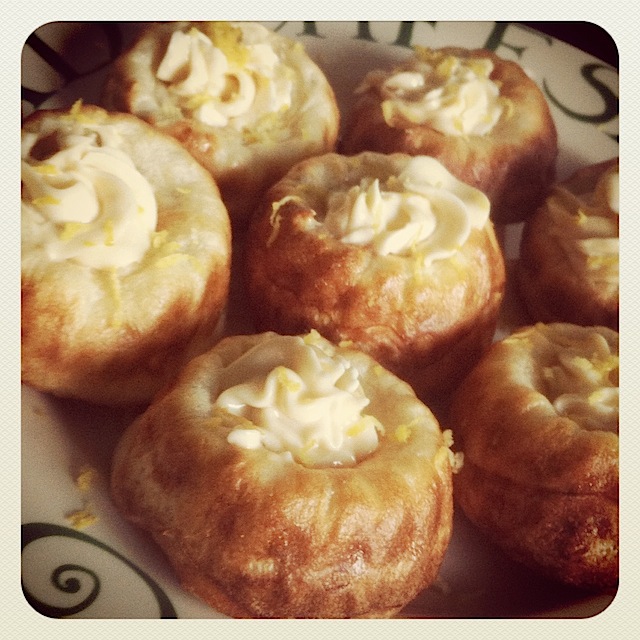 And I couldn't resist an opportunity to get the piping bag out and fill those round holes with my mix of Philly and Honey. I grated some lemon zest on top to emphasise the lemon some more.
So if you're on Instagram and you take one photo of what you're cooking, don't stop, take six, take ten pictures and use the hashtag #IgCookAlong so I know what you're doing 😉
Recipe: Honey and Lemon Cream Cheese Popovers
Author:
Prep time:
Cook time:
Total time:
Ingredients
1tbsp melted butter
125g plain flour (1 cup)
1/2 tsp salt
2 large eggs
290ml milk (1 1/4 cups)
1/2 tsp fair trade vanilla extract
For the filling
200g Philadelphia
75g Manuka honey with lemon (or just plain old honey with a squeeze of lemon juice)
grated zest of half a lemon
Instructions
Preheat the oven to 200c / gas 6.
Grease the tin or spray it with some whizzy Dr Oetker aerosol cake release spray.
Combine the flour and salt in a bowl.
Whisk the eggs, milk, melted butter and vanilla extract in a separate bowl.
Pour the wet ingredients over the flour and beat with a balloon whisk until blended and smooth-ish. Decant the batter to a jug.
Meanwhile pop the tin into the oven for a couple of minutes to heat it up.
Take the tin back out of the oven and quickly serve small pools of the batter into the 12 hole tin (ok, go on you can use a normal muffin tin if you don't fancy coming to Walthamstow Market), bake for 12-14 minutes until puffed up and golden brown. Don't open the oven during cooking but when you get them out give them a poke to see if they're cooked underneath.
Pierce each popover with a skewer to let the steam out. Allow to cool slightly before removing from the tin and arranging upside down on a plate. Meanwhile combine your honey and philly in a bowl by mashing with a fork. Spoon the mixture into a piping bag with a star nozzle (this is optional, you can just spoon it into the holes instead if you want).
Pipe Philly honey mixture into the holes. Sprinkle over grated lemon zest and serve whilst still warm.
Notes
You will need a mini ring tin like this from Walthamstow Market for £2. Last stop on north bound Victoria line. Text me if you want to meet for coffee.
I am linking these popovers up with Nazima and Laura's One Ingredient lemon event, Helen's fair trade themed Breakfast Club and Ros and Caroline's Alpha Bakes letter H (for Honey) event.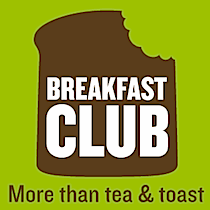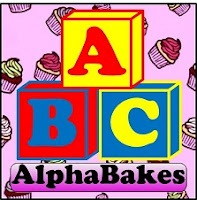 With thanks to New Zealand Honey Co and Dr Oetker for sample product.
Lastly, in other news I have turned off the static home page with picture carousel on the site because it wasn't showing up very well on mobile devices. I hope this improves your mobile experience reading the site.