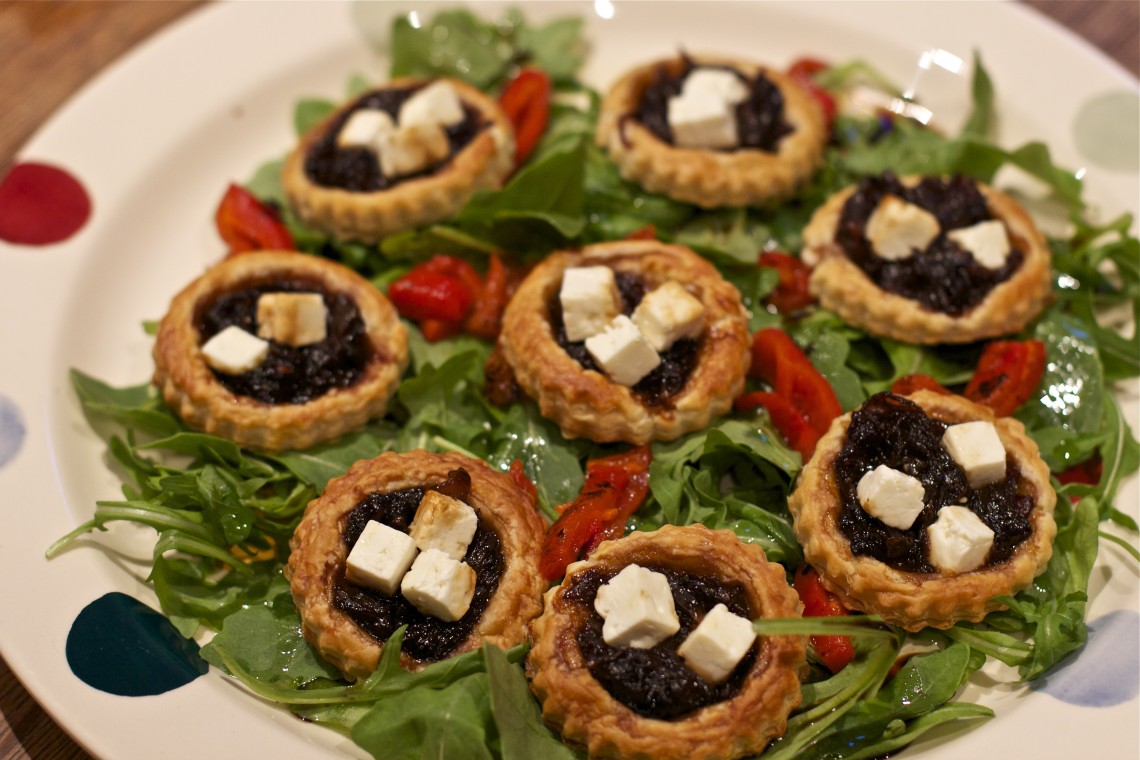 The salad of my childhood was generally some well soaked lettuce, slices of cucumber and quarters of tomato arranged on a platter. If my grandmother deemed it a special occasion there might be some quartered hard boiled egg too.
I spent over 20 years thinking that was what salad always was.  Not until I was let loose in the 1990s and discovered the delights of olive oils and capers did I realise that a salad could comprise pretty much anything so long as part of it was raw.
The only cheese in my grandma's house was yellow and in rubbery slices, I'm not sure what she'd have made of dinky cubes of salty white Apetina!
Living up to their reputation for putting the oomph into salad, Apetina are holding a competition on their Facebook page.
Snazzy Showpiece Salads will showcase my creation today alongside other elaborate and exciting efforts using Apetina's full product range over a period of four weeks. The recipes will also appear on the Apetina website. Whether you want to rock your rocket or groove your greens with herbs, garlic or sundried tomatoes, Apetina can help put the oomph back in your salad.
Anyone who "likes" the page and votes for their favourite salad will be entered into a prize draw for this lovely picnic hamper set (basket, with wooden salad bowl and servers, plus dressing bottles. In the final week, a barbecue will be up for grabs. If you'd like to take part in the competition, hop over to the Apetina cheese Facebook page.
Caramelised Red Onion Tartlet Salad with Apetina
Ingredients:
1 pack of pre-rolled puff pastry
2 tbsp milk
3 red onions finely sliced into half moons
2 tbsp olive oil infused with garlic
3 tbsp light brown sugar
1/2 tsp salt
Rocket
Grilled red peppers marinaded in oil
Olive oil for the dressing
Balsamic vinegar
You will also need a baking sheet lined with parchment paper and a 7cm round pastry cutter.
Directions:
1. Using a medium size saucepan, heat the olive oil and cook the onion on a low to moderate heat for five minutes. Add a splash of water if the pan dries and as the onion starts to soften replace the lid and turn the heat down to cook the onions for around 20 minutes.
2. Meanwhile preheat the oven to 220c or gas 7.  When the onions are fully softened stir in the sugar and salt allowing it to dissolve. Turn off the heat and set aside.
3. Unroll the puff pastry and cut 12 circles with the round cutter. Lay them on the baking sheet. Paint the edges of the pastry circles with milk and spoon a dessert spoon of caramelised red onion into the centre of each circle. Bake for 12 minutes until lightly golden.
4. Remove the tartlets from the oven and reduce the oven temperature to 180c/ Gas 4. Dot 2-3 cubes of Apetina over each tartlet and return to the oven for 3-4 minutes until softened slightly.
5. Meanwhile scatter rocket and slices of marinaded red pepper onto a salad platter and drizzle with more olive oil and balsamic vinegar. Arrange the warm tartlets on top of the rocket and serve immediately.
This is a Sponsored Post however the words and recipe are my own.