Salad Nicoise is a perennial favourite on a certain pizza chain menu but did you realise it's actually from France rather than Italy? [This is a commissioned post for James Villas…]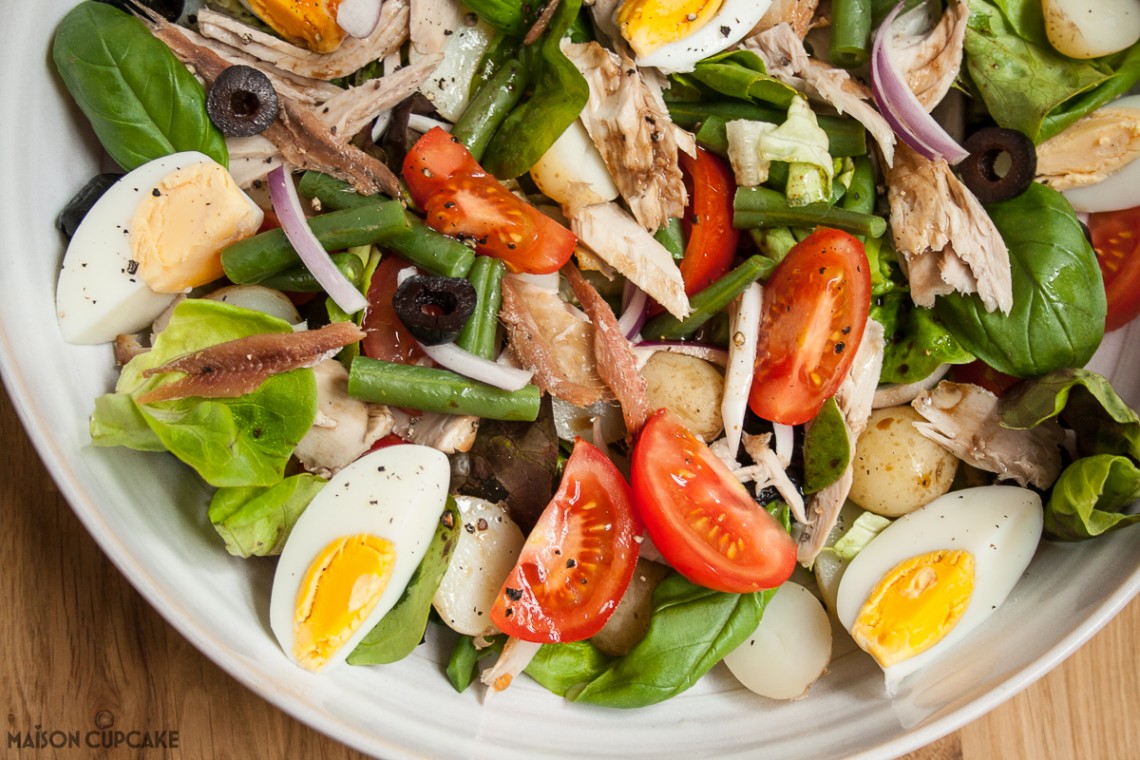 Nice lies around 30 minutes' train ride from the border with Italy at Ventimiglia. Whereas the dusty streets of Marseille have an air of Tunisia or Algeria, both the cuisine and architecture of Nice have echoes of Italy. In common with their neighbour, the classic Salad Nicoise features quality fresh ingredients simply assembled with big flavours.
They serve big salads in France. Their menus fool you into thinking they'll make a good starter but generally a French salad is a loaded affair with layers of flavour and texture. Add some crusty baguette and wine and you've got a feast.
The primary colours of classic Salad Nicoise, red tomato, green beans, basil and leaves, yellow yolk of hard boiled egg all contrast with the deep cobalt blue of the Mediterranean. Before visiting Nice, I had never seen a sea so blue; no wonder Nice resident, the artist Henri Matisse filled his collage works with that same deep blue as his eyesight faded to darkness.
The evening sky too is deepening and the chink of glasses filled with rose wine are fresh in my senses as we drift from the busy Cours Saleya in Nice Old Town to the Promenade des Anglais for an evening stroll.
It's mid September 1997. The news stands are still shouting speculation about Princess Diana. As the sun lowers, gentle waves broke on the pebbles and we peered at planes taxiing on the runway at nearby Nice Airport. Budget flights not really yet the norm so we'd arrived in Paris via Eurostar and boarded the TGV to the south. I'll never forget the feeling of disembarking from an air conditioned train into the balmy Mediterranean night.
My now husband were on our first holiday together backpacking around Provence and the Cote D'Azur. It was my first "grown up" holiday without parents and my first visit to the Mediterranean. We have fond memories of our several visits to Nice which intensified our sadness of the awful events there recently. For years we'd had a Raoul Dufy print of the Promenade des Anglais hung in our bedroom and its deep brushes of that same shade of cobalt blue were one of the first things I saw each morning reminded me of our happy holidays there. We will definitely go back.
Rather than eccentric hotels who had invariably lost all record of our booking (an incredible THREE hotels have done this to me in Nice – admittedly before the internet) nowadays we enjoy self catering holidays.
The bountiful markets of France offer huge incentive to cook their fresh ingredients "at home". Dining outside with a glass of rose wine is the truest taste of holiday I know.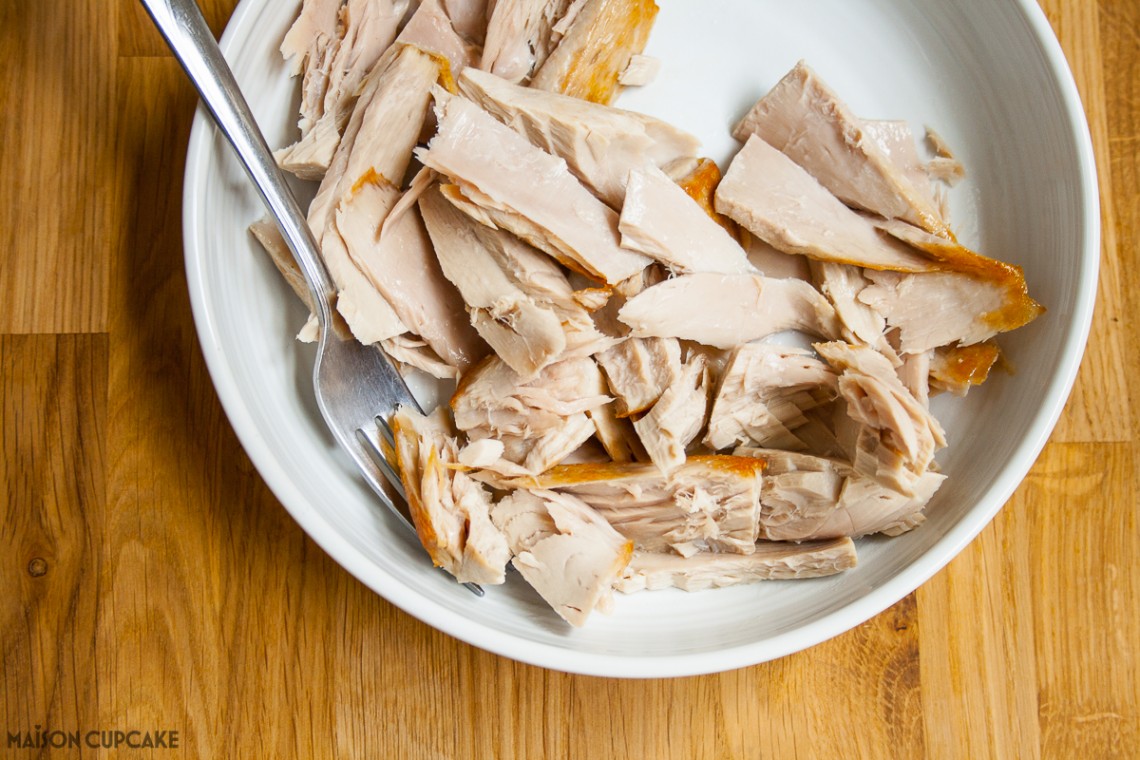 Tuna is the back bone of Salad Nicoise and for true authenticity it needs to be fresh. By that I mean from the fish counter and not shrink wrapped in a plastic tray, never mind the sacrilege of a tin. Yes, yes of course I buy tinned tuna but that's the stuff I bung in mid week lunchtime sandwiches rather than downgrading a Salad Nicoise. You can also serve Salad Nicoise in a crusty roll when it becomes another Nicoise speciality, the pain bagnat.
What joy it is too if you visit a French supermarket fish counter in the evening and they've reduced it to something daft like £12 per kilo. On those occasions I buy double, cook the lot in one go and serve the leftovers cold the next day.
My tuna steaks here have been fried for around 3 minutes on each side then flaked with a fork. I enjoy putting some boiled potatoes into my Salad Nicoise but actually this isn't usual and I add them to pad the salad out as a substantial meal. But beyond this the only cooking required is the thin green beans and boiled egg. Everything that is cooked in a Salad Nicoise can be cooked ahead or you can do it immediately before serving if you enjoy a warm salad (enhanced by warm new potatoes).
Even so, it's all low key and relaxed leaving you more time to sit on your balcony enjoying the summer evening with that glass of rose wine. Which brings me to holiday planning… I've been living vicariously through James Villas on Instagram and here are a few of my favourites I'd love to stay in…
Holidays with James Villas
James Villas are a market leader in quality villa holidays with 30 years experience. They sell their holidays direct so you won't find them via travel agents rather book online, by phone or visit face to face in their store at Bluewater Kent. From farmhouses to modern villas with swimming pools you can choose a variety of sizes and price ranges from a selection of 2500 villas accessible from 25 UK airports.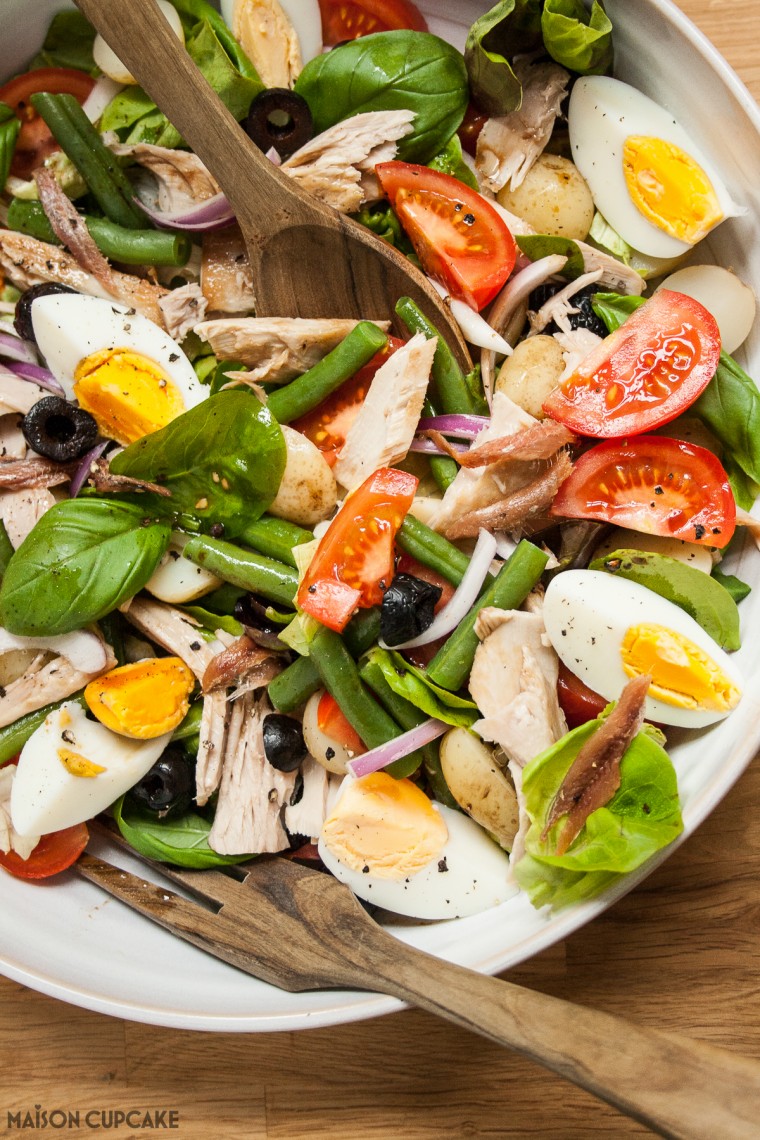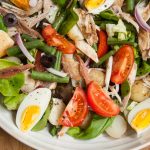 Print Recipe
Ultimate Salad Niçoise
Salad Nicoise with fresh tuna and anchovies is a traditional French Mediterranean dish.
Ingredients
400

g

fresh tuna steaks

olive oil

to try and make dressing

balsamic vinegar

2-4

hard boiled eggs (depending how much you want!

250

g

new potatoes

1

tbsp

capers

40

g

anchovies

12

pitted black olives

2

big tomatoes

sliced

1/2

red onion sliced into thin half moons

100

g

green beans

topped and tailed

Seasoning

fresh salad leaves
Instructions
Heat the oil in a frying pan and fry the tuna steaks for around 3 minutes each side until cooked through. Remove from the pan and flake into pieces.

Meanwhile in separate pans boil the new potatoes until cooked and boil the eggs until they'll be just beyond a soft boil - admittedly I'm very bad at gauging this.

Lightly cook the beans in a third pan.

Drain the cooked potatoes and beans, peel the hard boiled eggs and cut into halves or quarters.

In a large bowl arrange all of the ingredients before drizzing with a mix of oil and balsamic vinegar beaten together. Grind with black pepper and serve preferably outdoors!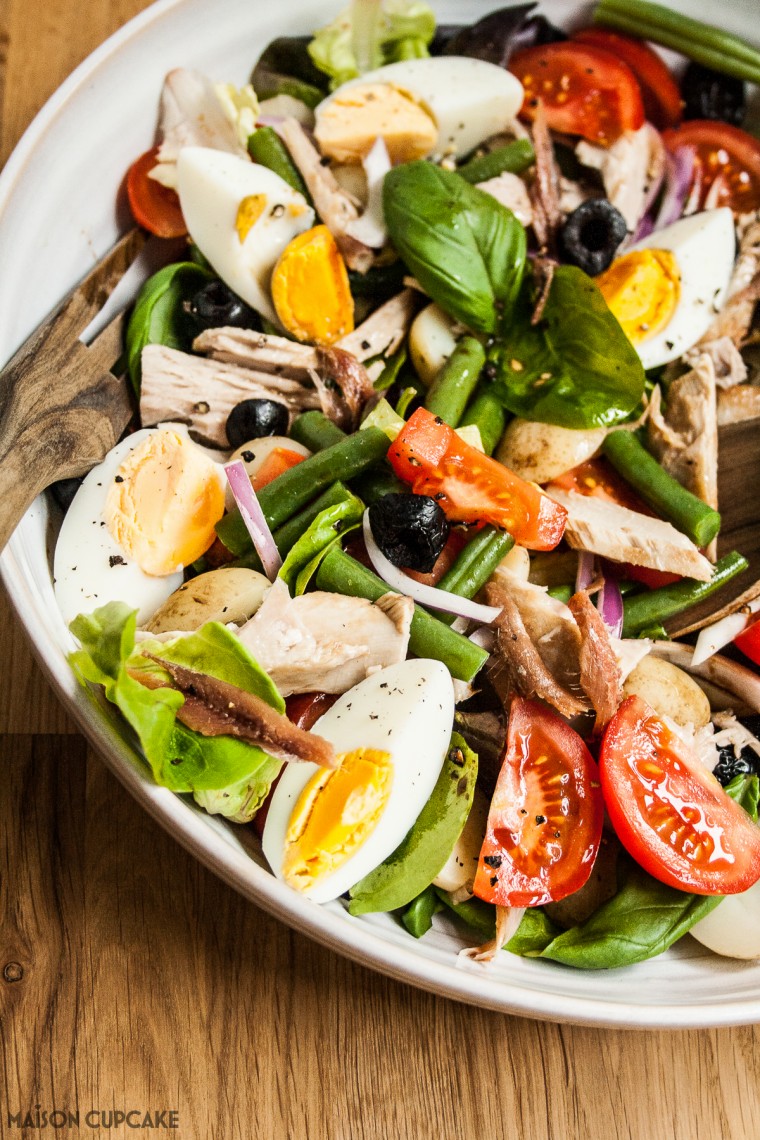 If you like this summery recipe try also…
Prawns with Chorizo and Sherry by Jo Pratt on the James Villas Blog and also…
This Salad Nicoise recipe post was commissioned by James Villas as part of their #MyHolidayDish campaign.