This giveaway is now closed. The winner was Erica Price, West Midlands.
Welcome to the first ever Christmas giveaway extravaganza on Maison Cupcake!

Get set for twelve fabulous days of present giving lined up between now and December 17. There will be books, hampers, cookware, chocolate, you name it, it's being given away here over the next twelve days.

There'll be a lot of variety and several of the giveaways will also be open to international readers.

Today I am giving you the opportunity to win some fabulous Christmas goodies from Waitrose:

1. A sought after Delia Classic Christmas Cake kit RRP £10 but likely to disappear from the shops any second and go the same way as Heston's Hidden Orange Christmas Pudding i.e. getting bought on Ebay by crazies with holes in their pockets

2. Borsari 750g Chocolate Panettone RRP £8.99 in a box so gorgeous Sarah Jessica Parker would probably use it as a handbag.

3. 400g Farmhouse Butter Biscuits RRP £5.99 in a tin adorned with cutesy red dress like something out of Mad Men. I've not seen Mad Men yet. It's good apparently?

4. Silver Foodie Christmas Crackers – I can't find these on the Waitrose or Ocado websites so they must be really exclusive and will be RRP at least £10.

To find out how to win these wonderful Waitrose goodies and more about other prizes being given away between now and December 17, read further down the bottom of this post.
But first let me show you some of my other favourite Waitrose goodies that I saw close up at their Christmas press launch back in the summer…
Lots of little tree decorations and stocking fillers ranging from these Bah Humbug chocolate discs to individually boxed Choc on Choc christmas chocolate cupcakes.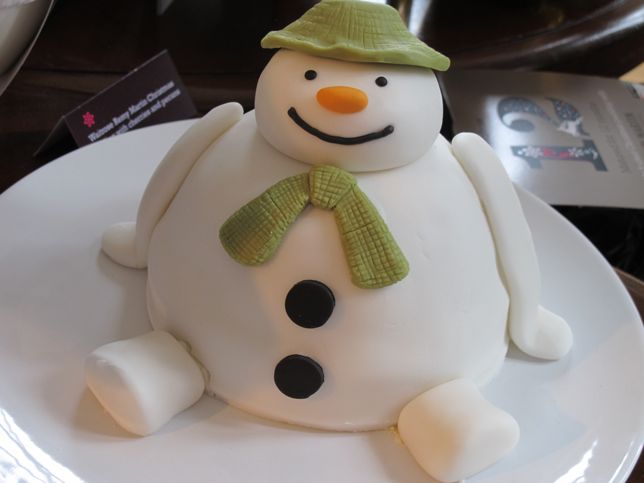 Raymond Briggs style The Snowman cake.
Father Christmas Cake for "Another Bloomin' Christmas" – as is the phrase beloved of Raymond Briggs' Father Christmas. My son watched this film so much last year we were concerned he might start saying "Happy Bloomin' Christmas".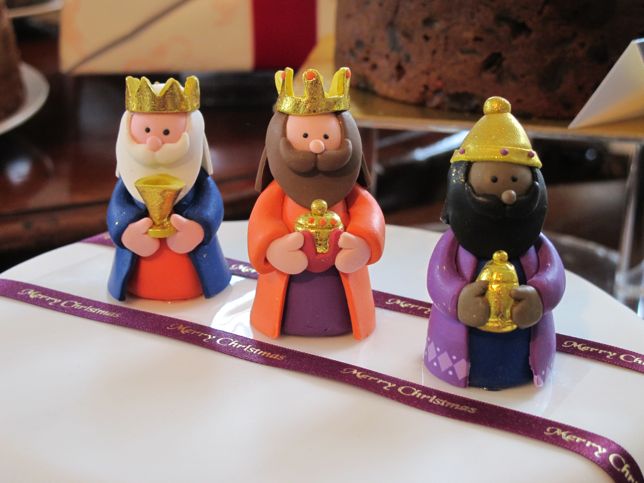 Much more polite than the cartoon grumpy Father Christmas are these Three Kings and fondant nativity cake.
My favourite product of all is here, salted caramel delices, like truffles rolled in cocoa but with a hard shell inside which a liquid salt caramel bursts into your mouth. I have a bit of thing about salt caramel right now (don't we all) and these really did it for me. Alongside them are almond and cinnamon clusters. Either would make great gifts to take along to a dinner party during the festive period.
For the children I loved these felt stockings and dinky jelly bean dispenser with miniature metal scoop.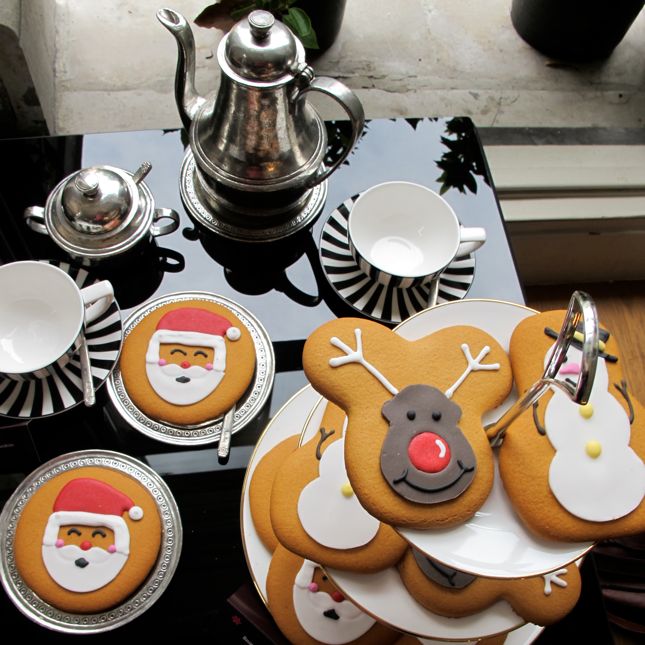 I think these biscuits were gingerbread. I especially like the reindeer!
Last but not least, my other favourite product was this Love Christmas Gourmet Popcorn which comes in either Strawberry & White Chocolate or Pecan Caramel and Milk Chocolate flavours. Both are to die for. To my joy, Waitrose sent me a pack of each after the show and although I could have happily woofed them down I was incredibly restrained (or bonkers – you choose) and incorporated them into ice cream.
I'm really making you wait for these prizes aren't I. Keep going and you'll get them after the ice cream.
Pecan Popcorn Ice Cream

Ingredients:

(adapted from "Basic Vanilla Ice Cream", Nigella Lawson, How to Eat)

500ml single cream

1/2 tsp vanilla extract

6 egg yolks

125g caster sugar

150g sweet popcorn

50g roughly chopped pecans

2 tbsp Dulce de Leche

50ml amaretto or Baileys or a liquer of your choice (optional)

You will also need an ice cream maker. I use the sort with a bowl you put in the freezer before churning.

Method:

1. Half fill the sink with cold water.

2. Heat the cream in a medium size saucepan until it's about to come to the boil then turn down. Add the vanilla extract.

3. In another pan, whisk the egg yolks with the sugar until thick and creamy. Stir in the cream mixture beating all the while and then returning to a low to moderate heat. Stir continuously for 8-10 minutes.

4. Stand the pan in the sink of cold water and continue to stir vigorously.

5. When it is cold, churn in an ice cream maker for around 45 minutes.

6. Finally tip your ice cream into a tub for freezing. Before placing in the freezer, stir in the popcorn, Dulce de Leche and pecans with a spoon saving a small handful of popcorn and nuts to sprinkle on the top. Also at this point, if you are adding amaretto, stir that in now. Some booze added to homemade ice cream does make it awfully easier to scoop out later! Freeze for at least several hours before serving.
Ta-dah!

You made it. Well done.

There is one mandatory way to enter and several ways to get bonus entries.

This giveaway is open to readers with UK mailing addresses. Readers from overseas are welcome to enter provided they can give the UK mailing address of a friend to receive the gift on their behalf with any onward delivery being at their own cost.

The winner will be chosen using an online randomiser and announced in a subsequent post on this blog – the winners of several of the 12 giveaways will be will announced together across 2-3 posts according to their closing dates.

To win these Waitrose Christmas goodies with total retail value of around £35 you need to:

1. Mandatory. Leave a comment at the end of this post telling me your favourite Christmas movie.

2. Second chance to win, tweet a link to this giveaway as follows: "Win Waitrose goodies RRP £35 @maisoncupcake" WITH A LINK TO THIS POST as it may no longer be the home page item if you enter later this week. Then leave a second comment saying you've done so telling me your Twitter ID and another favourite Christmas movie.

3. Third chance to win, share a link to this blog post on your Facebook wall saying "12 Days of Christmas Giveaways on Maison Cupcake – I've entered to win Waitrose goodies today" and then leave a further comment that you've done so… with, you've guessed it, another favourite Christmas movie. What do you mean you can't think of three?!

You must leave a further separate comment for each bonus entry otherwise they will not be counted.

Closing date: midnight BST on Sunday December 12th.

The winner will be notified by email. If the winner does not reply within 48 hours, a new winner will be drawn.




Good luck everyone!
Also coming up during Maison Cupcake 12 Days of Christmas Giveaways:
Interflora Christmas Hamper RRP £100
Books from Octopus and Quadrille
Cookware from Sainsbury's, Jamie Oliver, Nigella Living Collection and Mum et Moi
Chocolate from Green & Blacks and Matcha Chocolat
Spices from Steenbergs
and more!
Don't forget to come back tomorrow to see which prize is next!