"Postcard from" is my occasional series of weekend non-recipe posts.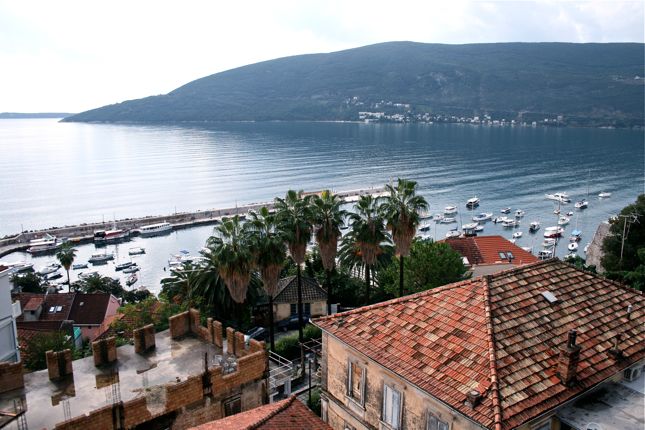 Following on from my Fresh from the oven challenge of kiflice, Serbian cheese rolls, here as promised is my travelogue on Herceg Novi, Montenegro.
My father in-law is Serbian and now has a holiday apartment in Herceg Novi, Montenegro.
The town is an easy 30 minute drive from Dubrovnik airport just over the Croatian border. You can fly there with Easy Jet in summer and British Airways throughout the year. We have made the trip twice, most recently back in October.
Herceg Novi is a working town with around 13,000 inhabitants set in the mouth of the Bay of Kotor with streets stacked on steep mountainous land.
In its time, the town has been occupied by the Turks, the Spanish, the French, the Austrians, the Russians and twice by Italy. Montenegro become independent from Serbia in 2006.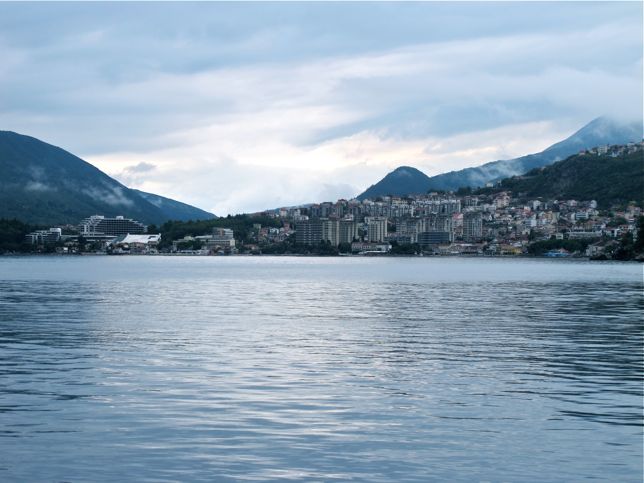 Nearby Igalo, pictured above, is smaller but more densely populated and touristy with a well known thermal health spa. A wide promenade follows the route of an old railway line along the coast between the two towns.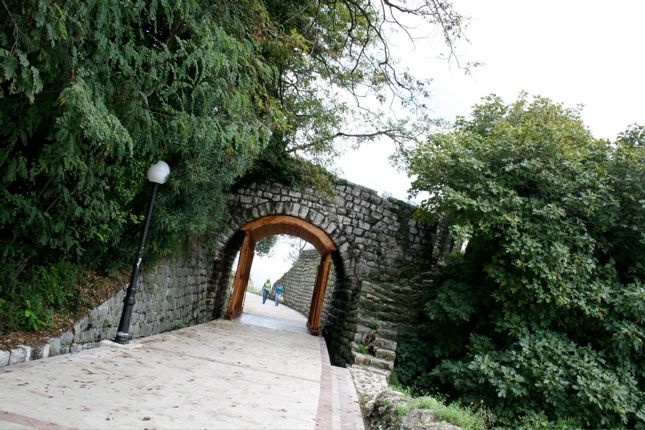 Heavy rain this October meant many restaurants and tourist facilities closed early this year. Below are several venues which are less reliant on tourist trade and popular with locals.
Caffe Bar Do-do in on the promenade close to the marina and serves a good range of ice creams and cakes. Open until late, it was the cheapest place we found for a bottle of beer – close to half the price of elsewhere. Nik Sicko and Jelen are popular beer brands.
In high season, concrete "beaches" along the Herceg Novi promenade are crammed with sun loungers and parasols.Waiters from nearby bars serve drinks down there and there's no sand to get in your shoes!
The climate on the Montenegrin coast is cooler in summer and warmer in winter than inland. This picture above was taken in the second week of October 2009 which is why it's quiet despite the good weather. Sadly this year we were less fortunate having heavy rain six days out of seven but this was unusual and even on the single sunny day the weather reflected what you see above.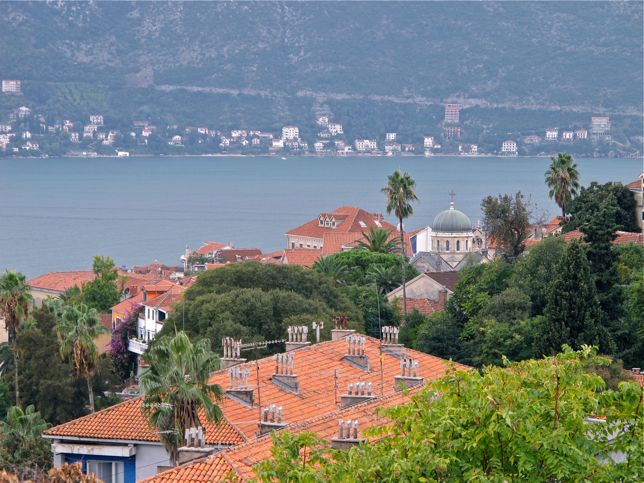 High up on the mountain road, Restoran Monte Carlo, is a large venue split into two dining areas, one casual and one formal. Both have stunning views of the bay and Herceg Novi's fortress.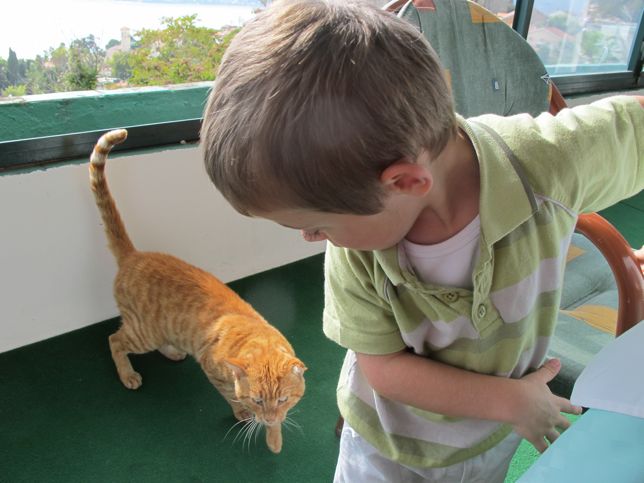 We ordered a Serbian salad of green peppers, cucumber and tomato, stuffed chicken rolls wrapped in bacon and filled with cheese (above left) and veal with mushrooms. Dishes are commonly served with "pom frits" (chips) or rice.
Be warned the cuddly ginger tom cat who rubs against diners' legs probably has fleas for my husband I were both bitten. Worse still, said cat took a swipe at Ted resulting in the waiter offering free WHISKY to dab on the scratch. TCP is for wimps anyway.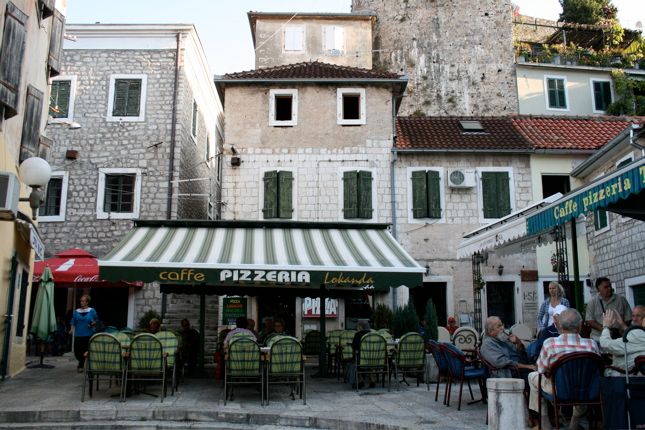 In Herceg Novi old town, there are several cafes around the main church square and some pizzerias in the larger square under the clock tower.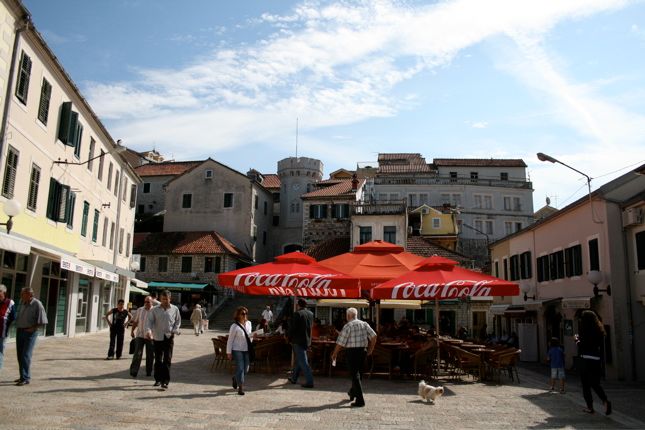 Free wifi can be found in several cafes, including this one with the Coca Cola umbrellas in the square under the clock tower.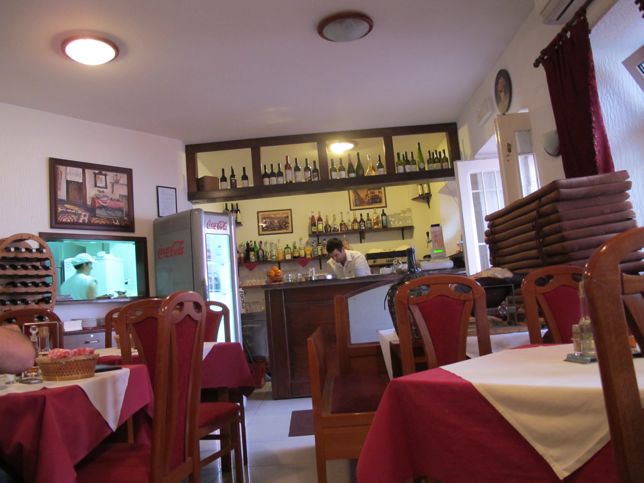 Tucked away close to Herceg Novi's market, we have eaten several times in the tiny Pod Lozom which serves family dishes including some changing specials of the day at extremely reasonable prices. Part of the Harmony of Taste group, there are sister restaurants in Igalo and Tivat and a more upmarket restaurant bar, Admiral, on Herceg Novi's marina (sadly closed by October).
We chose cevapi, sausage shaped rissoles served alongside chips in portions of 10 (too many!) or 5, moussaka, the obligatory green pepper and meatballs with mash and tomato sauce for Ted.
Side dishes cost around 2 euros and main courses around 5-6 euros although Ted's meatballs were a bargain 4 euros and easily enough for a grown up lunch.
They look a bit squashed in the picture above as he was hungry and I'd cut them up before photographing them. I do not make my son wait for food in the name of blogging!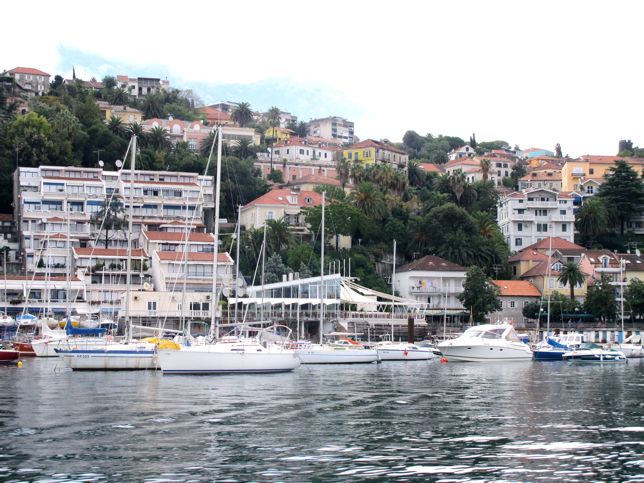 Also in the old town, Gradska Kafana is a spacious cafe in a grand building offering views of the marina. It is situated in the top centre of the picture above next to the yellow building.
Halfway down the hill is Tri Lipe, a popular summertime restaurant serving barbecued meat to order with queues down the steps to the marina.
Less favourable discoveries in the marina complex (modern building above centre), were the expensive Sport Cafe with permanent noisy sports coverage on televisions and a friendly (but not to be revisited) fish restaurant underneath which served whitebait that gave me a dicky tummy the next day.
In high season there are more facilities available and consistent sunshine virtually guaranteed. With big developments springing up all the time, Montenegro may change quickly so go now to see its more authentic untouched side.
For further information about holidays in Montenegro look at visit-montenegro.com and English speaking tour company, Black Mountain.