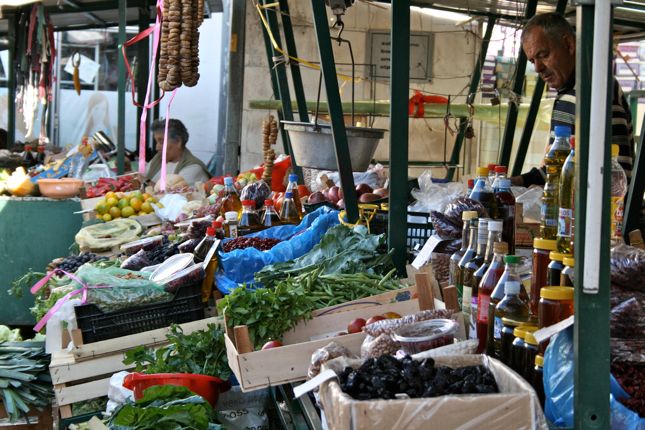 In my recent post about Tivat, Montenegro, I talked about the make do and mend nature of peoples' home and you get an idea of this by walking around the market in Herceg Novi.
"No health and safety here" my father in law often jokes as we pass holes in the pavement or railings missing on the promenade exposing a 12 foot drop onto concrete.  Herceg Novi market is ramshackle but charming.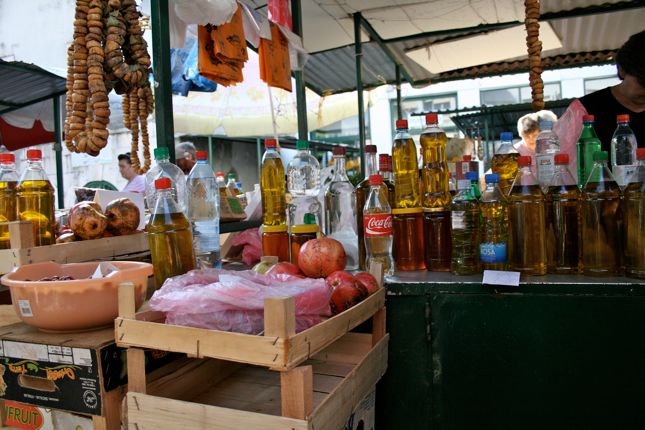 Most stalls sell two types of goods; either fruit and vegetables or a mix of dried fruit and nuts and home bottled olive oil. I love how the market traders bottle their oil in random bottles – although I think the Coca Cola one here only holds water.
This chap was selling bags of dried herbs laid out on the bonnet of his car. Around the back of the car were clothes for sale hung up on hangers. It had an air of car boot sale but I know this is his regular pitch as these shots were taken twelve months ago yet the same red car was in the same place this year!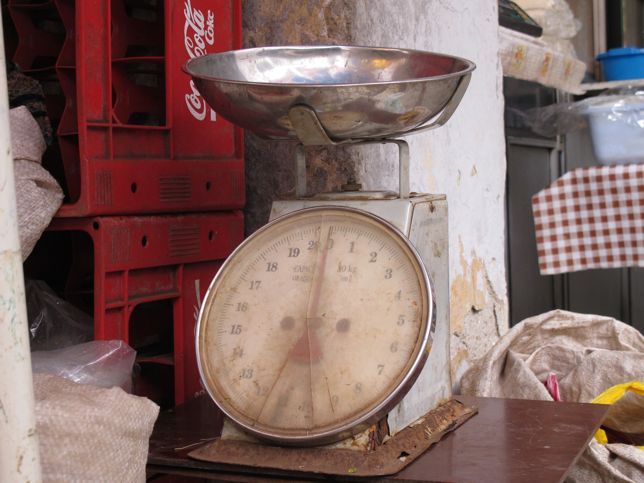 The market has around 15 stalls in a small square. Traders are eager to catch your eye although unless you speak Serbo Croatian it's best to nod and smile and keep going. Prices have gone up in twelve months; last year I saw dried cherries for 9 euros a kilo whereas this year they cost 12 euros a kilo. These food price rises have been typical across the board. My mother in law tends to use the supermarket as it is cheaper.
Meat sold is largely pork based saveloy type sausages, pates, salamis etc. You can get a chicken roasted for you – above are the un-alluring premises where they do this.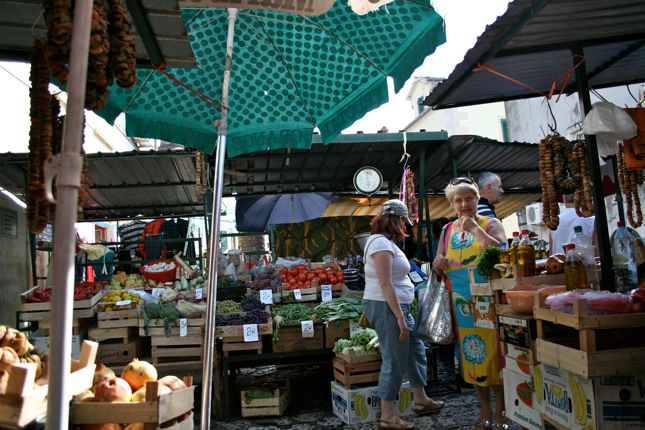 Pomegranates and fresh cherries are also good buys. I'm forever amused how they sell eggs in plastic bags instead of boxes.
Back home on the famous Walthamstow Market, I found these red peppers a bargain at £1 for a bowl containing six or seven peppers – compared with 68p each in the supermarket. I wanted lots of peppers to make this Eastern European dish which I have loved since my first trip to Belgrade nearly ten years ago.  It's called Ajvar (pronounced eye-var), a kind of Serbian salsa. You sometimes find jars in Turkish supermarkets but I thought I'd make my own version.
In the Balkans, ajvar is made in the autumn and bottled for use throughout the winter. Traditionally, the pepper skins would be removed but I think this is too much hassle and didn't notice much difference leaving them on.  This is by no means an authentic recipe, it contains no aubergine but it's very similar and much easier to make. I couldn't comment whether this fresh version is suitable for bottling, stashing things in sterilised jars has never been my forte much as I wish it was.
Ajvar can be hot or not, so add red chillis if you want spice and leave them out if you don't. Beware of adding too much tomato, you just need a taste, too much will make your ajvar too watery. Ajvar can be used to top meat, cous cous or my particular favourite, to mix with scrambled eggs as a kind of piperade.
Ajvar, Roasted Red Pepper Paste

Ingredients
7-8 large red peppers
1 small tomato or 4-5 cherry tomatoes
1 red chilli (optional)
3-4 cloves of garlic
olive oil

You will also need a large baking sheet or roasting dish lined with parchment paper.

Method:
1. Preheat the oven to 190c, gas mark 5.
2. Wash your peppers and deseed leaving in large pieces or halves.
3. Lay the pepper pieces on your baking sheet and scatter over the whole cherry tomatoes (or large chunks of normal tomato), chilli if using and cloves of garlic. Drizzle with olive oil or spray with oil spray.  Roast for 25-30 minutes until the edges are slightly charred.
4. Quickly pulse in the food processor taking care not to pulverise into total mush, you want a rough texture.
5. Serve either warm or cold. Keeps covered in the fridge for up to one week.