Dinner with Crayons is my occasional weekend series of child friendly restaurant reviews. Today we visit sushi bar Itsu at Canary Wharf.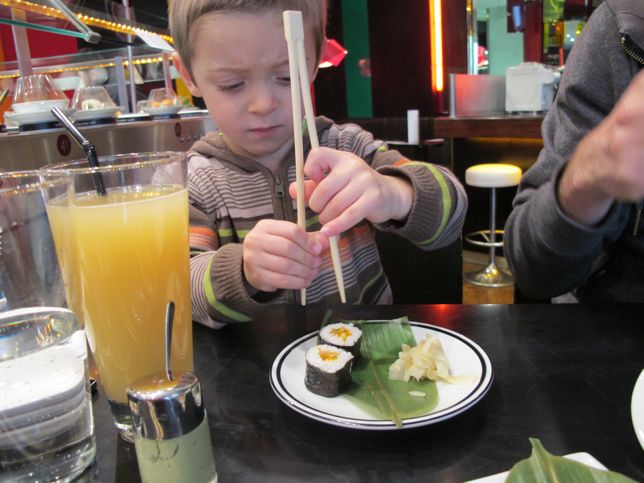 A few weeks ago, on the instructions of Catty, I signed up to Groupon, those guys who email you discounted offers every day. There seems to be a foodie or beauty offer daily and I quickly snapped up a voucher for sushi chain Itsu for which I paid £16 for £40 worth of food and drink. I was tempted to blow the voucher on a bottle of champagne from their extensively stocked bar but that would be irresponsible with a hungry 3 year old to feed.
I hadn't realised until writing this post that Itsu was founded by Julian Metcalfe who also founded Pret a Manger. The Itsu website has a long list giving information about their ingredients from sustainable yellow fin tuna to free range Gloucestershire chicken.
Ted has already been to Yo! Sushi several times and I was interested to see how Itsu compared. A problem with the spread of Yo! Sushi to mainstream shopping malls has often been a dilution of the menu, you'll struggle to pick up a sashimi from the conveyor belt at Lakeside, presumably because the locals balk at the idea of raw fish.  Itsu's locations are targeted at City workers and Central London. All 20 or so branches are London based although many are takeaway shops, conveyor belt  restaurants such as this one are limited to Notting Hill, Chelsea, Soho and Canary Wharf.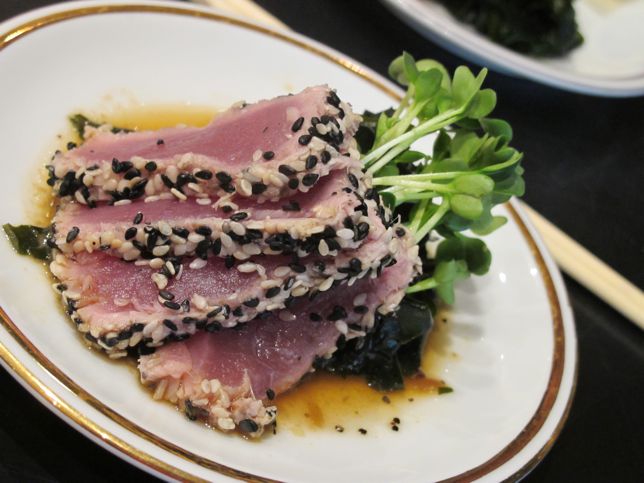 There were tables away from the belt for customers with children too young to sit at stools but I don't think it would be much fun to keep getting up to fetch your food. The tables at Yo! are always next to the belt and fortunately here Ted sat still on a stool. There were no crayons here but the food whizzing round is entertainment enough.  On balance I think Yo! has a greater choice on dishes that would appeal to children (such as the pumpkin korroke etc) but Ted is even more adventurous than we thought and went beyond the chicken and rice we'd ordered for him.
Itsu is pricier than Yo! with the average price of dishes being £4-5 (mostly £5) compared to £2-5 it's cheaper counterpart.  The seared tuna you see above was £5 but beautifully presented and a generous amount. Food is served on china plates rather than plastic dishes and the interior is more like a lounge bar than a colourful canteen.
Something I liked was how dishes on the belt were clearly labeled. I didn't like extracting hot covered bowls of soup from the belt as the glass top meant you  had very little room to manoeuvre them out and I spilled hot soup on the belt and my hand, ouch!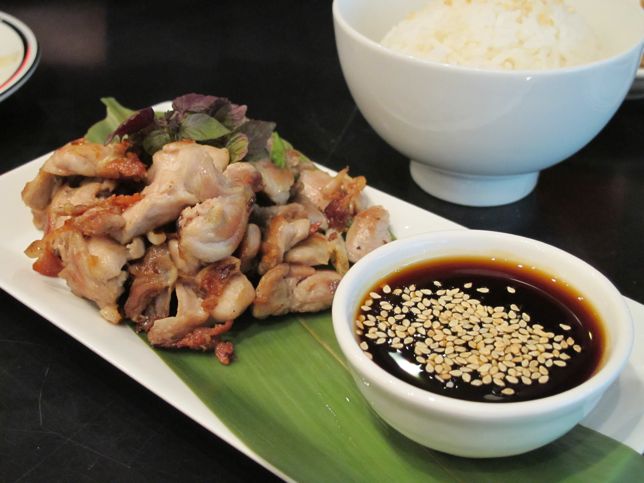 Chicken teriyaki (also £5) was also generously portioned. This was a hot order made via the waitress rather than coming off the belt. It was definitely freshly cooked and took quite a long time to appear but  I guess I didn't mind as I could tell it has just been cooked. The staff were swift to take dishes away meaning you couldn't keep a mental tally  how much you'd spent. Twice I had to grab this dish of teriyaki sauce since we wanted to use it on our rice even when we'd finished the chicken but that darned waitress kept trying her luck sneaking it away.
Whilst waiting for the chicken (which we'd ordered for him), Ted surprised us by being extremely fond of nori seaweed rolls. He's also a dab hand with chopsticks in his own amusing way.
(Above left) Summer rolls filled with prawn and avocado with a sweet chilli sauce were my favourite. Above right is yellow fin tuna with red chilli.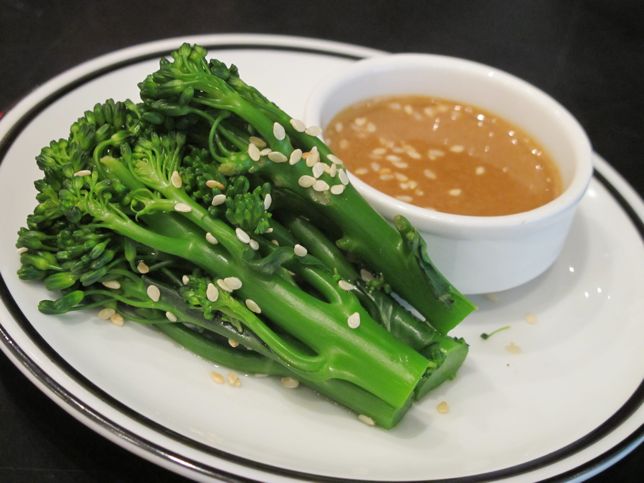 Brocolli with satay sauce (another target for the eager waitress).
For dessert we had a truly wonderful chocolate mousse and a more average creme brulee.
Including the cost of the voucher we paid around £30 for £60 worth of food. Itsu is definitely more expensive than Yo! Sushi (it may rile them I keep comparing them to Yo! but I feel it's a model my readers will be familiar with) and personally I didn't feel it was special enough to warrant the increased price. The food is definitely better quality but a lot of the china dishes look scratched and tatty and it annoyed me that they kept taking the dishes away so you didn't know how much you'd eaten. I guess their restaurant looks higher class without having dirty dishes stacked up next to customers and perhaps their usual clientele aren't watching their wallets. It was quiet on the day we visited (Saturday) and they made Ted very welcome but with many cheaper options available, for sushi or otherwise, I regret we would be unlikely to go again unless we had a similar discount. I would happily eat the food again but the experience didn't feel special enough to justify the full price cost.