Making home made Christmas gifts is far more satisfying than trudging through busy shopping centres. Here are lots of ideas of home made Christmas gifts for foodies.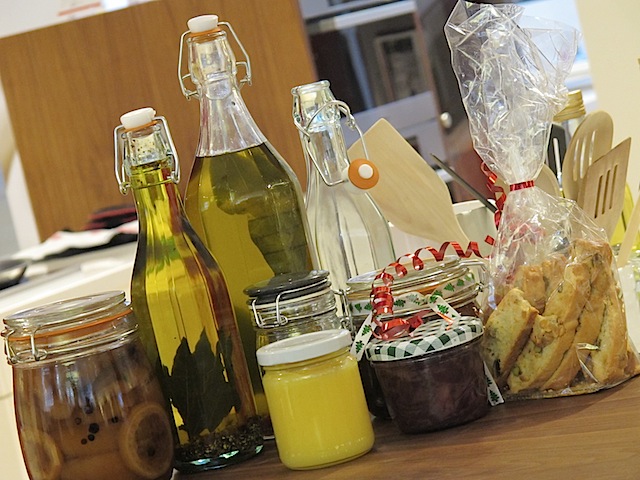 Around this time each year I attempt to become Martha Stewart, vowing to make more of my Christmas gifts so I was delighted to be invited alongside Helen of Fuss Free Flavours to the Miele Experience Gallery in London for a day making Food for Gifts.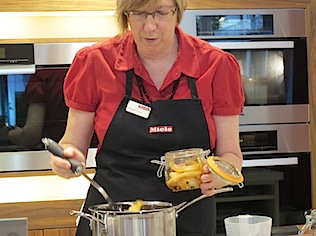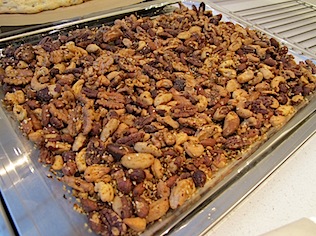 Preserving fruit in alcohol
We started with some demonstrations in the show kitchen of what goes into preserving fruit in alcohol; flavouring oils and vinegars before splitting into two separate groups who would each make eight batches of four gift items so that everyone had one of everything to take home at the end of the day.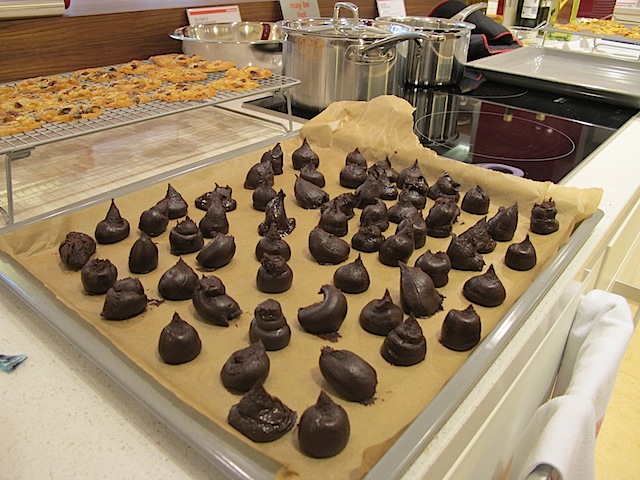 How to make homemade chocolate truffles
We made two types of chocolate truffles; these are the dark ones – each ended up being rolled in various coatings. I must confess this photo above does make me laugh.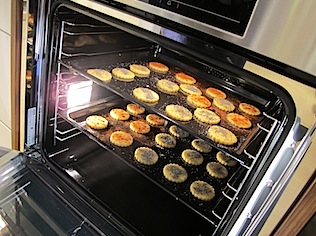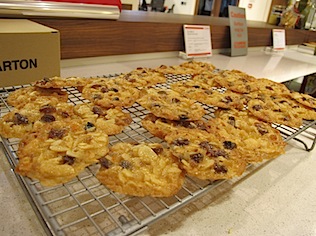 Sablé biscuits and florentines
Into those super duper ovens went the sable biscuit and florentines.
I nearly went crazy zesting enough lemons to make eight batches of lemon curd but it was all worth it to try out their genius method of making lemon curd in the microwave; the trick is to do it for short bursts on low power stirring in between. After about 12 minutes you have perfect lemon curd ready to seal into sterilised jars.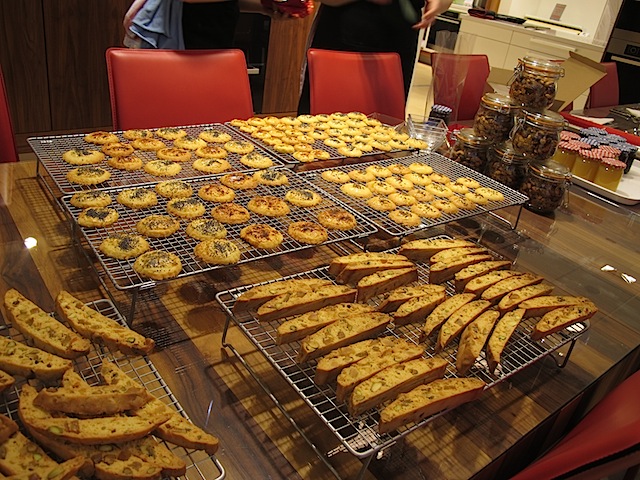 Home made Christmas gifts for foodies
All that remained was to package up our bounty with curling ribbon and cellophane wrap. We each took home one each of the various things we'd made:
Biscotti
Lemon curd
Onion marmalade
Dark chocolate truffles
White chocolate truffles
Spiced nuts
Sable biscuits in various flavours
Florentines
I don't think I've missed anything? Ooh, apart from a copy of Annie Rigg's book, Gifts from the Kitchen, perfect inspiration for making home made presents.
The other thing I took home from this day was how much stuff it was possible to produce in one day; if you got organised with all your ingredients in advance, you could make a large amount of home made gifts all in one day for your own friends and family.
I actually attended this class as a guest of Miele shortly before last Christmas but they are running them this year too both in London and Abingdon, Oxfordshire as well as various other classes throughout the year. Read here for booking information on Miele's forthcoming events, including Food for Gifts. As it's a year later, the content of the class may have changed so check details before booking.