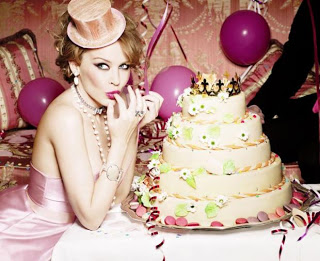 Ok so I might get in trouble for this.  I don't have copyright for this photograph obviously but I really want to share it as it inspired me to start making CAKE.  Flicking through my regular copy of Elle magazine a glossy little insert for Spanish jewellery chain Tous fell out with "Kylie's Party" on the cover.  Now usually I toss these leaflets straight into the recycling but this booklet was so pretty that even though I am not into jewellery I had a real good look at it.
Amongst the pictures was this image of Kylie with this giant cake covered in macaroons.  It's actually not that complicated a cake but I just loved the whole thing and wanted to cut the page out and stick it somewhere where I could see it.  "That's it" I thought.  "I will make cake."
Now I need to do is get some practise.
p.s. If Kylie or any of the nice people from Tous Jewellery would like me to remove this image I will do so straight away.  But thank you for the use I'm getting from it in the meantime.
Kylie Minogue looks sexy in a pink tutu and stilettos as the face of Tous | thelondonpaper.com
Posted using ShareThis