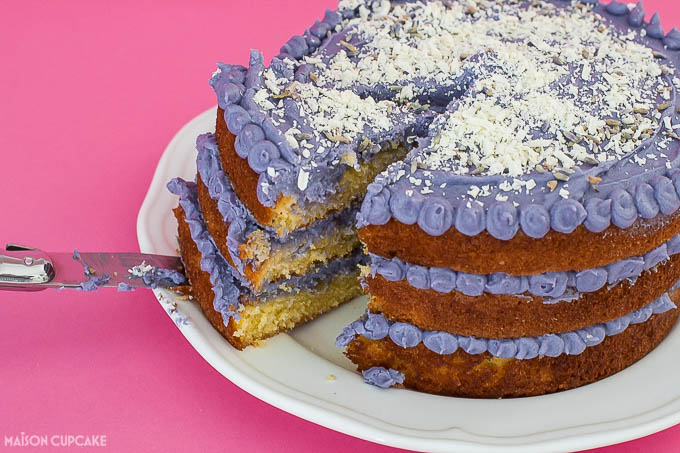 This pretty little lavender layer cake is an easy recipe to make for visitors or give as a Mother's Day gift. The decoration requires only very basic piping skills that any beginner could manage. It's a basic sponge recipe with an icing made from white chocolate, sour cream, flavoured icing sugar and butter.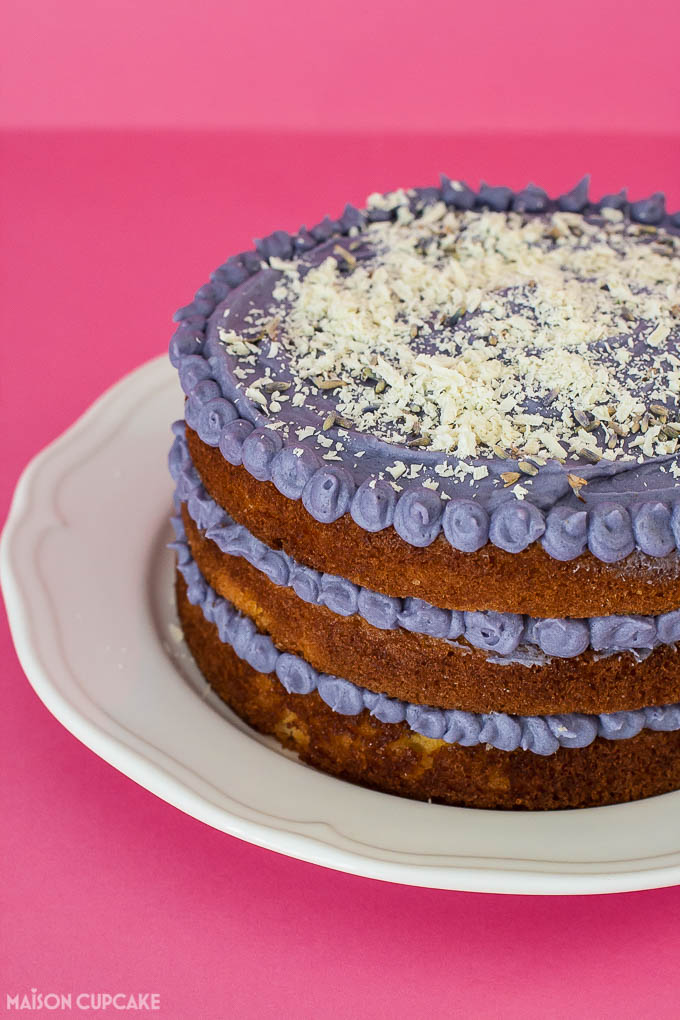 My mother was so taken with the chocolate chestnut layer cake last week that I decided to make another version to give her on our weekend visit. You might notice again in the ingredients below I'm using a buttery style margarine rather than butter – the reason for this was it was left over from a client job and I've been happy enough with the results to finish it off in my other baking. Tasting good and gram for gram being half the price of butter is another reason to continue using it in future.
I have a supply of 3 x 3 mini cupcake boxes which actually are the perfect dimension for this diminutive six inch layer cake so it was very easy to transport and give to someone else.
This three layer cake in six inch tins is the same mix you'd use for a two layer cake in seven inch tins. But for some reason I feel the smaller taller cake with an additional layer just looks more special and celebratory.
I have had some lavender caster sugar knocking about in the cupboard for ages and wanted to make a lavender cake. In order to make the lavender sugar fine enough for icing I ground it up in my new Vitamix dry container which is great for grinding dry ingredients into flours or powders. (These two images are by Vitamix)
I had never used sour cream in a buttercream style icing before but was inspired by the Peggy Porschen white chocolate cake (another pretty three layer six inch cake) which uses whipping cream with white chocolate.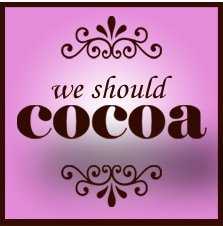 I am entering this lavender and white chocolate layer cake into this month's We Should Cocoa which I am hosting this month with the theme of chocolate layer cakes. If I have inspired you to make a chocolate layer cake of your own you have until 25th March to submit your own entry. Mother's Day is the perfect excuse to bash out an impromptu layer cake!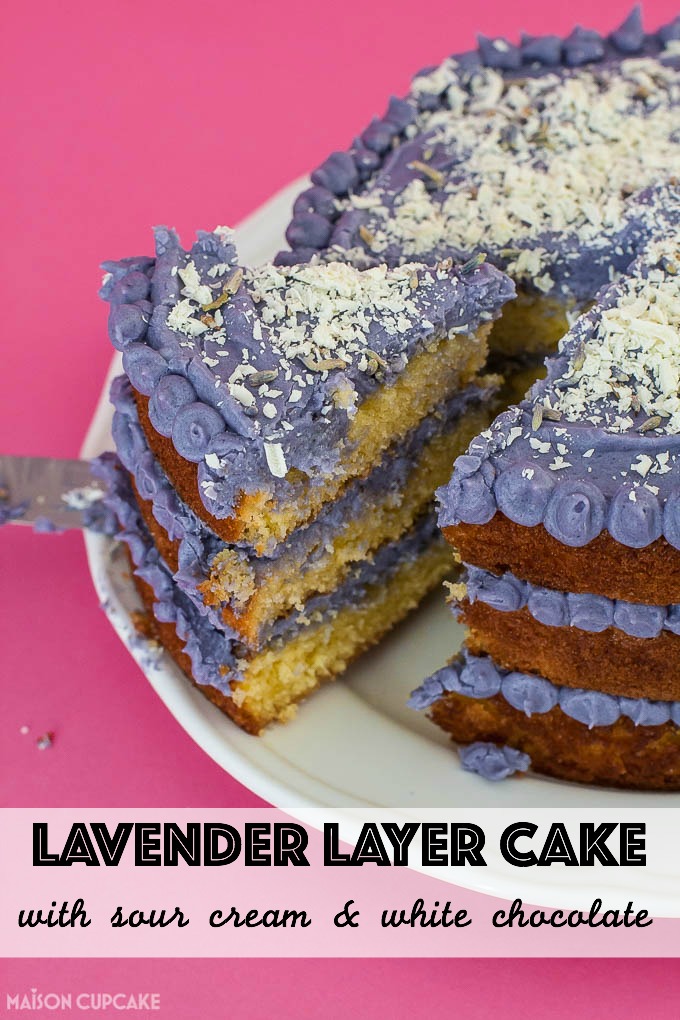 Lavender Layer Cake with Sour Cream and White Chocolate
Serves 8-10
You could use lavender sugar for the sponges as well although I'm inclined to think that this flavour in just the icing is enough!
Ingredients
For the sponges
185g "buttery" style margarine
185g caster sugar
3 large eggs
185g self raising flour, sifted
For the icing and decoration
50g "buttery" style margerine
200g icing sugar, sifted
150g lavender caster sugar
100ml sour cream
125g white chocolate
1/2 tsp purple gel food colouring
You will need 3 x 6inch loose bottomed round baking tins lined with non stick baking paper. Optional equipment is disposable piping bag if you wish to decorate as above and a double boiler to melt the white chocolate. If you don't have a double boiler then a heatproof bowl over a simmering saucepan of water is an alternative.
Directions
1. Preheat the oven to gas 4 / 180c.  In a large bowl, beat the buttery style margarine and caster sugar together until smooth. (The margarine is soft enough to beat the batter manually however the icing is easier with an electric mixer).
2. Beat in the eggs one by one. Finally fold in the flour until the batter is just smooth.
3. Decant the batter into three 6inch loose bottomed round baking tins lined with non stick baking paper. Bake in the middle of the oven for around 18 minutes.
4. When the cakes are springy to the touch and a cake tester comes out cleanly, leave in their tins to cool slightly before removing and transferring to a wire rack to cool completely.
5. Meanwhile, make the icing. Start by simmering water in the double boiler and then melting the white chocolate in the top bowl. When the white chocolate is melted, turn off the heat and set aside to cool slightly (but not to re-solidify). Meanwhile, grind the lavender sugar and plain icing sugar together in the Vitamix dry blade container. Around 30 seconds on high speed should yield a completely smooth fine powder. Put the buttery style margarine into the bowl of an electric mixer and with the splatter guard in place beat in the fine lavender sugar a few spoonfuls at a time. Next beat in the molten white chocolate then the sour cream on a high speed until completely smooth. Finally add the purple gel food colouring to achieve the shade of your choice.
6. When the sponges are completely cool, use a serrated knife to level off their tops so to form a flat cake. Discard the pieces of sponge (as a cook's snack!)
7. Place the first layer on a pretty plate and slather the surface with icing. Build up the other layers alternating between sponge and icing. Use a small palette knife to tidy up the top. Decant a couple of heaped tablespoons of icing into a disposable piping bag and pipe large "pearls" of icing between the layers and around the top edge to decorate and achieve a tidier effect.
8. Scatter over some lavender left in the sieve then grate the remaining white chocolate over the top layer. This cake will keep for a couple of days in an airtight container.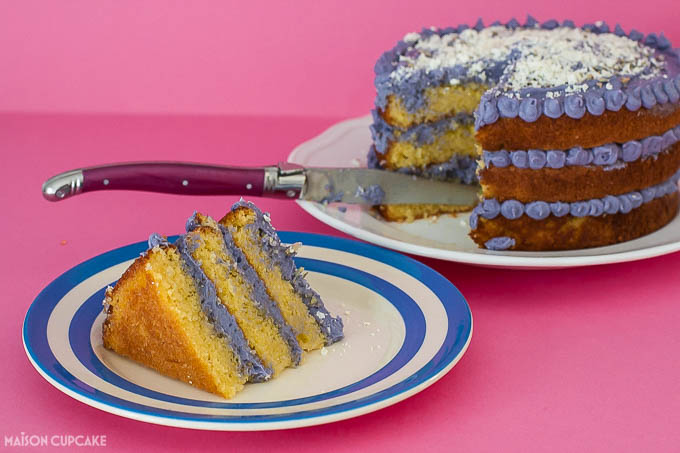 If you like this lavender layer cake recipe see also my chocolate chestnut layer cake: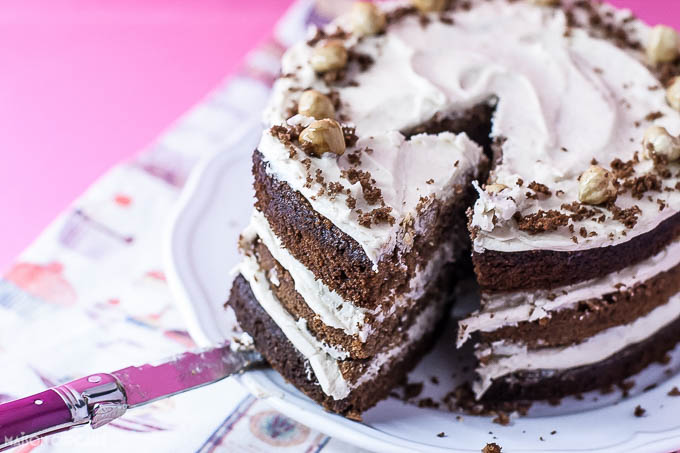 Vitamix dry container supplied by Vitamix.