This chocolate chestnut layer cake is easy to make and serves 8-10 people.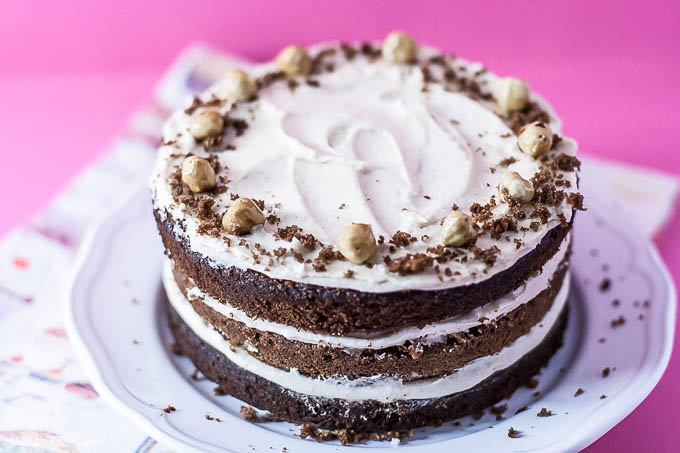 Thank you for bearing with me, as I was saying on 1st March, February's shortness always catches me out and I am now republishing this post with the finished three layer cake instead of the bare chocolate sponges you might have seen in the earlier guise of this post on Sunday night.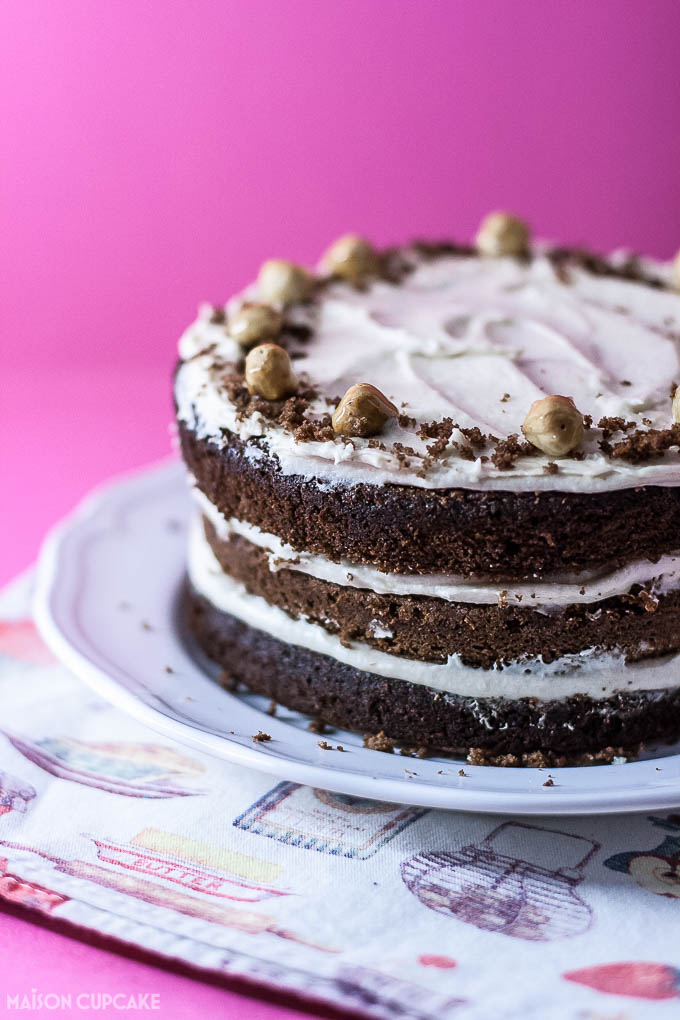 This layer cake takes no more effort than a traditional two layer sponge but looks less predictable and more likely to turn people's heads.
Three 6inch sponge layers give a nice height to width ratio. I have been in love with this shape of cake since seeing them on the cover of the Miette book a couple of years ago although admittedly my icing is more freeform than the (probably Photoshopped to death) version on their book cover.
Having more height and less width yields pleasingly chunky slices that are the perfect size to serve without being too skinny at one edge and disintegrating into crumbs. I think I'd opt for three layers rather than two every time now.
On writing up my ingredient list I had the sudden realisation I had included an ingredient that might prove elusive in the UK; crème de chatâignes. It's a type of sticky chestnut spread commonly sold alongside Nutella and honey in France. This version was by Bonne Maman with a pleasing brown gingham lid on the jar but there are multiple brands of the same thing everywhere in France. Having had two jars of the stuff haunting my food cupboard for over twelve months, I'm so familiar with it that it escaped me it's less available in the UK.
So if I'm setting you up on a mission to buy this stuff I apologise. Since I visit France 2-3 times per year I get hold of it very easily. Me telling you this is rubbing things in slightly I admit. Alternatively, one of my first ever blogging friends, the trusty Ozoz from Kitchen Butterfly has this recipe for Creme de Marrons (another name for the same thing) to make your own at home.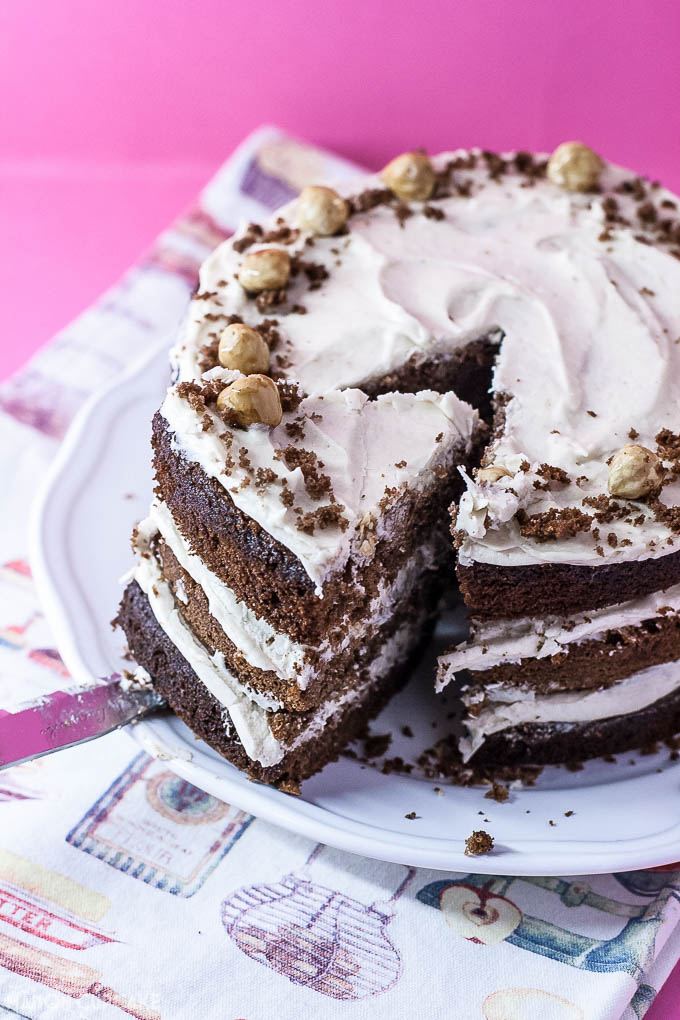 There is a bit of a catastrophe behind the topping on this cake. I planned publish 24 hours ago only things went a bit wrong with the hazelnuts. You see I'd intended to make some glamorous hazelnuts coated in spiky tails of clear golden caramel as seen in a French pastry book called something in translation like "You are a pastry chef" (whereas I'm patently not).
After four failed attempts to get it right (too crystallised, too clear, too sticky, too thick and dark), I abandoned the technique for now.
So if my  hazelnuts look slightly coated in something shiny, that's why. But it's not fair I give you instructions for this aspect as it all went so hideously wrong. My husband hasn't quite forgiven me for what I did to two saucepans in the process.
So the theme for this month's instalment of We Should Cocoa which I'm hosting for  Choclette is chocolate layer cakes. Your bake must have at least three layers but beyond that you have free rein to do whatever you wish. The We Should Cocoa linky below is open until 25th March.
Thank you very much to last month's host Katie who has posted a lovely round up of brownies from last month's challenge.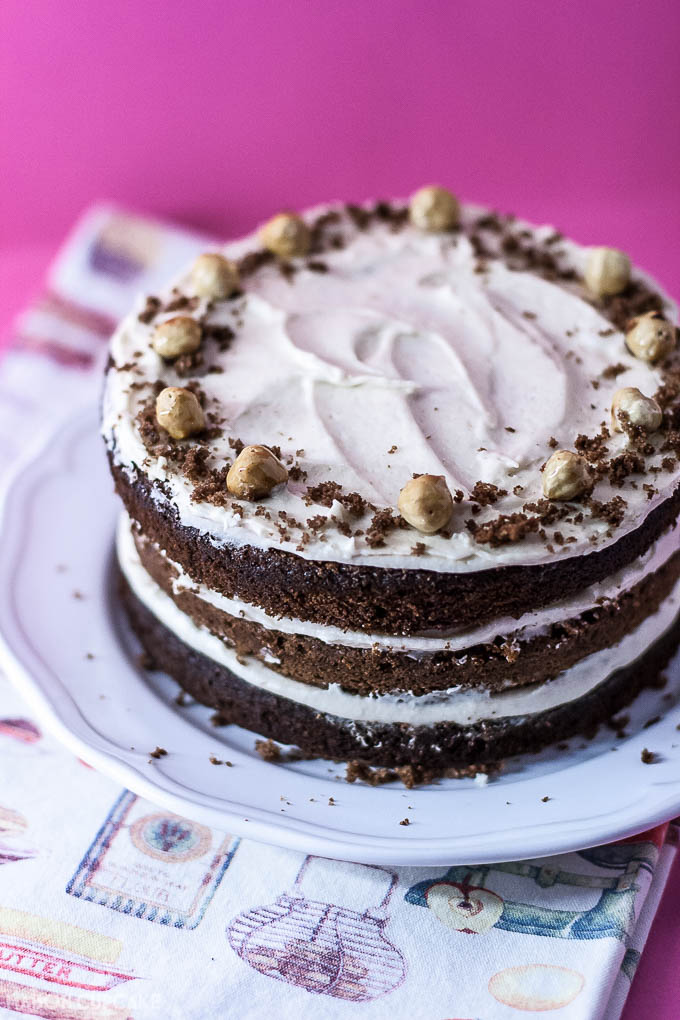 Chocolate Chestnut Layer Cake
Serves 8-10
Ingredients
For the sponges
185g "buttery" style margarine
185g caster sugar
3 large eggs
160g self raising flour, sifted
25g cocoa powder, sifted
For the icing and decoration
120g "buttery" style margarine
360g icing sugar, sifted
1 tbsp milk
3 heaped tbsp creme de chatâignes (French chestnut "jam")
hazelnuts (whole, skinned)
You will need 3 x 6inch loose bottomed round baking tins lined with non stick baking paper.
Directions
1. Preheat the oven to gas 4 / 180c.  In a large bowl, beat the buttery style margarine and caster sugar together until smooth. (You can use an electric mixer if you like although this type of margarine is soft enough to beat manually).
2. Beat in the eggs one by one. Finally fold in the flour and cocoa powder until the batter is just smooth.
3. Decant the batter into three 6inch loose bottomed round baking tins lined with non stick baking paper. Bake in the middle of the oven for 18-20 minutes.
4. When the cakes are springy to the touch and a cake tester comes out cleanly, leave in their tins to cool slightly before removing and transferring to a wire rack to cool completely.
5. Meanwhile, make the icing by beating the rest of the buttery margarine with one third of the icing sugar at a time. When combined, add the milk and creme de chatâignes and beat until smooth.
6. When the sponges are completely cool, use a serrated knife to level off their tops so to form a flat cake. Save some discarded bits of sponge (although it's fine to let bystanders scoff the rest).
7. Place the first layer on a pretty plate and slather the surface with icing. Build up the other layers alternating between sponge and icing. Use a small palette knife to tidy up the top but don't worry too much about perfection. This is a casual cake!
8. Scatter sponge crumbs around the edge of the top layer and then dot on whole hazelnuts. This cake will keep for a couple of days in an airtight container.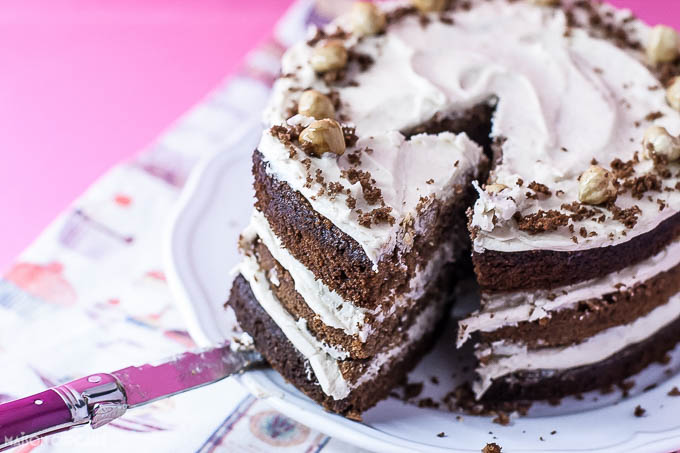 Loading InLinkz ...