The shop for this Easter bunny rabbit poop cake featuring Kelloggs' Coco Pops has been compensated by Collective Bias, Inc. and its advertiser. All opinions are mine alone. #CollectiveBias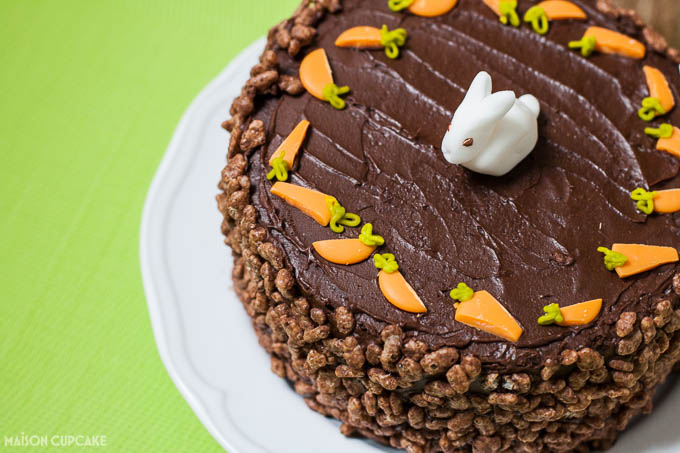 We always keep a "fun" box of breakfast cereal amongst our selection and Coco Pops is one of Ted's favourites. With Easter coming up I thought it would be run to incorporate the Coco Pops into my ongoing selection of layer cakes this month.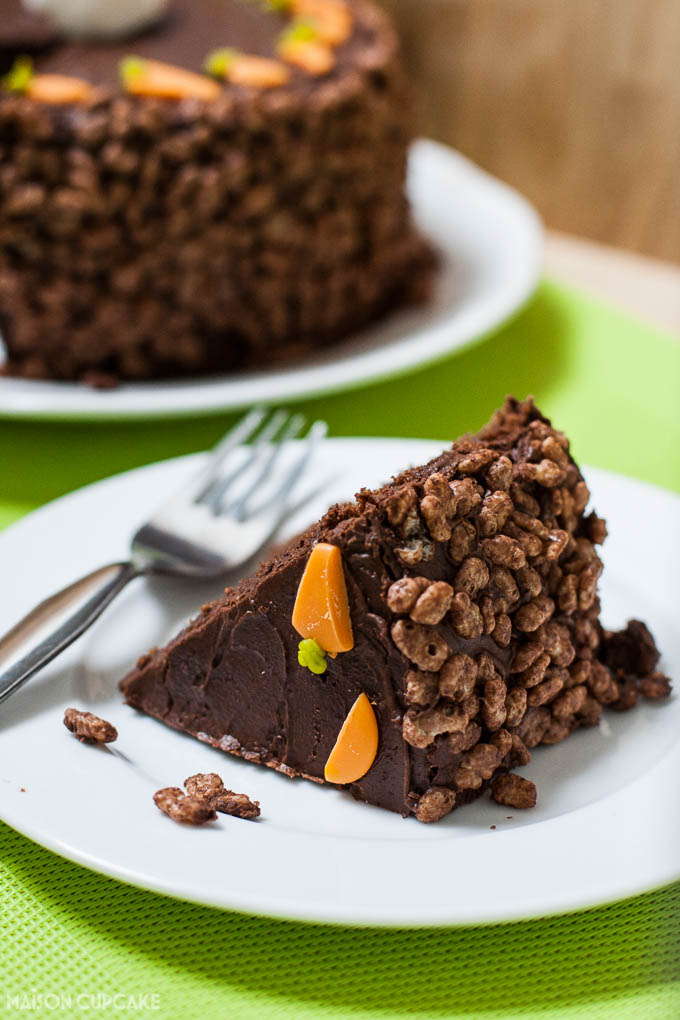 This layer cake has been rolled in a generous pile of Coco Pops which I'm sure you'll agree gives a great texture on the outside of the cake.
As food bloggers' families are well used to getting their seasonal food early, this Easter bunny cake has tickled my mother in law who is visiting today for Mother's Day.
Only rudimentary cake decorating skills are need to pull this cake off. A tad of twiddling with a small ball of sugar paste to get something like a rabbit (by all means cheat with a mini cookie cutter if you have one that is rabbit shaped – I didn't) and the carrots are merely chunks of chopped up orange chocolate candy buttons from the baking aisle with a squidge of green writing icing.
And of course you can find Coco Pops for the "rabbit poop" coating almost anywhere.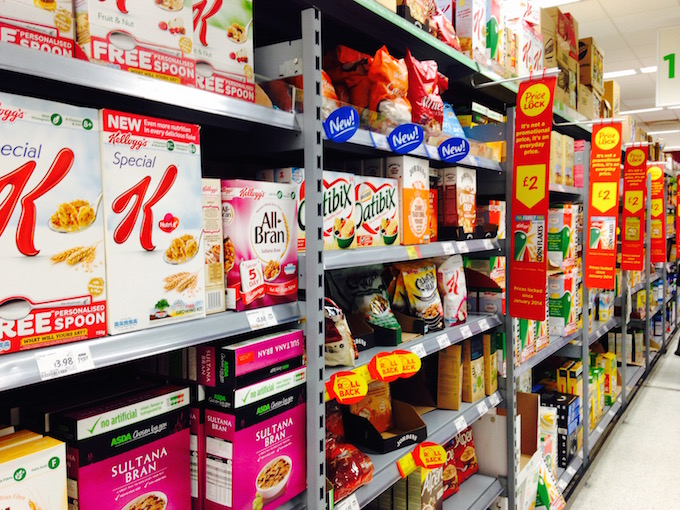 The great thing about purchasing such an iconic product is that you can send your husband to buy it without any confusion and be 99% sure the shop will stock it. Sending my husband to the supermarket alone isn't something I make a habit of since he invariably brings back the wrong thing. Luckily Coco Pops are a product that are always found exactly where you expect them to be in the cereal aisle of virtually any supermarket.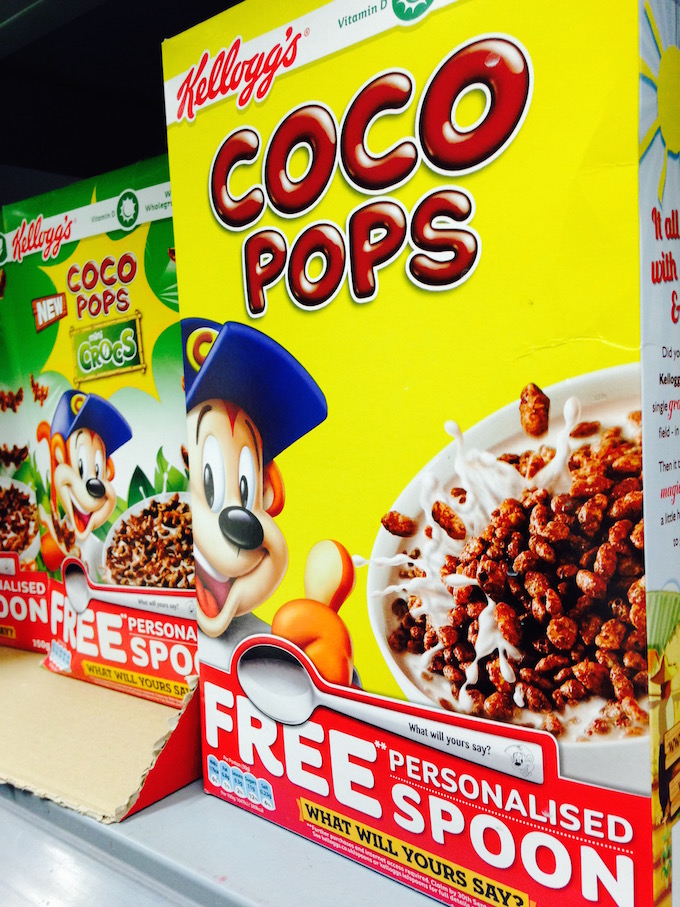 Being pushed for time this weekend I gave him strict instructions to visit the cereal aisle at our local Asda and bring me back a yellow box of Kellogg's Coco Pops with the monkey on the front.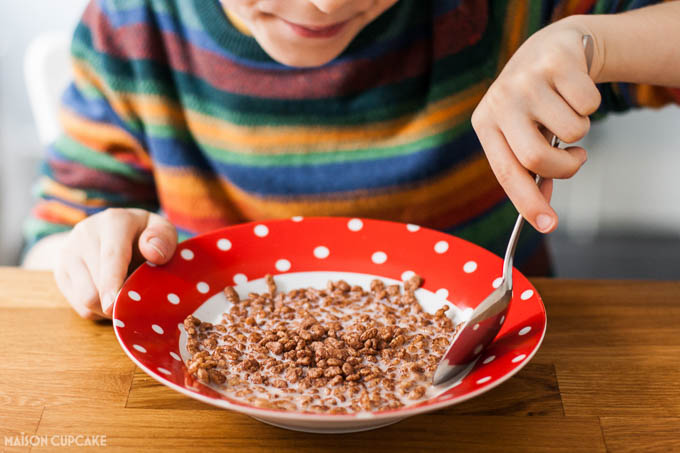 Back at home the cake takes around an hour to make – hands on time – although you'll need to allow extra for the sponges to cool down. You don't want to put icing on warm cakes as it will melt. Ted was impatient and ate a bowl of cereal while he waited!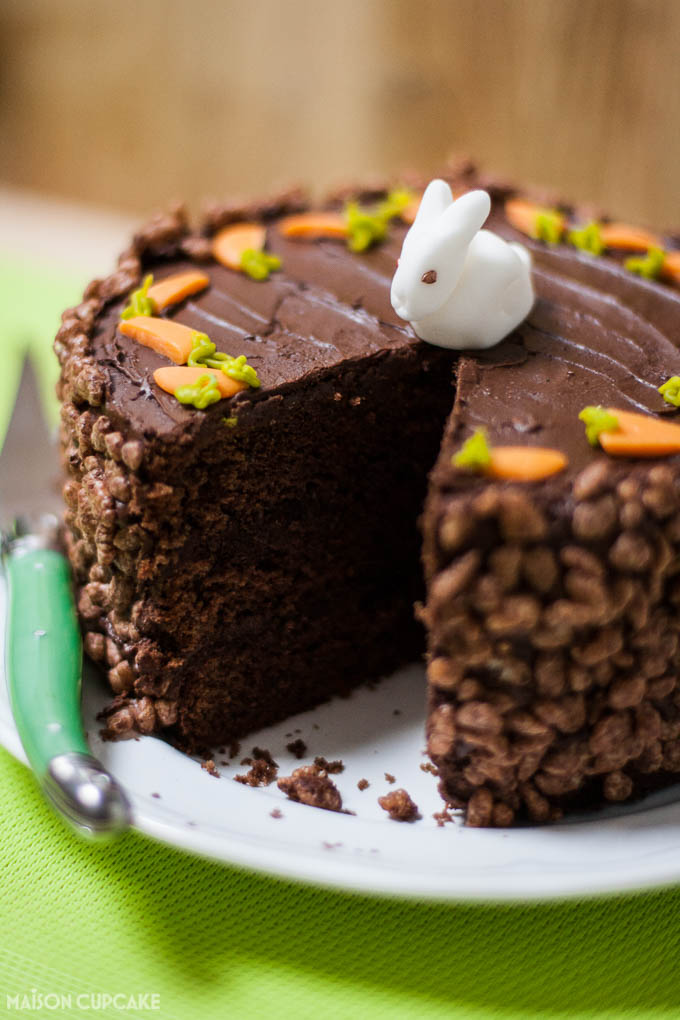 This cake does have three layers of sponge although it's rather difficult to appreciate that in the photo as the icing and sponge were the same colour.
It was really fun rolling the iced cake into the Coco Pops, it's dead easy and I might have a bash doing a similar version with my personal favourite – Kellogg's Crunchy Nut Cornflakes.
If you'd like some inspiration which cereals to incorporate into your next cake, take a visit to Kelloggs.co.uk.
Are you planning to make any Easter cakes this year?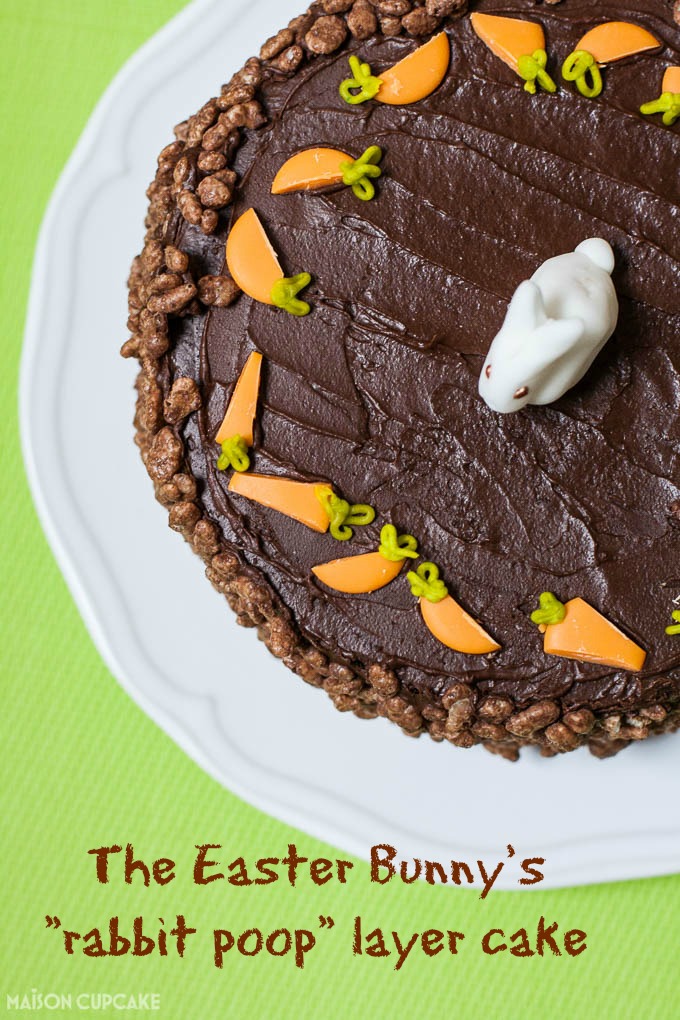 Easter Bunny Rabbit Poop Cake
Serves 8-10
Ingredients
For the sponges
185g "buttery" style margarine
185g caster sugar
3 large eggs
160g self raising flour, sifted
25g cocoa powder, sifted
For the icing and decoration
75g "buttery" style margarine
225g icing sugar, sifted
40g cocoa powder
30ml milk
approx 200g Kellogg's Coco Pops
40g white sugar paste
2 tiny coloured sugar sprinkles (for rabbit eyes – or use a dark writing icing)
approx 12 orange chocolate candy buttons
small tube green writing icing
You will need 3 x 6inch loose bottomed round baking tins lined with non stick baking paper.
Directions
1. Preheat the oven to gas 4 / 180c. In a large bowl, beat 185g of the buttery style margarine and caster sugar together until smooth. (You can use an electric mixer if you like although this type of margarine is soft enough to beat manually).
2. Beat in the eggs one by one. Finally fold in the flour and cocoa powder until the batter is just smooth.
3. Decant the batter into three 6inch loose bottomed round baking tins lined with non stick baking paper. Bake in the middle of the oven for 18-20 minutes.
4. When the cakes are springy to the touch and a cake tester comes out cleanly, leave in their tins to cool slightly before removing and transferring to a wire rack to cool completely.
5. Meanwhile, make the icing. Sift the icing sugar and cocoa together then in a large bowl, preferably using an electric mixer beat the cocoa/icing sugar mix into the rest of the buttery margarine one third at a time. When combined, add the milk and beat until smooth.
6. When the sponges are completely cool, use a serrated knife to level off their tops so to form a flat cake. Save some discarded bits of sponge (although it's fine to let bystanders scoff the rest).
7. Place the first layer on a sheet of baking parchment paper and slather the surface with chocolate icing. Build up the other layers alternating between sponge and icing. Leave the top of the cake bare for now. Leave to dry out for around an hour then reapply another layer of icing.
8. Place another sheet of baking parchment paper on a large tray and pour the Kellogg's Coco Pops into the middle. Carefully pick up the cake with damp icing around the edge and roll it into the Kellogg's Coco Pops so they stick.
9. Transfer the cake to a pretty plate and spread chocolate icing over the top surface of the cake. Use a small palette knife to tidy it up slightly but don't worry too much about perfection.
10. To make the white rabbit take a ball of sugarpaste the size of a large grape and squeeze into a rabbit body shape. (I aimed for a slightly off kilter rhomboid!). Take a smaller piece of sugar paste for the head, roll into a fat cone and use a knife to split the point into ears. Press sprinkles into the head for eyes and finally add a tiny ball of sugarpaste for the bob tail.
11. The carrots are made from orange chocolate candy buttons cut into shards with green tops of writing icing. Arrange these around the edge of the cake top with the bunny rabbit in the centre. This cake is now ready to serve or will keep for a couple of days in an airtight container.
If you like this Easter bunny chocolate cake see my other recent 3 layer cakes: