Floristry for beginners is about my level and these easy flower arranging tips from floral expert Judith Blacklock are sure to inspire you to make your own flower arrangements too!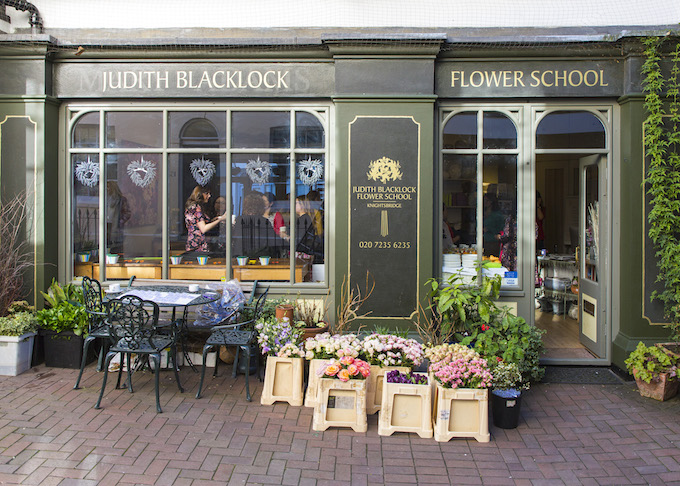 I am what you might call horticulturally challenged. Gardening and foliage really aren't my strong point. My boss once gave me a bonsai tree for Christmas and I felt terribly guilty when predictably, despite best intentions I managed to murder it within three months.
I like looking at flowers but I've never had a clue what to do with them. Even when I tried once a friend remarked "they look like they were just plonked in a vase" and ever since then I've been paranoid that what ever I try and do my efforts will look a bit naff.
So when I was invited to spend a morning with flower arranging expert and writer Judith Blacklock in Knightsbridge I was very excited. Judith showed us how to make two simple arrangements and also gave a demo how to make a fancy hand tied bouquet.
What I loved about flower arranging was the quick results for relatively little effort. Baking cakes can be a faff sometimes, sewing is my nemesis. Drawing I gave up long ago and interior design is slow and expensive to realise a full project. Yet with flower arranging you get to satisfy your creative urge and with a few simple flower arranging tips, come away with something beautiful in just minutes that might spur you on to take up a new hobby.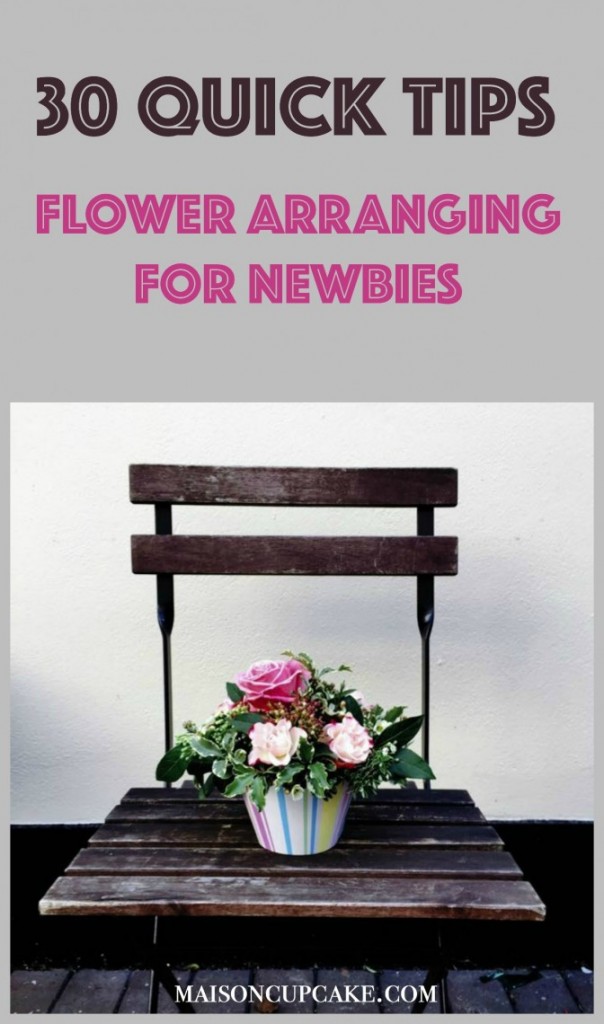 30 Quick Tips for Flower Arranging
1. Tulips are easy to pop in a vase but they grow fast and become unwieldy. Always place tulips in shallow water to help stop them growing.
2. Lime green foliage is a fail safe thing to add to any arrangement. The colour goes with absolutely anything and never clashes.
3. Stick lines of Sellotape across wide bowls to keep stems regularly distributed.
4. Cutting stems at too sharp an angle can damage the ends.
5. Remove any leaves below the water line and thin out any above. Leaves suck up moisture and encourage too much growth. Also remove any leaves from parts of the stem going in oasis.
6. Water should be tepid to encourage it to travel up the stems. But water which is too hot will kill.
7. Lemonade in the water, contrary to popular belief, is not advisable. Sugary liquid shortens the life of your arrangement, far better to use proper cut flower food.
8. Use proper flower food and there's no need to change the water.
9. If you use plain water, change it daily.
10. Supermarket flowers should have their ends cut again as these dry up so quickly. Freshly trimmed stems will mean a longer lasting arrangement.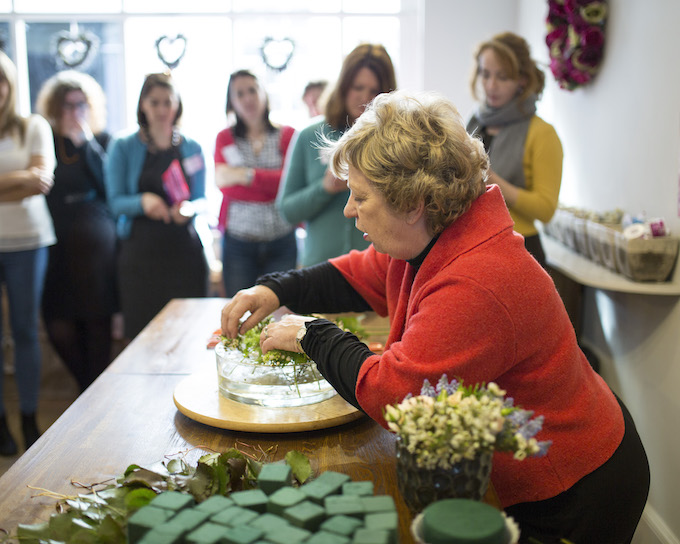 11. Vases. The perfect proportion for the size of your vase is 50% height of the flowers.
12. Floral scent is less noticeable in a cool draughty florist's. Warm rooms bring out scent more although flowers do not last so long there.
13. Plainer blooms often have best scent.
14. Round or square vases are easier to work with than rectangular ones.
15. IKEA sell a humble vase for 99p which is the perfect versatile shape.
16. Oasis. Never use dried up old oasis that's been used previously. Although oasis which has been kept damp can be recycled for another arrangement.
17. Aspidistra leaves are wonderful to wrap around blocks of oasis. Hold them in place with dress making pins.
18. Roses. You can tell roses are fresh when they resist to the touch when held at the petal base.
19. For a low cost but a big effect place mini arrangements on mirrors with petals and candles.
20. Grow your own. If you are going to grow anything yourself then go for green foliage – especially evergreen varieties. These are less likely to be available from the florist shop and will be available for more of the year than your own blooms would.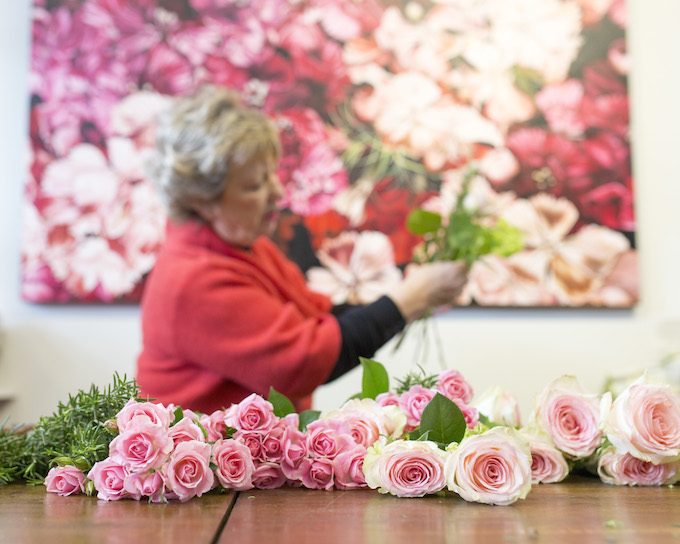 21. Small round arrangements. Start with one vertical stem then splay stems around at horizontally and build up by filling the gaps.
22. Beware that non evergreen foliage is weak in spring.
23. Top up oasis with water. How often depends on the warmth of the room. Flowers last longer in a cold garage than a central heated room.
24. Avoid mixing daffodils or hyacinths with other flowers as they have a poison in them that affects the lifespan of other flowers.
25. Break the rules. Who says you should only use odd numbers? Do what looks visually pleasing rather than counting stems.
26. A turntable or Lazy Susan is very useful to rotate an arrangement as you work. Keep looking at eye level rather than just from above.
27. A crystal balloon weight used to suspend roses or orchids in water is extremely simple and effective.
28. When hand tying bouquets, hold stems at an angle and add new stems at an angle going around in spiral. Tie the twine as high as possible.
29. Use secateurs to cut stems level.
30. Create a self standing hand tied bouquet by folding a sheet of cellophane into eighths, cut off the ends to create a circle when unfolded. Place the level bouquet dead centre making sure there is now air between the bottom of  the stems and the cellophane. Wrap with twine again. Tie with raffia on the outside (it looks more tasteful than waterproof ribbon). Pour water into the top and trickle in slowly to fill.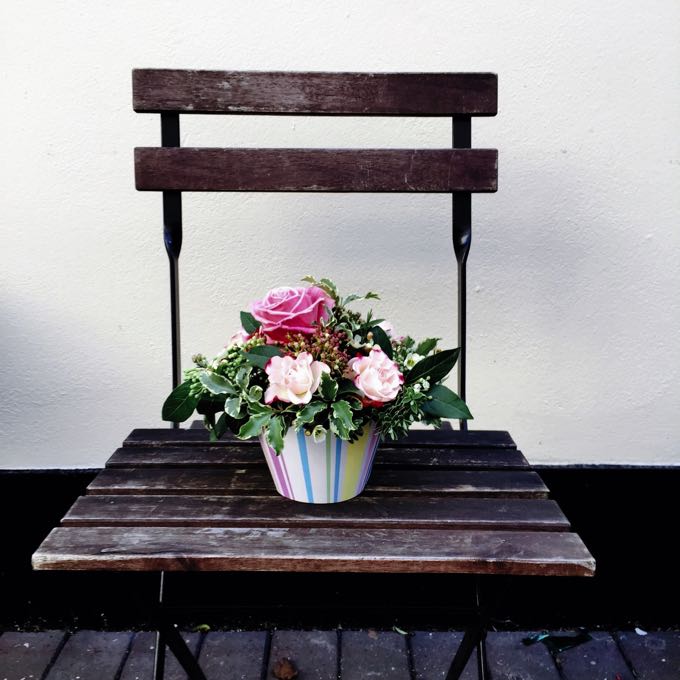 Here is my first ever flower arrangement made from scratch and I must say I'm delighted with the results. I learned an awful lot from even this short class with Judith Blacklock and can't wait for an opportunity to put my new found confidence with flowers into practice!
Have I inspired you to try your hand at flower arranging?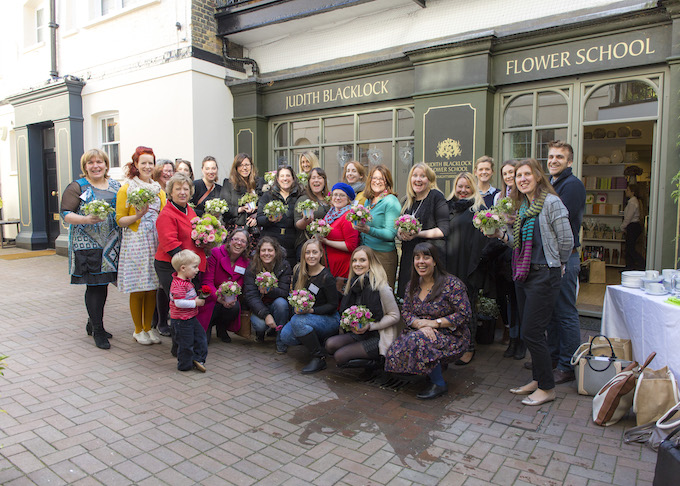 Here we all are with our beautiful work. That's me in the middle with the blue hat and red dress!
With thanks to Britmums, Gorkana and Judith Blacklock Flower School for hosting the event. Photography (apart from cupcake arrangement shot) by Esub Miah.