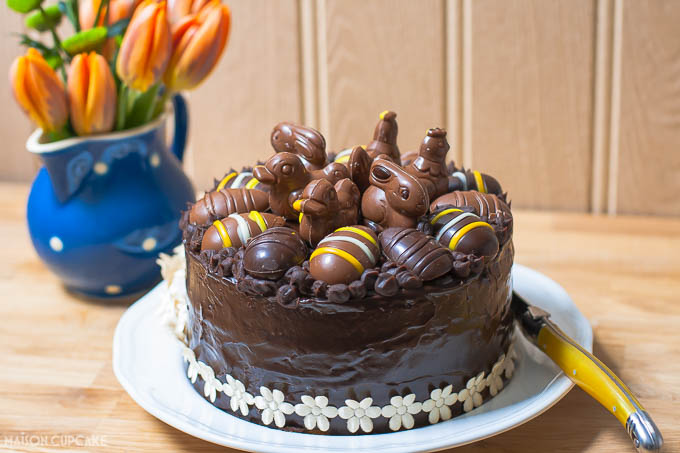 Here's a little chocolate show stopper for Easter – a chocolate praline layer cake topped with yummy praline bunnies, chicks, ducks and eggs.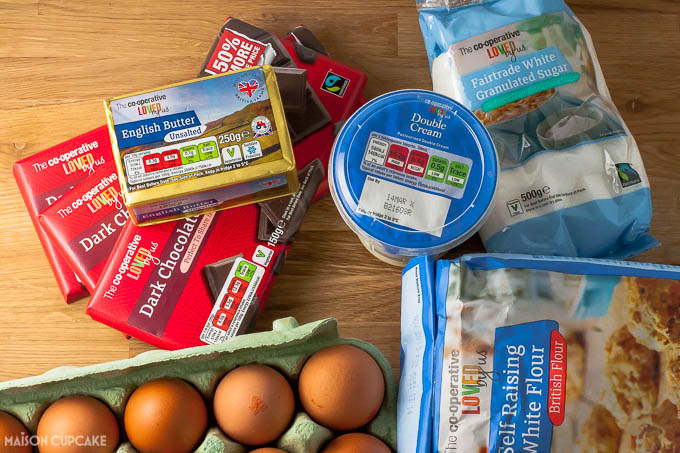 Today's post is a commission from The Co-operative and it was a handy stop off after the school run to pop in and grab a bundle of their "Loved by Us" own brand baking essentials. The Co-operative own brand sugar and chocolate were both fair trade.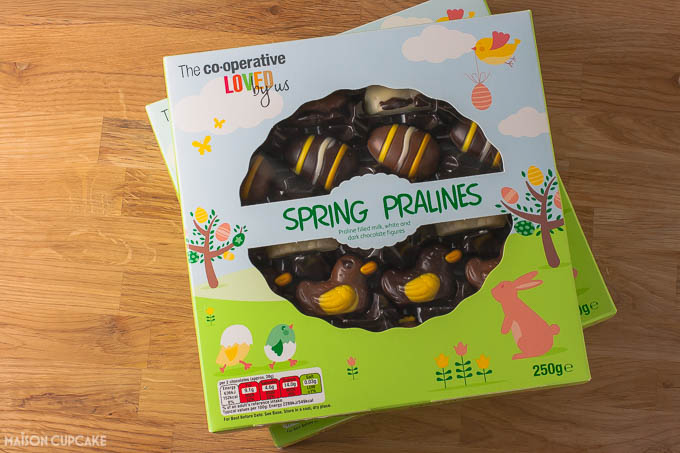 And these cute boxes spring pralines make a nice change from hollow eggs – I like my chocolate solid don't you?!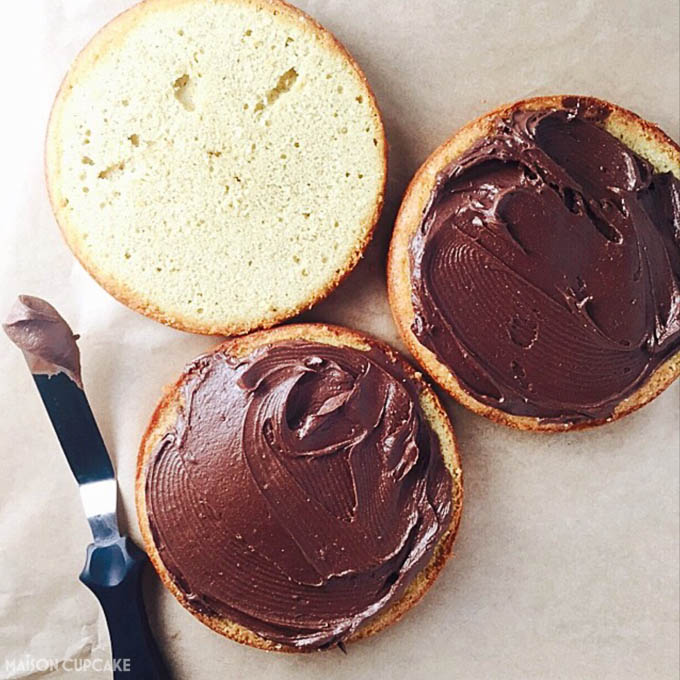 This cake is one of my current series of layer cakes – I am hosting this month's We Should Cocoa with the theme chocolate layer cakes and you still have until 25th March to submit your entry.
This cake is deceptively simple – the core recipes are for standard sponge cake, chocolate buttercream and chocolate ganache. And the edible decoration is ready made. Simply add a pretty ribbon and ta-dah!
Have you made any Easter cakes yet this year?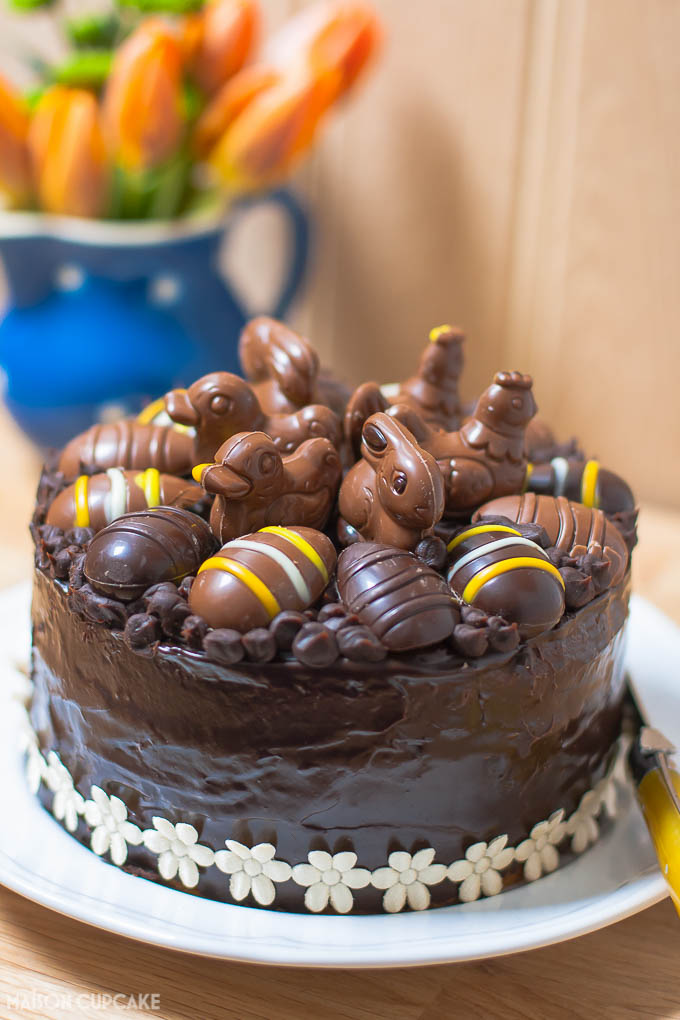 Easter Chocolate Pralines Layer Cake
Serves 8
Ingredients
For the sponges
185g butter, softened
185g caster sugar
3 large eggs
185g self raising flour, sifted
For the buttercream
50g butter
150g icing sugar, sifted
20g cocoa powder
15ml milk
For the ganache and decoration
150g dark chocolate, broken into squares
125ml double cream
1 box The Co-operative Spring Pralines
You will need 3 x 6inch loose bottomed round baking tins lined with non stick baking paper and a disposable piping bag.
Directions
1. Preheat the oven to gas 4 / 180c. In a large bowl, beat 185g of the softened butter and caster sugar together until smooth. (You can use an electric mixer if you like although this type of margarine is soft enough to beat manually).
2. Beat in the eggs one by one. Finally fold in the flour until the batter is just smooth.
3. Decant the batter into three 6inch loose bottomed round baking tins lined with non stick baking paper. Bake in the middle of the oven for 18-20 minutes.
4. When the cakes are springy to the touch and a cake tester comes out cleanly, leave in their tins to cool slightly before removing and transferring to a wire rack to cool completely.
5. Meanwhile, make the buttercream. Sift the icing sugar and cocoa together then in a large bowl, preferably using an electric mixer beat the cocoa/icing sugar mix into the rest of the butter one third at a time. When combined, add the milk and beat until smooth.
6. When the sponges are completely cool, use a serrated knife to level off their tops so to form a flat cake. Feed the pieces to any bystanders impatient for cake.
7. Place the first layer on a sheet of baking parchment paper and slather the top surface with chocolate icing. Build up the other layers alternating between sponge and icing. Fill the gaps between the layers completely and smooth off the outer edge. Leave to dry out for around an hour.
8. Meanwhile make the chocolate ganache. Heat the double cream in a double boiler or a heatproof bowl suspended over a bowl of simmering water. When the cream is hot (but not boiling), turn down the heat and tip in the chocolate squares. Stir with a wooden spoon until smooth and glossy and allow to cool for around 30 minutes.
9. When the ganache has cooled but is still soft, use a small palette knife to spread the ganache on top of and evenly around the cake. Spread it thickly but retain 2-3 tablespoons worth for affixing the pralines later. Let the ganache set – ideally leave the cake overnight.
10. When the ganache is firm, transfer the cake to a pretty plate and decant the remaining ganache into a disposable piping bag with 5mm hole snipped off the end. Pipe blobs of ganache onto the top surface and fix down pralines. To make the eggs lie flat, cut them in half with a sharp knife. Fill in gaps between the pralines with pearl drops of ganache (and use these to disguise any crumbly bits on the cut pralines).
11. Finally add a pretty ribbon around the base of cake. This cake is now ready to serve or will keep for a couple of days in an airtight container.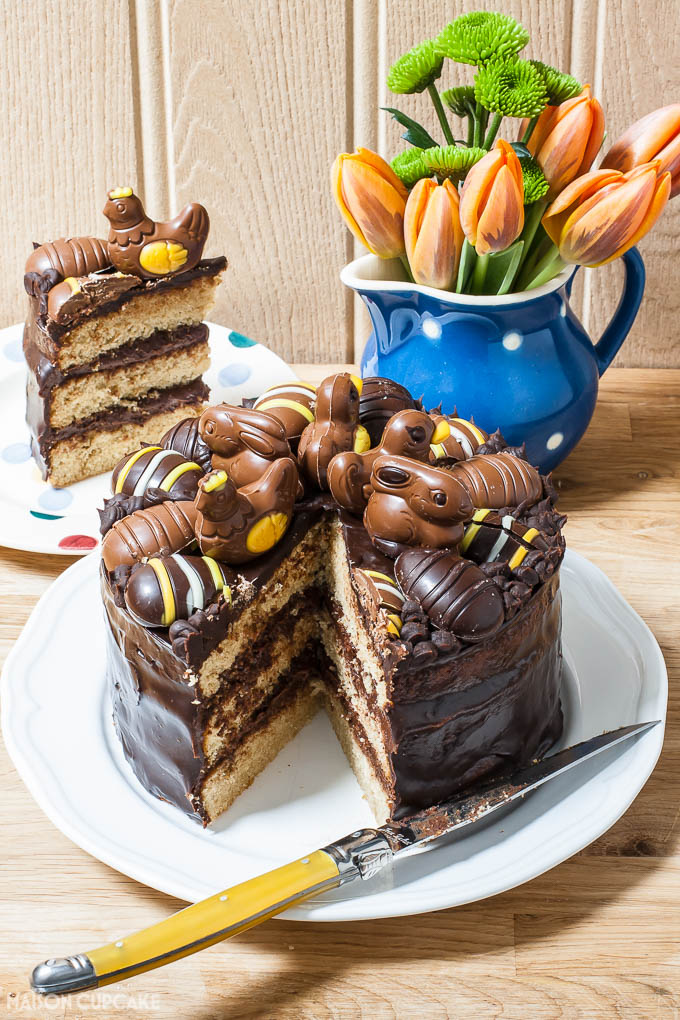 If you liked this post why not also check out my Easter bunny "rabbit poop" Coco Pops cake: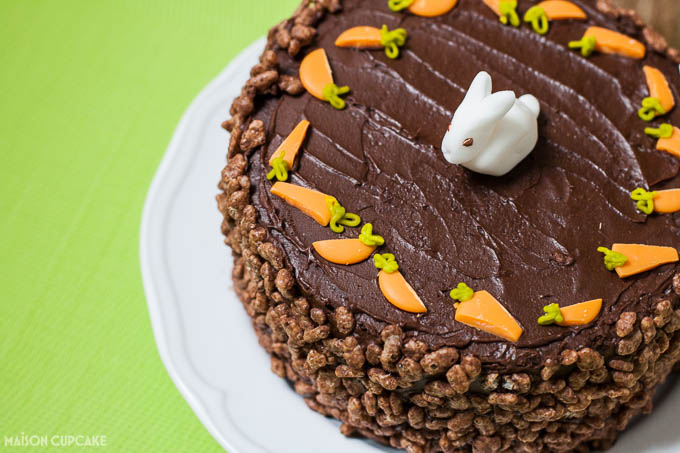 Post commissioned by The Co-operative. See also Helen's post No Churn Chocolate Ice Cream Meringue Gateau.