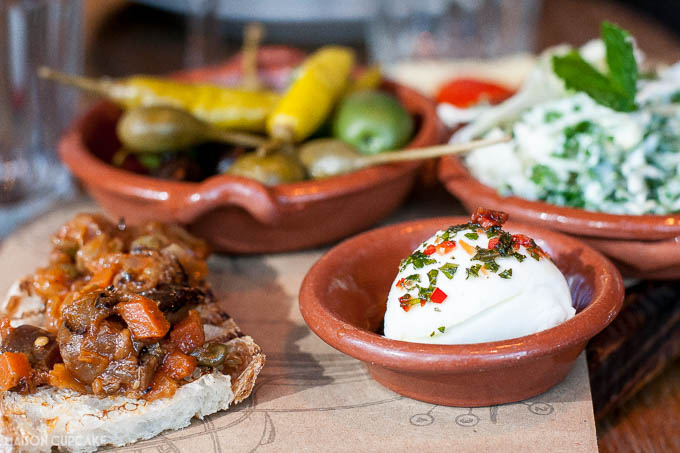 Visits to Jamie's Italian have evaded me until now for some reason. The branch at Canary Wharf is in the middle of a traffic roundabout slightly out on a limb from the rest of the subterranean shopping area. We pass it in the car on every visit but never walked past the outside as we have no reason to walk around the roundabout. So after this invitation to review I've unravelled the minor hurdle of where their front door is and I shall certainly be going again.
Jamie's Italian seems to get mixed reviews from people I know so I wasn't sure what to expect. It is more mainstream than Jamie's upmarket meat restaurant Barbecoa. I visited for Sunday lunch with Nick and Ted hoping for a menu accessible for family dining that still gave me a sense of Italy. I felt Jamie's Italian achieved this end although as someone who has dined in different areas of Italy, the menu is a little safer than I would have hoped. Italian food is so diverse that in not focussing on a particular geographical area or type of dish, it risks being homogenous. That said, our main courses were so good we are keen to return and try other dishes.
These little dishes above are from the vegetable sharing plank (£6.95) we ordered as one of our starters – it comprises a tasty coleslaw with kale, a small ball of mozzarella, a vegetable bruschetta, olives, chilli and giant caper berries.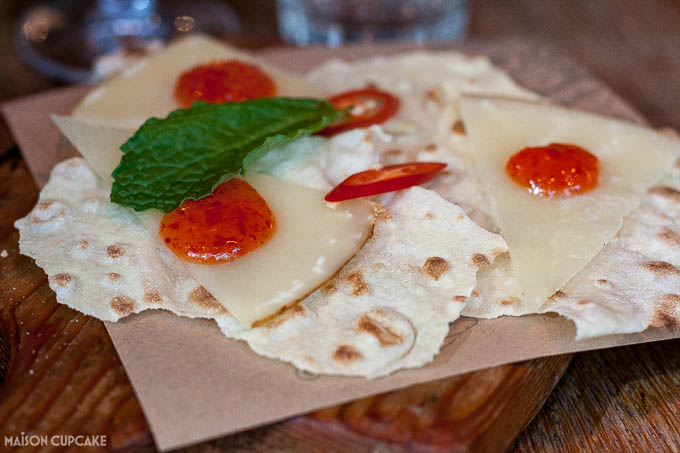 This was known as Sicilian "music bread", it's a thin, almost poppadom like bread topped with cheese and chilli jam. We liked it very much although we'd not realised it would be on our sharing planks as well.
The cured meat sharing plank starter (also £6.95) was more interesting and better value than the vegetable one. We liked how the planks were served on top of giant tomato cans with Italian labels to save space at the table.
To drink, my husband – the driver – had San Pelligrano orange juice and I had some pink house Prosecco. (Not pictured). Ted's kids' menu included real fruit juice with extra glasses available at a further 50 pence each.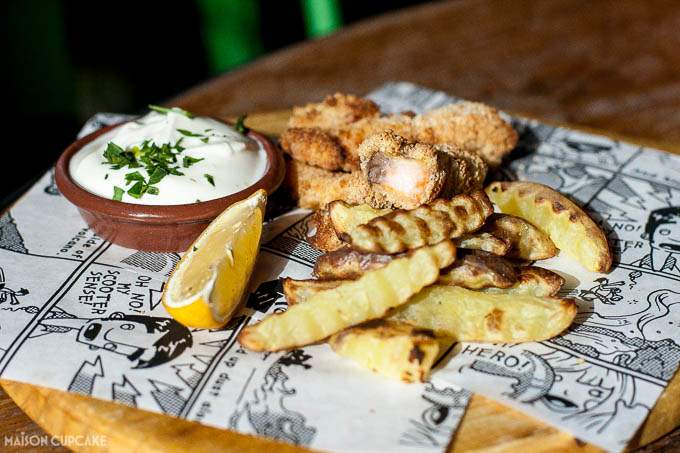 Ted's choice from the kids' menu (£5.95) was happy pink fish fingers made with salmon served with crinkly potato wedges and lemon yogurt. This was very well received even if he ignored the yogurt dip. Ted also liked playing with the retro View Master toy he was given showing pictures of the entire kids' menu.  His parents had a good play with it too.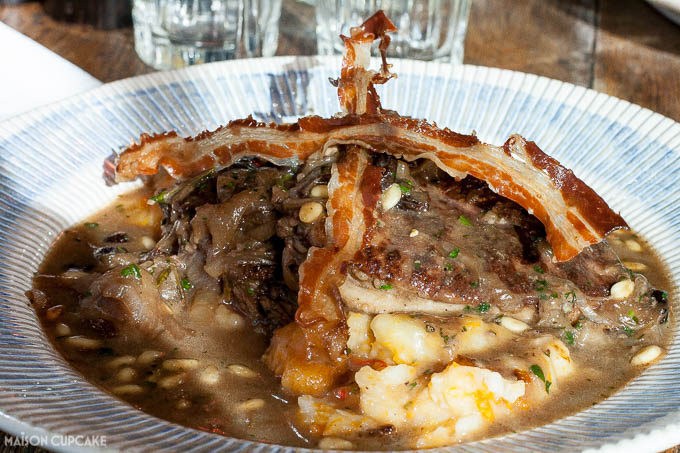 Calves liver with onions, mash, smashed squash, pine nuts and a criss cross of crispy bacon – £12.95. Considering this was one of the cheaper meat main dishes on the menu I was extremely impressed. Niggling me after ordering was the fact this calves liver came with potato rather than the traditional Venetian combo of liver and onions with wet polenta. I was psyched up to yearn polenta. But on arrival I was immediately impressed with the arrangement and combination of ingredients. The liver was thick and juicy and left just pink enough. The gravy was almost as thick as stew and you'd not need any side dishes to accompany this choice.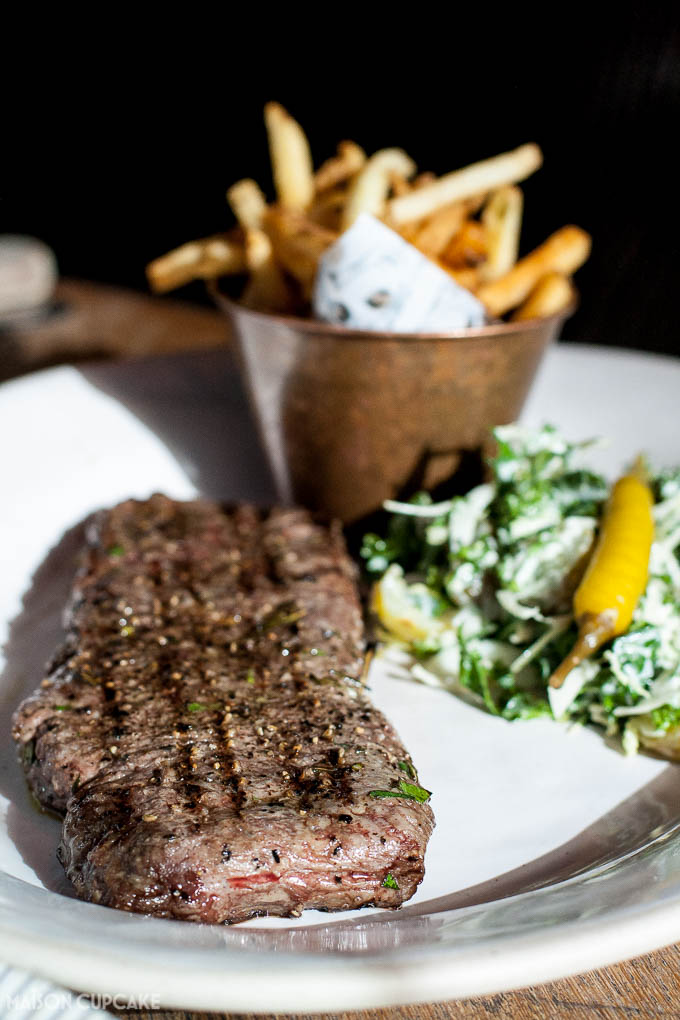 Feather cut steak with fries and kale coleslaw – £16.95. Nick true to form ordered a big juicy steak. I'd warned him off the 10oz one (£22.95) so he'd have room for dessert but this version was huge too and  larger than the perspective here suggests.  The kale coleslaw would have been appreciated more here had we not had it with our starter planks already. It was extremely good kale coleslaw – not at all chewy or hard going and neither was the steak. All in all though, an excellent value version of steak and chips. One could easily pay the same price for this dish elsewhere, it's rare to see steak served at less than £16-17 these days but it wouldn't always be as good as this.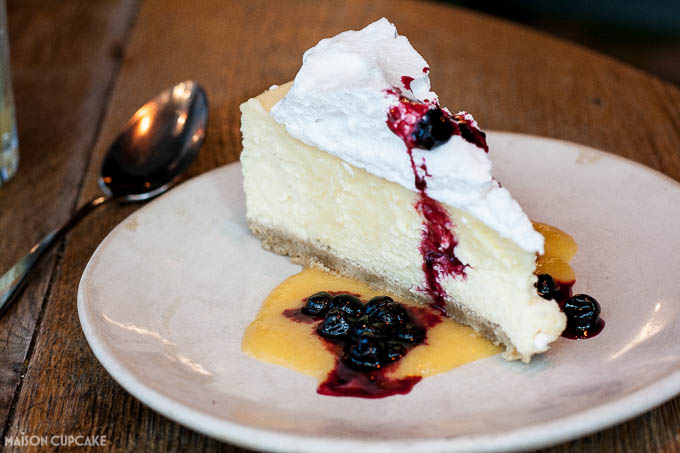 For dessert we ordered this pleasantly proportioned meringue topped cheesecake made with Amalfi lemons.
I ordered salt caramel and chocolate ice cream topped with honeycomb served in a little metal dish as they often do in Italy. Generally I find Italian restaurants serve excellent chocolate ice cream and the Jamie's Italian version whilst not having any chocolate flakes or chips had a robust depth of cocoa flavour without relying on sweetness. I'm not sure Ted would appreciate the difference but I certainly did.
The details:
Value – our main courses were excellent value and quality compared to similar chains. The meat plank was fairly priced however the vegetable one lacked pizzazz appearing to be the meat one without the meat yet at the same price.
Loos – Charming enough to be worth expanding on a moment: Quirky functional decor and fittings, very well maintained.  Plenty of cubicles, space, lighting and mirrors. Plus they're not unisex (other chains including Wahaca and The Real Greek take note please). Too many restaurants these days seem to think it's ok to shove some unisex cubicles up a corner in order squeeze in more tables and it's rare for a modern chain to put so much thought into this aspect.
Ambiance – Smart but relaxed. Music was a peculiar selection of mostly 80s tracks that felt incongruous at times.
Service – Staff were efficient, friendly and there were enough of them. We were not rushed nor were we left waiting too long between courses.
A couple of minor things I would prefer done differently:
The kids' menu at £5.95 is a competitive price compared to other chains however I'd sooner pay a pound more if it included a mini starter of vegetable sticks and grissini or similar. This would also mean children didn't have to wait ages for their main course if grown ups have ordered starters. We fed Ted bits from our starter planks to keep him going before his food arrived.
The tables are quite crammed in and diners were seated in clumps together.  It felt a bit weird at midday before many people had arrived to be  sandwiched between other diners who were almost near enough to touch.  On a Sunday when the branch is quieter (Canary Wharf peak time is during the working week) it would be nicer if diners could be spread out slightly more until the tables fill up.
We were happy with everything else and will definitely be returning under our own steam!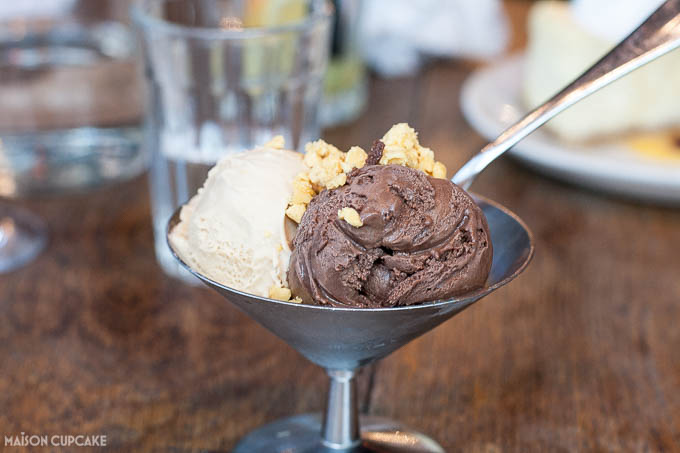 We dined as guests of Jamie's Italian Canary Wharf.