Jamie Oliver's Barbecoa Restaurant in the City of London specialises in roast meat dishes so where better to enjoy a Sunday lunch? Review upon invitation from Barbecoa, who have since closed a few years after original publication of this post.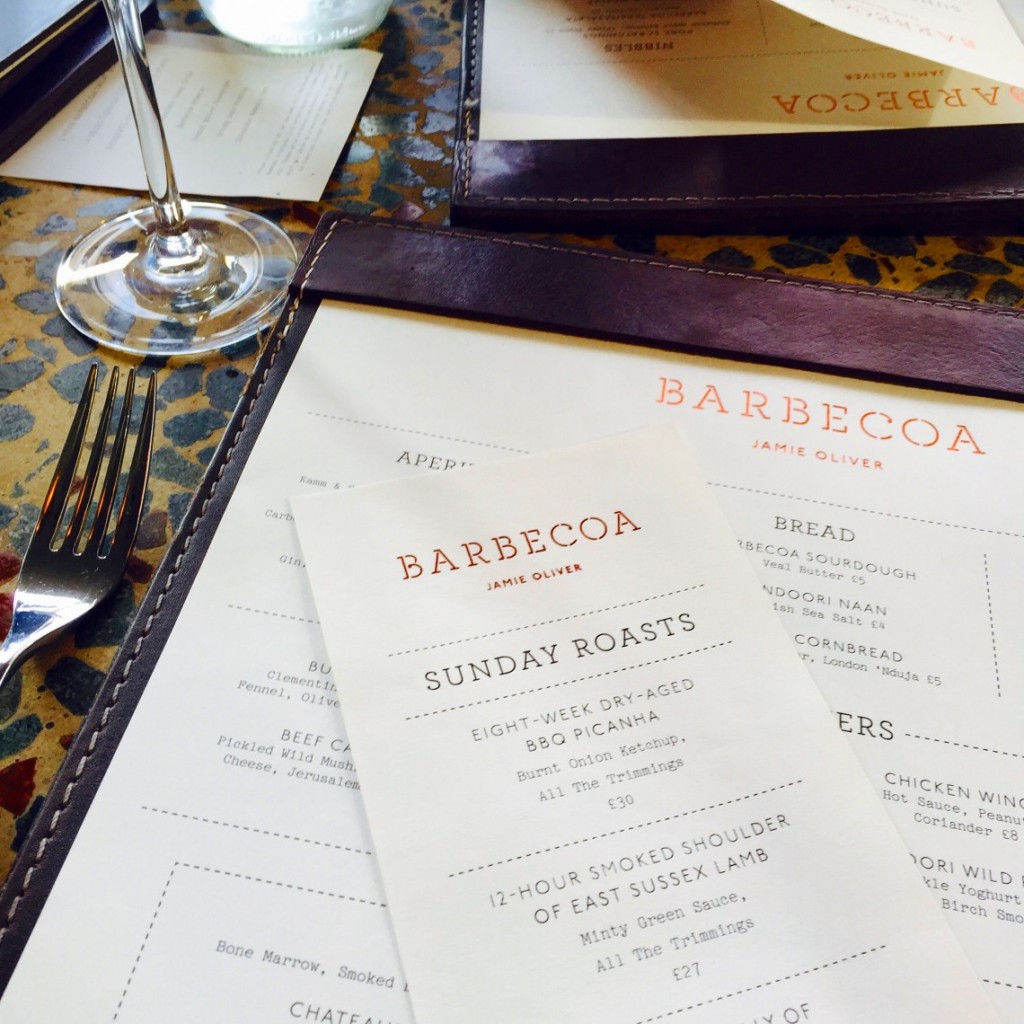 Time flies. Here's me thinking some day I must get around to trying Jamie Oliver's Barbecoa restaurant, his city meat joint that's more upmarket than his restaurant chain Jamie's Italian and I find out the venue is celebrating its fifth birthday. When I received the invitation from them to review last weekend. I took my husband, my son Ted and one of my oldest friends who also happens to be Ted's godfather. He's younger than me but you get what I mean – we go back thirty years now. Yikes, time really does fly. I knew Barbecoa would be right up his street.
Barbecoa boasts a prestigious location overlooking St Paul's cathedral in the City of London and has a businesslike ambiance whilst welcoming more casual weekend diners with their children.
Dishes on the Sunday menu are around £27-30 per main course are accompanied by side vegetables. During our visit there were promotional cocktails and desserts at £5. Portions are generous, such that some might serve two instead of one. Service was attentive and informative, the server described dishes in detail before we ordered. The kids' menu at £12 for two courses has variants on favourites like bangers and mash or fish and chips but served in a sophisticated fashion.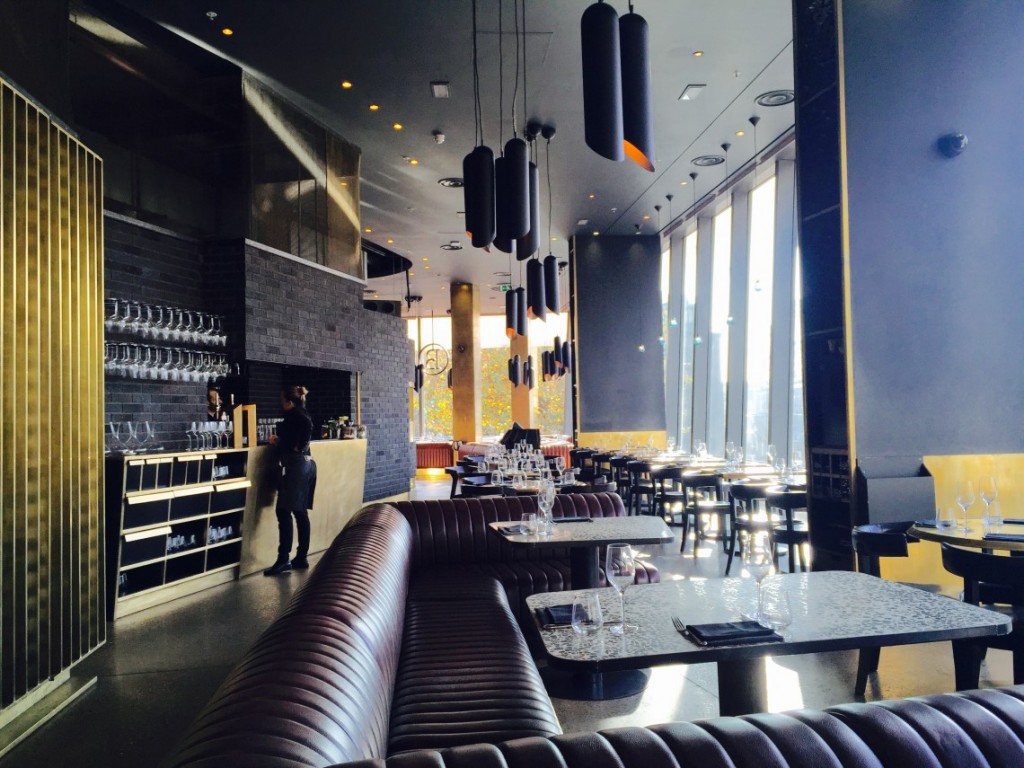 The main menu has around eight starters and twice this number as main courses. It's mostly meat with a couple of fish options but little for vegetarians other than side dishes. Their specialities are steaks and pulled meat dishes.
It's upmarket American steak house food served for the Michelin-loving market. The interior design with picture windows, dark wood and leather seating echoes Jason Atherton's City Social at Tower42. It's not noisy – earlier in the week I'd visited another city venue where background noise and loud music were a terrible pity when dining with good friends you wish to chat with properly. Happily the ambiance at Barbecoa was much more chilled out and relaxed.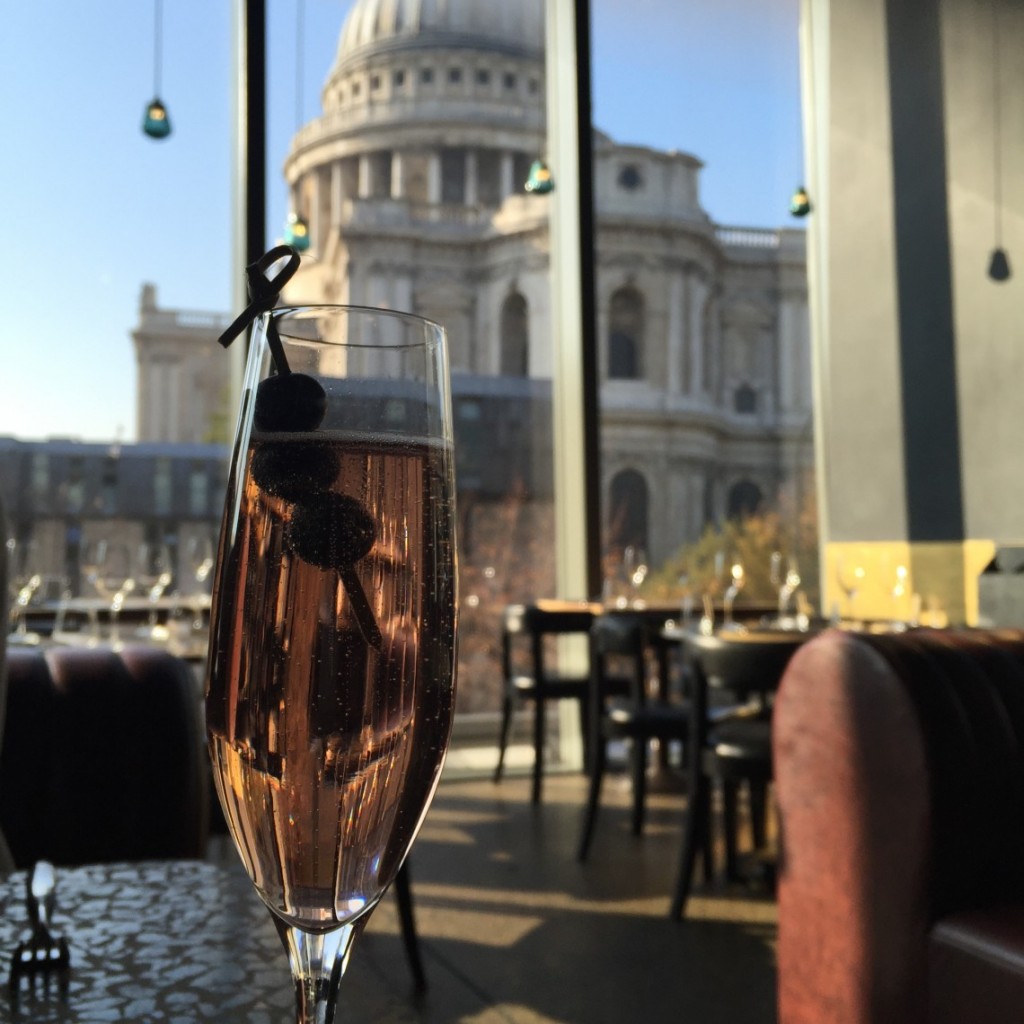 Before the blinds were lowered we had a direct view of St Paul's Cathedral.
The autumn sun being low and strong meant blinds being lowered was probably a good thing but it did make conditions for photography very dark. Which explains the depth of field being more than usual in some images below – and where pictures came out better on the iPhone I have included those instead anyway.
This pink fizz above was one of Barbecoa's fifth birthday special cocktails and called the Fleur Royale (£5 promotion). It contains Prosecco, gin and chambord liqueur. I have made a note to ask Santa for a bottle of Chambord liqueur. Regular readers will know I don't tend to drink wine unless it's pink or fizzy and preferably both. So this cocktail had everything I liked in it!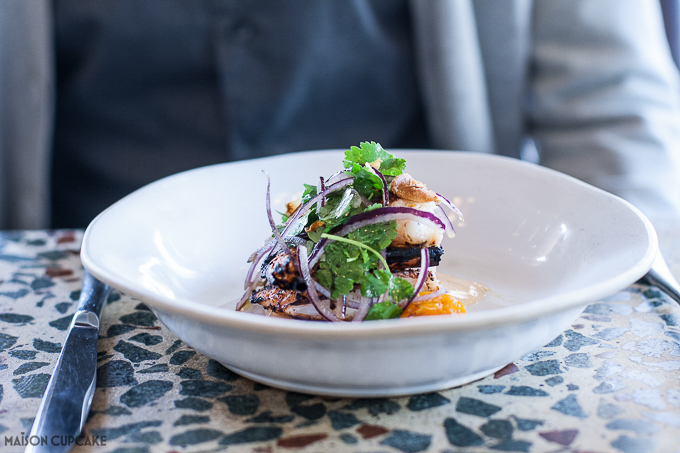 Friend's starter: Tandoori Wild Prawns with lime pickle yogurt, garlic crisps and birch smoke. (£13)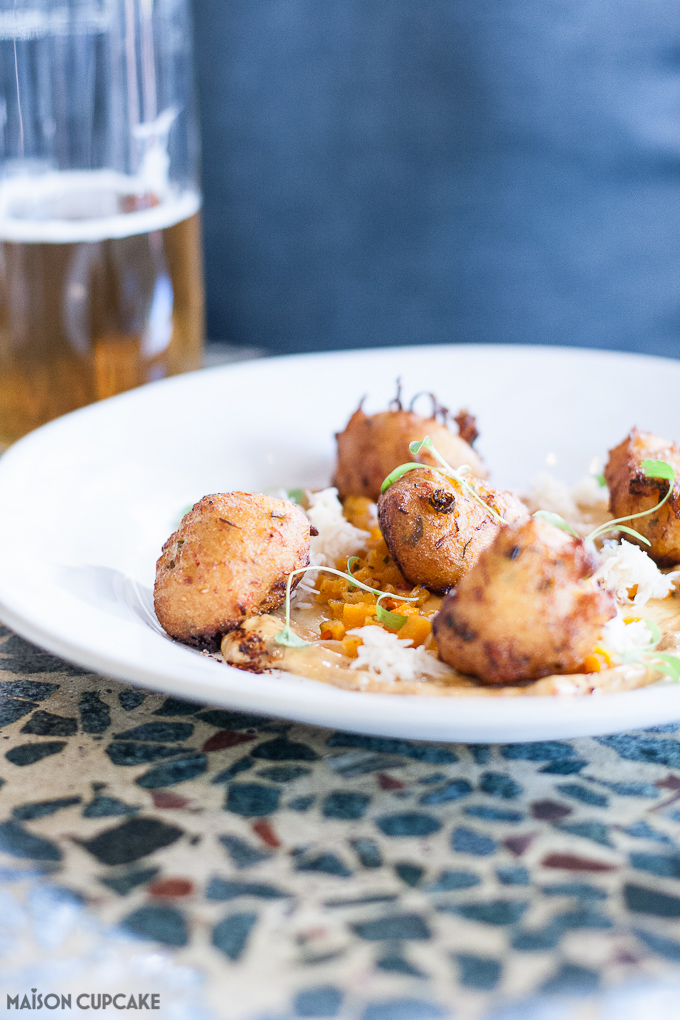 Husband's starter: Crab hush puppies with spiced squash salsa and chipotle mayo. (£10) He'd never had hush puppies before – they're similar to fish cakes but fluffier.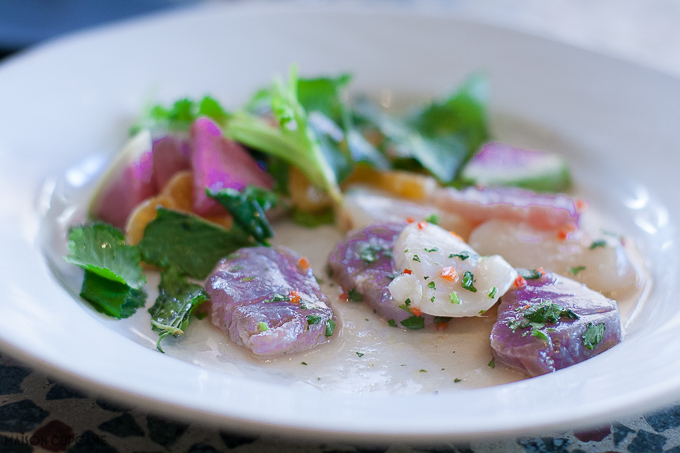 My starter: Tuna and Scallop Ceviche with "Meat" Radish, Miyagawa (a Japanese citrus similar to a satsuma I'm told), Chilli and Coriander. (£15). I really enjoyed this, it was exactly what you want a starter to be, full of flavour but not too filling so you spoil your main course. I could actually happily have eaten a bigger version of this as an extremely healthy main course.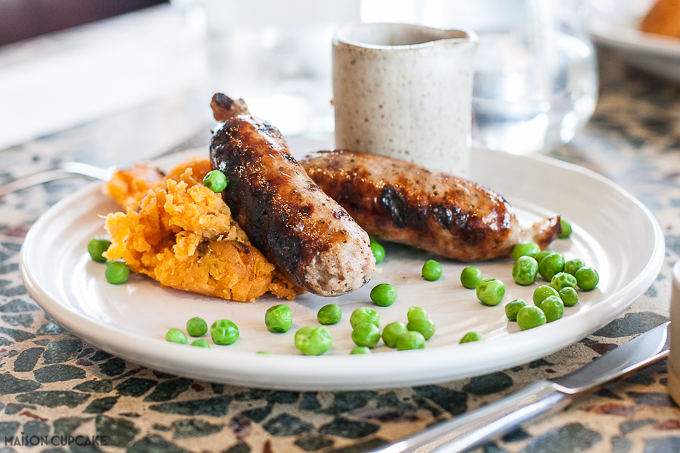 Ted's kids' bangers and sweet potato mash. (£7) Very artfully surrounded by a scattering of peas. Ted enjoyed pouring his own gravy from the pot provided and said the free range sausages were very meaty.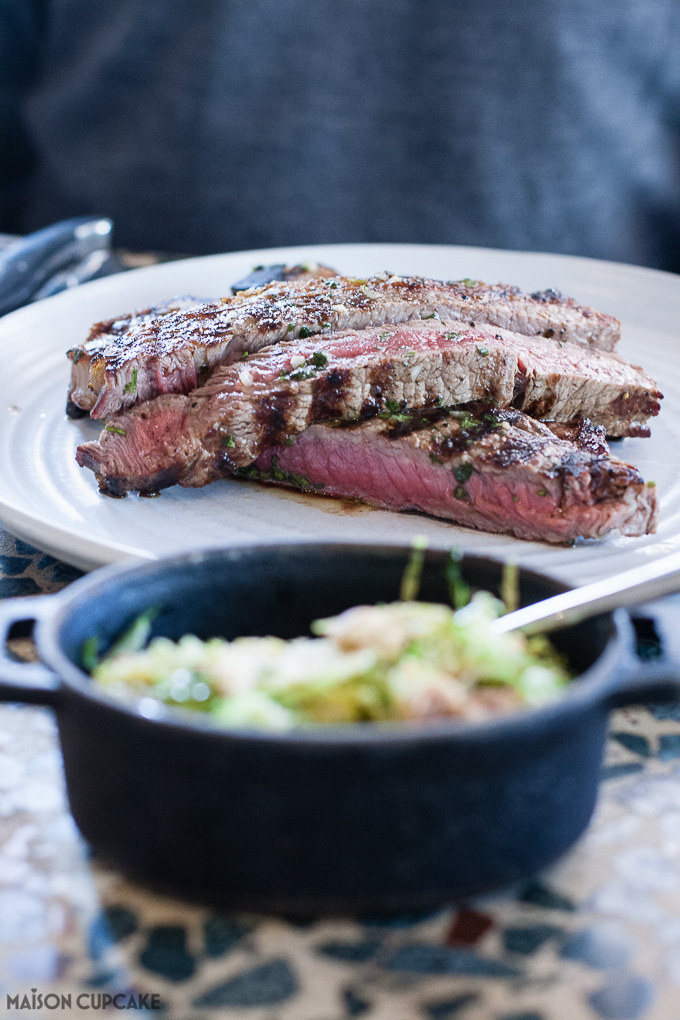 Husband's main course: T-bone steak (£40) – an insane amount of meat but at that price you'd expect it to be. We're generally a meat reducing household so he goes a bit nuts in restaurants when given the opportunity. Husband thought all his birthdays had come at once and said it was juicy and served rare just as he likes it.
Out of focus in the foreground are the shredded brussels sprouts with hazelnut (£5).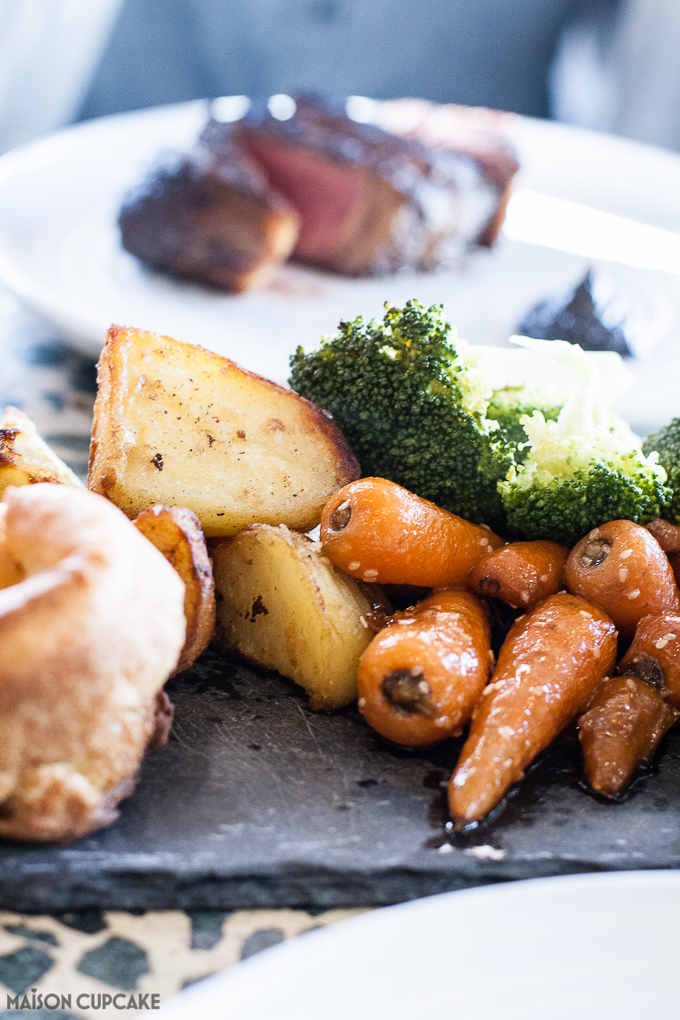 My friend and I each ordered main dishes from the Sunday Roast menus. These came with a joint selection of vegetables and trimmings including Yorkshire pudding and macaroni cheese.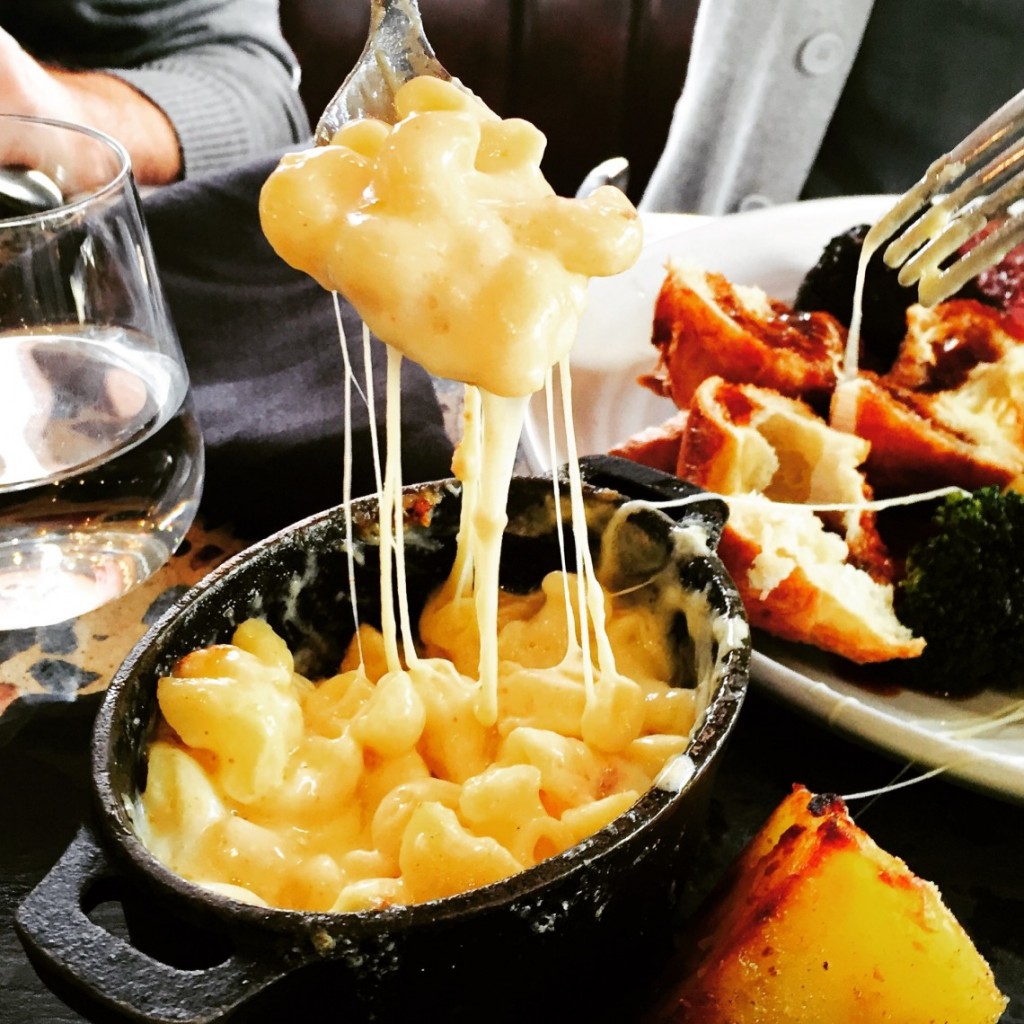 Did someone say macaroni cheese???? There was an individual cocotte of it and as you can see it was full of stringy creamy cheesy sauce. These "trimmings" came included in the Sunday Roast menu making these a good value choice on the menu. You could probably go and just eat these and full enough to ditch dessert.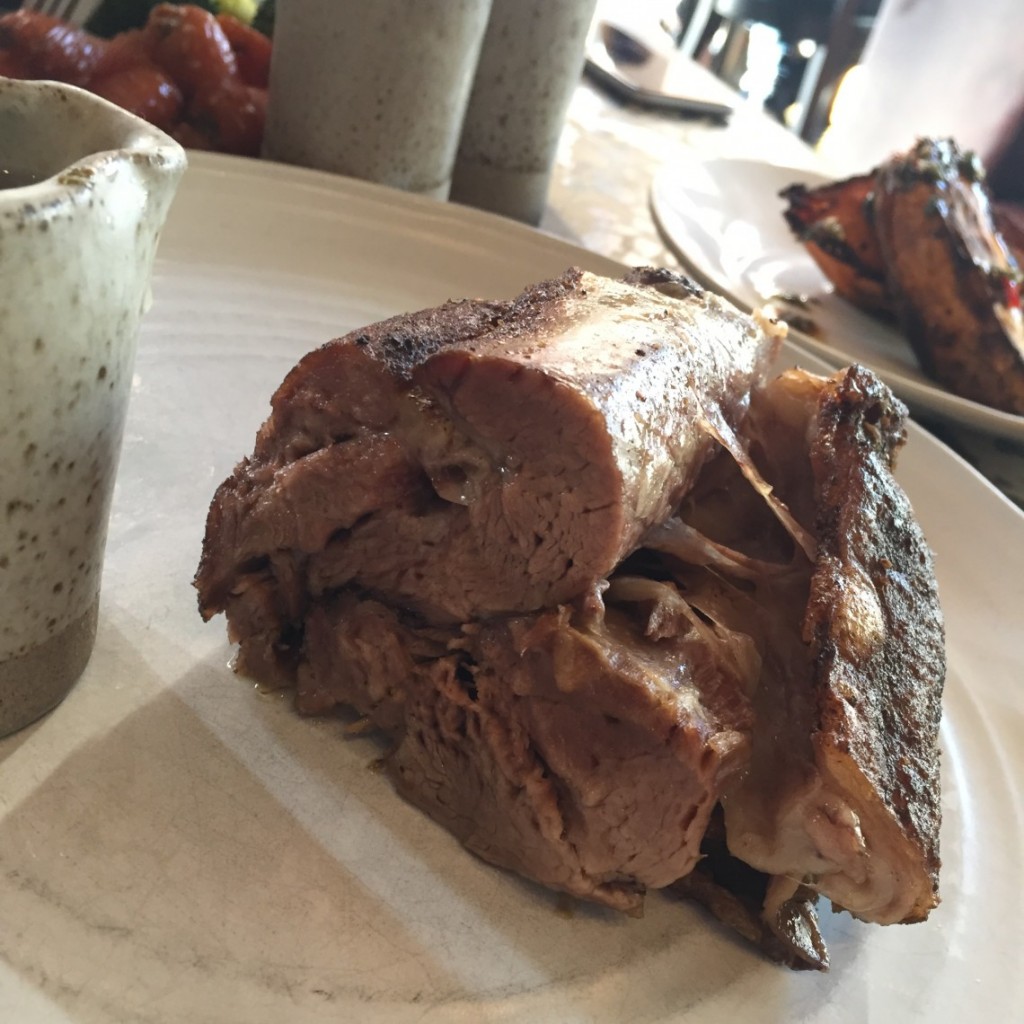 I ordered the 12 hour smoked shoulder of East Sussex lamb (£27). This wasn't what I'd call a lean cut although to be honest I don't think anything on the menu was apart from the steaks and I was terrified by the size of those. I can't say I picked up much on the smokiness but it was juicy and tender albeit fattier than I'd normally choose.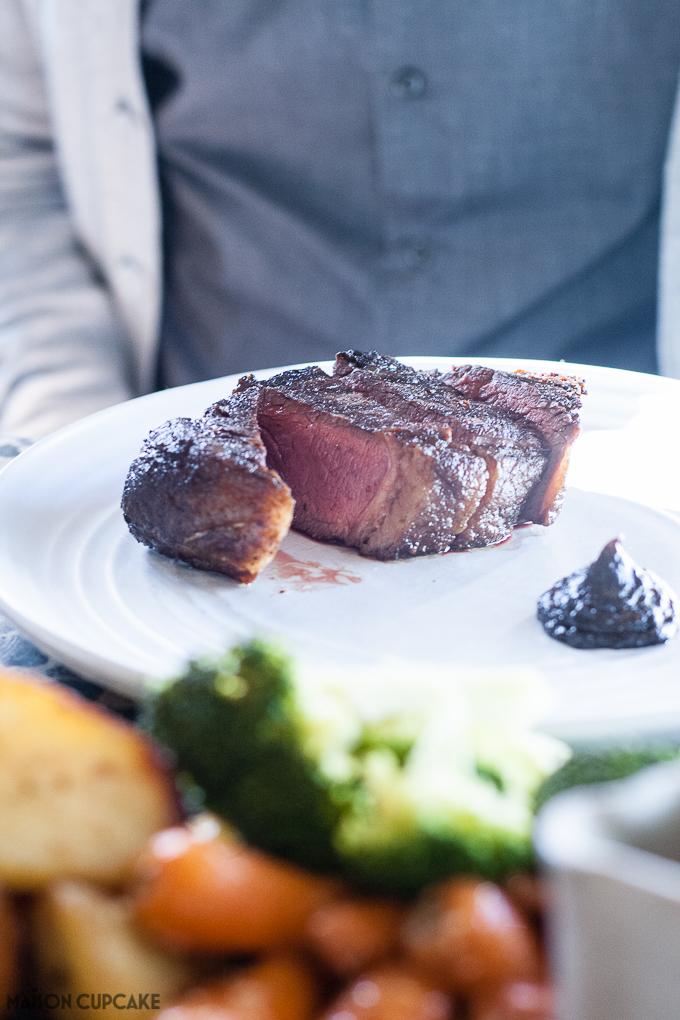 My friend ordered the Eight Week Dry-Aged Barbecue Picanha steak (a cut popular in Brazil) with burnt onion ketchup (£30). It kept him extremely quiet and he ate all of it which I'll take as a good sign.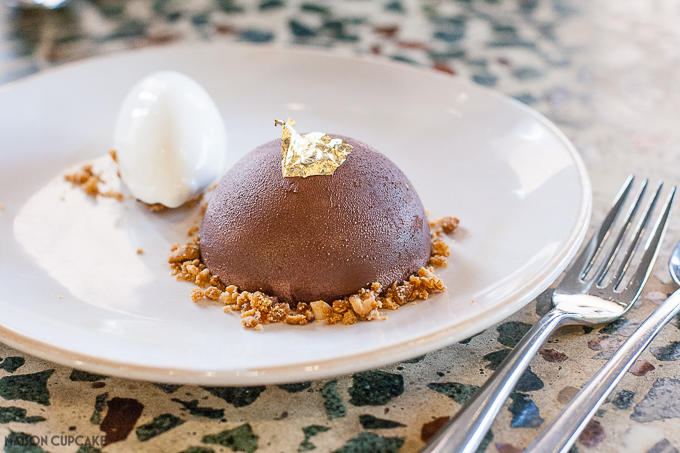 After an interlude (with more Prosecco) we took a look at the dessert menu. By rights we didn't need dessert but it was one of those "it would be rude not to" moments when we learned of a dessert on the menu called the Snickersphere. As you've probably guess it's based on a Snickers chocolate bar having salt caramel and peanut ice cream inside a hemisphere chocolate shell.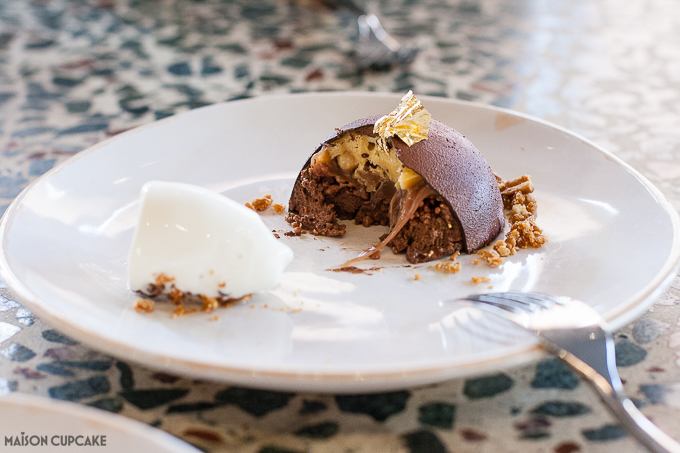 And inside the glorious Snickersphere! Gooey caramel and peanut crunchiness did not disappoint.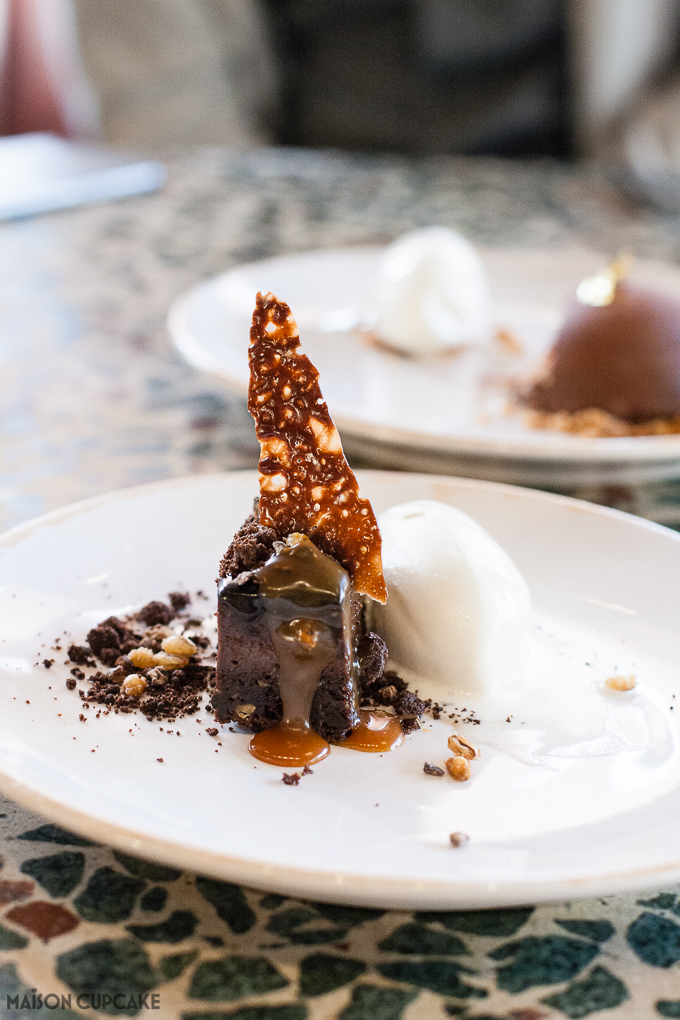 This can you believe – is the kids' dessert; chocolate brownie with ice cream. (£5)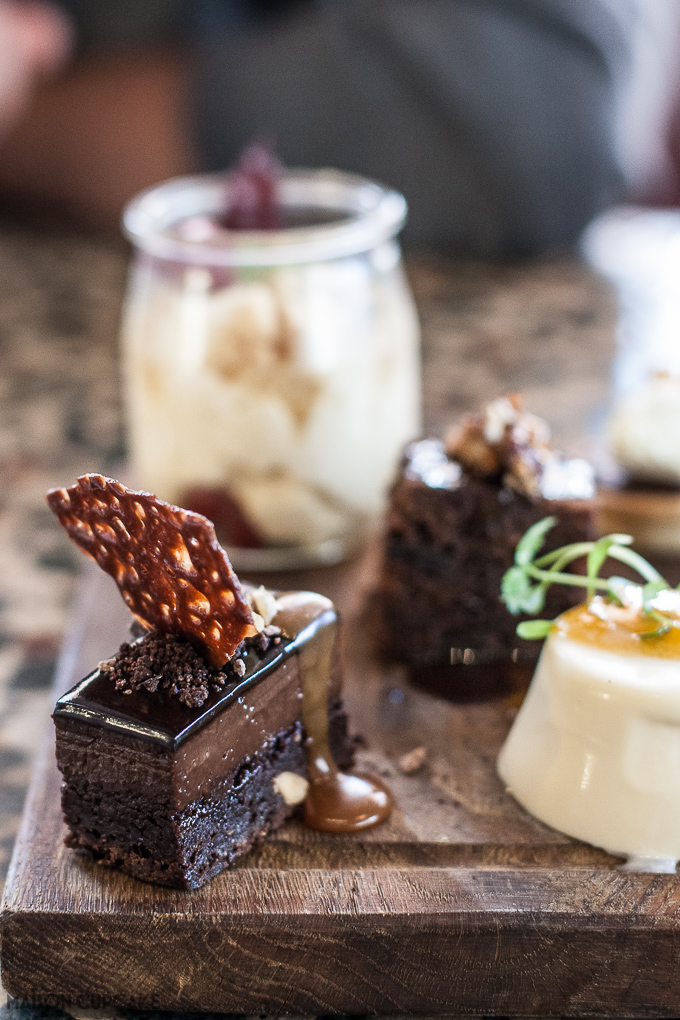 This selection of mini desserts was also a £5 promotion for Barbecoa's fifth birthday; apologies for the depth of field here but it was as a delightful selection of taster puddings from across the menu. It was enough for two to share after all that meat. My stand out bits were the layered chocolate brownie with chocolate brandy snap trimming oozing with toffee sauce, a white chocolate pannacotta (both at the front) and behind these a mini sticky toffee square and peanut butter cheesecake dessert in a jar and a dinky little chocolate nemesis tart.
Summary
Whereas some restaurants at this price point might leave you wanting more after a series of miniature mouthfuls of foams and cheffy set pieces, a meal at Barbecoa is undeniably a substantial dinner in the traditional meat and vegetables sense. So whereas it's ambitiously priced, you won't go hungry and will feel you have eaten extremely well.
My only frustration with Barbecoa was that there didn't seem to be anything especially lean you could order as a main dish. I would like to see some leaner cuts so I could feel as virtuous with my main course as I had with my starter. Either that or smaller portions at a lower price. I realise Barbecoa is a meat fest and unapologetic about the absence of a vegetarian option but there's definitely a need for something on the menu that the person in a party who needs to avoid saturated fats could still enjoy. And given Jamie Oliver's position on health and childhood obesity, it seems odd to not offer the grown ups at least one obviously healthier option that isn't fish. A chargrilled poultry dish on the menu would go a long way to meet that gap. (The only chicken dish on the main menu, a beer butt chicken, has to be shared between two people – it sounds awesome though!).
There's a huge variance in what you might pay per head at Barbecoa, you might get one course plus one drink for around £30-35 or you might pay £80+ per head for multiple courses with 2-3 drinks. Optional service charge of 12.5% is automatically added to the bill.  I would highly recommend this restaurant for its food and ambiance. It's spot on for a special treat or occasion but less suitable for parties including vegetarians, dieters or anyone on a budget. If you're none of those three things, it's fabulous and I can't wait for an excuse to go back again.
Barbecoa
20 New Change Passage, City of London