Shake and stir yourself up for the ultimate James Bond party with these two easy cupcake designs. Post commissioned by Stork.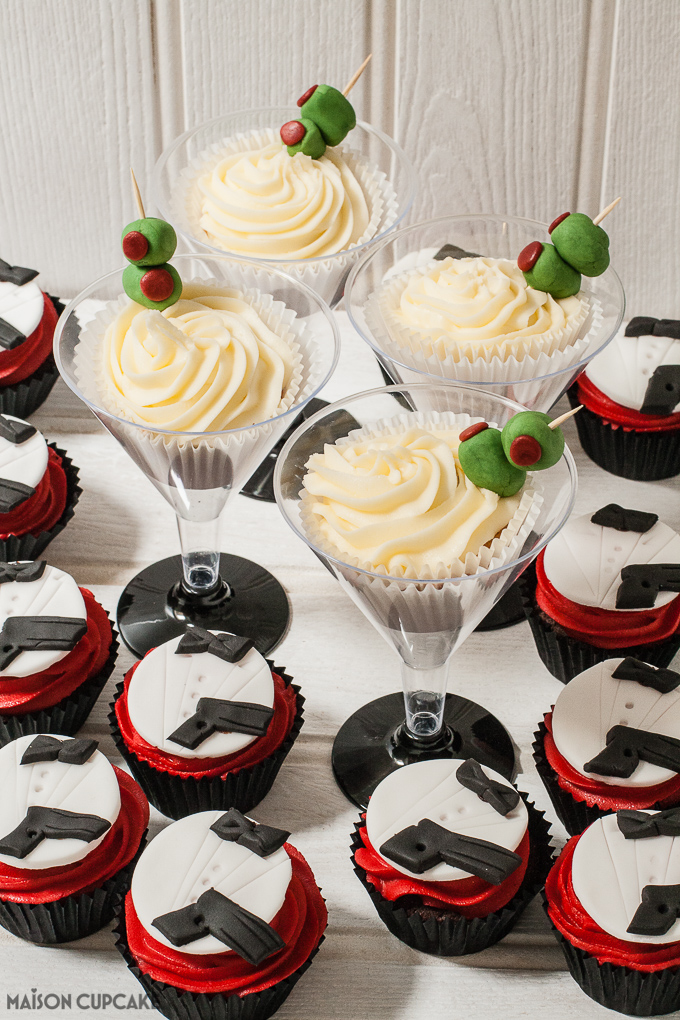 Are you psyched up for SPECTRE?
I certainly am, I've been a fan of James Bond ever since I was a child when no Christmas Day was complete without the compulsory James Bond movie being shown on TV.
The first Bond movie I saw at the cinema was Octopussy and although the Timothy Dalton movies passed me by at the time, I have made a point of seeing each other movie as soon as it came out. I am itching to see Spectre as soon as I can.
But which is my favourite Bond film? Oh gosh, I'm torn. I struggle to name a favourite film per Bond actor never mind a favourite in the entire series. So instead here's a run down of my favourite Bond elements – if these were combined into one film we'd have my favourite ever Bond movie.
Best Bond villain: I think the most psychotic was Christopher Walken in A View to A Kill ejecting uncooperative agents from his airship and then ruthlessly machine-gunning his own staff before the mine explosion at the end.
Best Bond henchman (male):  It's hard to beat the towering presence of Jaws from The Spy who Loved Me and Moonraker. Although I also love often forgotten hapless duo Mr Wint and Mr Kidd in Diamonds Are Forever.
Best Bond henchman (female): The sweaty faced Lotte Lenya in the closing scene of From Russia With Love attacking Sean Connery with knives sticking out of her shoes is the stuff of nightmares.
Best Bond villain's lair: Javier Badem's abandoned island in Skyfall was seriously creepy.
Best pre-titles opening scene: Pierce Brosnan parachuting off the dam in Goldeneye then attacking some Russian base before making his escape.
Best Bond vehicle: how can it not be the submarine car in The Spy Who Loved Me?
Best Bond theme: A random choice here. How many people remember "Surrender" by KD Lang which played out the end titles of Tomorrow Never Dies? It was a much more powerful song than the wishy washy Sheryl Crow number that was used for the opening titles and matched up to any of Shirley Bassey's efforts.
Best Bond girl: Got to be Grace Jones' karate kicking Mayday in A View to A Kill. A baddie who comes good in the end. Closely followed by Eva Green's Vesper Lynd in Casino Royale – another Bond girl with a dark side.
Best Moneypenny moment: Samantha Bond racing around the hills above Monaco with Pierce Brosnan in the Aston Martin.
Best Q moment: Ben Whishaw has made this part his own. "I can do more damage than you in my bedroom on my laptop but sometimes a trigger has to be pulled".
Best M moment: Judi Dench accusing Pierce Brosnan of being a "misogynist dinosaur from the cold war era".
Best chase scene: Roger Moore in the tuk tuk in Octopussy.
Worst Bond movie: Die Another Day. The only movie I've not sat through a second time. Lacklustre villain, silly ice hotel, crazy CGI overkill culminating in a tsunami and an invisible car. Although Rosamund "Death for Breakfast" Pike was an excellent Bond girl.
Favourite Bond: I'm not very loyal here. I like them all in their own movies and generally the current Bond is my favourite. I loved Pierce Brosnan's movies until the awful last one but if you're going to push me for a choice, I think the makers have got an extremely tall order casting someone after Daniel Craig's spectacular run.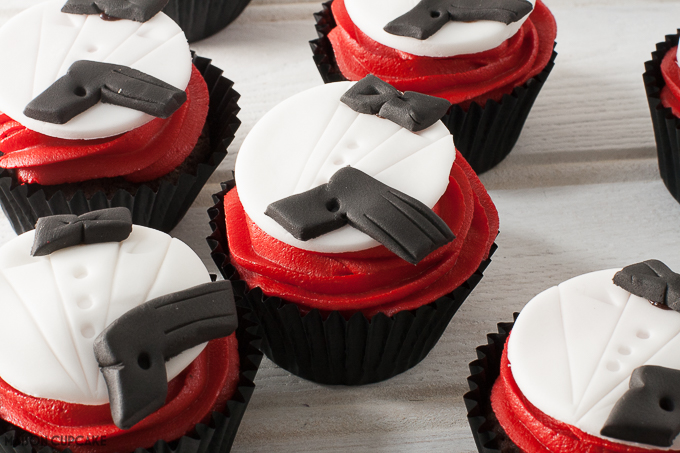 So how better to celebrate James Bond than with cake and a suitable drink? These cupcakes are flavoured with white vermouth for an appropriate shaken not stirred flavour.
To get the recipe and the full tutorial how to make these black and red tuxedo and gun James Bond themed cupcakes, hop on through to my instructions and pictures at the Stork website.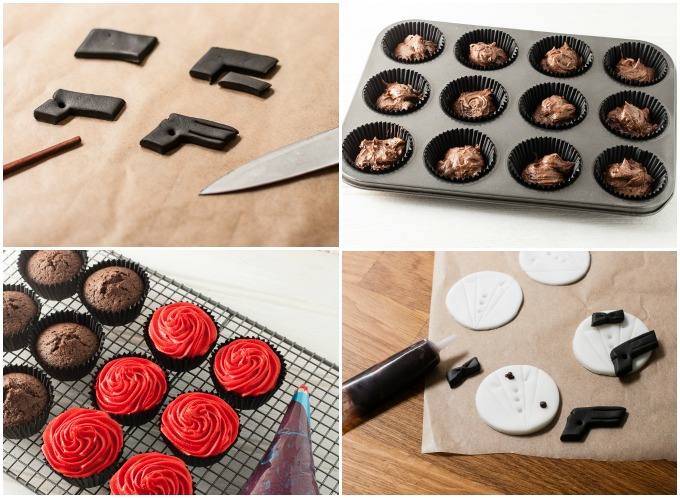 If you're too shaken and stirred by the prospect of fiddling with sugar paste then use the same recipe without red food colouring and instead try these green sugar paste "olives" below with red blobs of sugarpaste "pimento" simply speared on a cocktail stick. They are easy enough for anyone lacking a license to cake.
What are your favourite James Bond moments?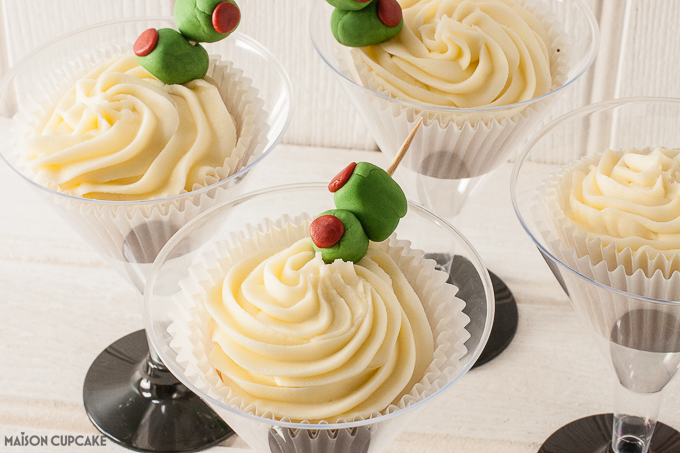 Post commissioned by Stork.