You can make these praline dipped chocolate cookie cups in advance and fill up with ice cream for an easy dessert. Post commissioned by Haagen Dazs.
You know I am not a typical coffee drinker. I have written about this before. My preferred way to drink coffee isn't espresso, it isn't cappuccino, it isn't latte and it isn't flat white. I like my coffee iced and this is the only way I regularly drink it.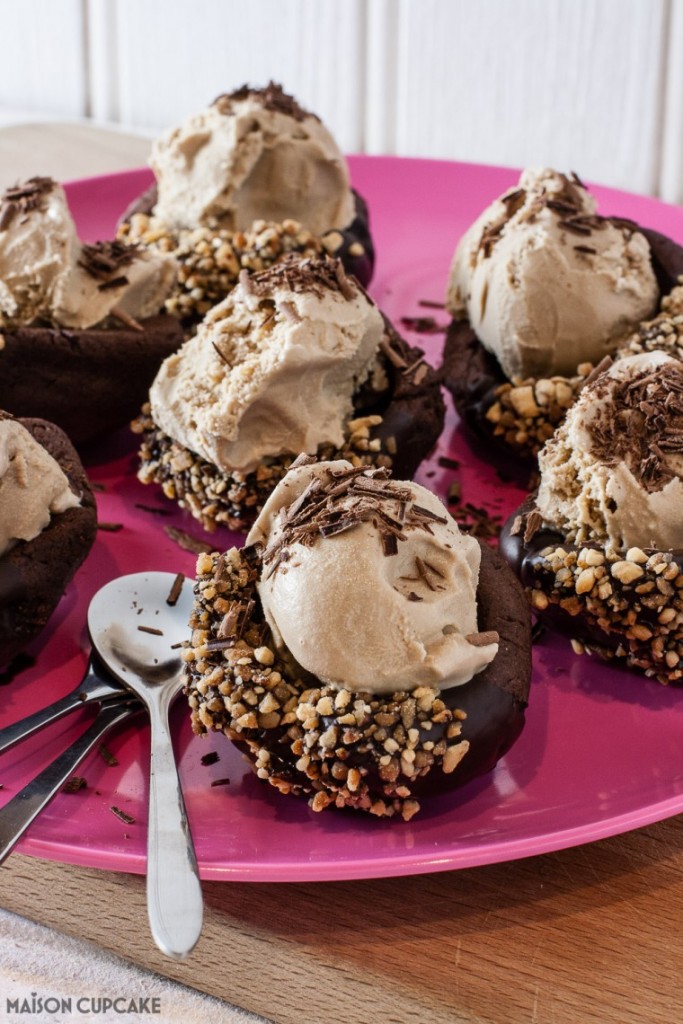 So when I hear Haagen Dazs are bringing out a new coffee flavour version, I'm like where have you been all my life.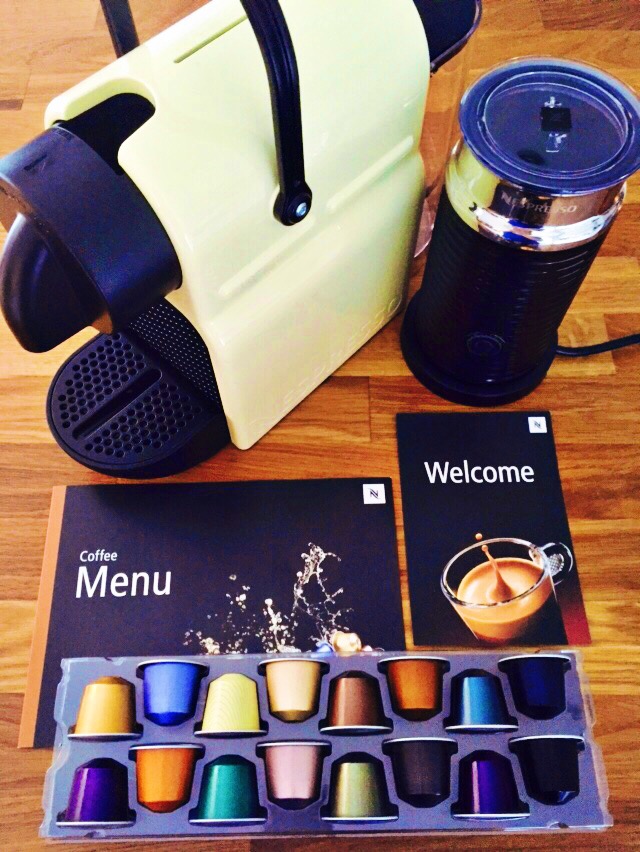 In order to create an easy dessert celebrating this new flavour, I was encouraged to get in the mood beforehand with this whizzy new Nespresso coffee machine. Only I think I'm going to have to send it back because there's something missing.
It doesn't come with a built in George Clooney like in the advert.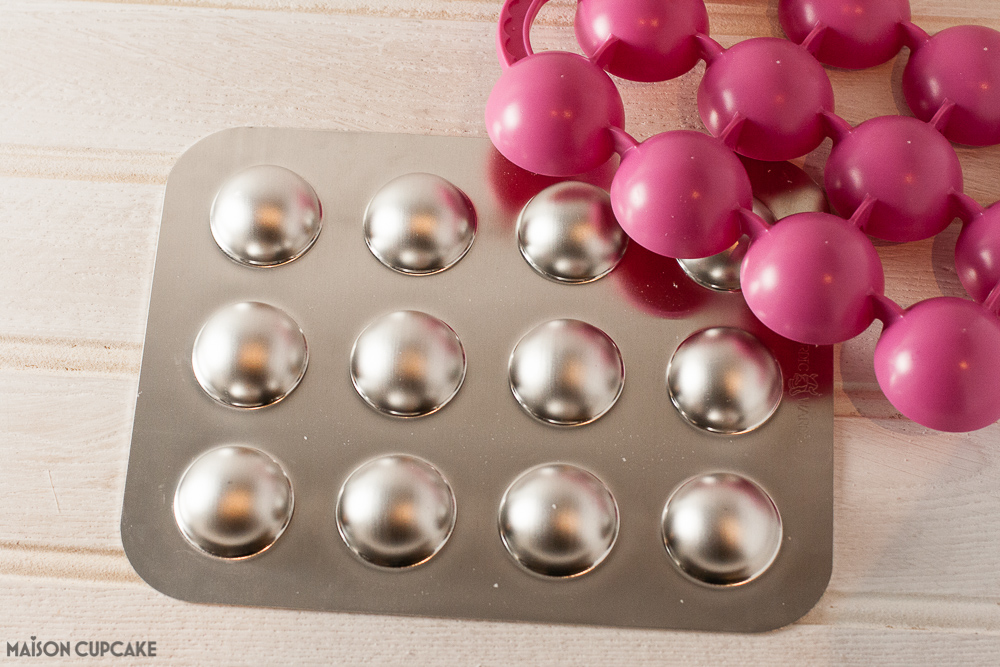 So on with the recipe. I bought this Nordic Ware cookie cup mould from Lakeland a few months back and hadn't used it yet.
Here's the comedy bit. You're supposed to squish down balls of cookie dough onto the greased metal hemispheres.
See here for my chocolate cookie dough recipe.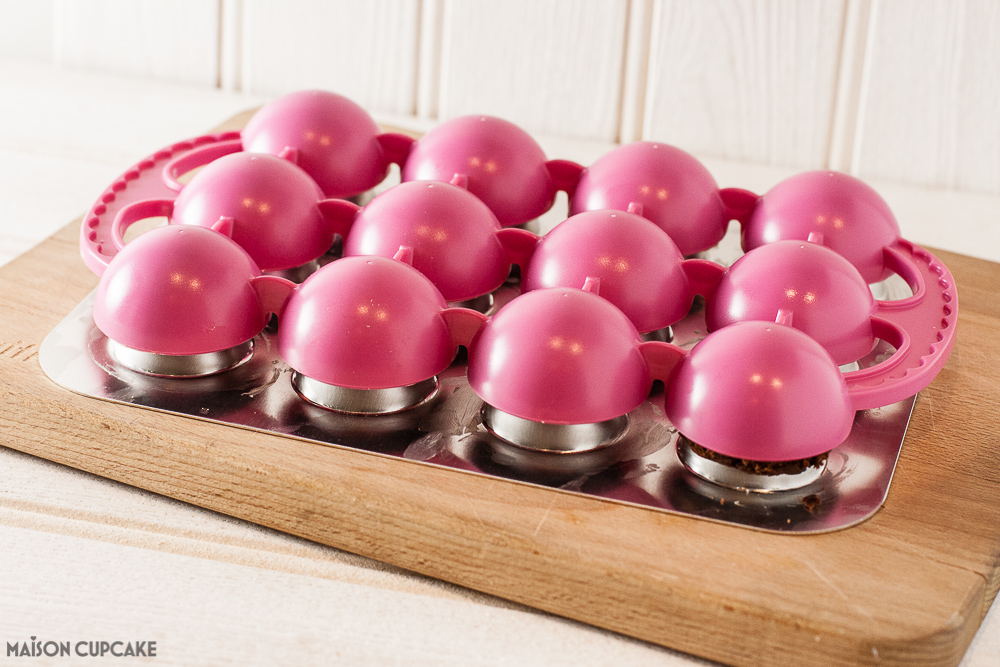 And then you push down with this pink mould and supposedly it leaves you with beautifully formed cookie cups to bake in the oven.
In fact it was less convenient than that. Despite following instructions 50% of the cookie cups stayed stuck in the pink mould and I had to squash them down again by hand. So the cookie cup mould is still under trial. I won't declare it a complete disaster yet but probably the pink part is a bit pointless and you might as well just use the hemisphere metal bit and your hands. But then it would be less pretty.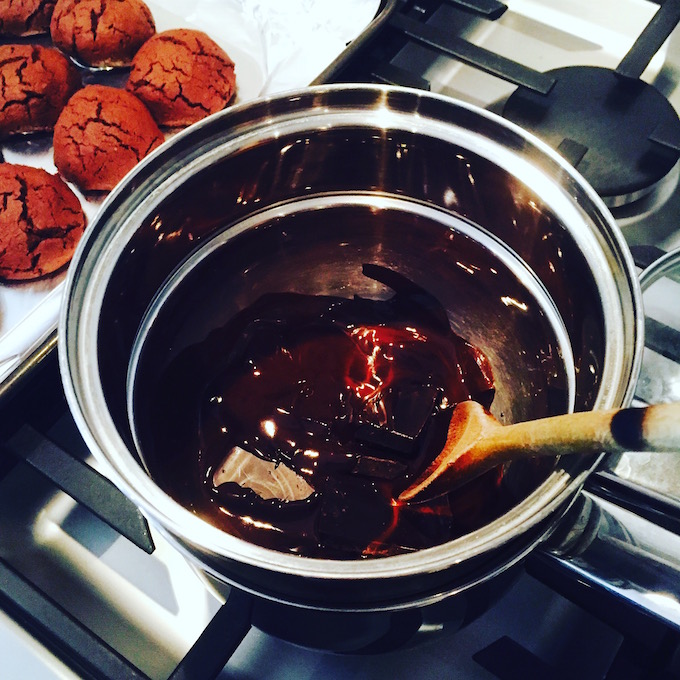 The cookie cups are baked actually on the metal mould – I'm pleased to report they didn't stick to the metal part and came away easily. You leave them to cool down.
Next we melt 150g dark chocolate. You won't need this much but you do need a decent depth for dipping. And I'm sure you'll *find* a use for leftover melted chocolate if you think hard enough.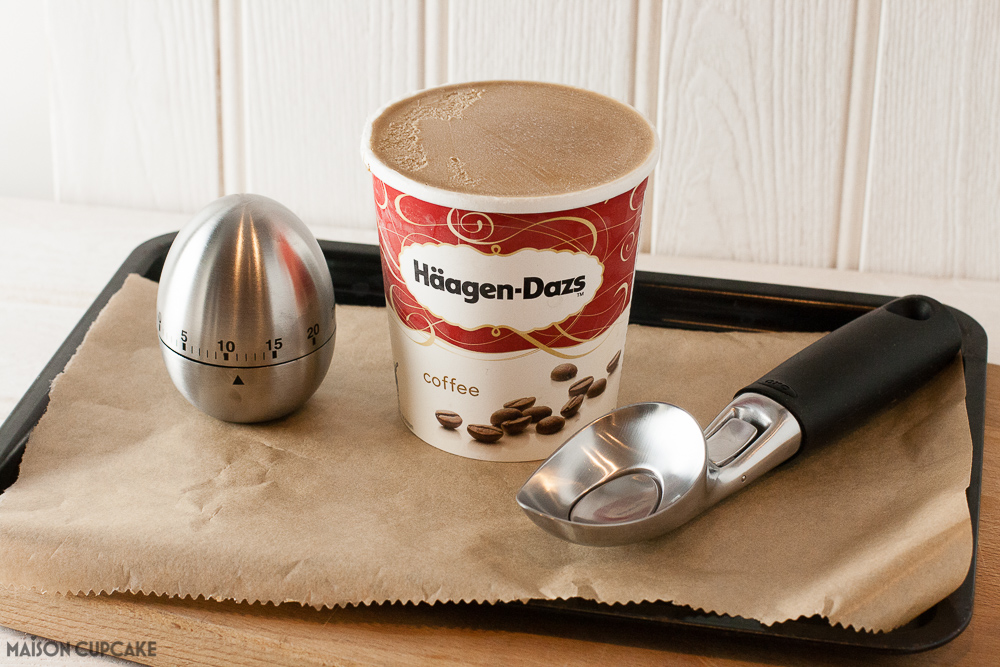 Apparently the optimum time to serve Haagen Dazs is 12 minutes after removing from the freezer.
Knowing this is something of a revelation. I can now get the ice cream out, carry on watching telly for twelve minutes then come back. I was going to say this was perfect timing from one ad break until the next and then I remembered I have a smart telly box thing now and sitting through the ad break seems very 2010 all of a sudden.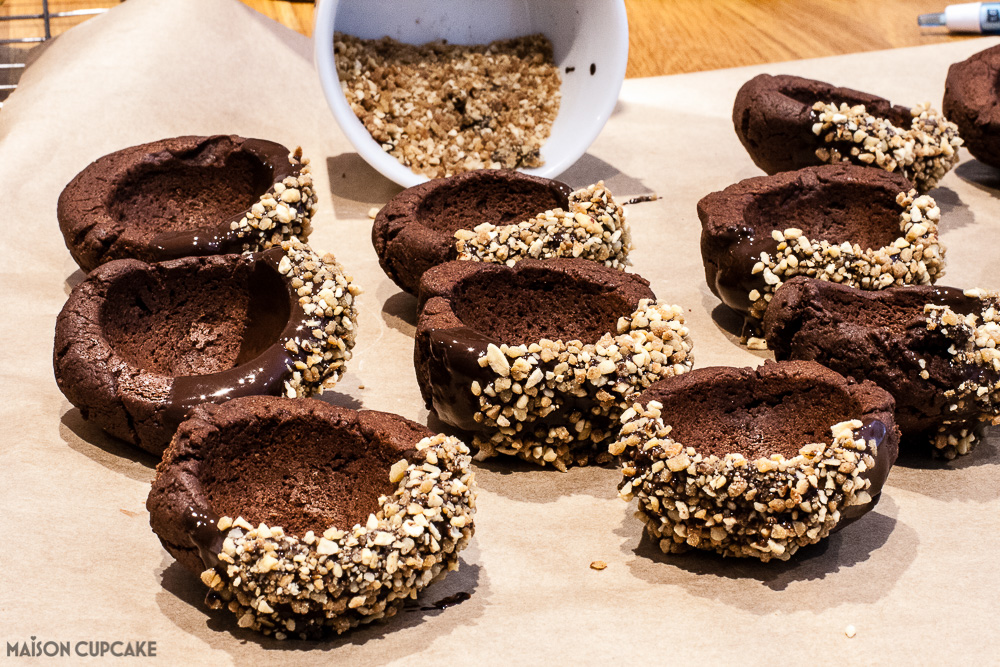 Meanwhile when the melted chocolate has cooled but not solidified again you dip each cookie cup into the molten chocolate and then straight into a dish of chopped praline pieces. I pick bags of these up in France which I dare say isn't terribly helpful to most people but as an easier alternative you could use straight chopped hazelnut.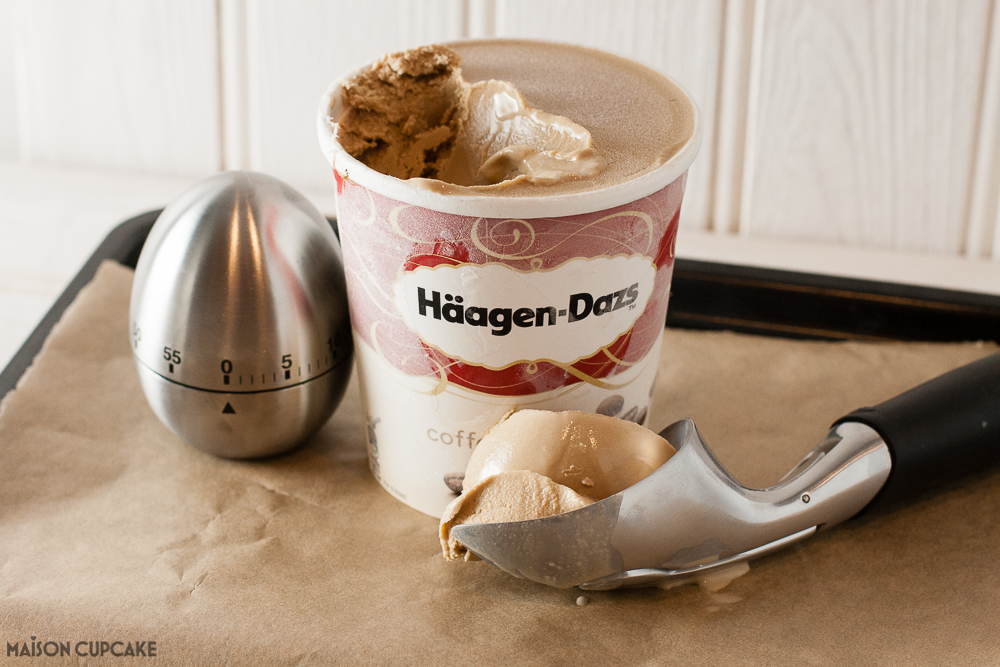 Twelve minutes later and the ice cream is right consistency for the perfect scoop.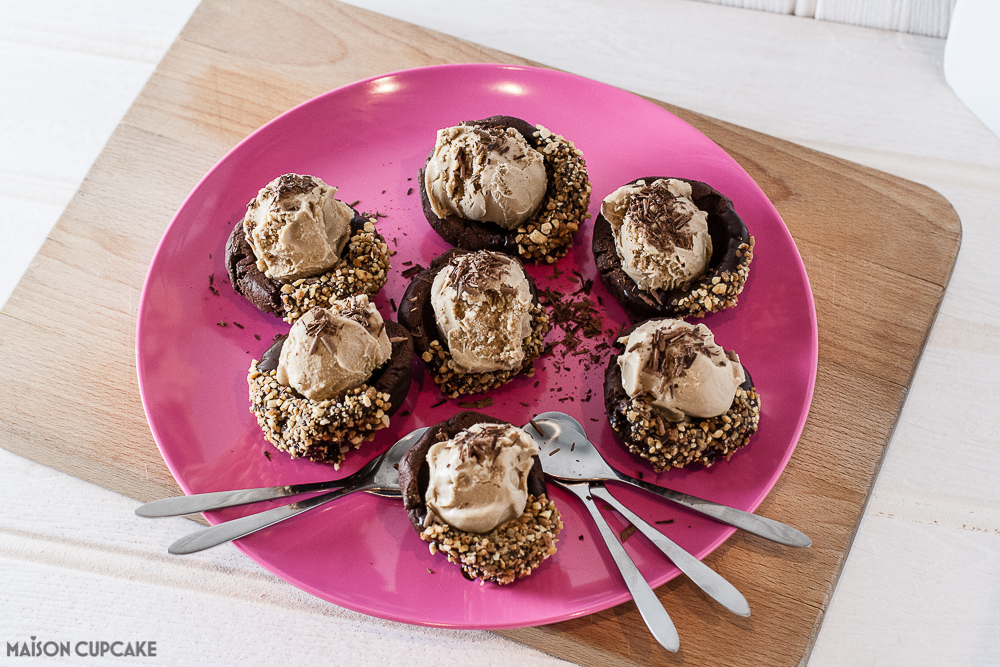 Chocolate Cookie Cups with Coffee Ice Cream
Makes 12-15 cookie cups
Ingredients
1 half batch of chocolate cookie dough
100g to 150g dark chocolate (you won't need all of it but more makes for easier dipping)
75g chopped praline or hazelnuts
2 tbsp grated dark chocolate
350ml coffee Haagen Dazs
You will need a cookie cup mould. Alternatively an upside down mini muffin tin could work nicely.
Directions
1. Preheat the oven to 180c / gas 4. Mould golf ball sized balls of cookie dough on the metal tin to form cups. Bake in the  middle of the oven for around 14 minutes. (Your oven may differ so keep an eye out they don't burn).
2. Remove the cooked cookie cups and allow to cool on the tin for a few minutes. Then transfer to a wire rack to cool completely.
3. Next melt the chocolate. My preferred method is in a double boiler but you can use a microwave if you are careful to heat in short bursts of medium heat to avoid scorching. Allow the chocolate to cool but do not leave until solidifies again – it should still flow when stirred.
4. Dip each chocolate cookie cup into the molten chocolate and then the chopped praline. Place on a sheet of baking parchment paper to give the chocolate time to set.
5. To serve the dessert, remove the ice cream from the freezer 10-15 minutes before you need it. Place scoops of ice cream in each cookie cup and sprinkle with grated chocolate. Serve immediately.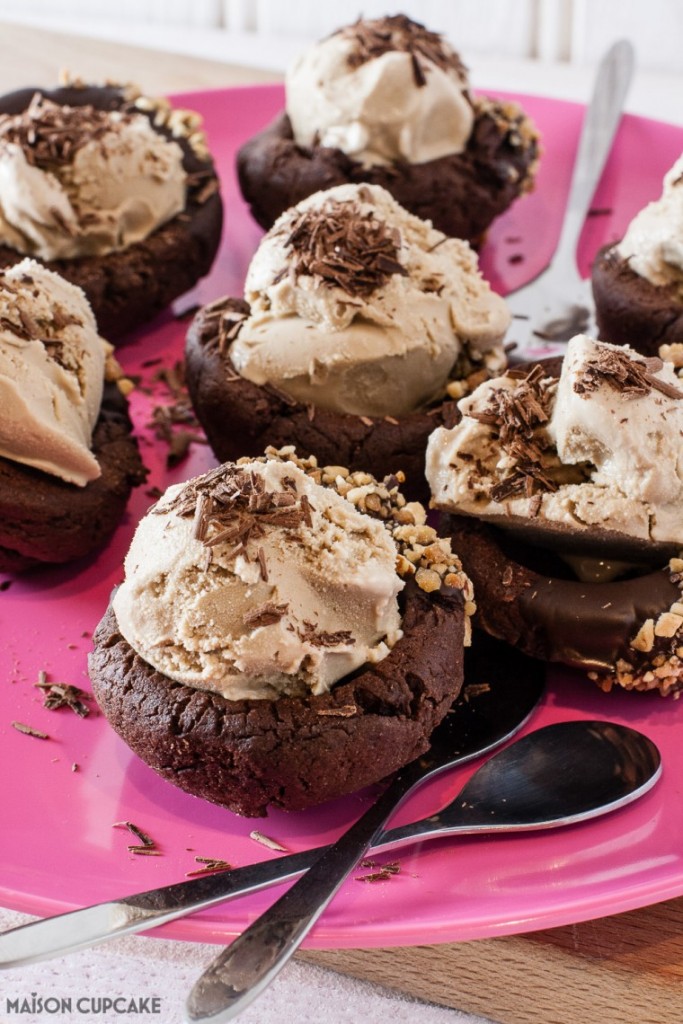 This chocolate cookie cups with coffee ice cream recipe commissioned by Great British Chefs on behalf of Haagen Dazs #RealOrNothing campaign.