Chocolate macarons are just as delicious even if you don't get them right. These were made from a David Lebovitz recipe but before I'd perfected how to do them!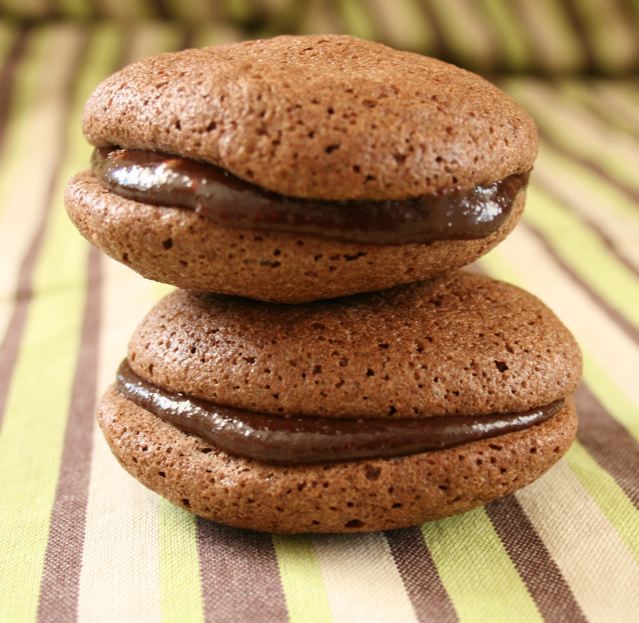 Beginner's luck is a terrible thing.  My first macarons, pecan pie with salted caramel fudge filling were a rip roaring success and I'm afraid to say this made me a little cocky for my second attempt this weekend.
Having seen David Lebovitz's chocolate macarons I decided to try these myself.  David's recipe unlike Helene Tartelette's that I had followed for my pecan pie ones did not stipulate leaving the egg whites to "rest" for 24 hours.  So given that I had been out late babysitting on Hallowe'en and didn't get home until past midnight I threw caution to the wind and skipped this step.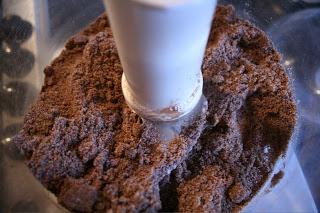 Shop bought ground almonds getting a further grinding with the cocoa and sugar.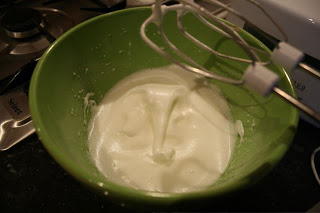 Egg whites whisked until they rise and start to hold their shape.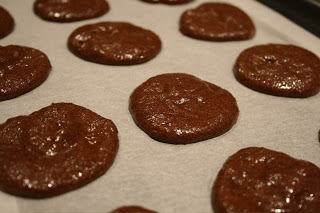 I drew circles round an egg cup to pipe them uniform(ish!) size.
There was a moment of panic when I noticed that David and Helene's recipes used completely different oven temperatures.  I sent a message into the Twittersphere not expecting to hear anything but they both replied almost immediately.  Helene said to go with what I was comfortable with and to bear in mind a fan oven would require a lower temperature.  David simply said "Don't mess with a French woman!"
I opted for the top shelf half way inbetween at 165F – or is that C? I get them mixed up on paper but anyway, the cooler one.  They rose beautifully but sadly there were no pretty feet.  I filled them with leftover (runny) Harry Eastwood 
Beetroot Chocolate fudge mixture
that I'd previously rolled into truffles.  10 seconds in the microwave made it just the right consistency for filling macs.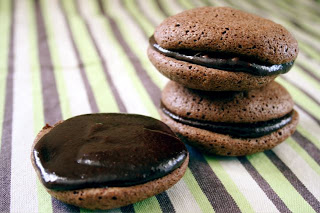 Whilst these macs were not the prettiest, I'll be the first to admit they are a bit wonky, they did at least conform to that universal macaron law: no matter what they look like, they taste great.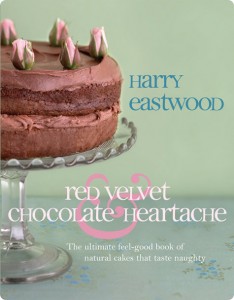 See how I got on making other Harry Eastwood recipes for check out the original version in Red Velvet Chocolate Heartache on Amazon.