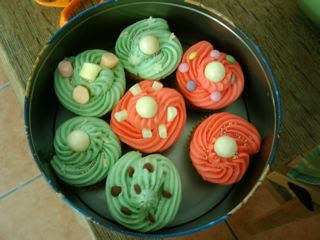 More Big Lunch cupcakes… well, this really is a learning curve. I now know that blue food colouring is less intense than pink.  Whereas a half teaspoon of blue food colouring was only enough for a pastel blue on yesterday's  batch, today I learn that pink is less forgiving.  I got over confident with the pink and so this buttercream shrieks PINK (though it looks more yucky salmon in this light).
I have not documented with pictures a batch of icing which I made yesterday.  I was too hard to go through the nozzle.  So today I did buttercream instead and used a bigger nozzle.  The effect is what you see above.  I sure hope I get the hang of this soon.
UPDATE: These may look gruesome but I'll have you know they were first to disappear on the day. The colours were less "yellow" in real life – blame my mobile phone pictures.
The cakes you see above are decorated with
White maltesers and pink sprinkles,
Mini chocolate buttons
Mini marshmallows
Dr Oetker white and milk chocolate stars