Make these easy Mars Bar Slow Cooker Rice Puddings with just 4 ingredients! Really simple dessert recipe that just needs stirring occasionally whilst you get on with your day!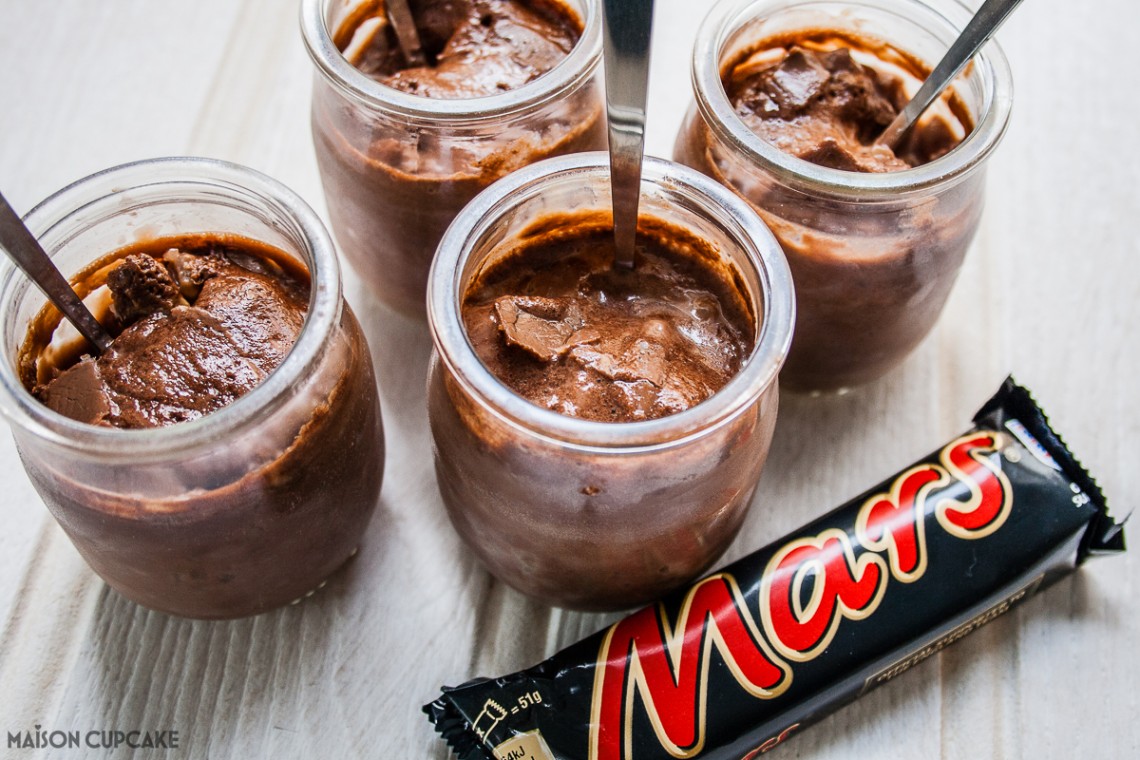 If these mini chocolate rice puddings didn't exist them someone would need to invent them. We tend to think of rice pudding as a winter comfort thing but I've been eating these cold straight from the fridge. Which means they're the perfect make ahead dessert.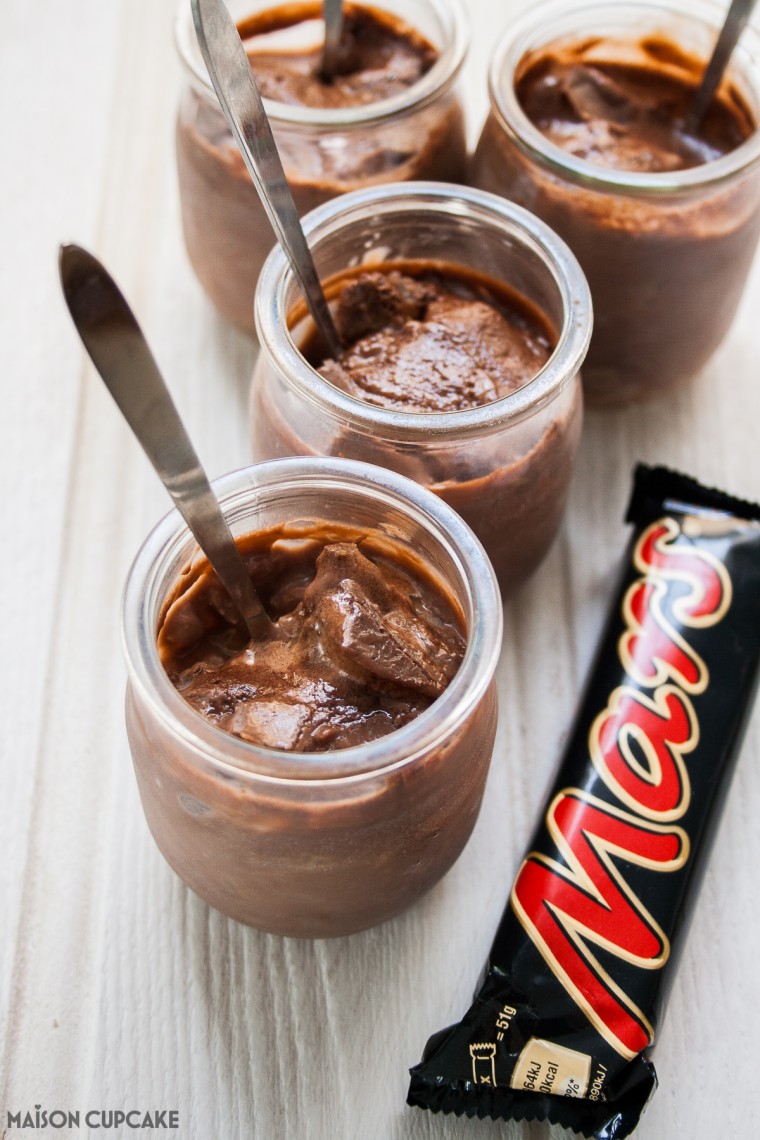 I was looking for another rice pudding recipe on my site and was astounded to realise I'd never blogged rice pudding before. Well this isn't entirely true. I do have another summer rice pudding recipe which I photographed an astonishing SIX years ago and for some reason it's never made it onto the blog but will do soon, watch this space.
I tweaked this recipe making it a couple times before happy with it. You need to strike the right balance between cook time, amount of stirring and liquid to rice ratio. I found that stirring hourly was often enough and that although it still looked very wet after 2 hours, after the 3rd hour the consistency is just right for adding a chunk of Mars Bar to thicken up the top.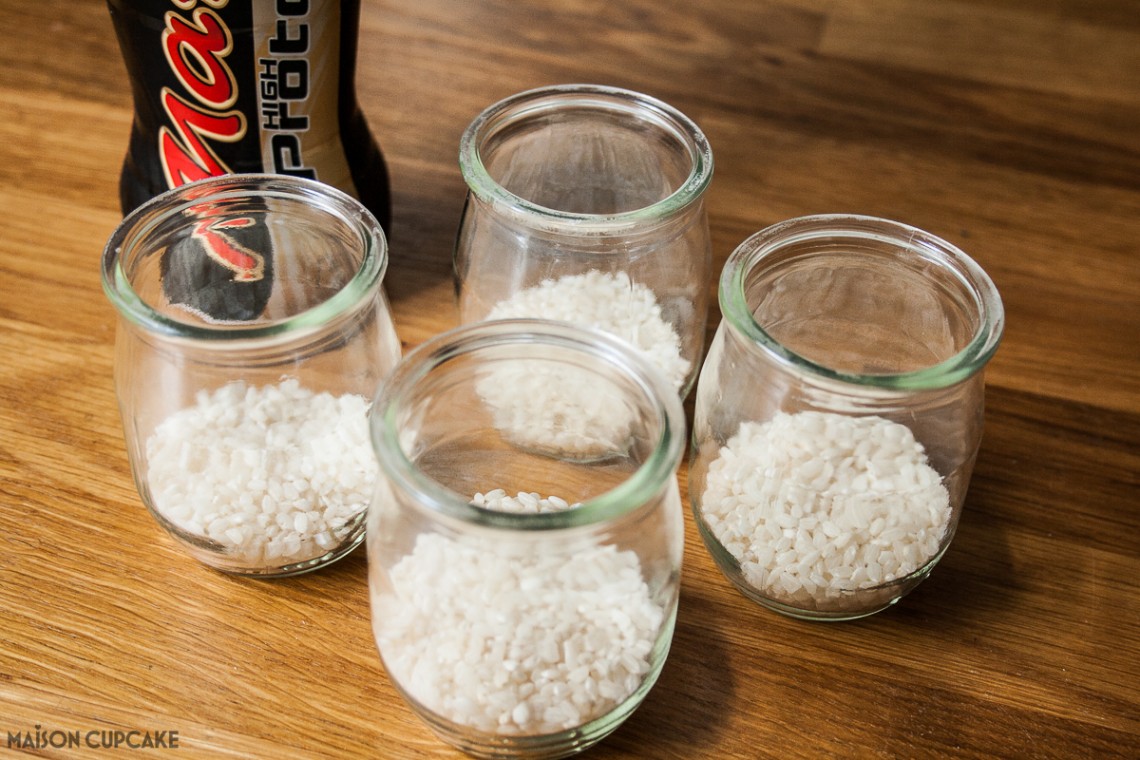 I have been waiting for the right recipe to use these glass French yogurt jars. You wouldn't believe how much scrubbing it took to get the glue off them!!
This photo was taken from an earlier batch that turned out a bit thick for me. So you'd use less rice than this unless your jars were bigger and you added more liquid.
And not pictured here but I added a teaspoon of sugar to each one. I used light brown sugar although I doubt it makes much difference as the Mars Milk drink is brown anyway.
I found a bottle of 380ml Mars Milk protein drink was the perfect volume to fill 4 jars – which if my maths is correct works out at 95ml each. Not that I measured it precisely – pour by sight.
If Mars Milk is not available in your country, you could substitute with a bottled chocolate milkshake or cold Nesquik type drink.
In an earlier version I wrapped foil around the jar tops but it meant you couldn't stir and the rice pudding got stuck on the bottom of the jar. I was worried the jars might not be heavy enough to be stable in their water bath but they were fine. So long as you are careful stirring you shouldn't knock them over.
Give them a gentle stir every hour. Use the low setting on the slow cooker.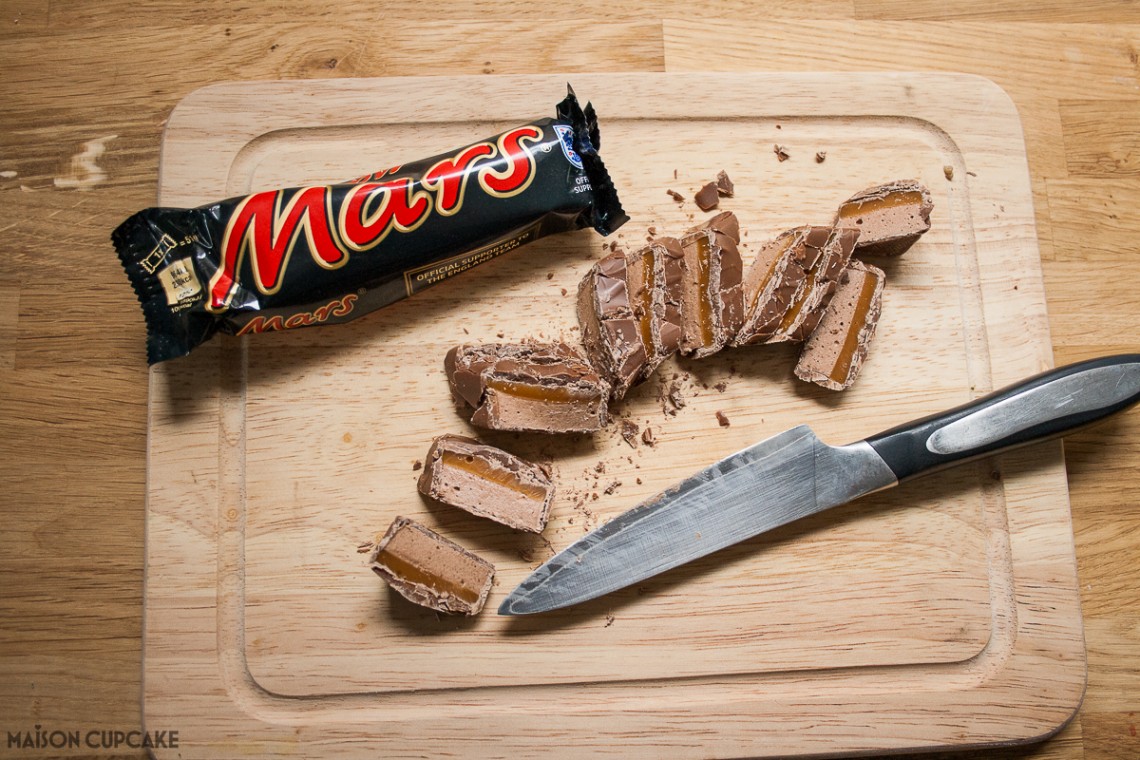 After the third stirring you can chop up a Mars Bar. No nibbling now!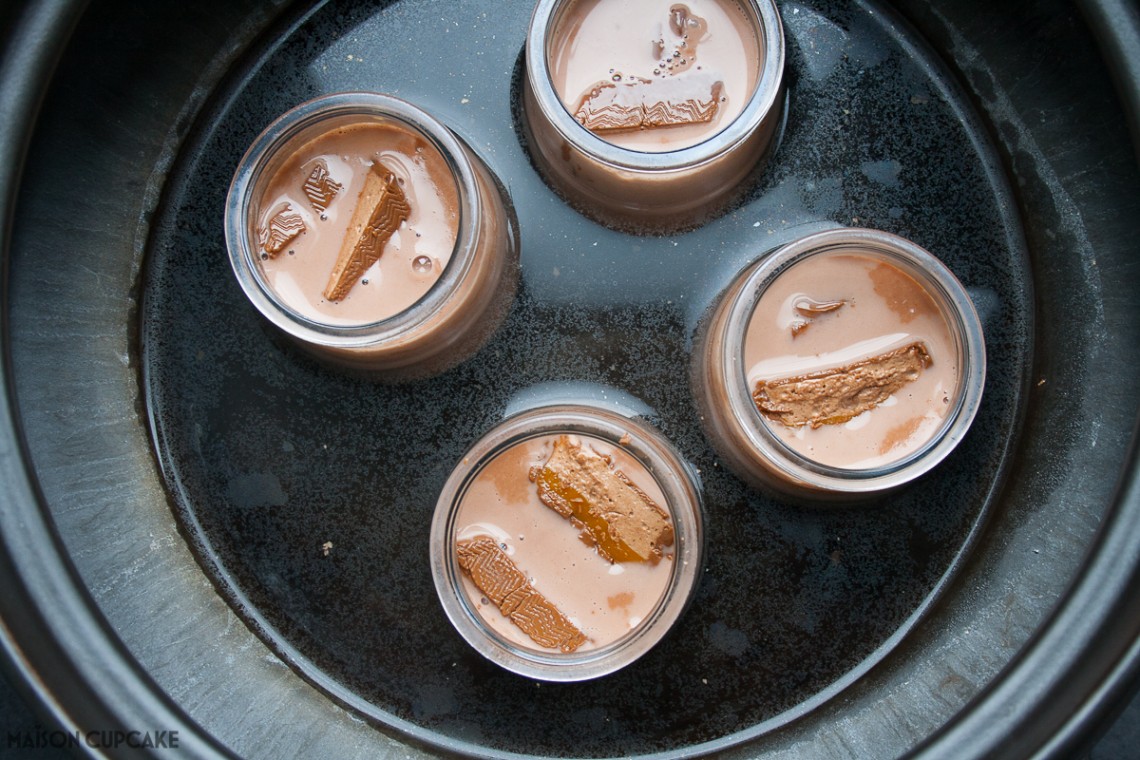 Drop several chunks of Mars Bar into each jar. One standard Mars Bar is enough for 4 puddings.
Leave to slow cook for a further 30 minutes after which time the Mars Bar should have melted (and bubbled up in a most satisfying fashion!).
Turn the slow cooker off. I left mine to cool inside for a bit then transferred to the work top after school pick up. You could totally eat these hot but I think they make a great chilled chocolate dessert that you can keep in the fridge for several days. If it's possible I mean – surely it isn't?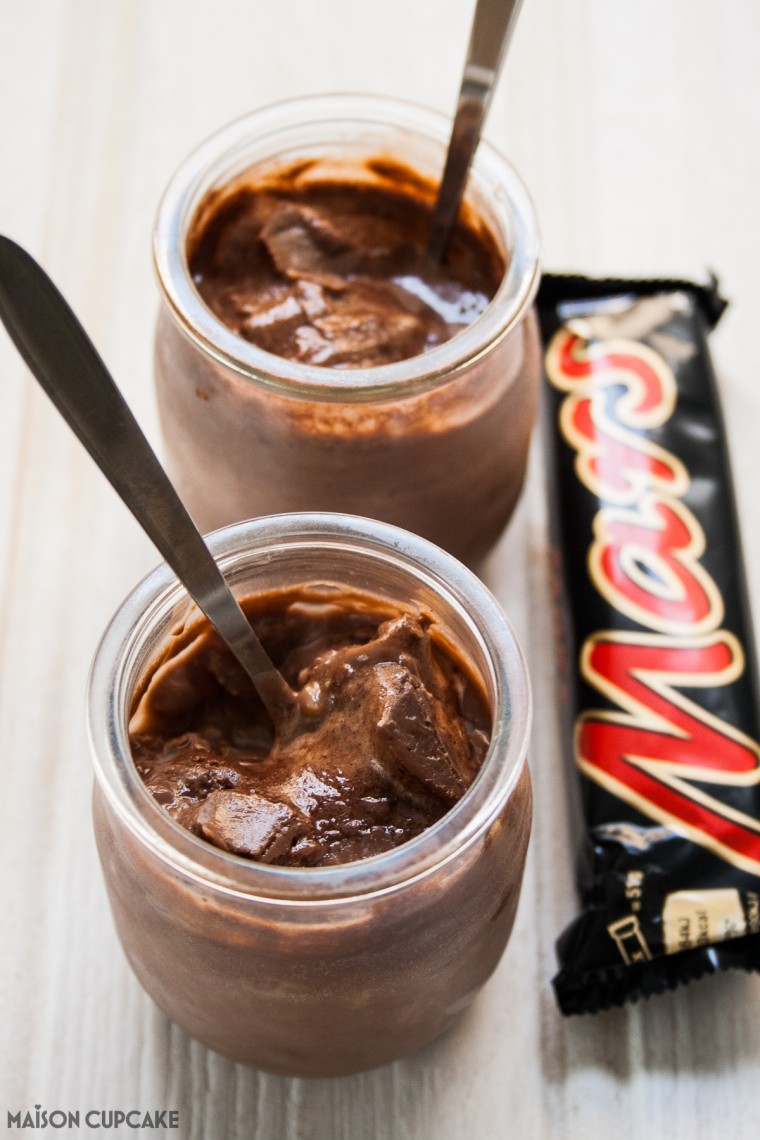 I am sending these Mars Bar rice puddings to: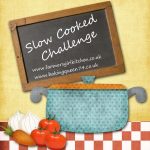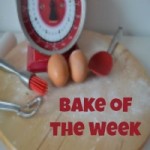 Slow Cooked Challenge hosted between Janice Farmer's Girl and Lucy Baking Queen
Bake of the Week hosted between myself and Casa Costello.
Print Recipe
Mars Bar Slow Cooker Rice Pudding
Make these easy Mars Bar Slow Cooker Rice Puddings with just 4 ingredients! Really simple dessert recipe that just needs stirring occasionally whilst you get on with your day!
Ingredients
8

heaped teaspoons of pudding rice

1

x 380 ml bottle of Mars Milk

4

tsp

light brown sugar

1

standard size Mars Bar chopped into chunks
Instructions
Using four heatproof glass jars, place 2 heaped teaspoons of pudding rice and 1 level tsp of light brown sugar into each.

Pour the Mars Milk into each jar in even amount - around 95ml each but just gauge this by sight. Stir the contents with a teaspoon.

Fill the slow cooker with several inches of water and stand the jars in this make sure it isn't too high and at risk of entering the jars. Aim for the water to reach 2/3 of the way up the jars.

Slow cook on low for three hours. Set a timer to go off every hour in between and stir the jars gently to stop the rice sticking.

After the third stirring, add chopped Mars Bar chunks into the tops.

Replace the slow cooker lid and leave to cook for a further 30 minutes.

Serve immediately or allow to cool and serve chilled.