Dinner With Crayons is my semi regular weekend series of child friendly restaurant reviews.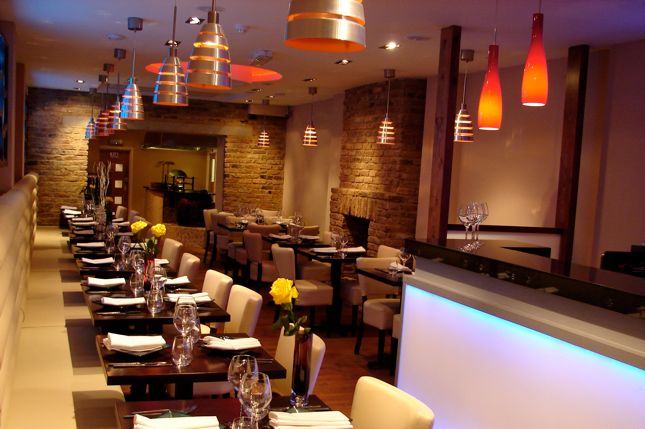 Spicy food pushes the boundaries of most toddlers. We've done pizza places, burgers, roast dinners. Even sushi. Ted loves strong flavours and has tucked into some Mexican dishes such chicken mole at Wahaca with gusto however Namaaste Kitchen in Camden was his first time eating Indian food.
They serve a weekday express lunch menu for hurried office workers. Although we were going on Saturday, if speedy efficient service was on order, it should also be good for impatient little people.
Someone was holding a "golf sale" style sign pointing to the restaurant outside Camden tube, not normally an indication of smart restaurants. Situated on Camden Parkway, Namaaste Kitchen is away from the main drag of weekend market tourists and shoppers, unless you're on your way to London Zoo. It was quiet when we arrived at 12.30 and didn't get much busier.
Although not great for business, to a young family near emptiness is an advantage.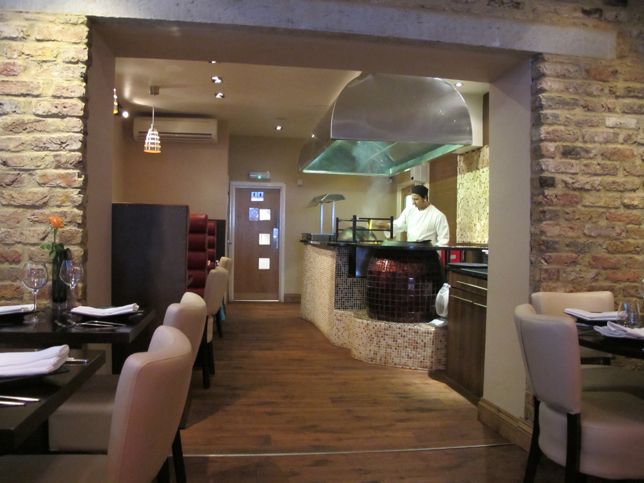 In the main restaurant area on lounge bar style cream leather seating we've a good view of the chef grilling traditional and modern Indian and Pakistani dishes. Towering flames proved exciting entertainment for a 3 year old. Appetisers were fairly usual; chutneys and pappadoms (which Ted thought were huge crisps).
From the substantial list of cocktails, wines and spirits we opted for two alcohol free cocktails; "Very Berry Mojito" made from blackberry, raspberry, lychee, mint and ginger beer and "Paradise Passion" featuring passion fruit, mango and lemonade (both £4.50). Both were colourful and refreshing. Alcoholic cocktails were priced from £6.50. Ted had plain juice with a straw.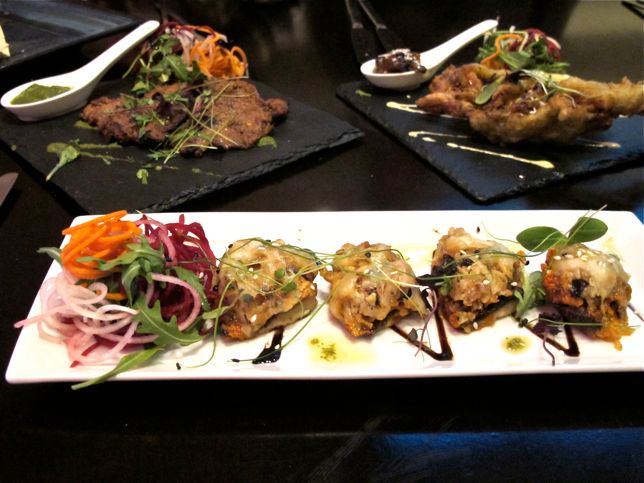 Starters. Tandoori Portobello Mushroom (£4.75), a creative vegetarian dish presented in quarters on a long serving platter. Large mushroom pieces topped with fig, cashew and raisin, chilli, home made cheese and a curry leaf dressing. An excellent start to the meal and I'm feeling quite hungry writing about it again.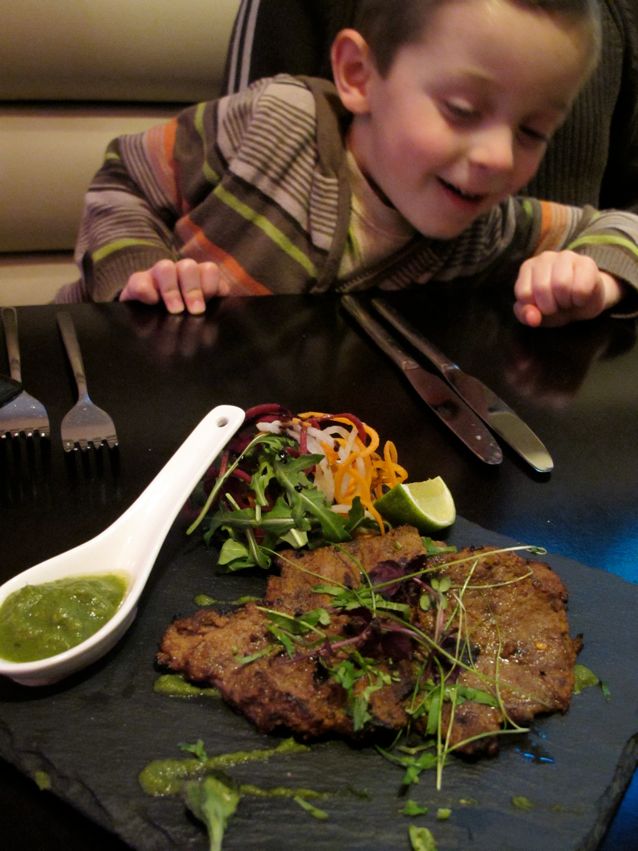 Jungle Style Chargrill Lamb Kebab (£4.50) came with a red onion salad and fresh mint sauce. It was gently spicy but quite chewy and no good for fussy little teeth.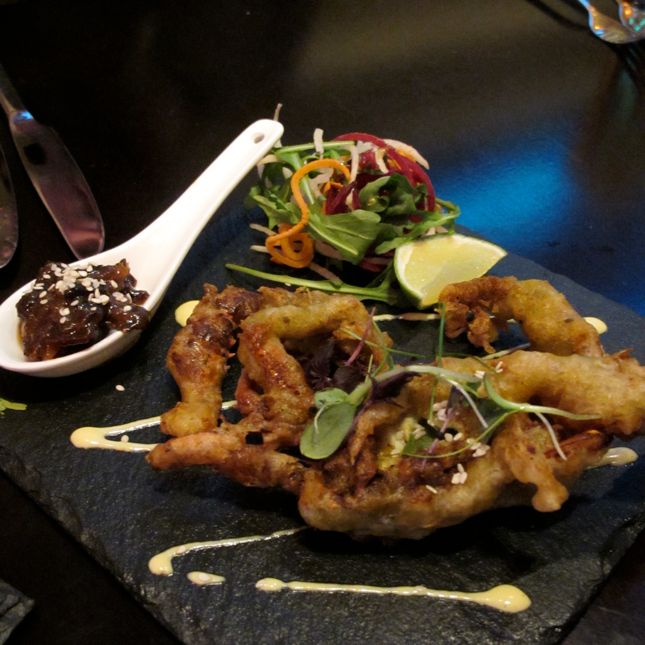 The proprietor urged us to try soft shell crab with thick spicy fig and prune chutney (£5.95). I'm glad he did. Similar dishes have often been too much soft shell and zero crab, hence my reluctance to order but the semolina batter pieces were generously filled with succulent meat marinated in green peppercorn and lemon sauce.
Ted's starter portion of Murgh Tikka (£4.50) is marinated in Philadelphia and homemade yogurt with green chutney. He mostly ignored the salad but enjoyed the juicy chunks of chicken and our naan bread.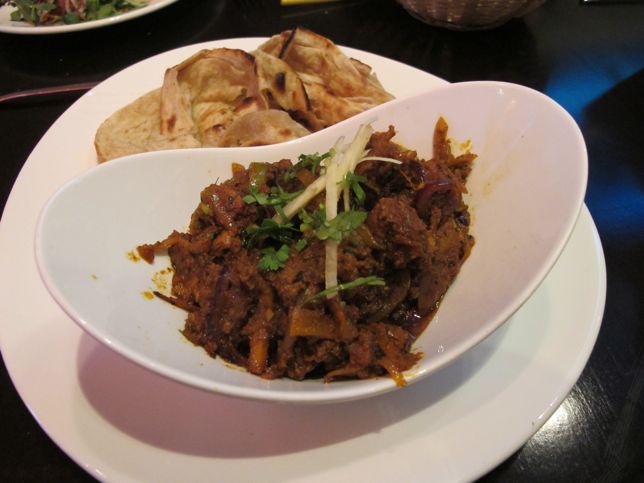 Mains. Gurda Keema Taka Tak (£11.95), a chopped lamb and kidney bhuna with yogurt and lachcha paratha bread had been praised by Londonist and I felt compelled to try it. It's a Pakistani roadside cafeteria dish that knocks the socks off anything at Scratchwood Services. Well spiced with similar heat to strong dhansak, the bite size lamb and kidney pieces were a fine texture without being minced. I liked this. Possibly the best curry dish I've had in years.
A large breast of Tandoori Rubiyan Duck (£14.95) kept my husband quiet. Strong presentation, tender meat topped with a giant grilled prawn.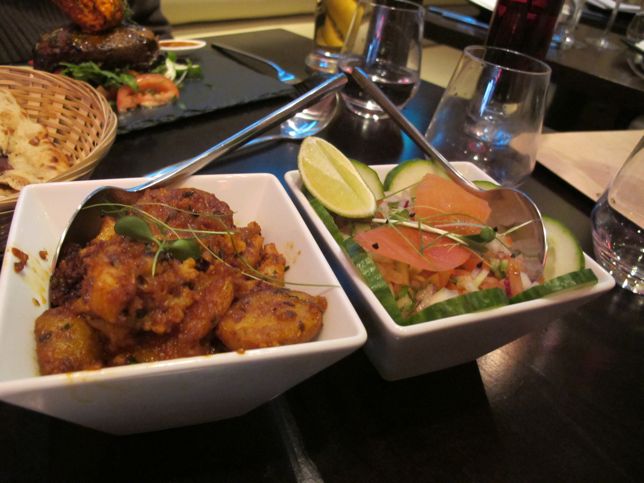 Side dishes. We couldn't finish everything; generous portions of pilau rice topped with crispy fried onions, Indian style katchumber with half moons of cucumber and aloo gobi free of ghee oiliness (the latter we'd discussed with the waiter and not meant to order but it came anyway).
We'd been here quite a while now and Ted was twitchy. He had his dessert of chocolate mousse cake with ice cream whilst we ate mains. I enjoyed Tandoori Pineapple with Coconut Sorbet (£4.50).
The bathroom facilities were less polished than the restaurant interior and quite cramped. Nowhere to change babies but fine otherwise. (I forgot to ask about high chairs).
Verdict: I estimate this meal would cost around £70-80, which sounds a lot for two plus a half for a weekend lunch without alcohol but the meat dishes (apart from lamb starter) were all excellent. The Express Lunch, available weekdays at £8.99 for 2 courses or £11.99 for 3 (notably featuring Taka Tak) and is better value. Apparently the Express Lunch comes free if not served within an hour… an odd concept surely? Something is amiss if it takes longer than 30-40 minutes.
The modern interior looks smart but still a narrow unit in Camden, home of chain restaurants and market snacks rather than stylish and contemporary venues. I wish Namaaste Kitchen well and would recommend the food but I would go to a smarter part of town unless there for the lunch deal.
We were guests of Namaaste Kitchen, 64 Parkway, London, NW1 7AH.