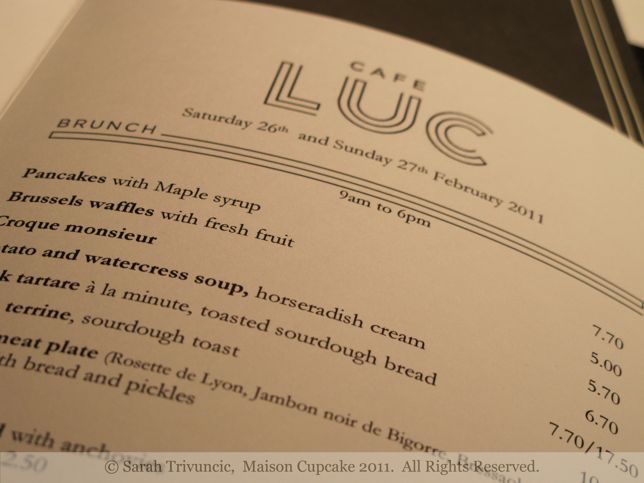 Café Luc is a Belgian restaurant on Marylebone High Street. I have happy memories of trips to Belgium and I was really looking forward to this.
Despite the menu above indicating my visit was in February, I've perfect recall of the meal.
You'll soon see why.
Update December 2011 – Cafe Luc has now closed hence there is no longer a web link. Whether reviews like this were a contributing factor I cannot possibly comment…!
Things started well; lively atmosphere, welcoming staff casually dressed in white shirts and jeans, smart interior.
With companions, Michelle and Solange, I settled in a semi circular leather banquette seat to order.
House champagne by the glass was fine although served in a chunky tall glass rather than stemless. Michelle didn't enjoy her mojito nor carrot juice. See why in her review.
After eliminating breakfasts from the weekend brunch menu, a repetitive jumble remained. Beef, over represented by three versions plus tartare; two seafood salads but no fish.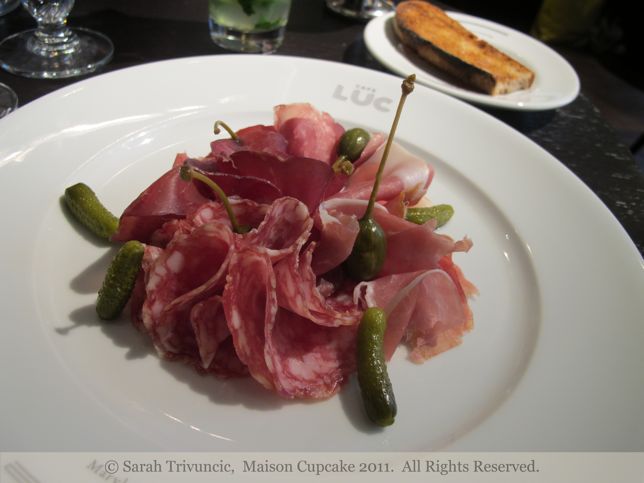 No problems with my starter platter of cured meats with cornichons and caper berries on stalks although the sour dough bread was rock hard.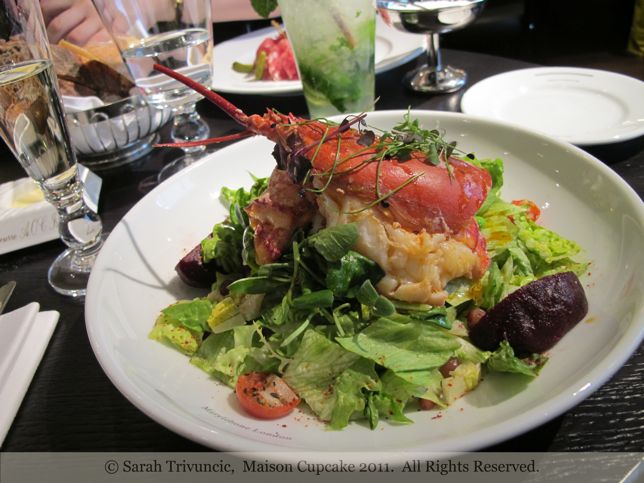 Michelle had a huge lobster salad to start.
The menu had baffled us. Which dishes were starters, which were mains? Despite discussion with the waiter, Michelle ended up with two mains sized courses.
The lobster came with marie rose sauce.  Solange's game terrine came with cornichons and jelly. Check Solange's review.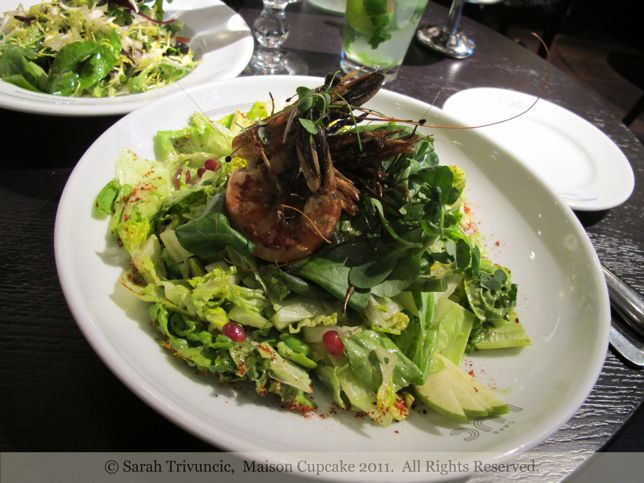 After seeing the lobster starter, I had high hopes for my Cafe Luc signature salad. Sadly soon quashed.
For twelve pounds you get two lonely prawns perched on a mountain of lettuce, a few frozen broad beans, some celery, apple, occasional roasted pine nuts and pomegranate seeds (huh?). The combo does not work.
Worse still, I'd asked for my lemon and chive dressing on the side but they'd mixed it in anyway.
I deliberated whether to send it back. No staff nearby during the next few minutes so I gave up.
The two chargrilled prawns were very nice. But after a few mouthfuls they were gone and hey! I'm still hungry here! The rest was tedious anti-climax.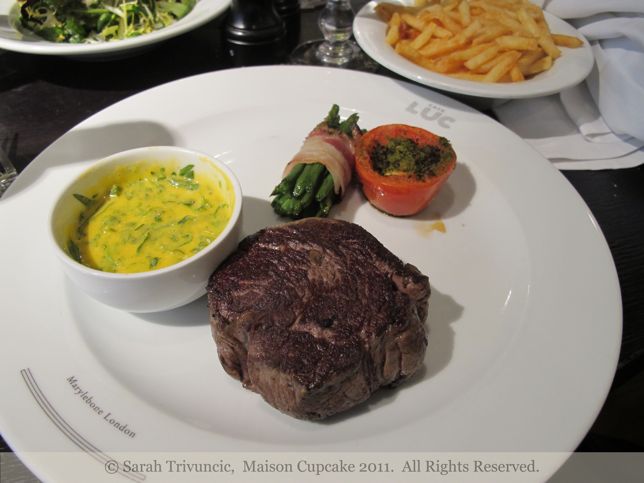 I might have pinched some of my friends' fries were they not so dull and tasteless (the fries I mean, not the friends).
The Scottish beef fillet steak, although not be obvious from the photo, was rare just as ordered. The tarragon in the béarnaise sauce was not chopped finely enough.
For £28, this is all a bit steep when you could have Beef Royal at Heston's Dinner for the same price.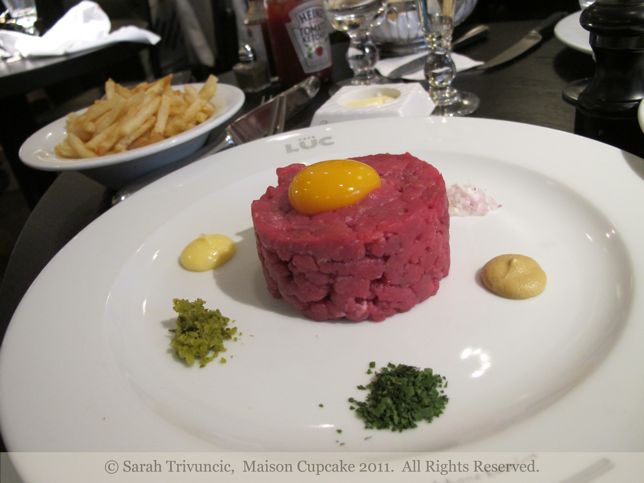 Solange reported that the tartare was good. Which was fortunate since she'd waited fifteen minutes for someone to take it away and mix before bringing back to the table.
Still hungry, I pinned my hopes on a trio of home made ice creams; vanilla, speculoos and salt caramel.
What boring, boring ice cream. Rough textured as if partially defrosted then refrozen. The other two flavours were smooth but the speculoos didn't taste biscuit-ey, only of ginger, and the caramel was devoid of any salt flecks.
Bobbles of chocolate balls gave an air of Muller Corner. Pizza chains serve better ice cream than this.
Solange's Nutella crème brûlée lacked the satisfying Amélie-style crack. Just a thin sprinkling of burnt tasting sugar on top of a shallow layer of pale brown custard with little evidence of Nutella.
I think they'd been sitting around allowing the scant skin of caramel to dissolve.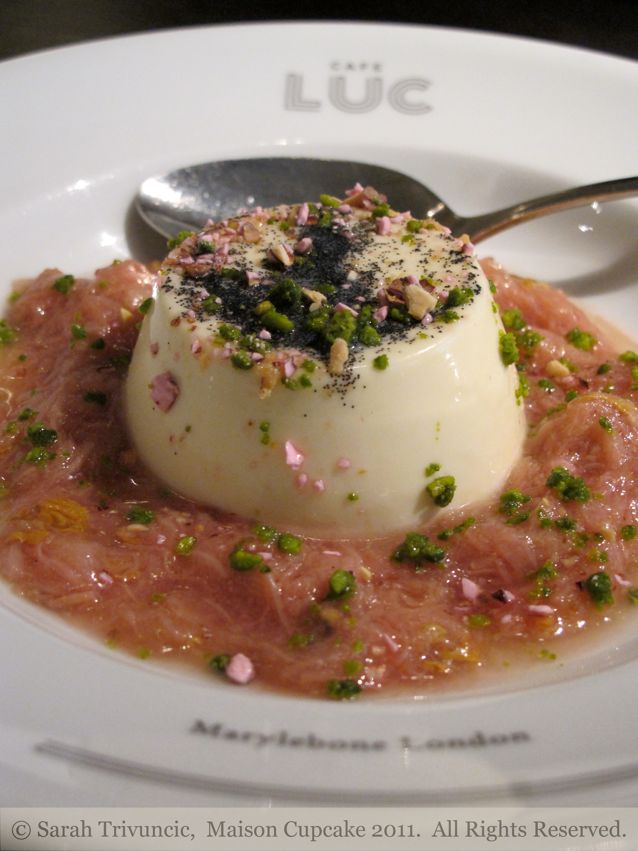 Finally, this is rhubarb panna cotta. The panna cotta seemed ok underneath but what a way to kill it…
Yukky pink and green colour combo, bizarre gritty garnish of pink praline and pistachio then an overpoweringly acidic yet watery rhubarb compote. February seems to have been the month of gritty bits on puddings.
It's not a great memory to leave with.
Of the three of us, I had the worst experience. But my friends each had at least one duff dish. Café Luc is over priced and its brunch menu gives poor choice and lacks consistency.
Service was also inconsistent; a friendly welcome but at the table varied from Parisienne froideur to timid then non-existent.
On balance, I see that Luiz from London Foodie whose opinion I rate, had a better experience across several visits – although he has had similar issues with service.
Café Luc
50 Marylebone High Street
LondonW1U 5HN
Tel 020 7258 9878

I should also point out that Cafe Luc serves an off peak 3 course set menu at £15.90 which sounds much better value although none of the dishes on it at the moment overlap with what we had.

We were guests of Cafe Luc