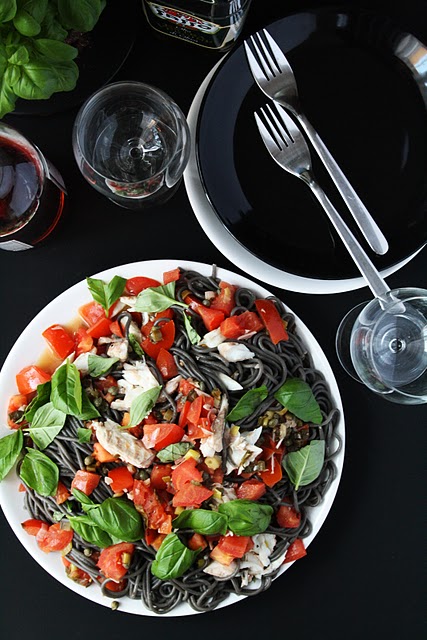 Fashionably late, today we have the round up of Forever Nigella 4 Ciao Italia entries.
It was never deliberately planned that I would host Monthly Mingle and a busy event of my own at the same time!
I must confess that after all the visiting and commenting on entries for both events (at the same time as being unwell) and compiling the Mingle round up at the start of this month, I needed a week before I could face doing another one…
The picture above was one of my personal favourites, you'll have to scroll down to see who it was by.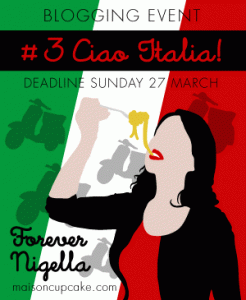 My delightful friend Guilia of Juls' Kitchen was judging Ciao Italia, you'll find out which entry she has declared the winner further down.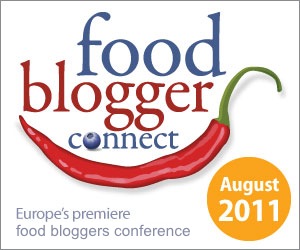 Juls and I first met at Food Blogger Connect. We're both going again at The Hempel from 12-14 August this year.
But for now let's prove that La Vita con Nigella e Bella and move on with the show…. so many of you trooped in with your biscotti, zabaglione, spaghetti, it's quite a feast. Avanti!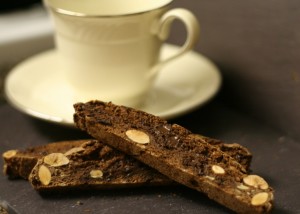 Yen Bakery talks about the joy of dipping Chocolate Biscotti into coffee
Dom at Belleau Kitchen makes use of some chicken thighs in Pollo Cacciatora
http://belleaukitchen.blogspot.com/2011/02/pollo-alla-cacciatora-forever-nigella.html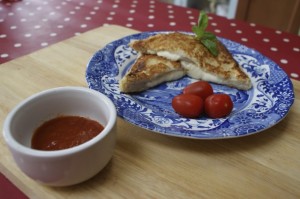 Katie at Feeding Boys and a Fire Fighter treats her little ones to Mozzarella in Carrozza
http://feedingboys.wordpress.com/2011/03/09/simple-lunch-idea-mozzarella-in-carrozza/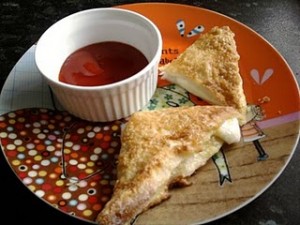 As did Jo at Comfort Bites
http://comfortbites.blogspot.com/2011/03/forever-nigella-3-ciao-italia.html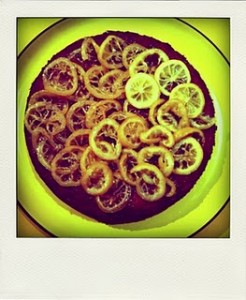 Katey makes Lemon Polenta Cake inspired by a trip to Florence.
http://edinburgheats.blogspot.com/2011/03/forever-nigella-lemon-polenta-cake.html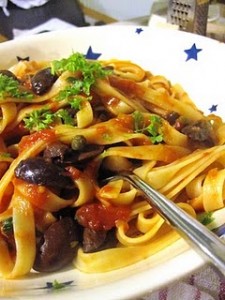 Antonia is entertained by Nigella's description of the origin of puttanesca with this Slutty Spaghetti
http://foodgloriousfood-toto.blogspot.com/2011/03/nigellas-slutty-spaghetti.html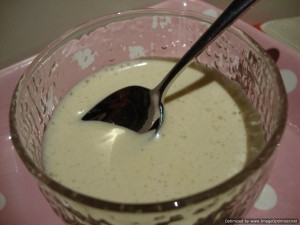 Kelly at Domestic Goddesque has fond memories of exceeding the authorised booze allowance at a Sixth Form dinner party with Zabaglione
http://domesticgoddesque.com/2011/03/anti-ageing-zabaglione/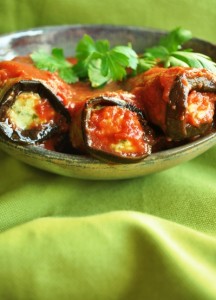 Sally at My Custard Pie has succeeded where I have failed for many years; she has made Involtini from aubergine… these have been on my "to-do" list for far too long and they look fantastic.
http://mycustardpie.com/2011/03/23/involtini-a-pine-nut-cloaking-device/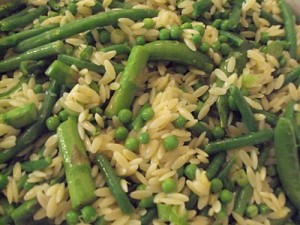 Michael at Me, My Food and I celebrates the arrival of spring with Pasta Salad Primavera
http://michaeltoa.blogspot.com/2011/03/pasta-salad-primavera.html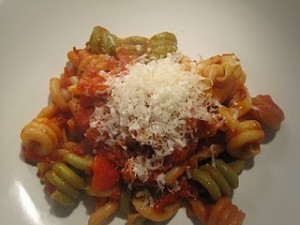 Jenny at Domestic Angel of the North takes comfort from bad news with Rigatoni al Pomodoro e Prezzemolo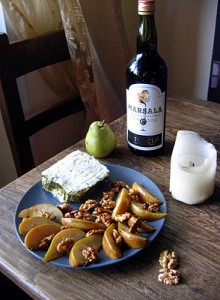 LO81 at A Taste of My Life goes for simple but sublime Gorgonzola with Pears and Carmelised Nuts in Marsala… this is sending me hopping off down the road to buy gorgonzola as we speak…
http://muffin81.blogspot.com/2011/03/gorgonzola-con-pere-e-noci-caramellate.html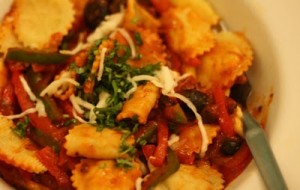 Sidiqa at Spontaneous Euphoria celebrates 150 years of a unified Italy with this tricolore Chicken and Pasta dish
http://spontaneous-euphoria.blogspot.com/2011/03/forever-nigella-ciao-italia.html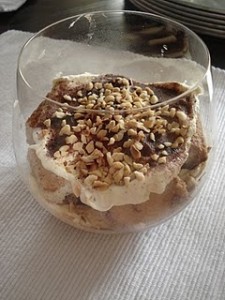 Chele at Chocolate Teapot tempts us with Chocolate and Frangelico Tiramisu served in individually glasses – of Nigella size proportions!
Michelle at Food, Football and a Baby introduces us to the Italian version of Baked Alaska featuring homemade panettone and lemon frozen yogurt
http://foodfootballandababy.blogspot.com/2011/03/italian-baked-alaska-forever-nigella.html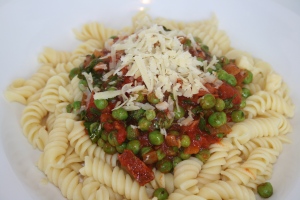 Jo's Kitchen has served up a tasty sounding Fusilli with Chorizo and Peas
http://joskitchen.wordpress.com/2011/03/23/forever-nigella-ciao-italia/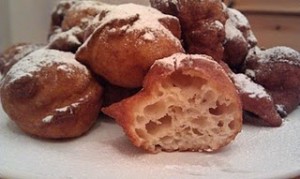 Anne at Anne's Kitchen has thrown us Baci di Ricotta – in translation this means Ricotta Kisses. Let's send them back to her – Mwar! Mwar!
http://anneskitchen1.blogspot.com/2011/03/baci-di-ricotta-forever-nigella-3-ciao.html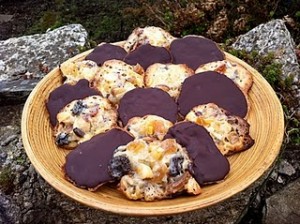 Choclette at Chocolate Log Blog has made these chewy chocolatey Florentines
(page no longer available)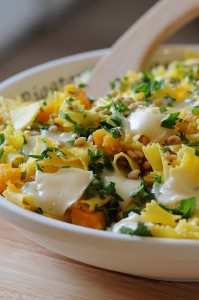 Ren at Fabulicious Food has made a dish with one of my absolute favourite varieties of pasta, Pappardelle with Butternut and Taleggio
http://www.renbehan.com/2011/03/pappardelle-with-butternut-and-taleggio.html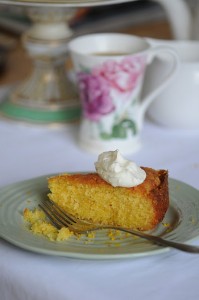 and as if that wasn't enough, Ren came back with pudding – this beautifully photographed Orange Amaretto and Polenta cake.
http://www.renbehan.com/2011/03/orange-amaretto-polenta-cake.html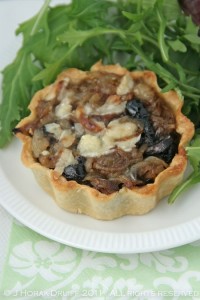 Jeanne at Cook Sister shares Olive and Onion Tartlets
http://www.cooksister.com/2011/03/olive-onion-tartlets.html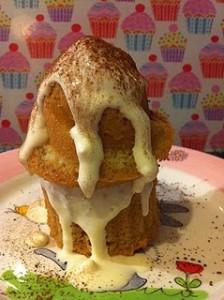 Anne at I Heart Cupcakes deconstructs Irish Cream Tiramisu to make some oozey boozey cupcakes from a rather awesome cupcake mould
http://i-heart-cupcakes.blogspot.com/2011/03/de-constructed-oozing-tiramisu.html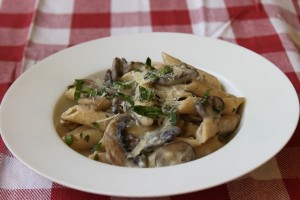 Lana at Bibberche tells an evocative story about sharing a meal with distant relatives in Serbia and foraging for chanterelle mushrooms
http://bibberche.com/2011/03/nigella-mushroom-sherry-pasta/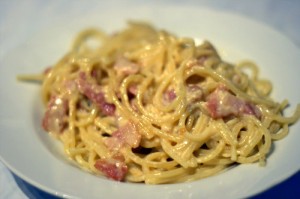 Helen at Fuss Free Flavours tells a tale of three carbonaras
(page no longer available)
Yummy Chunklet and her trusty companion Candleabra each whip up Pollo alla Cacciatore with cannellini beans
http://yummychunklet.wordpress.com/2011/03/27/forever-nigella-ciao-italia/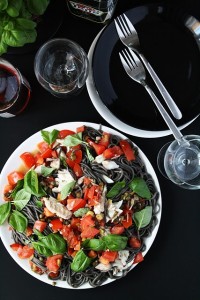 Josie at Cumin the Cupboard makes this amazing Italian Squid Ink Pasta with Sea Bass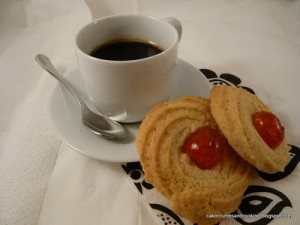 To accompany your espresso, Cakes Crumbs and Cooking recommends these Italian Biscuits from How To Be A Domestic Goddess – I like the version she's done topped with a Minstrel!
http://cakecrumbsandcooking.blogspot.com/2011/03/forever-nigella-3-ciao-italia.html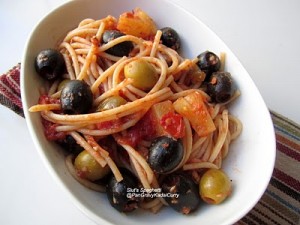 Cool Lassi(e) at Pan Gravy Kadai Curry has made Slut's Spaghetti – presumably Nigella's play on Puttanesca!
http://pangravykadaicurry.blogspot.com/2011/03/sluts-spaghetti.html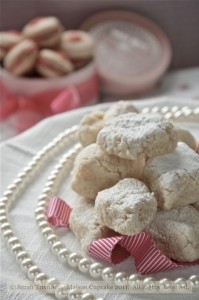 and finally, yours truly at Maison Cupcake kicked off Ciao Italia with these dinky Sienese Ricciarelli
https://maisoncupcake.com/forevernigella-3
This round's winner…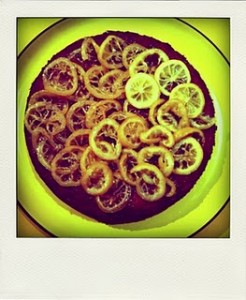 Juls' favourite entry was Katey's Lemon Polenta Cake at Edinburgh Eats.
Here's what Juls had to say:
It has been a hard decision, there were so many good recipes! Everyone managed to mix the most Nigella-ness with a great sense of Italian food and style, so it was difficult for me to choose just one winner: pasta, tiramisu, chicken cacciatore style, biscotti… everything was so appealing!
But it was my task, so… I couldn't help but coming back often to Katey's recipe,
Lemon Polenta cake
, conquered by the flavours and summery aromas you can breath there! Born to use leftover lemons, it makes the best out of them. The use of rosemary along with lemon is very Tuscan style, so very appreciated by a Tuscan country girl as I am! Congrats!
Katey wins a bundle of Eat Pray Love goodies; DVD, book and CD soundtrack. Well done Katey, I'll be contacting you to arrange delivery of your prize.
Forever Nigella 4 Street Party!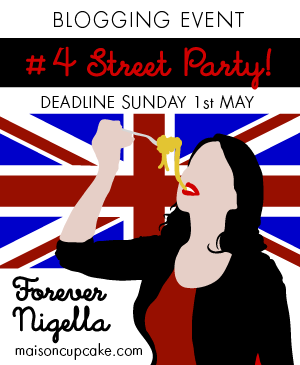 Don't forget… Forever Nigella 4 is open for entries now. You can enter any Nigella recipes for party food, especially things suitable for big groups of people.
Our current host and judge is Mardi at Eat Live Travel Write and the theme is street party food in honour of the royal wedding and runs until May 1st.
I will be sending to whoever Mardi deems to exude the most Nigella-ness this limited edition Emma Bridgewater tea towel with Matthew Rice illustration commemorating the William and Kate's big day. This prize will be despatched internationally – hence its light weight!