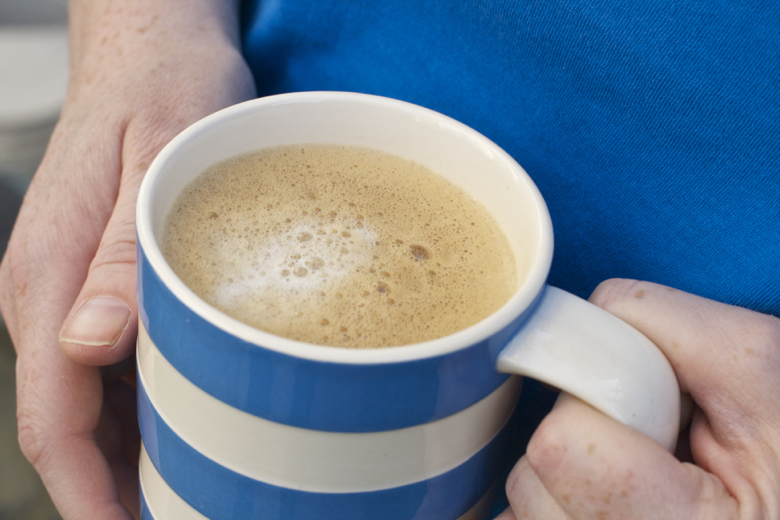 Can you grow into liking something a food or drink?
Few foods have ever fallen into the bracket of "won't eat, can't eat" for me; only pomegranate, marrow, and eel*.
Whereas with drinks I have always been supremely fussy. As a child I was surrounded by tea drinkers. The more they persisted in offering me steaming cups of brown liquid, the more I pulled a face and looked away.
Milk you see, sogging my cereal with it's streaky signs of being on the turn, was my nemesis. Those third of a pint warm white bottles rattling out of their crate to be stabbed with skinny green straws each morning playtime. I was relieved when Margaret Thatcher Milk Snatcher took the damn stuff away.
Noone really drank coffee when I was small. Joanna Lumley threw it into plant pots in the Mellow Bird's ad. My dad kept a jar of Alta Rica in the cupboard but I had coffee firmly filed as yukky warm milky drink whilst espresso was still an alien concept in Birmingham.
Over the years, my hatred of milk mellowed. The silver topped bottles wrecked by blue tits for their cream were replaced by semi skimmed tetrapaks. I realised the streaks that had encircled Shreddies were absent from skimmed milk and thus by the age of 25 I could eat granola with skimmed milk.
Strangely, hot chocolate never invoked the same disgust in me and since Costa culture arrived have drunk this occasionally. When there's snow on the ground maybe. So quite often in recent years.
Writing the blog, we've reviewed coffee machines several times, most recently this Nescafe Dolce Gusto model shown below. Ted gets very excited by coffee machines so whilst I didn't rate the hot chocolate pod drinks from other machines (the Tassimo version tasted synthetic) I did delight in the joy of showing Ted how the machines worked and serving him luke warm babycinos.
And the last powder machine (also by Delonghi) we reviewed arrived in a heatwave switching me on to really enjoying iced coffees at last so long as they're cold,  sweetened with syrup and made with skimmed milk. But a powder machine is a faff, when the heat wave was over I was no longer motivated to bother making them and resented the space the old machine took up on the worktop.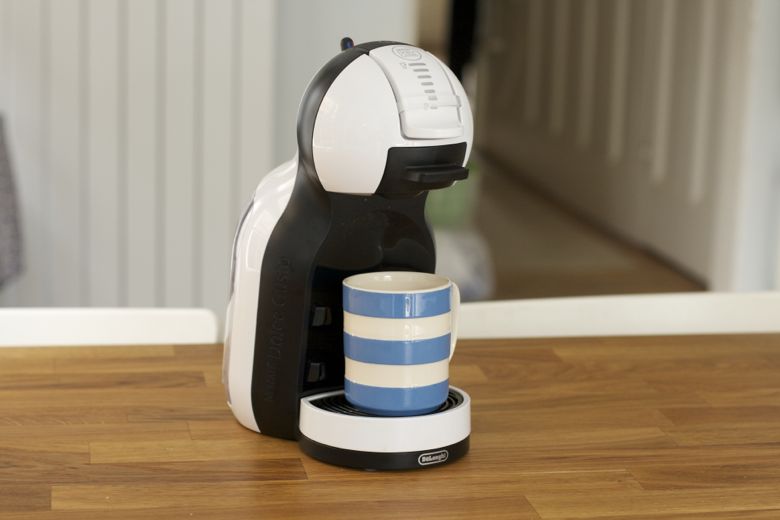 The Nescafe Dolce Gusto machine has a much smaller footprint, barely larger than a jug kettle. The water tank can make around four cups and is less fiddly to replace than Tassimo / AEG / Delongi Icona. I lost will to live making coffees for friends with the latter machine but it's way easier with this one.
The pods work about about 22p each for cafe au lait and twice that for cappuccino two pod drinks. It might work about pricey if you drank lots of coffee but for speeding things up in the mornings my husband loves using this machine rather than the stove top one with powder.
I won't go so far to pass judgement on coffee quality. I am a girl who eats Dairy Milk rather than single bean chocolate bars so if heavy analysis is your domain it isn't mine. Suffice to say it doesn't taste of plastic, the cafe au lait with a dowsing of Monin syrup over ice is the business and similarly sweetened I am astounding myself by drinking the hot version too. It's taken 41 years to get to this point.
I have gathered my musings about the Nescafe Dolce Gusto machine itself in my latest YouTube video below; pros and cons and a star rating. Please watch, tell me what you think and whilst you're at it, subscribe to the Maison Cupcake YouTube channel.
*Pomegranate I have grown to love, but those pips are a nuisance. Mushed marrow littered with gigantic seeds was once force fed to me by a fierce French woman. Eels revolt me to this day.
With thanks to Dolce Gusto for providing a sample machine.