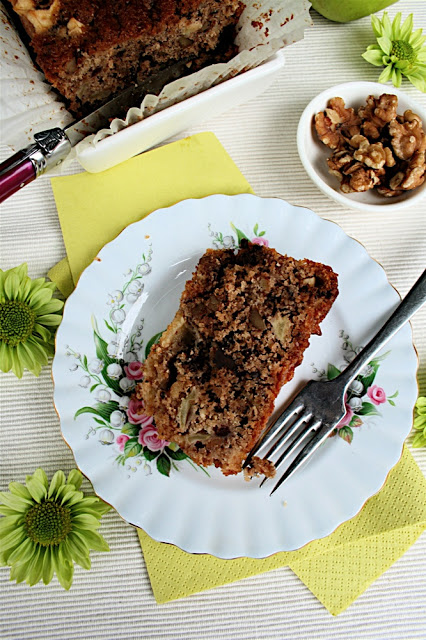 Aha! You thought I'd gone away for the summer but I have one last trick up my sleeve before taking my self imposed August blog break.  I realised I still hadn't entered English Mum's Big Bake Off and that this nutty apple loaf was just the ticket.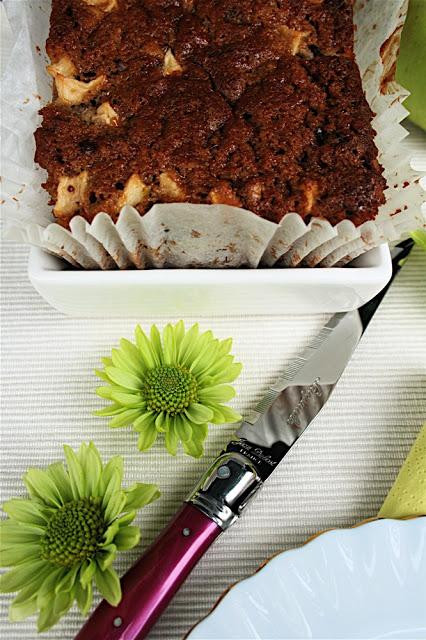 This is the cake that I made for the foodbloggers' Masterchef event at the Miele showroom earlier this month. I brazenly lied to Mr Egg and Mr Toad that the cake only required 30 minutes in the oven, I knew full well it needed a good 45 but since I didn't watch the show I didn't realise contestants normally only get 60 minutes and had only skim read my email with the timings absorbing just the bare facts "you'll be cooking between 2 and 4pm" blah blah blah.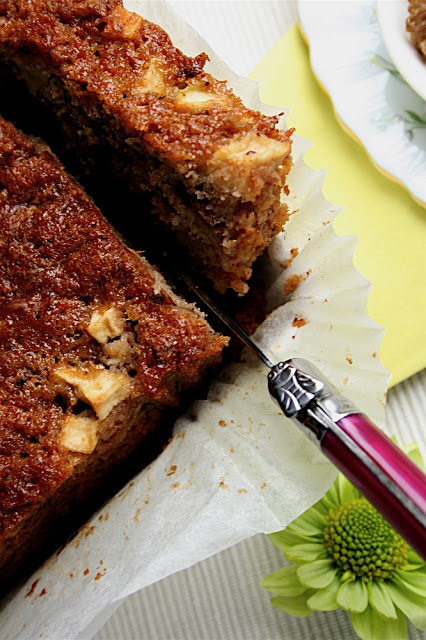 It was with mild panic therefore that I realised 90 minutes before leaving the house that a) my apples in the fruit bowl had gone a funny colour and b) we had 60 minutes not 2 hours to make two items. My other item if you've not seen the previous post was Hazelnut French Macarons which were a foolhardy enough thing on their own.
Still, all that's history now and it worked out fine. I'm not sure if Egg and Toad were just being polite or sarcastic when they said that the good thing about cake mix was that it tasted good even if it wasn't cooked. They should know – cheeky so and so's kept dipping spoons in my bowl throughout!
Anyway, just to prove that this cake recipe does work, here is the cooked version for your delectation.
I am supposedly signing off now during August for a technical break to finish my new WordPress site although I will be bribing all you folks to remember me by running a couple of giveaways in the meantime.
GIVEAWAY: THE MASTERCHEF COOKBOOK – SIGNED COPY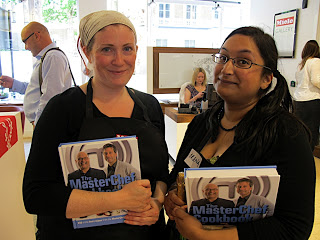 I am giving away my copy of The Masterchef Cook Book, signed by Greg Wallace and John Torode.  This giveaway is open to all readers with a UK mailing address. International readers are also welcome to comment however they will receive an alternative lightweight mystery prize if they win the giveaway. The first UK reader drawn will receive the Masterchef book.  The winner will be chosen using an online randomiser and announced in a subsequent post on this blog.
1. MANDATORY: Leave a comment on the bottom of this post no later than midnight BST on Sunday August 8th 2010. Note for entrants commenting without website addresses: You will also need to leave your name/town in the comment and then email me separately at sarah AT maisoncupcake DOT com to tell me your own email address and confirming your name/town so I know which commenter you were. Unless I can match up comments with valid contact details, a new winner will be chosen.
2. SECOND CHANCE TO WIN:
Visit and "Like" my new Facebook page also by midnight BST on Sunday August 8th 2010.  Everyone who already "likes" the new
Maison Cupcake Facebook page
will also be entered into this giveaway.  
You must have your Facebook account settings such that people viewing your profile are able to send you messages otherwise how can I contact you if you win?
LASTLY…
This doesn't influence your likelihood of winning the Masterchef book but I can promise that my readers would be showered with glorious giveaway prizes on a regular basis if I were to become a finalist for the Cosmopolitan Blog Awards. Never mind winning, I'd be delighted to even be shortlisted. Please click this link and nominate me in the Lifestyle category, telling them what you like about Maison Cupcake.  If you really love me you can ask all your friends on Facebook/Twitter/down the pub to nominate me aswell (you can bribe them with an entry to the Masterchef Cookbook giveaway if nothing else).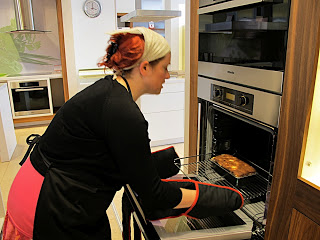 Nutty Apple Loaf going into gorgeous all singing all dancing oven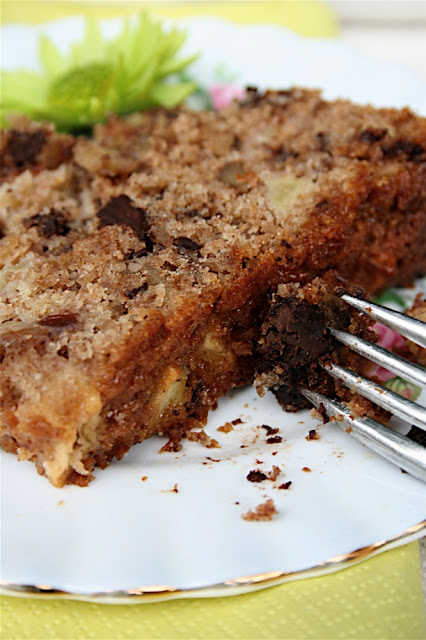 Nutty Apple Loaf with Caramel Drops
I have made a few changes to the Hummingbird version of this recipe; by using wholemeal flour instead of plain, using all walnuts instead of mixed nuts and by using double the amount of chocolate (why ever not?).  I've also omitted a stage where you are supposed to leave batter hanging around overnight as it seems pointless to me and I cannot imagine the cake would take any better if you did.
Finally, I made the version in the photographs using the caramel drops from Hotel Chocolat that I'd won in a giveaway on
Mowielicious
.  They tasted awesome with the apple but if you cannot get hold of these you can use normal baking chocolate chips.
Ingredients
175g softened unsalted butter
140g soft light brown sugar
2 tablespoons strawberry jam
2 eggs
140g wholemeal flour
1 tablespoon baking powder
1 teaspoon ground cinnamon
100g roughly chopped walnuts
100g Hotel Chocolat caramel drops or chocolate chips
2 eating apples, peeled, cored and roughly chopped into smallish pieces (smaller than butter beans but bigger than kidney beans).
You will need a 23 x 13 loaf tin, greased and lined with baking parchment
Method
1. Preheat the oven to 170c / Gas Mark 3. Using an electric mixer (freestanding or handheld), beat the butter, sugar and jam until pale and fluffy.
2. Add the eggs one at a time making sure that all the batter around the edge of the bowl is getting incorporated.
3. In a separate bowl, sift the flour, baking powder and cinnamon then beat in the butter and sugar mixture. Stir the nuts, caramel drops and chopped apple into the batter by hand until mixed in.
4. Pour into the prepared tin and smooth the surface with a palette knife. Bake for 50-60 minutes or until brown and the sponge feels firm. A skewer should come out clean although there will be some molten chocolate.
5. Allow to cool in the tin for a while before turning out onto a wire cooling rack.  This is a moist cake and keeps beautifully in a tin for 4-5 days.