String style pastas, whether they be linguine, spaghetti or tagliatelle make the ultimate fast kid friendly meals that can be freshly cooked in single portions.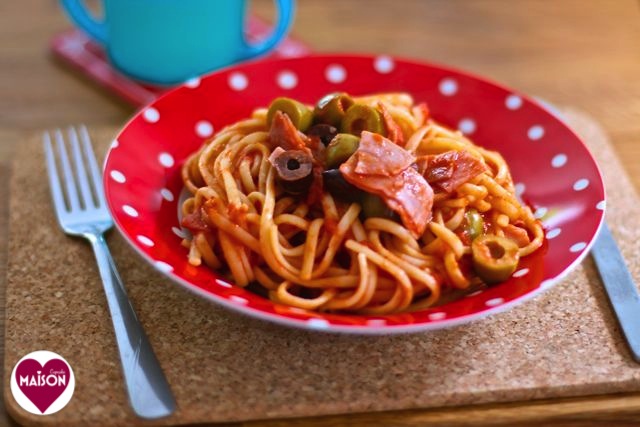 It's Sunday night and the husband and I are intending to dine on left over takeaway. Our predeliction for hot indian curries is not shared with our son hence I need to cook up something in a hurry and various permutations of spaghetti with sauce are my go-to speedy supper.
Pasta only takes around 10 minutes to boil and goes perfectly with bits of left over cooked meat in the fridge, a little sauce. If you're really pushed, even good olive oil with a grating of strong cheese is a decent pint sized feast.
Tonight I've made slightly more effort and prepared some virtually instant tomato sauce with ham and olives. Years ago I used to buy pasta sauces but I'm puzzled why anyone would bother now. Instead I bulk buy plum peeled tomatoes and make my own. If home made pizza is on the agenda, I might make a slow cook tomato sauce in batches for the freezer but for a quick fix and contribution to one's five a day, a fast version does nicely too.
I love how Italian pasta names translate into descriptions of what things are:
Linguine – Little tongues
Farfalle – Butterflies
Radiatore – Radiators (presumably a more modern shape!)
Conchiglie – Shells
Spaghetti would appear to be plain spaghetti but linguine always feels that little bit more sophisticated.
This dish took barely 15 minutes to prepare and the sauce was deliberately simple. Half a can of tomatoes blitzed briefly with a blender then simmered with an extra generous squeeze of tomato puree to thicken. You could add herbs, garlic or chilli to please.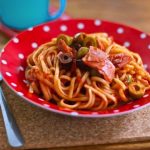 Print Recipe
Linguine, ham and olives
Ingredients
30

g

linguine or other string pasta

half a can of plum peeled tomatoes

200g

1

tbsp

tomato puree

1

tbsp

olive oil

6

olives

pitted and sliced

25

g

cooked ham

chopped
Instructions
Cook the pasta in boiling water for around 10 minutes until just about soft or "al dente" as the Italians say.

Meanwhile use a stick blender to briefly whizz the tomatoes. Heat the tomatoes in a small pan until just about up to the boil then add the tomato puree and simmer whilst the pasta continues to cook.

Drain the cooked pasta and tip back into the empty pan.

Add the olive oil to discourage it sticking, pour over the tomato sauce, the ham and toss.

Serve in a bowl and scatter over the olives on top.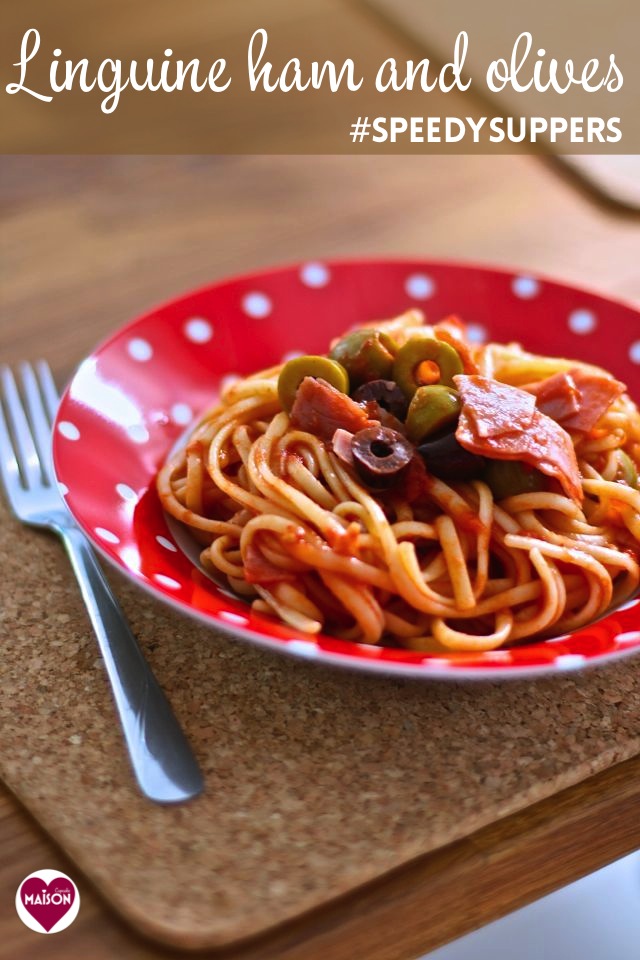 I'm linking up with these events:

Helen and Camilla's Credit Crunch Munch, currently hosted by Taste of Lancashire.

Helen and Michelle's Extra Veg event this month hosted by Michelle Utterly Scrummy

Elizabeth's Kitchen Diary's No Waste Food Challenge this month hosted by Michelle Utterly Scrummy.

and my own Speedy Suppers event jointly run this month alongside Jacc Tinned Tomatoes' Pasta Please.

Other linguine, spaghetti or tagliatelle recipes to try:

Linguine con verdure by Emily at A Mummy Too

Pink pasta linguine with salmon, prawns by Ren at RenBehan.com

Thai curry linguine by Beca at Amuse Your Bouche

Linguine with prawns, chorizo, sundried tomatoes and chilli by Jan at A Glug of Oil

Gorgonzola and spinach spaghetti by Michelle at Greedy Gourmet

Tagliatelle with mushrooms and asparagus by Gary at Big Spud

Chipolata tagliatelle by Camilla Fab Food 4 All

Spaghetti with lemon and basil by Laura How to Cook Good Food

Patty Pan Pappadelle with capers and chilli by Jeanne at Cooksister
Pasta Please joins up with Speedy Suppers!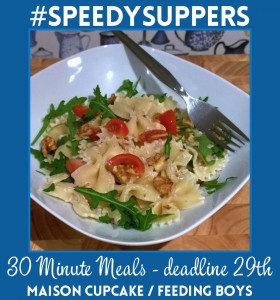 You have until June 29th to enter the latter so please link up your pasta dishes on the table inside 30 minutes below with the rules of the challenge on this announcement post here!
Loading InLinkz ...