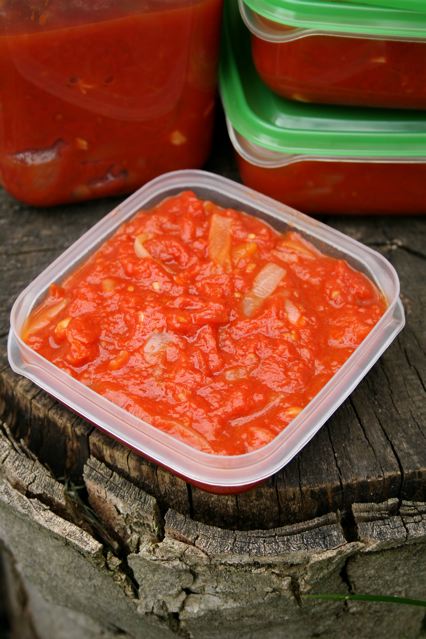 1997. Were you still up for Portillo?
I was. Recently moved in with my boyfriend, now husband, in Shepherd's Bush, West London, I was still registered to vote in Enfield and Southgate, the constituency which came to represent the fall of the last Conservative Government.  Determined too that my local MP, Michael Portillo, would not get a vote from me for no better reason than I had always disliked him. I forget the statistics now but needless to say, it had been assumed it was a done deal that he'd keep his safe seat and so my toss up between Labour and the Liberal Democrats felt like a protest vote.
I probably bought my copy of the River Cafe Cook Book around two years after it's publication. So I have been making this tomato sauce ever since the previous change of Government. (I am assuming there will be another one next week…)
Those results for Enfield and Southgate came in at around 3am. I was still up when our new lodger, my Italian friend Anastasia, came in very late from work.  She'd dropped her belongings off a few days earlier and effectively this was the first time she'd "come home".
"Are you still up?" she asked surprised.  "Oh yes…" I enthused. I was waiting with masochistic hope that Portillo would lose his seat even though I still thought this unlikely. I could barely believe when he did lose by a fairly small margin and I felt quite proud that my vote had definitely contributed to this.
Anastasia lived with us for two years and we are still close friends today. I wish I could say I'd picked up lots of cooking tips from living with Anastasia (and later also her future husband Marco) but I wasn't a particularly enthusiastic cook at the time and was more impressed by her home made pop corn than anything.  It's amazing that four of us could live happily together in a two bedroom flat, you'd think we'd have driven each other mad but it felt more like being in Friends.
When people talk about the 1997 election and whether they were still "Up for Portillo" I think, yes, it was when Anastasia moved in. If my life was divided in chapters then that night marked the beginning of a new and very charming one.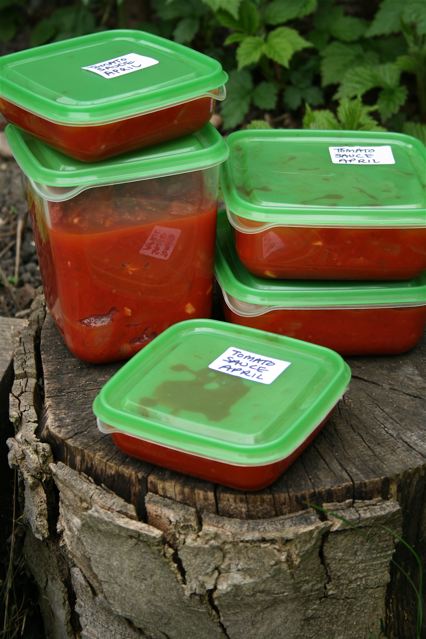 I have lost count of how many times I have cooked this tomato sauce. After so many times I have graduated away from the exact specifications of the River Cafe, mine has more garlic, I use chopped tomatoes without draining them and I'm less finicky about the thinness of the onion slices.


This week I made one of my mega portions of it, with three quarters of it being frozen for later use. I have included more modest quantities for those of you that don't want to swim in the stuff.


This sauce has been a stalwart member of my kitchen cabinet since that year. I know I will be making it for life.


Slow Cooked Tomato Sauce
Ingredients for mass tomato sauce-a-thon:
Makes approx 2.5 litres, enough for around 20 portions in various meals
8 x 400g tins/tetrapaks of chopped tomatoes
80ml extra virgin olive oil
6 medium red onions, finely sliced
1/2 bulb's worth of garlic cloves, peeled and finely sliced


OR


Ingredients for sensible amount:
Makes approx 750ml, enough for around 5-6 portions



2 x 400g tins/tetrapaks of chopped tomatoes
1 tbsp extra virgin olive oil
1 large or 2 medium red onions, finely sliced
2 large garlic cloves, peeled and finely sliced


Method:
1. Using a very large casserole dish, heat the olive oil until hot, drop in the onions and fry for 3-4 minutes before turning the heat right down and continuing to cook with the lid covering them until they are very soft. This will take approximately 30-40 minutes.
2. Add the garlic and cook for a further 5 minutes, still with the lid covering them.
3. Now add the tomatoes and stir into the onions.  Bring up the heat very slightly, you want the sauce to bubble away gently to evaporate the excess liquid and thicken up. Cook with the lid off for between 90 minutes and 2 hours.  Stir intermittently to stop it sticking to the bottom (around every 20 minutes should do), if you find it is sticking too quickly, turn the heat down a little.


The sauce can be used immediately, kept in the fridge for 3-4 days or frozen.