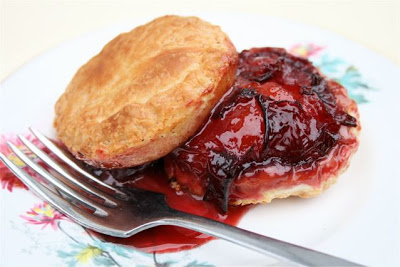 This is ridiculously easy. In fact I may boast that I have discovered the Holy Grail: a cooked pudding that is respectable enough to serve to guests, very easy to make, not that high in calories, includes real fruit, can be prepared in advance etc etc…  It is very quick.  My tribute to "Nigella Express".
Tarte Tatin was invented by two French sisters, Stephanie and Caroline Tatin who according to reports, were in a hurry and covered some slightly burnt apples in a cast iron pan with pastry and put the whole lot in the oven. They served it with the fruit on top and their guests loved it. Tarte Tatin was born.
Although originally featuring apples, Tarte Tatin has come to refer to puff pastry upside down puddings with fruit.  I have previously made a red onion marmalade version (pre-blog but soon to be repeated no doubt) but it struck me that individual miniature versions in bun tins would work just as well.
To prove how easy these are, let me tell you that I made them, photographed them in the garden and ate some in around 90 minutes whilst my son was at pre-school.
Forgive me for being vague with the quantities here.  It really does depend on how many you want to make. Fill the bun tin if you have six people coming for dinner.  Or if you were feeling decadent you could make just one pair to treat yourself for lunch!
The toffee sauce mixes itself with the cooked plum juices so you end up with a deep red sugary sauce.  Nevertheless it is not over sweet.  My son pulled some very interesting faces when he tried it (sadly unphotographed) but he is only two and had not eaten plums before so don't let that prejudice you!
The plate, featuring pink painted daisies is another from my collection of crockery from my Grandma Kitty. It's Staffordshire crockery but I don't know the name of it.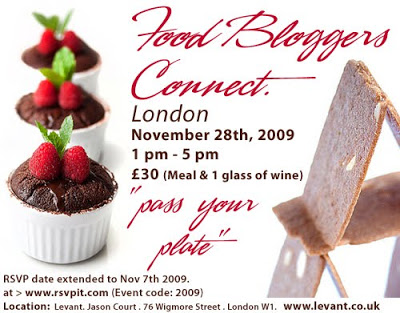 Finally, there is just one day to go until
Food Blogger Connect 09
.  There are going to be 70 food bloggers meeting in Central London at
Levant
Restaurant listening to talks from experienced food bloggers and eating delicious Lebanese food. I am very excited to be going along to this and cannot wait to meet fellow food bloggers whom I have been tweeting with recently; Jamie from
Life's a Feast
, Mowie from Mowielicious, Davina from The Sugar Bar, Kavey from
Kavey Eats
and many more. If you've not checked out these guys' blogs and Twitter tweets before then I highly recommend them. They're all great fun and it's going to be really surreal to meet them after hanging out in the Twitterverse.
I will of course report back from Food Blogger Connect later next week. If I'm a bit quiet for a few days it's because there's been a lot to take in!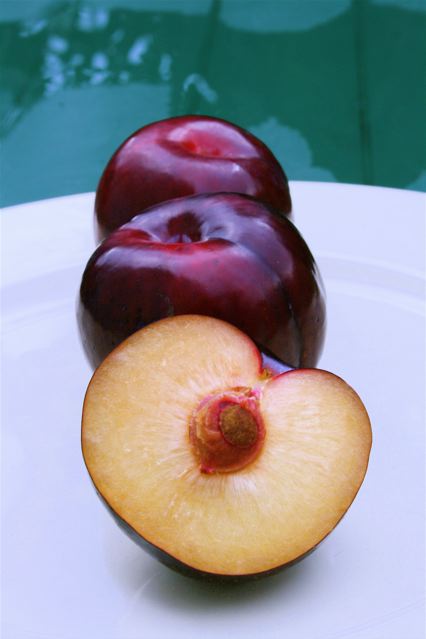 Mini Sugar Plum Tarte Tatins
Ingredients:
Red plums.  Use one plum per person.
Pre-rolled puff pastry – use one circle per person. You'd get at least a dozen from a box of pastry, possibly 15-18 (I haven't used all of mine yet to measure this)
Toffee sauce (as for Sticky Banoffee Cheesecake Cupcakes) although you could use honey or maple syrup if you don't want to make this.
You will need a 12 hole bun tin (just bun sized holes, a deep muffin tin is a bit big).
Cut your plums in half and remove the stones.
Allow one plum per person for however many servings you are making.
Set the oven to 210c / Gas mark 7…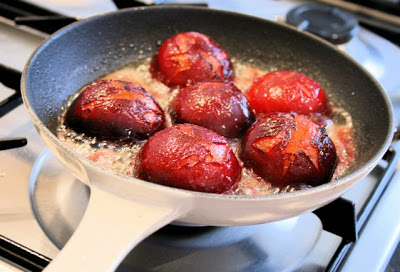 For six plum halves I used 40g of butter which would have been enough for more.
Melt the butter in a pan and let them cook gently on each side for 3-4 minutes.
The skin will blister when you turn them over, that's fine. But don't let them get mushy…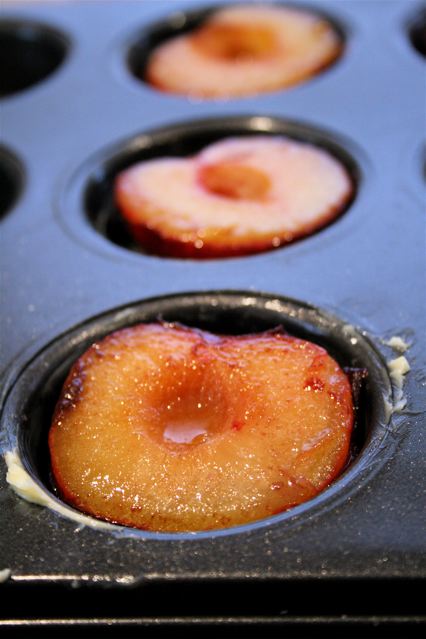 Grease the holes in your bun tin with butter.
Place your lightly cooked plum halves in the holes, stone side up…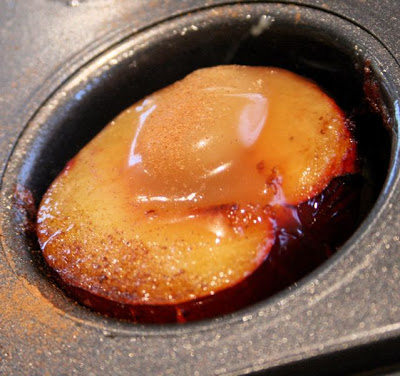 Dollop on top a generous teaspoon of toffee sauce…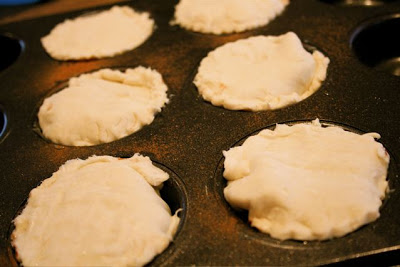 Cut out circles of puff pastry with a pastry cutter and tuck them onto each plum half…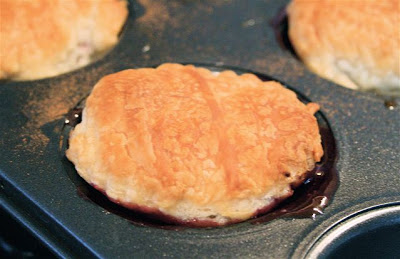 Bake for around 15-20 minutes until the lids have risen and gone golden…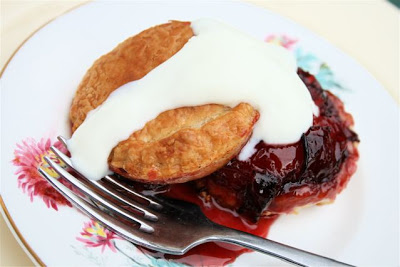 Serve each person two tatins with the plum side sandwiched between.
If preparing the tatins in advance, 30-40 seconds in the microwave per portion re-heats them nicely.
They suffer no detriment for this. Pour some low fat creme fraiche on top. And you're done!